NBA Playoffs 2011: Westbrook and Harden Are Keys for OKC in Game 2 vs. Dallas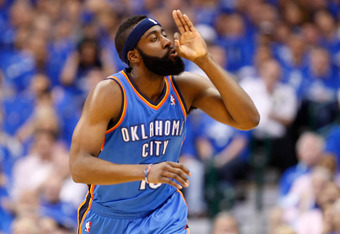 Ronald Martinez/Getty Images
The story of Game 1 was undoubtedly the amazing shooting performance by Dirk Nowitzki. A performance so great that "experts" all over the media are proclaiming Dirk as the best offensive player in the game right now.
Despite the fact that Dirk did 50 percent of his scoring in the easiest fashion possible.
For 24 shots, he stood unguarded on the free-throw line, and he took advantage of that opportunity.
All of the talk about how the Thunder will adjust their defense on Dirk Nowitzki, whether they will double-team or continue to use a rotation of guys, is simply ignoring the facts. Under no circumstances should you put one of the best shooters in the league at the free-throw line 24 times. It's not every night that he will hit all 24 of them, but he certainly is not going to miss very many.
Serge Ibaka bit on the pump fakes. Kevin Durant put too much body into him. Kendrick Perkins is too big and not quick enough. Thabo Sefalosha is one of the league's better defensive players and still could do nothing to affect that high-arching shot of Dirk Nowitzki.
Monday night, there was no defense short of goal tending that could have stopped some of those shots from falling.
The one thing that you can't do in that situation is foul him and continue to give Dirk opportunities.
Tom Pennington/Getty Images
So what can you really do to win this series if your OKC?
The answer could be that Nowitzki is going to hit his share of shots—it's inevitable. The problem is that if Dirk is making his shots, then you must stop the rest of the shooters for Dallas.
The Thunder did not do that in Game 1. J.J. Barrea and Jason Terry both hurt the Thunder. Barrea scored 21 points and Terry had 24. That is 45 points from the Dallas bench from two players alone.
That is the reason why I believe the player to watch out for in this game is James Harden.
He converted on a nice alley-oop in Game 1 and also had 12 points, but he has the potential to score 20 any night. He is also a better defender than he showed in the first game. It is crucial for the Thunder that Harden shuts down Terry for this series. Terry's shooting ability is part of what make's the Mavericks such a dangerous team offensively.
In Game 1, it looked like Russell Westbrook did not have much left in his legs. He is going to have to find the strength to somehow perform much better
the rest of the series. His driving ability is what gives the Thunder offense the explosiveness. He has to get a lot more than three assists. When he is driving and getting other players shots, the OKC offense is as unstoppable as Dirk was on Monday.
The problem is that if he is taking bad shots and making turnovers, the offense struggles.
This series is obviously a matchup between two of the most interesting superstars the league has ever seen, but there is much more to this series. I predict that the Thunder steal Game 2 in a close game and take the series back to Oklahoma City tied up.
This article is
What is the duplicate article?
Why is this article offensive?
Where is this article plagiarized from?
Why is this article poorly edited?

Oklahoma City Thunder: Like this team?