NBA Trade Scenarios: Steve Nash and 20 NBA Stars Who Could Be on the Move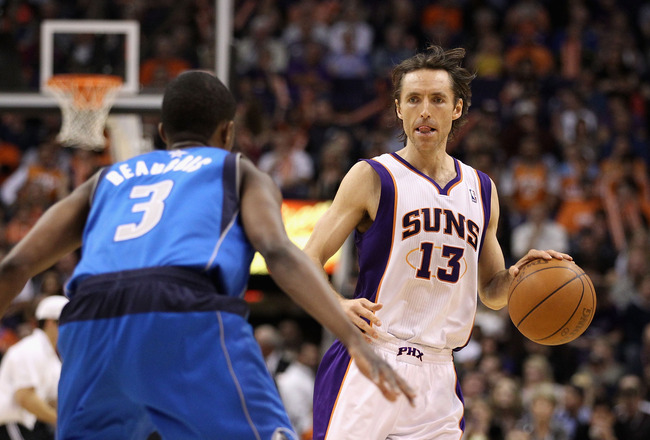 Christian Petersen/Getty Images
Steve Nash's shot at winning a title in Phoenix has likely passed, and the Suns need to move on by trading their superstar point guard.
The team needs to start building for the future, and Nash deserves a shot at a ring with a team that is in the hunt for one.
It looks like he may be moved this offseason, and he's not the only one.
Here is a list of players who could be dealt before next season's trade deadline.
20: Chris Bosh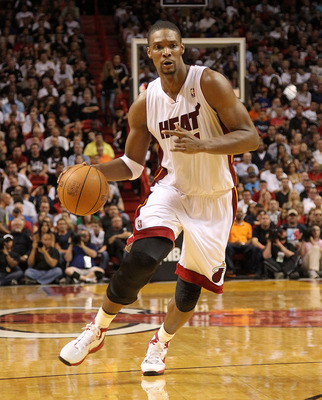 Mike Ehrmann/Getty Images
No matter what happens over the next couple weeks, the regular season will be viewed as at least a slight disappointment for the Miami Heat.
They may get it together for the playoffs and make a deep run, or they may completely implode. There's no way to know for sure right now.
If the latter comes true, countless fingers will come-a-pointin'. And no one is going to call for LeBron James or Dwyane Wade to be moved.
The Heat may be able to get as many as three solid players in exchange for Chris Bosh, and plenty of teams would want to add him to their frontcourt.
Good Fit: Orlando Magic, Oklahoma City Thunder
19: Rashard Lewis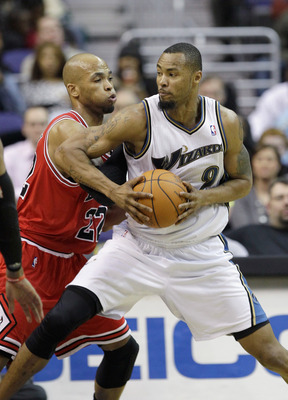 Rob Carr/Getty Images
Lewis is the other half of the Gilbert Arenas-to-the-Magic trade. While he hasn't been as bad in his new setting as Arenas is in his, he's still struggling.
He's averaging 11 points and six rebounds over his last 32 games with the Wizards.
Ever since he signed that massive contract with the Orlando Magic back in 2007, his career has steadily trended downward (he was starting to look like a legitimate superstar his last couple years in Seattle).
His contract is still gonna be a big weight on any team's books, so it isn't likely Washington will find anyone to take him on.
Good Fit: No one really
18: Gilbert Arenas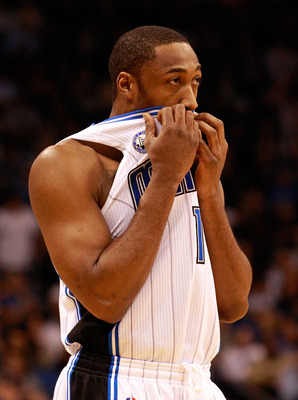 Sam Greenwood/Getty Images
Gilbert Arenas has been flat-out bad since the Orlando Magic acquired him. He's averaging eight points and three assists a game for his current team, and he can't just blame that on his minutes.
He's shooting 34 percent from the field and 27 percent from three-point range. At this point, it's difficult to understand why Stan Van Gundy hasn't moved Chris Duhon ahead of Arenas on the depth chart.
This simply isn't working for the team or the player. The problem is, there is almost no way the Magic will be able to find anyone who will take on this contract.
Good Fit: No one really
17: Chauncey Billups
Chris Trotman/Getty Images
Right now, Mike D'Antoni's future as the Knicks head coach is up in the air.
They beat the Orlando Magic in overtime last night, but that doesn't change the fact that they've been mostly terrible since they acquired Carmelo Anthony.
If D'Antoni does retain his job, New York will almost certainly be in the market for a new point guard. Chauncey Billups is a veteran leader with a knack for hitting big shots, but he just doesn't fit this system.
They need a point guard who is only concerned with distributing the ball to two volume shooters in Melo and Amare.
They won't be able to trade for that kind of player by offering Chauncey straight up, but he could be a part of a deal to either add a third superstar or make room for one in the future.
Good Fit: Los Angeles Lakers, New Orleans Hornets
16: Danny Granger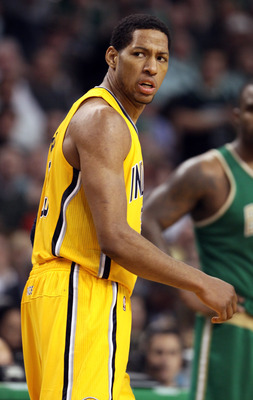 Elsa/Getty Images
Like Andre Iguodala, Danny Granger's name has been in and out of the rumor mill for a while now.
If Indiana keeps slipping and misses the playoffs, the chances of Granger being moved could really go up.
He's a decent rebounder for his position and an underrated defender, but what he does best is score. No matter what team he's on, he'll be able to put up some points.
Good Fit: Dallas Mavericks, Utah Jazz
15: Al Jefferson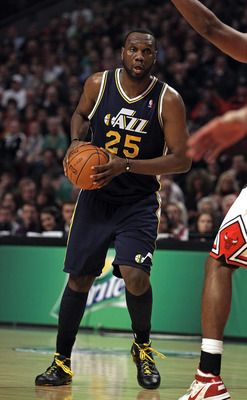 Jonathan Daniel/Getty Images
The Jazz are almost as big a mess as the Pistons right now. They've completely fallen apart since Jerry Sloan retired and Deron Williams was traded.
In all the chaos, Al Jefferson has emerged as a "looter in the riot." He always puts up big numbers when there's no one around to "take" any stats.
Jefferson has a lot of talent, but he's definitely not a franchise centerpiece. Plus, his game does not mesh with Paul Millsap's, and he's not a true center, the position he's been playing in Utah.
There are several teams that wouldn't mind his services at power forward.
Good Fit: Orlando Magic, Milwaukee Bucks
14: Corey Maggette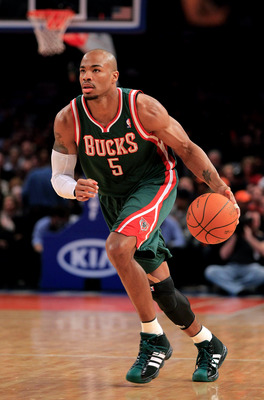 Chris Trotman/Getty Images
The Bucks were one of the most disappointing teams in the league this year.
They were supposed to make a leap to the next level and possibly contend for home-court advantage in the first round of the playoffs.
As of right now, they're out of the playoff picture, and it doesn't look like they're going to sneak in.
This is the least productive season Maggette's had since 2002, and he just doesn't seem to fit on this roster very well.
Good Fit: Los Angeles Clippers, Dallas Mavericks
13: Marvin Williams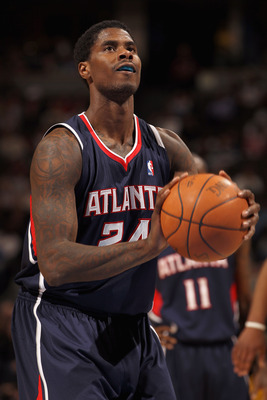 Doug Pensinger/Getty Images
Coming out of college, Marvin Williams was supposed to have loads of potential. Most experts expected him to be competing for All-Star recognition by now.
It looked like he was starting to turn a corner in his career in 2008, but it's been up and down at best since then.
If his career is going to take off, it doesn't look like Atlanta is where that will happen.
Good Fit: Phoenix Suns, Dallas Mavericks
12: Stephen Jackson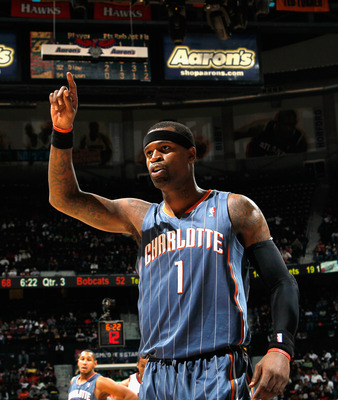 Kevin C. Cox/Getty Images
The Bobcats began their overhaul this season by moving Gerald Wallace to the Trail Blazers at the trade deadline. Don't be surprised if they continue it by trading Stephen Jackson.
He's not very efficient, but he can still put up points in a hurry. He's averaging 19 a game this year, and his methodical style should allow him to contribute to a team for a few more years.
Good Fit: Dallas Mavericks, Chicago Bulls
11: Andre Iguodala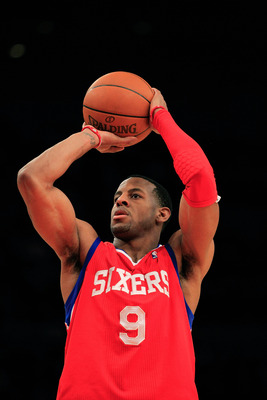 Chris Trotman/Getty Images
Andre Iguodala's name has been a part of countless trade rumors over the last couple years. The chatter died down as Philadelphia began to play pretty solid basketball leading up to the trade deadline.
However, if the 76ers get rolled in the first round of the playoffs this year, the rumors may rise to the surface once again.
There are several teams that would be willing to give up picks and players to get this extremely versatile wing. He averages 14, 6 and 6 and is a solid on-ball defender.
Good Fit: Los Angeles Clippers, Golden State Warriors
10: Monta Ellis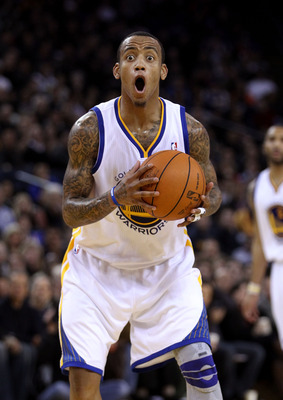 Ezra Shaw/Getty Images
Yet another player who can't seem to permanently escape the rumor mill.
Monta Ellis is having a great season this year, averaging 24.3 points, 5.6 assists and 2.2 steals per game. Even still, there are still rumblings as to whether or not he and Stephen Curry can coexist.
Many feel the Warriors could use a bigger shooting guard like Andre Iguodala.
As for Monta, whether he's in Golden State or elsewhere, he'll be able to score points in droves.
Good Fit: Philadelphia 76ers, New York Knicks
9: Chris Kaman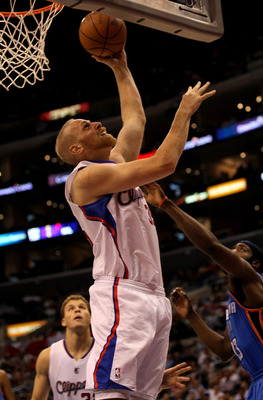 Stephen Dunn/Getty Images
The Clippers have a great young core, including a defensive-minded center who can permanently replace Chris Kaman in DeAndre Jordan.
Kaman is a legitimate seven-footer who can produce at a very high level when he's healthy. There are plenty of teams that would be willing to give up a couple players for this kind of center.
Good Fit: New York Knicks, Atlanta Hawks
8: Terrence Williams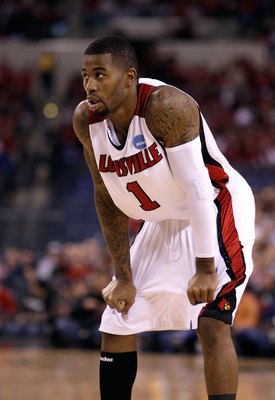 Andy Lyons/Getty Images
Terrence Williams came into the league with a ton of promise, but simply hasn't lived up to his potential.
He averaged over 14 points a game over the final two months of his rookie season in New Jersey, but he hasn't played much at all this year, even since he was traded to Houston.
There are questions surrounding his attitude, but that might not be enough to deter a few teams from pursuing his services.
Good Fit: Sacramento Kings, Chicago Bulls
7: Chris Paul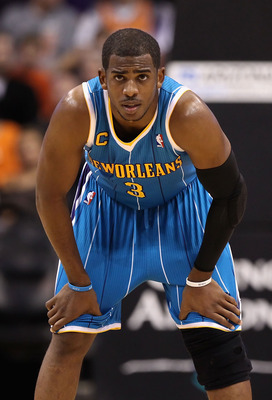 Christian Petersen/Getty Images
After trading everything but Mike D'Antoni's wardrobe to get Carmelo Anthony, the Knicks may not have the pieces to make a play for Chris Paul.
But that won't stop them from trying.
New York is in shambles right now, but Chris Paul could stabilize that situation. He'd be the unquestioned leader on defense and would bring harmony to the offense.
A "big three" of Paul, Anthony and Stoudemire would arguably be better than Miami's.
Good Fit: New York Knicks, Orlando Magic
6: Raymond Felton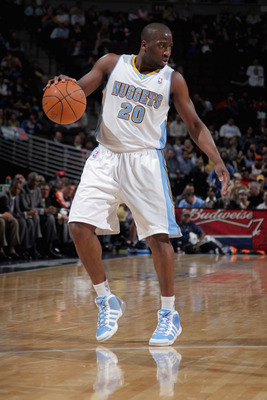 Doug Pensinger/Getty Images
Felton was a part of the Carmelo Anthony deal, and many thought the Nuggets would turn around and trade him to someone else before the deadline.
Ty Lawson represents the future at point guard for Denver, and while the the two have looked good on the court together for stints, the combination probably isn't a long-term solution.
Denver's young core of Lawson, Arron Afflalo, Wilson Chandler and Danilo Gallinari could be very good, very soon. Players like Felton could be used to bring in solid role players.
Good Fit: New York Knicks, Portland Trail Blazers
5: Andre Miller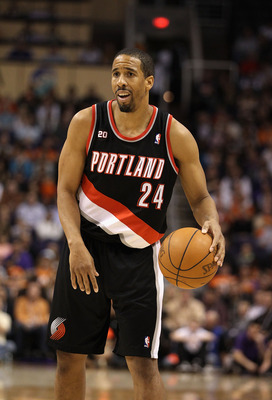 Christian Petersen/Getty Images
A couple years ago, the Trail Blazers looked like they were on the precipice of becoming legitimate title contenders. Unfortunately, injuries have taken a huge toll on this team.
At this point, it might be wise to move a couple of their veteran leaders and start rebuilding (again).
Andre Miller is getting up there in age, but he can still be a decent floor general for a number of contending teams.
Good Fit: New York Knicks, Los Angeles Lakers
4: Richard Hamilton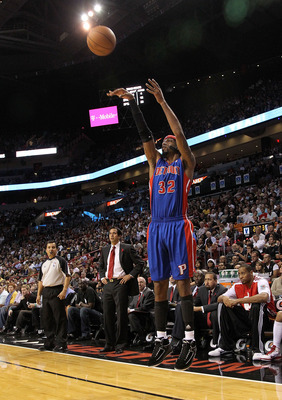 Mike Ehrmann/Getty Images
The Detroit Pistons may be the most dysfunctional team in the NBA, and the veterans on the roster may be as responsible as anyone.
Richard Hamilton and coach John Kuester do not get along, and the former All-Star has been in and out of the rotation all year.
The inconsistency of his role has led to sporadic play, and Hamilton is putting up his lowest scoring average since his rookie year.
He's now 33 years old, but he can still provide some scoring from the wing for a contender who needs more offense.
Good Fit: Chicago Bulls, Boston Celtics
3: Antawn Jamison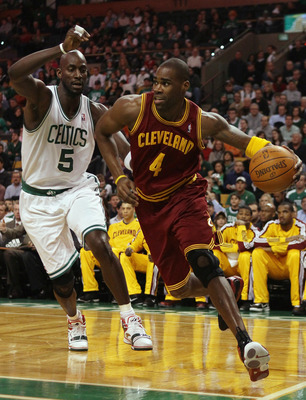 Elsa/Getty Images
Jamison will be on an expiring contract next year, and he's obviously not a part of any future plans Cleveland may have.
When he's healthy, he can still contribute a great deal of offense. He averaged 18 points over 56 games this year, including well over 20 a game in January and February when he was finally made a starter.
He can score inside and out, and has a wide variety of shots around the basket. In fact, he may have the deepest repertoire of hook and flip shots in the NBA.
Good Fit: Dallas Mavericks, Milwaukee Bucks
2: Steve Nash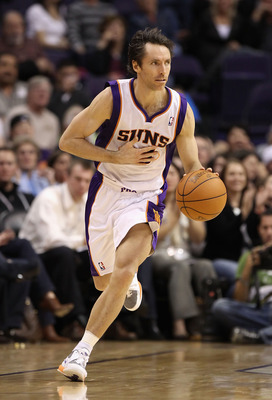 Christian Petersen/Getty Images
At 37 years old, it looks like Steve Nash is going to lead the league in assists for yet another year. He recently passed Boston's Rajon Rondo and is currently dishing out 11.4 assists a game.
He's still the best distributor in the game, and no one gets as much out of his teammates as Nash does.
Passing isn't all he brings to the table, either. He's averaging 15.5 points while shooting 50 percent from the field, 40 percent from three-point range and 91 percent from the free-throw line.
He could be a great addition to a number of contending teams.
Good Fit: Dallas Mavericks, Los Angeles Lakers
1: O.J. Mayo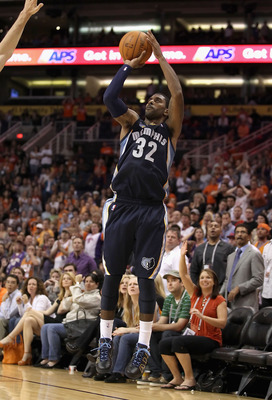 Christian Petersen/Getty Images
If I had to pick the player on this list who is most likely to be moved this offseason, I'd definitely go with O.J. Mayo.
He was minutes away from being dealt at this year's deadline, but paperwork on a trade involving Mayo and Indiana's Josh McRoberts was submitted late.
I expect the two teams to finalize that trade before the draft.
Good Fit: Indiana Pacers, Chicago Bulls
Keep Reading