NBA Power Rankings: The Top 10 Candidates for Coach of the Year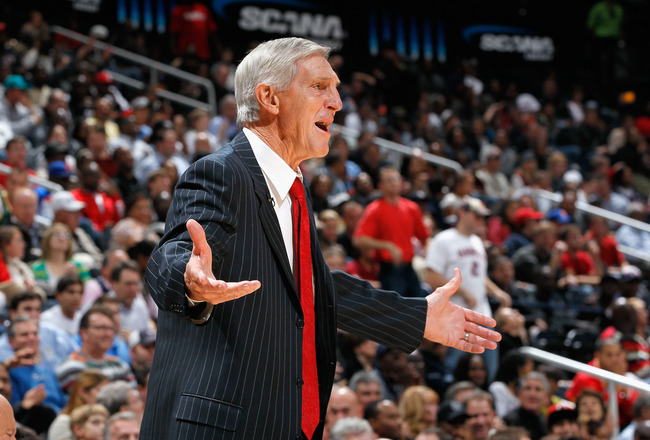 Kevin C. Cox/Getty Images
In the National Basketball Association, sometimes it feels like the players get all the credit.
Sure they put up the big numbers, suit up night in and night on and bring home the trophies, but aren't we forgetting about someone right now? Oh right, the coach. The coach plays an indispensable part of every team, and he's not someone we should forget when it comes to a team's ultimate succes or failures.
The coach is the man with the plan. He's the one that leads the troops into battle, the one who gives each player exactly what they need to charge through the next match up. The coach knows how to handle the star player's ego, and how to make even the role players feel like they are necessary to the grand scheme of things. The truth is, coaching is not a job. It's an art form.
When you talk about Coach of the Year in the NBA, you are truly talking about a special individual. You are speaking of a man who has truly gone above and beyond, and that man should be rewarded. The coach of the year, is someone who has taken what he has been given, and turned it into something truly remarkable.
The NBA has been blessed with many talented coaches currently working at the moment, but only one of them can be the best.
Here are the ten candidates for the 2010-11 Coach of the Year.
Stan Van Gundy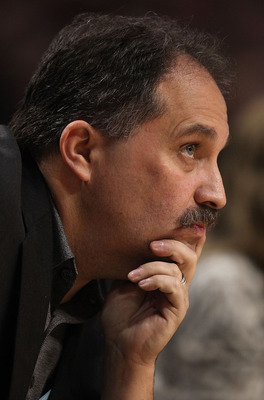 Jonathan Daniel/Getty Images
Stan Van Gundy has been doing wonders with the Orlando Magic during his tenure there as head coach.
He has dealt with multiple roster shake ups in the past few years, and he continues to deliver strong results. He took the Magic to the NBA Finals as recently as 2009, and has proven that teams under his control can thrive no matter what the situation. No one expected that Magic team to make the finals when they did, but that didn't seem to stop anyone.
Stan may not be the most reserved coach, but everyone has their own style. He seems to yell so much that every time we hear him on inside tracks, it seems like he went to a Rolling Stones concert the night before. Still, he manages to get through to his players, and he leads them to W's time and time again.
Stan may not be the Coach of the Year this season, but that's not to say his efforts have not gone unnoticed.
Nate McMillan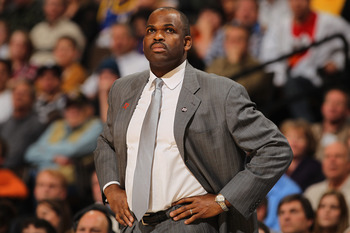 Doug Pensinger/Getty Images
When you think of the Coach of the year, Nate McMillan may not be the first name that you think of, but boy is he one deserving candidate.
When you think of the Portland Trail Blazers, a lot has changed since the start of this season. Players have been traded away, others have sustained major injuries, and yet the Blazers remain a force to be reckoned with this post season. The Blazers are currently in sixth place in the west, an honestly I would not be surprised to see them upset the touted Dallas Mavericks in the first round.
What's the cause of this resilience? In my mind it has quite a bit to do with the coaching. When you have players hurt, traded, and line ups constantly shifting, the coach is who keeps things in order. Nate McMillan has obviously worked well with this group of players to keep them play off hopefuls amidst all of this constant change.
While this is surely not his year to take home the award, Coaches league wide could do well to notice the example set by Nate McMillan.
Mike D'Antoni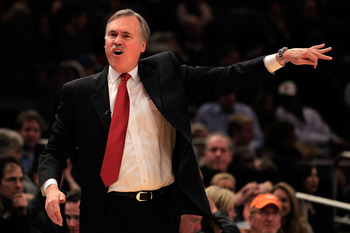 Chris Trotman/Getty Images
Now I know what you're thinking here, how could D'antoni be a candidate for Coach of the Year?
There are plenty of arguments to back up that statement. I understand full well that defense is not part of his strategy, but there is more that must be considered when speaking of good coaching. While D'Antoni may not stress as much on setting up a fortified defense, he is a bonified master of the offensive end.
You saw his genius at work with the Phoenix Suns, and now he has brought his show straight to the Garden. Now equipped with Carmelo, Stoudemire and change, Mike D'Antoni is enacting his old school plans with the Knicks, and so far it has proven to be effective.
One thing you must admit with Mike, he sticks to his guns. He hasn't shown any signs of changing his ways, and his team seems to be responding to his original plans.
D'Antoni may not capture the award this year, but he is surely one fine coach who sticks to his game plan.
George Karl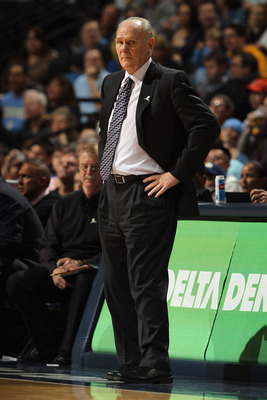 Doug Pensinger/Getty Images
Normal coaching duties aside, George Karl should win this award based heart alone.
The man is a warrior who has now battled cancer twice, and won. All the while he never wanted to abandon his coaching duties, and came back strong to lead his team to yet another victory. As far as heart, and passion for the game go, look no further than George Karl of the Denver Nuggets.
When you look at what he does as a coach, it's equally impressive. Just take a moment to think about what has happened this year alone. He returned from his most recent bout with cancer to lose Carmelo Anthony, and his team continues to win. They are 8-2 since the all-star break, and are showing great signs of playing well together.
Isn't a team supposed to fall apart when they lose their superstar and veteran point guard?
Not if they are coached by someone like Karl. Only the best types of coaches can keep a team together and playing well through so much change, and that certainly deserves to be recognized. While I don't believe he has a chance to win the award this year, it's only because of some seriously outlandish competition.
Jerry Sloan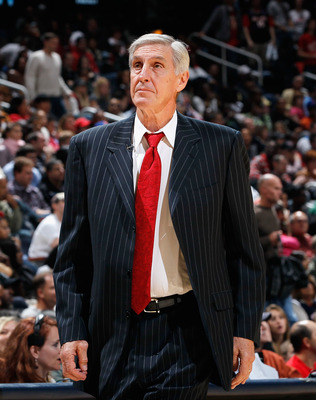 Kevin C. Cox/Getty Images
No candidate has had a stranger, and shorter season than number six on the list, Jerry Sloan.
On the one hand, the man is a living legend. He has coached twenty plus seasons straight for the Utah Jazz, coached such legends as John Stockton and Karl Malone, taken said teams to the NBA Finals twice and has an amazing winning record in the regular season.
To put it lightly, he represents a dying breed in NBA coaching. He's old school. He's never been afraid to get into it with his players, and he always demanded 100 percent effort from anyone on his team.
Sadly there is another side of the story now. No matter how you look at his effort this season, he did quit. The Jerry Sloan we all know and love would have stuck it out until the end of the season, no matter how bad things were. This is not to say that Sloan wasn't forced out. For all most of us know, he could have been. All I know for sure is that there was something very fishy about how his exit went down.
Sloan never won Coach of the Year during his illustrious career in NBA coaching, and because he took a rather quick exit, I don't believe that he ever will. I rank him this high purely out of respect for who he is, what he's done and all the more he deserved to accomplish.
Doc Rivers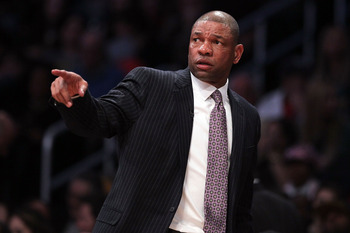 Jeff Gross/Getty Images
With everything that's been happening in Miami, everyone seems to have forgotten about what's still happening in Boston.
Even with the recent horrible trade (in my opinion), the Celtics are still looking like the team to beat in the Eastern Conference, and a lot of that has to do with the coaching. The Celtics have been a tight knit group now for some time, and I think a lot of that has to do with how Doc Rivers runs his locker room. Rivers seems to excel in coaching these guys because in a way, he's one of them.
Every coach has different strategies when it comes to getting through to their players. Some coaches become friends with their players, while others don't. Some coaches like confrontations, some avoid them. Doc Rivers does so well because he has forged such a bond with his players, that they appear to trust him implicitly. When they go to war, he truly is their general. When he explains what needs to be done, he makes them understand why, instead of just barking orders.
All of this has amounted in the Celtics being just as tough to beat as they were three years ago when the trio formed. While Doc will most likely miss out on this prestigious award this season, not many more coaches deserve it more than he.
Scott Brooks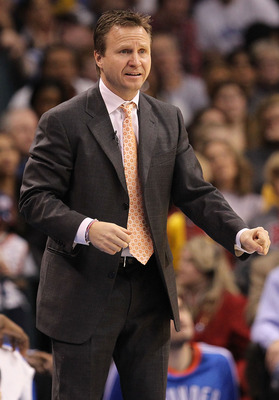 Ronald Martinez/Getty Images
The Thunder continue to make noise in Oklahoma, but all people seem to be talking about is Kevin Durant and Russel Westbrook.
The real magic however, is going on behind the scenes with Scott Brooks. It can't be easy dealing with upcoming stars like Durant and Westbrook, I don't care how nice people say they are. At the end of the day, making that team run like a well oiled machine has to be a ton of work.
This is where Brooks comes in. The Thunder are chalked full of young players, kids really. Brooks has the responsibility to mold these young players into NBA veterans. He has to make sure they have a good work ethic, he has to convince all of these young minds to buy into his system and he has to deal with the inevitable immaturity that comes with lack of age and experience.
While I believe that he was blessed with the talent he has received, Brooks is certainly bringing out the best in his Thunder players, and their careers will greatly benefit from it.
Brooks will win this award in my opinion, but not as soon as this year. I'm not worried however, as the Thunder's title hopes loom in the future, so do his chances for this great award.
Greg Popovich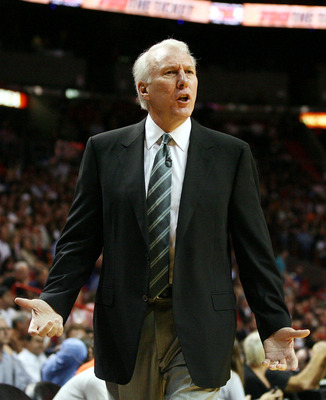 Marc Serota/Getty Images
It's another odd year in the NBA, and on cue here come the Spurs.
But take a closer look. Is this really the Spurs that we remember? Do they play slow, and predictable? Do they run the game from the inside out, through their almost robotic forward Tim Duncan.
The answer, of course, is no. The Spurs are a different beast these days, and they have none other than their fearless leader to thank for it. Greg Popovich noticed what was happening to his roster of aging superstars, and he decided to do something about it. When the new players were added, he noticed what he had at his disposal and the changes begun.
Now the Spurs are running and gunning, scoring in transition, winning hands full of games in streaks, and dare I say....are fun to watch? Popovich noticed that he had to switch up his play book in order to continue the team's success, and that's just what he did. If that is not phenomenal coaching, then I don't know what is.
Popovich has always been a master of match up's and game play, but I can't tell you how much I respect how he has completely revamped his once tired line up. I believe Popovich does have a good shot at the award this year, but he is still not the one I would choose.
Phil Jackson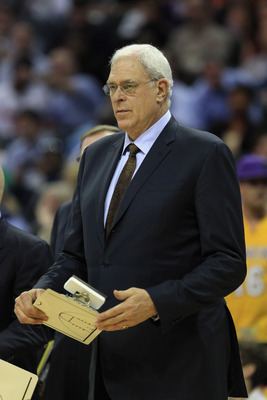 Streeter Lecka/Getty Images
The runner up this year without a doubt, is none other than the Zen Master himself, Phil Jackson.
These days you can't hear enough about how "lucky" he's been to coach Jordan/Shaq/Kobe, and that he has never really been challenged as a coach. I'm also not sure if I've ever heard a more ignorant sports related comment. Sure he was blessed with a ton of talent, but with that talent comes ego's, demands, expectations and pure pressure.
Phil has kept this Lakers team together for yet another year, and another shot at the ultimate prize. He's been pulling out all the stops with his mind games, sly and well timed comments to the press and his brutal honesty with even his own players. He continues to show an uncanny ability to get people to do what he wants, without ever really asking them to. This allows him to quietly play puppet master in the corner, slowly molding his team into the perfect beast come playoff time.
Let's also not forget that he has amazingly kept Ron Artest's craziness at bay for almost two years now. Honestly, who saw that coming? Phil probably won't win in this his last year as a coach, but it's not for lack of effort. The only reason he doesn't ride into the sunset with this award, is because the number one candidate is so overwhelmingly deserving, that not even Phil can top.
Tom Thibodeau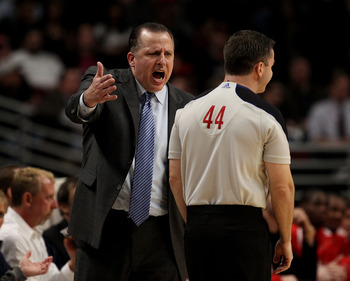 Jonathan Daniel/Getty Images
There he is folks. Tom Thibodeau, and he's large and in charge this year as the number one candidate to win the Coach of the Year award.
In his first season as a head coach, Thibodeau has taken the promising Bulls roster, and made it into a monster. He gained recognition in Boston for his hard nose defensive schemes, and he has now taken his show to Chicago, where it's working wonders on Derrick Rose and crew.
Because of him they play with a purpose now, not just to score the ball. They have an identity with him on the bench, and they are certainly starting to run with it. While his loud yelling ways are a bit unorthodox for some people to digest, it's how he gets his point across. Everyone finds their way eventually, and that's his. The point is that Tom has not simply made a good team better this year, he's started a revolution in Chicago.
The Bulls officially have the best record in the Eastern Conference, and I think it's going to stay that way for seasons to come. The Bulls were a beautiful puzzle that was missing a piece until Thibodeau came to town, and now they are a masterpiece.
Keep Reading