2011 NBA Draft: 10 Little-Known Players Who Could Be the Next Stephen Curry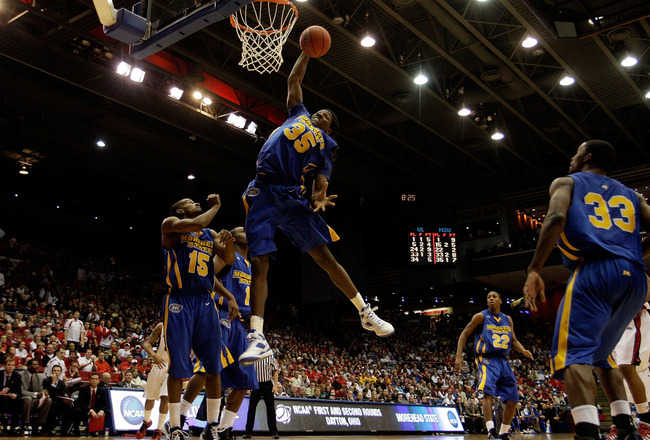 Andy Lyons/Getty Images
Every few years, a little-known player* steps up and carries his team on an NCAA tournament run, effectively boosting his NBA draft stock in the process.
An obvious example of this was Stephen Curry, who led his Davidson Wildcats to an appearance in the Elite Eight in 2008.
While he elected to return to school the next season, his team's postseason run helped him to eventually become the No. 7 overall draft selection by the Golden State Warriors.
Last year this role was filled by Gordon Hayward of the Butler Bulldogs, who made it all the way to the national championship game and as a result was drafted by the Utah Jazz with the No. 9 overall pick.
With the 2011 NCAA tournament kicking off this week, there are a number of little-known players who are primed to do the same and take the nation by storm, leading their teams deep into the bracket and solidifying their spots in the 2011 NBA draft.
*To be considered for this list, players must play in a conference outside of the Power Six and not be Jimmer Fredette or Kawhi Leonard, since everyone already knows who they are.
Keith Benson, Oakland Golden Grizzlies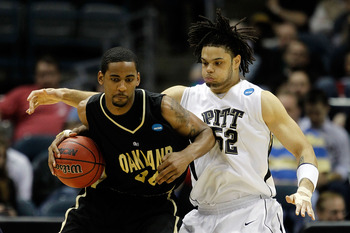 Jonathan Daniel/Getty Images
Senior center Keith Benson has managed to put together a rather impressive career with the Oakland Golden Grizzlies, earning NCAA tournament berths in two of his four seasons with the team.
This year, Oakland is making an appearance in as the No. 13 seed in the East Regional, matched up against a Texas Longhorns squad that has talent but has only won four of its last eight.
However, behind the 6'11", 230-pound Benson, who is averaging 18.0 points, 10.1 rebounds and 3.6 blocks per game, while also proving to be a threat from the outside, its upset chances aren't too bad.
Should he lead his team to a string of upsets, the long, skilled and athletic big should easily find a way into the early first round of the 2011 NBA draft.
Kenneth Faried, Morehead State Eagles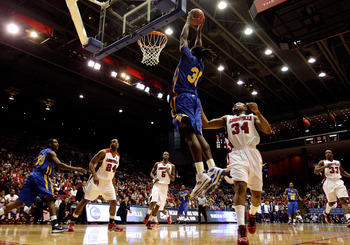 Andy Lyons/Getty Images
Playing for an under-the-radar Morehead State Eagles team, senior Kenneth Faried has managed to lead the nation in rebounding at 14.5 boards per contest.
But that's not all, as the 6'8", 225-pound forward-center has also scored 17.6 points per game on 64.4 percent shooting and averaged 2.0 steals and 2.4 blocks.
Consequently, Faried led his team to its second consecutive NCAA Tournament berth.
As a No. 13 seed in the Southwest Regional, the Eagles will play a tough Louisville Cardinals squad, straight off their loss in the Big East championship game.
If Morehead State is able to knock off Louisville or even win games beyond that, the tenacious and ultra-athletic Faried could see his stock pushed all the way up into the 2011 NBA draft lottery.
Justin Harper, Richmond Spiders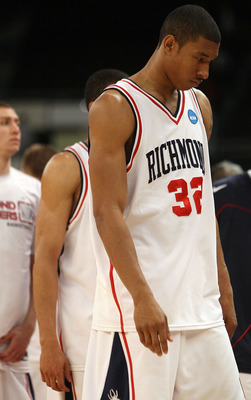 Elsa/Getty Images
In a breakout year for the Richmond Spiders, senior forward Justin Harper has managed to post per-game averages of 17.9 points (54.3 percent shooting), 7.0 rebounds, 2.1 threes made, 1.3 blocks and 0.7 steals.
By doing it all on the court, Harper helped to lead his team to its second consecutive NCAA tournament, where they are matched up against the Vanderbilt Commodores as a No. 12 seed.
However, seeing as Vandy has dropped three of its last five games, while Richmond has won its last seven, the Spiders have become a popular upset pick.
If they do upset Vanderbilt and make a run in the tourney, then Harper could very well expect to become a first-round lock in the 2011 NBA draft.
Cam Long, George Mason Patriots
Doug Pensinger/Getty Images
With averages of 15.3 points, 4.6 rebounds, 2.8 assists, 1.7 threes and 1.4 steals per game, senior combo-guard Cam Long has stepped up as the leader of a surging George Mason team.
Furthermore, after winning 16 of their last 17 games, his Patriots have earned a No. 8 seed in the East Regional, where they will face off against the struggling Villanova Wildcats.
George Mason's matchup with 'Nova should be a relatively easy outing, as its opponent has lost 10 of its last 15 games and is in the midst of a five-game losing streak.
So after sending the Wildcats home, Long and his teammates might just have the confidence to surprise some people, winning a couple of games and earning Long a sure-fire spot in the 2011 NBA draft.
Shelvin Mack, Butler Bulldogs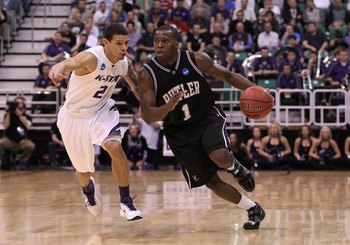 Christian Petersen/Getty Images
Guard Shelvin Mack was last in that national spotlight after helping his Butler Bulldogs to the national championship game last season.
However, his teammate Gordon Hayward garnered the majority of the spotlight during that campaign, parlaying Butler's performance into a lottery selection in the NBA draft.
Nevertheless, Mack is back, now as a junior, and is currently posting 15.2 points, 4.5 rebounds, 3.6 assists and 2.0 threes per game, with his team on a nine-game winning streak.
As a result of his strong play, Butler has earned a No. 8 seed in the Southeast Regional, where it will match up against the Old Dominion Monarchs.
With the Bulldogs hoping to use their experience to overcome ODU and make a run through their regional, Mack could likely become a first-round selection if Butler manages a repeat, strong performance.
Will Barton, Memphis Tigers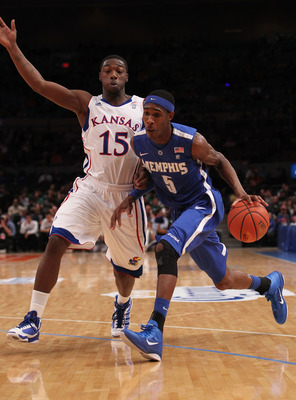 Nick Laham/Getty Images
After the departure of head coach John Calipari a couple of years ago, the Memphis Tigers have faded from the national picture to some extent.
Nevertheless, they still were able to land freshman standout 2 guard Will Barton, who is currently maintaining per-game averages of 12.3 points, 5.0 rebounds, 2.8 assists, 1.5 steals, 1.1 threes and 0.5 blocks.
The athletic 6'6", 175-pounder has his team as the No. 12 seed in the Southwest Regional, where it will play the Pac-10 regular-season champion Arizona Wildcats.
But given that this has been a down year for the Pac-10, that doesn't mean all that much.
Therefore, should Barton and his Memphis squad knock off 'Zona and put together a string of wins, he could easily become a high-potential first-round pick in the 2011 NBA draft.
Zeke Marshall, Akron Zips
photo from sec.floridatoday.com
Sophomore center Zeke Marshall has been instrumental to the success of the Akron Zips this season, providing the team with size and defense inside.
Standing 7'0" and weighing 218 pounds, he has managed to post averages of 8.6 points (52.4 percent shooting), 4.8 rebounds and 2.5 blocks—all in only about 22 minutes per contest.
Nevertheless, his play has helped Akron earn a No. 15 seed in the Southwest Regional, where it will have a tough matchup against the Notre Dame Fighting Irish.
However, should the Zips emerge victorious from that contest, Marshall would instantly be on many NBA teams' radars, as players with his combination of size, length and athleticism are few and far between.
Therefore, if Akron can get something going, he should be a strong candidate for the 2011 NBA draft.
Jamie Skeen, VCU Rams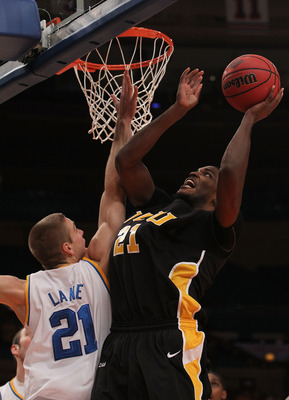 Nick Laham/Getty Images
While many people were outraged at the inclusion of the Virginia Commonwealth Rams in the NCAA tournament field, senior Jamie Skeen has got to be overjoyed.
Now the 6'9", 240-pound forward, who is undoubtedly the leader of his team, will have a chance to showcase his skill for NBA teams on the national stage.
While he has produced at a high level this season, averaging 15.3 points, 7.5 rebounds, 1.2 blocks and 0.8 threes per game, his upcoming matchups against big-name schools will be invaluable to his draft stock.
First, VCU must compete in the play-in game for the No. 11 seed in the Southwest Regional against the USC Trojans, where Skeen will face off against another talented big, Nikola Vucevic.
If successful, Skeen and the Rams will face a Big East power in the Georgetown Hoyas in the round of 64.
If they are able to win again, it would be hard for teams not to notice Skeen as the 2011 NBA draft approaches.
Lavoy Allen, Temple Owls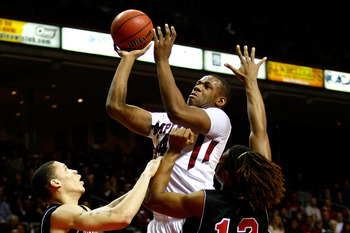 Chris Chambers/Getty Images
Senior Lavoy Allen's play inside has been huge for the Temple Owls this season, as he has posted per-game averages of 11.8 points, 8.4 rebounds, 1.8 blocks and 0.7 steals—while also showing range beyond the three-point arc.
Consequently, the 6'9", 225-pound power forward will need to play big when his team, the No. 7 seed in the West Regional, goes up against the Penn State Nittany Lions.
Yet while both teams have been playing well—as Temple has won 10 of 12 and Penn State has won four of five (with wins over Wisconsin and Michigan State and the only loss against Ohio State)—the size and well-rounded game of Allen should push his Owls over the top.
If they are able to gain some momentum and make a run, then Allen could be hearing his name called when the 2011 NBA draft rolls around.
Tu Holloway, Xavier Musketeers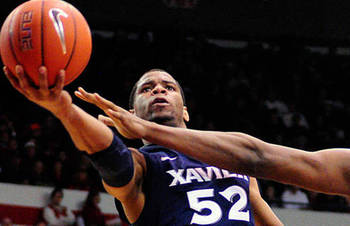 photo from msn.foxsports.com
Throughout the 2010-11 NCAA basketball season, junior Tu Holloway has been the heart and soul of the Xavier Musketeers.
Posting per-game averages of 20.2 points, 5.5 assists, 5.1 rebounds, 1.9 threes and 1.5 steals, Holloway has carried his squad to the No. 6 seed in the East Regional, where it is to face off against the Marquette Golden Eagles in the first round.
As has been the case all year, the play of Holloway will be instrumental to the success of the team.
If he plays well and Xavier is able to string together a couple of wins, then the playmaking point guard should certainly be selected in the 2011 NBA draft.
Keep Reading