Trade Andrea Bargnani: Six Teams That Would Be a Good Fit for This Raptor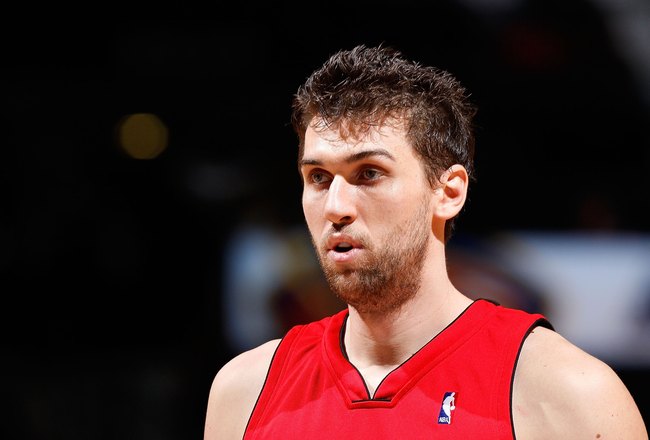 Kevin C. Cox/Getty Images
Things just do not seem to be working out for Andrea Bargnani, and I think that in order for the Raptors to finally get out of this quasi-rebuilding stage they are currently stuck in, the most important thing they can do is trade Bargnani for the highest return possible.
In order for Bargnani to become an all-around player, he must switch to the power forward position, and this is one position that is quite crowded for the Raptors.
I prefer keeping Ed Davis as the power forward of the future because his defensive ability is key to this team ever becoming successful.
The Raptors will never become contenders if they have gaping holes on defense, and as much as it hurts to say this, the only way the Raptors can improve on defense is by trading Bargnani and moving on.
As I mentioned, the Raptors need to get the best return possible in any trade involving Bargnani. In order to do this, they need to find a team that would really benefit from Bargnani's services and give the Raptors what they want/need in exchange.
That being said, here are six teams that I think would greatly benefit from Andrea Bargnani's services.
6. Cleveland Cavaliers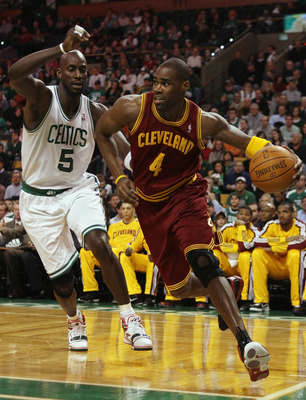 Elsa/Getty Images
Current PFs: Antawn Jamison, Samardo Samuels, Luke Harangody
Provided the Cavaliers do not take Jared Sullinger with their first pick, I think Bargnani could be a good fit for this team.
The Cavaliers will most likely take PG Kyrie Irving with their first pick and then one of the several talented SFs that will be in the lottery. This would leave an opening at power forward or center for Bargs. Alongside Irving, a small forward from the lottery and J.J. Hickson, I think this would be a pretty good core to build around and get this team back on track.
5. San Antonio Spurs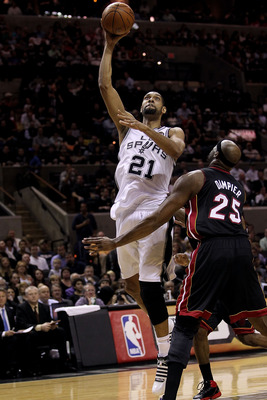 Ronald Martinez/Getty Images
Current PFs: Tim Duncan, Antonio McDyess, Matt Bonner
With Tim Duncan getting up there in age, Andrea Bargnani could be his logical replacement. In the meantime he would split time with Duncan and DeJuan Blair at the power forward and center positions, and then eventually he could become their PF of the future.
4. New Orleans Hornets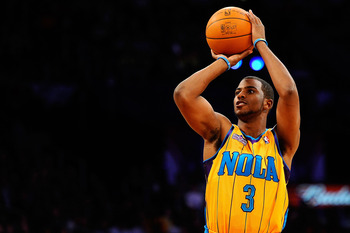 Kevork Djansezian/Getty Images
Current PFs: David West (has an early termination option for this season), Carl Landry, Jason Smith
Andrea and Chris Paul (provided he doesn't go anywhere) could build some great chemistry, and I think a Bargnani and CP3 pick and pop would be a deadly weapon to have on offense.
That being said, Bargnani would also be able to take some of the scoring load off Paul.
3. New Jersey Nets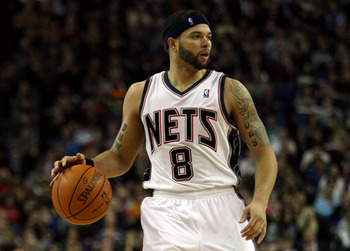 Warren Little/Getty Images
Current PFs: Kris Humphries, Brandan Wright
Bargnani would be a good complement to Brook Lopez, who can rebound and defend while Bargnani does the rest.
In addition, he would get a ton of open jump shots and threes courtesy of Deron Williams' playmaking abilities.
When he isn't getting great passes from Williams, he would be creating his own shots and taking some of the scoring load off D-Will.
2. Denver Nuggets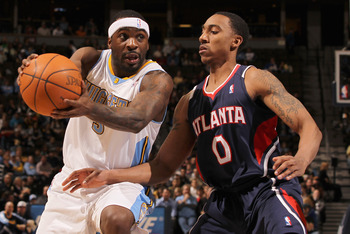 Doug Pensinger/Getty Images
Current PFs: Kenyon Martin, Al Harrington, Melvin Ely
The Denver Nuggets will finally be able to rid themselves of Kenyon Martin this offseason, and as a result they will be looking to add a new power forward to their roster.
The team is crowded at the small forward position with the likes of Danilo Gallinari and Wilson Chandler, and although they could possibly move Gallinari to the power forward position, I think the logical choice is to trade one and place Bargnani at PF.
Provided Nene Hilario stays with the Nuggets, I think Bargnani is an excellent fit for this young team.
They don't have any one superstar, but they do have several young talented players, not to mention they match up perfectly for a bunch of trades with the Raptors, say perhaps...
Andrea Bargnani and Jerryd Bayless for Raymond Felton (who the Nuggets want to get rid of) and Danilo Gallinari or Wilson Chandler (via sign and trade).
1. Orlando Magic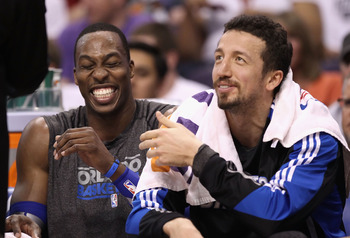 Christian Petersen/Getty Images
Current PFs: Brandon Bass, Ryan Anderson, Malik Allen
Due to his playing style (aka all offense, no defense), Bargnani needs to play alongside a center like Dwight Howard in order to be able to help his team win.
Alongside Howard, Bargnani wouldn't have to worry about rebounding and playing defense (not like he does anyway), and he could just do his thing on offense and help take some of the pressure off Howard.
The only problem with this is that the Magic have Hedo Turkoglu as a small forward, who like Bargnani does not really concern himself too much with rebounding and playing defense. That means when they play the Celtics, Kevin Garnett and Paul Pierce will have no trouble scoring considering they will have Bargnani and Turkoglu guarding them.
Keep Reading

Toronto Raptors: Like this team?