LeBron James, Dwyane Wade: Miami Heat and 20 "XBox" NBA Teams Since 2001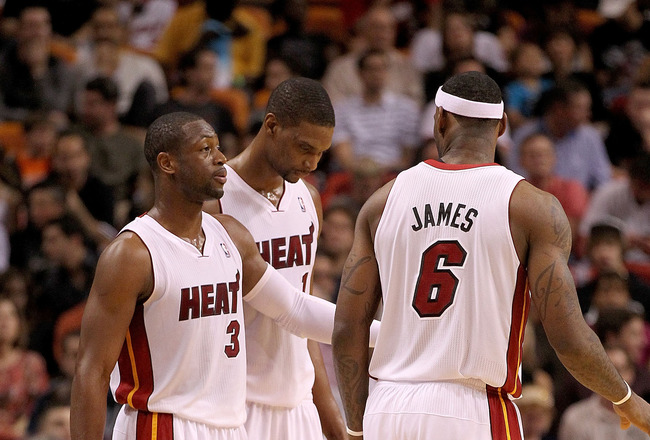 Mike Ehrmann/Getty Images
Recently, Los Angeles Lakers coach Phil Jackson released a statement criticizing the Miami Heat "XBox" style of play.
"Their basketball is very much in standing with Xbox games, or whatever those games are when you play one-on-one," said Jackson.
XBox was officially released during the 2001-2002 NBA season, and currently today, the Miami Heat have the strongest roster on any video game. The Heat set a new standard for "video game" teams, because with both LeBron James and Dwayne Wade on the floor at the same time, they're unstoppable.
What other teams had the world playing more NBA games on XBox in the past decade? Let's take a look at them...
20: 2008-2009 Houston Rockets
Kevin C. Cox/Getty Images
Starters: PG Aaron Brooks, SG Tracy McGrady, SF Ron Artest, PF Luis Scola, C Yao Ming
The Rockets came on strong in 08-09 after acquiring Ron Artest. Even though Tracy McGrady was hurt the majority of the season, he still had high ratings in the video games, and he could be taken off the injury rosters.
Yao Ming was nearly unstoppable in the post, and in 2009, people forget that Ron Artest could actually shoot three-pointers.
19: 2007-2008 Dallas Mavericks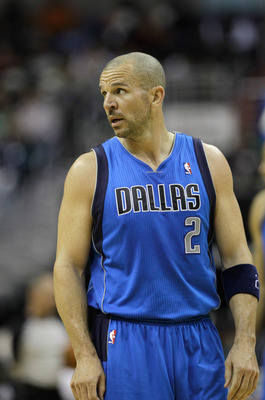 Rob Carr/Getty Images
Starters: PG Jason Kidd, SG Jason Terry, SF Josh Howard, PF Dirk Nowitzki, C Erick Dampier
After the Mavericks acquired Jason Kidd, they were a hit on the joysticks. Kidd's outstanding passing ability made it so much easier to find Nowitzki out on the arch, or throw an ally-oop to Josh Howard on a fast break.
The Mavericks didn't finish particularly well in 2008, but the team was loaded.
18: 2009-2010 Atlanta Hawks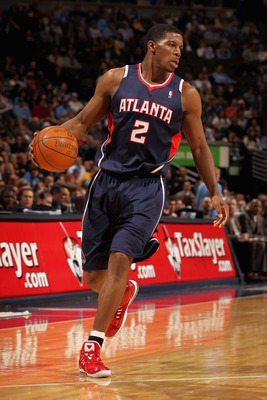 Doug Pensinger/Getty Images
Starters: PG Mike Bibby, SG Joe Johnson, SF Marvin Williams, PF Josh Smith, C Al Horford
These Hawks had everything someone could want in a video game team. Two star dunkers in Marvin Williams and Josh Smith, and a three-point specialist in Joe Johnson.
Al Horford was still young at the time, but he anchored the defense along with Josh Smith, blocking shots into the stands.
The Hawks were fast, and very fun to watch.
17: 2005-2006 Phoenix Suns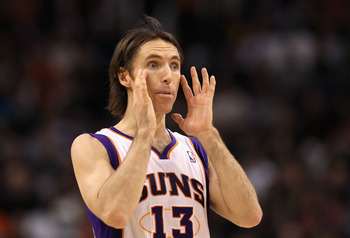 Christian Petersen/Getty Images
Starters: PG Steve Nash, SG Raja Bell, SF Shawn Marion, PF Boris Diaw, C Amar'e Stoudemire
The Suns were unbelievable on offense, which was what made them so fun to play with. Steve Nash was always the best passer in every video game, and there was nothing better than throwing an alley-oop to Stoudemire or Shawn Marion.
The Suns could also shoot, and they had Leandro Barbosa coming off the bench, too.
Amar'e Stoudemire only played three games in 2005-2006, but he was still in the starting lineup in the XBox version.
16: 2009-2010 Cleveland Cavaliers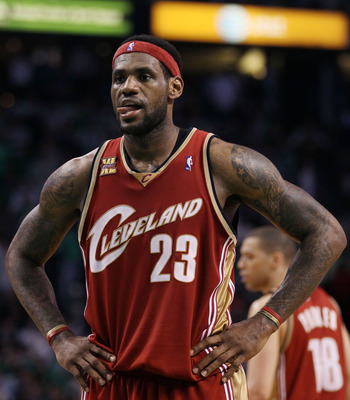 Elsa/Getty Images
Starters: PG Mo Williams, SG Anthony Parker, SF LeBron James, PF Antawn Jamison, C Shaq O'Neal
Naturally, LeBron James was the main attraction for the Cavaliers. He made everybody better, and Mo Williams knocked down threes because he was open all the time.
Adding Shaq in the offseason made the Cavs a great team to play with, only because, even though Shaq was old, he still manhandled opponents.
Cleveland had a plethora of shooters too.
15: 2006-2007 Phoenix Suns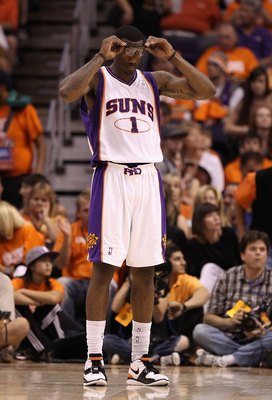 Christian Petersen/Getty Images
Starters: PG Steve Nash, SG Raja Bell, SF Shawn Marion, PF Boris Diaw, C Amar'e Stoudemire
The Suns are on the list again, but this time it's because Amar'e Stoudemire played like a monster in 2006-2007. He was now the best player on the Suns, and arguably the best power forward in every video game.
Steve Nash was an MVP in the real world, so you know he was still at the top of his game too. The Suns won 61 games in 2006-2007, and the majority of it was done with offense.
14: 2002-2003 Sacramento Kings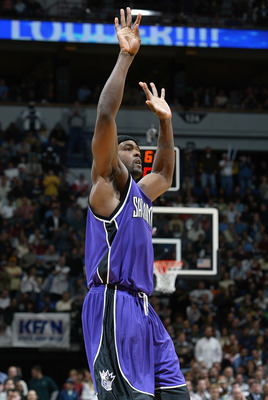 Elsa/Getty Images
Starters: PG Mike Bibby, SG Doug Christie, SF Peja Stojakovic, PF Chris Webber, C Vlade Divac
What a team! Every one of these guys was in their primes. Chris Webber was outstanding in 2002, and Peja Stojakovic was the best shooter in the NBA.
Mike Bibby was one of the fastest players in every video game, and he ran this Kings offense to perfection. The Kings were unbelievable.
13: 2006-2007 Golden State Warriors
Lisa Blumenfeld/Getty Images
Starters: PG Baron Davis, SG Monta Ellis, SF Jason Richardson, PF Stephen Jackson, C Andris Biedrins
They beat the the Dallas Mavericks in the first round of the 2007 Playoffs, and really showcased some speed.
Monta Ellis was just beginning to find his niche in the offense, and the fact that he was coupled with Baron Davis in the backcourt made the Warriors nearly unstoppable if you didn't play offense in the paint.
Golden State was small and fast, which is what made them special. Jason Richardson also had the best dunks of any player in a video game, so the highlight reels were never short.
12: 2007-2008 Denver Nuggets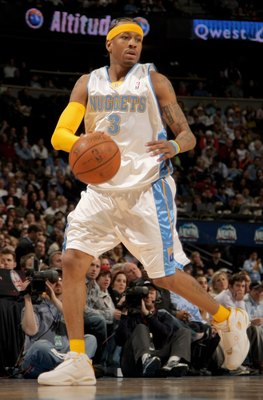 Doug Pensinger/Getty Images
Starters: PG Anthony Carter, SG Allen Iverson, SF Carmelo Anthony, PF Kenyon Martin, C Marcus Camby
The duo of Iverson and Anthony was impossible to stop in any video game. Iverson had the best crossover, and his quickness made the offense move faster. Carmelo Anthony was also emerging as one of the best scorers in the NBA too. Both of these guys were great one-on-one players.
Kenyon Martin and Marcus Camby were monsters on defense, swatting shots into the stands.
Nobody can forget that the Nuggets had J.R. Smith too, a high-flying, energetic sixth man who could shoot three-pointers as well as anybody.
11: 2008-2009 Orlando Magic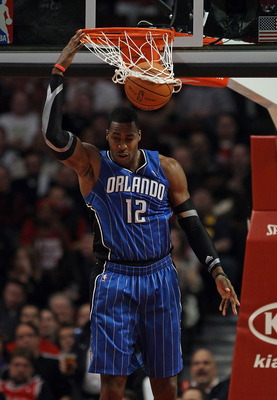 Jonathan Daniel/Getty Images
Starters: PG Jameer Nelson, SG Mickael Pietrus, SF Hedo Turkoglu, PF Rashard Lewis, C Dwight Howard
If there is such a team as a three-point robot, this is it. Orlando had unbelievable shooters, including Courtney Lee and J.J. Redick off the bench.
The Magic also had Dwight Howard, the best center in the NBA, and a tremendous dunker in every video game. Orlando might not seem flashy, but when you can shoot all day, video games don't get any more amusing.
10: 2001-2002 Los Angeles Lakers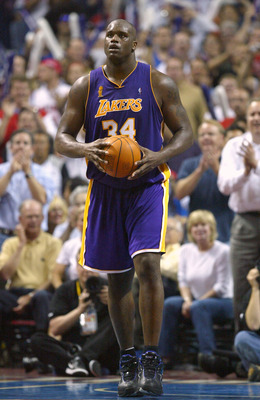 Jed Jacobsohn/Getty Images
Starters: PG Derek Fisher, SG Kobe Bryant, SF Rick Fox, PF Samaki Walker, C Shaq O'Neal
The Lakers finally make their mark on the countdown. This team was electrifying to play with, and the Kobe/Shaq combo is the best of all time.
Robert Horry came off the bench to splash three-pointers, and Rick Fox is part of a classic Lakers era.
The Lakers played as a team on the floor, but Kobe and Shaq dominated everything with the joysticks.
9: 2009-2010 Oklahoma City Thunder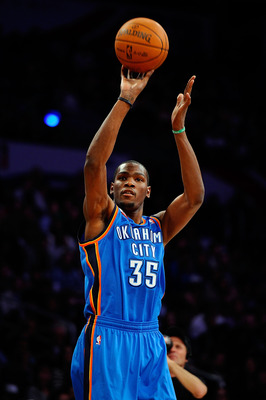 Kevork Djansezian/Getty Images
Starters: PG Russell Westbrook, SG James Harden, SF Kevin Durant, PF Jeff Green, C Nenad Kristic
The Thunder turned heads in 2010, and their youth is attractive to video game players.
The duo of Durant and Westbrook brings scoring to the table, along with Westbrook's monstrous dunks.
The Thunder are faster because they are younger, and unlike raw teams like the Warriors or Clippers, they actually have chemistry. James Harden is an up-and-coming star too.
8: 2004-2005 Phoenix Suns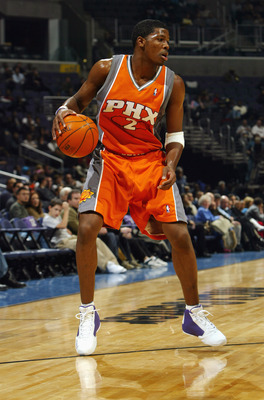 Doug Pensinger/Getty Images
Starters: PG Steve Nash, SG Joe Johnson, SF Quentin Richardson, PF Shawn Marion, C Amar'e Stoudemire
This team was almost too good to be true for any video game fan. Joe Johnson had finally broken out, and scored the second most points on the team behind Amar'e Stoudemire.
The Suns had MVP Steve Nash, and got the last year of Shawn Marion's prime too.
There was a perfect mix of shooting, speed on offense, and ferocious slams on this Suns squad.
7: 2003-2004 Sacramento Kings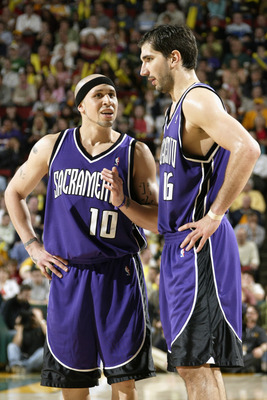 Otto Greule Jr/Getty Images
Starters: PG Mike Bibby, SG Doug Christie, SF Peja Stojakovic, PF Chris Webber, C Vlade Divac
Peja Stojakovic actually led the Kings in scoring in 2003-2004. The team was loaded once again, with a similar lineup to the 2001-2002 team on the countdown.
The Kings had great chemistry, and Mike Bibby was also still in his prime. Chris Webber was often hurt, but they finished one game shy of making it to the NBA Finals.
6: 2009-2010 Los Angeles Lakers
Ronald Martinez/Getty Images
Starters: PG Derek Fisher, SG Kobe Bryant, SF Ron Artest, PF Pau Gasol, C Andrew Bynum
The addition of Artest last offseason propelled this team to a title.
The Lakers had everything a gamer could want in a team. Kobe as the superstar, a lock down defender in Artest, a big man who can score in Gasol, and two seven-footers on defense.
I personally could never beat this team on "NBA 2k10" for XBox 360.
5: 2010-2011 New York Knicks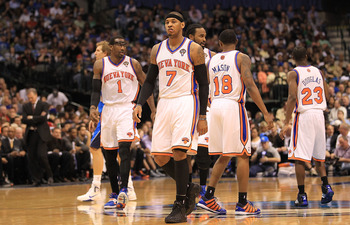 Ronald Martinez/Getty Images
Starters: PG Chauncey Billups, SG Landry Fields, SF Carmelo Anthony, PF Amar'e Stoudemire, C Ronny Turiaf
The Knicks assembled an offensive juggernaut after recently acquiring Carmelo Anthony. Offense wins video games, and the Knicks have an amazing trio.
Anthony is a great scorer, and Billups can still shoot with the best of 'em. Amar'e Stoudemire has emerged as an MVP candidate, and that tells you just how solid this team is.
The trend of "joining together to form a super team" has taken over the NBA.
4: 2004-2005 Detroit Pistons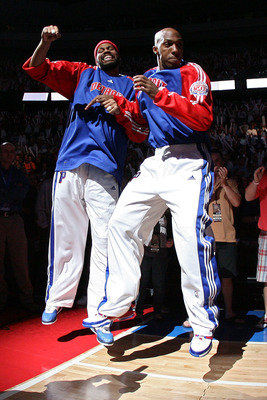 Elsa/Getty Images
Starters: PG Chauncey Billups, SG Rip Hamilton, SF Tayshaun Prince, PF Rasheed Wallace, C Ben Wallace
Rasheed Wallace joined this team at the beginning of the season to form a perfect roster.
The Pistons had deadly shooters all over the floor, excluding Ben Wallace, and the best defense in the NBA.
The best part about this team is the fact that nobody was a superstar; every player complimented each other.
On the video games, every player had high ratings, simply because they were all still in their primes.
3: 2007-2008 Boston Celtics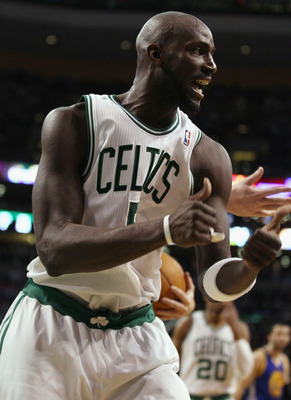 Elsa/Getty Images
Starters: PG Rajon Rondo, SG Ray Allen, SF Paul Pierce, PF Kevin Garnett, C Kendrick Perkins
Most of the Celtics' entire squad came together in the 2007 offseason, and made for a tantalizing video game team.
A gamer never had to shoot with Rondo, only because he had three other stars to pass the ball to. Rondo had amazing speed and passing ability, while Ray Allen splashed three-pointers all day.
Kevin Garnett was still one of the best players in every video game at the time, and the Celtics looked like an All-Star team.
2: 2010-2011 Miami Heat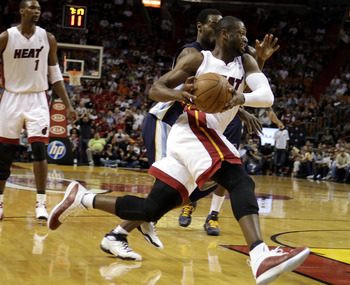 Marc Serota/Getty Images
Starters: PG Mario Chalmers, SG Dwayne Wade, SF LeBron James, PF Chris Bosh, C Erick Dampier
Since fatigue doesn't matter all that much in video games, neither does the Heat bench.
The chance to play with LeBron James and Dwayne Wade at the same time is a dream come true for anybody who loves video games.
James is the best player in every game, while Wade is always in the top five best. Chris Bosh is also an All-Star forward, and regardless of how much the Heat lost recently, they remain rated No. 1 in every game.
There isn't any possible way to stop two superstars like this on one team.
1: 2003-2004 Los Angeles Lakers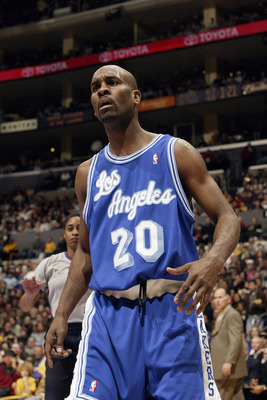 Stephen Dunn/Getty Images
Starters: PG Gary Payton, SG Kobe Bryant, SF Devean George, PF Karl Malone, C Shaquille O'Neal
Not to slight the Heat, but this team was one of the best teams ever put on paper.
Just by name, the fact that legends Gary Payton and Karl Malone joined forces with the Lakers for one last title run is amazing.
The Lakers didn't win the Finals, but the talent on the roster was immense. In fact, they still had Rick Fox and Derek Fisher coming off the bench too.
Regardless both Payton and Malone's age, they were always given high video game ratings because of their Hall of Fame status.
Both Kobe and Shaq were at their peaks too.
Keep Reading

Miami Heat: Like this team?