NBA: Why Trading Carmelo Anthony Revitaized the Denver Nuggets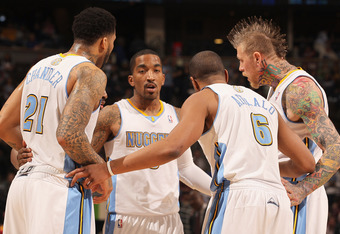 The Nuggets look to take this squad deep into the Playoffs
Doug Pensinger/Getty Images
When the Denver Nuggets made the trade with the New York Knicks that shipped Carmelo Anthony and Chauncey Billups to the Big Apple, it was supposed to initiate a slow rebuilding process—just the beginning of a few long years for Nuggets fans.
With their current championship hopes under Anthony squashed, it was assumed the Nuggets wouldn't be competitive for a long time.
However, since the Anthony trade, Denver has gone a respectable 6-2, beating Boston and Atlanta in the process. It's always impressive when a team such as the new-look Nuggets performs well—especially when the biggest offensive contributions are from players like Danilo Gallinari, Nenê and Kenyon Martin.
On the other hand, after watching the Nuggets play in the games Anthony missed this over the last few season, they have looked like world-beaters.
It's hard to get excited about a team whose best player is Chauncey Billups, but the Billups-headlined teams were actually 8-5 last season. Much of that was the sheer brilliance of Billups, but a lot of the strength of that team can be attributed to their ability to play functional team basketball without their superstar.
The Nuggets aren't full of chumps either. When they shipped away their big two players, Denver got in return a batch of great team players from New York. Wilson Chandler and Danilo Gallinari were thriving on a winning team for once in their careers. Raymond Felton, in his first year with the Knicks, was receiving All-Star consideration for his superior tandem with Amar'e Stoudemire.
Doug Pensinger/Getty Images
With Felton, one of the best passers in the game and Ty Lawson, a great up-and-coming scoring guard (and a pretty decent passer as well) sharing the helm of the team, the Nuggets can be confident in their point guards to create shots for the big shooters on the team, of which there are plenty.
In addition to Gallinari and Chandler, Denver also boasts the streaky-yet-effective J.R. Smith and MIP candidate Shooting Guard Aaron Afflalo.
The big men in Denver can't be overlooked either—alongside Nenê (The best pure Center in the West, if you ask me), Denver fields Al Harrington (Former Knick who DIDN'T come over in the Melo trade), Chris "Birdman" Andersen and Kenyon Martin.
While that isn't the strongest big rotation in the West, it's nothing to be scoffed at; a tandem of Nenê and Andersen could prove to be one of the most defensively gifted in the league when the playoffs come.
Denver's strongest asset all along hasn't been Carmelo Anthony, nor was it Chauncey Billups. George Karl, Denver's coach, is responsible for taking this new roster and somehow turning it into something not only cohesive, but also successful.
In the time Karl missed undergoing treatment for throat cancer last season, the Denver Nuggets fell apart. Give credit, however, to interim coach Adrian Dantley for keeping the team going, but he wasn't nearly as effective of a coach as Karl is.
The Nuggets currently hold on to the fifth slot in the West and don't expect them to drop any lower. It's hard to imagine Denver overtaking Oklahoma City (currently three games ahead) for the fourth seed, but at the pace they're currently maintaining, it's unlikely that Portland, Memphis or New Orleans will able to catch up.
This article is
What is the duplicate article?
Why is this article offensive?
Where is this article plagiarized from?
Why is this article poorly edited?

Denver Nuggets: Like this team?