NBA Report: An In-Depth Look at the League's All-Time Triple Threats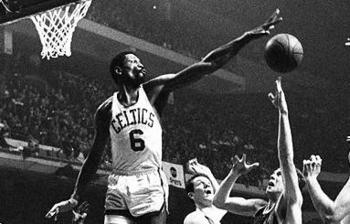 Dwayne Wade, Lebron James and Chris Bosh may be the most hyped three man combo to have ever hit the NBA hardwood, but are they anywhere near the most effective threesome to have collaborated on a professional level?
Yes, the numbers are very impressive, near 70 points, 20 plus rebounds, a little shy of 15 assists per game, but as you'll see in the slideshow, to come incrementally bigger numbers have been put up by illustrious trio's from the games past and in the end Miami's Big Three has to know their combined legacy will all come down to winning and losing.
To that end the tale has yet to be told in 2011. For now though, the Heat appear to be badly lagging heading into the post season and that won't help the sun-sensational South Beach triple threat as in this forum they'll not only be perched against player trifecta's that have dazzled fan bases everywhere, but taken home at least a measure of NBA championship gold as well.
1958-59 Boston Celtics: Bill Russell, Bob Cousy, Bill Sharman

http://www.youtube.com/watch?v=H4Jmx7hW7uw

The league's original big three took off in 1956 when Russell joined the Celtics and led the team to the first of ten NBA titles in eleven seasons.
Cousy had already begun to revolutionize the game with his ball handling and passing skills in the years leading up to Russell's arrival and Sharman complimented the pair perfectly as his deft touch from virtually anywhere on the perimeter kept his teammates from suffering endless double teams.
They were together for five years '56/'57-'60/'61 winning the title each year.
1958 was pretty typical of their individual contributions throughout the run.
Bill Sharman: 20.4 ppg, 4 rebounds, 2.4 assists (93% from the line)
Bob Cousy: 20 ppg, 5.5 rebounds, 8.6 assists
Bill Russell: 16.7 ppg, 23 rebounds, 2.3 assists (No block records kept)
Totals: 57 ppg, 32.5 rebounds, 13.3 assists
Not without us you don't!
Tommy Heinsohn: 18.8, 9.7, 2.5
Frank Ramsey: 15.4, 6.8, 2.0
Note: How frenetic a pace did the Cousy-led Celtics play at? They averaged nearly 117 PPG while shooting around 41% from the field.
You've got to hoist up a lot of shots in 48 minutes at that FG% to get to that end result. No three balls either!
Presuming an average of 25 free throws per evening, that still provides for 46 FG which would have required 115 FGA or one shot for every 12.5 seconds of possession time.
1961-62 Boston Celtics: Bill Russell, Sam Jones, Tommy Heinsohn
With Bill Sharman retired and Cousy slowing a bit, shooting guard Sam Jones and 6-7 PF, Tommy Heinsohn, joined Russell in forming an updated Celtic core as the team continued to pile on the championship seasons well into the 1960's.
The 6'4" Jones, or 'Sudden Sam' as he was known in the day, would go on to have bigger scoring seasons, 25.9 in '64/'65 for example, but in '61/'62 the trio shared the wealth to great result:
Sam Jones: 18.4 ppg, 6 rebounds, 3 assists
Tommy Heinsohn: 21.3, 10 rebounds, 2 assists
Bill Russell: 18.9 ppg, 23.6 rebounds, 4.5 assists
Totals: 58.6 ppg, 39.6 rebounds, 9.5 assists
Key Complimentary Players:
Bob Cousy: 15.7, 3.5, 7.8
Satch Sanders: 11.2, 9.5, 1.0
Frank Ramsey: 15.3, 4.9, 1.4
KC Jones: 9.2, 3.7, 4.3
Red Auerbach blew plenty of smoke but the Celts won all those titles with deep teams centered by one of the games all time omnipresent forces in Russell.
They averaged 121 points per game in '61/'62 and topped the Lakers 4-3 in a taut '61/'62 NBA Final.
1966-67 Philadelphia 76er's: Wilt Chamberlain, Chet Walker, Billy Cunningham
One of the best teams in NBA history, we chose the high flying Kangaroo Kid, Billy Cunningham, to join front-court mates Chamberlain and silky smooth Chet 'The Jet' Walker, but could have just as easily thrown speedy, sharp shooting guard, Hal Greer into the mix.
Big Wilt cut back on some of his offensive repertoire in '66/'67, ably distributing the ball and the 76er's responded by leading the league in scoring—125 points per game—en route to a 68-13 regular season mark.
The postseason brought more of the same top flight result—Eastern Conference series victories over Oscar Robertson's Cincinnati Royals and Bill Russell's Celtics en route to a 4-2 defeat of the San Francisco Warriors for all the NBA money.
Wilt Chamberlain: 24.1 ppg, (68% shooting), 24.2 rebounds, 7.8 assists
Chet Walker: 19.3 ppg, 8.1 rebounds, 2.3 assists
Billy Cunningham: 18.5 ppg, (27 minutes), 7.5 rebounds, 2.5 assists
Totals: 63 ppg, 39.8 rebounds, 12.6 assists
Complimentary studs:
Hal Greer: 22.1, 5.3, 3.8
Wali Jones: 13.2, 3.3, 3.7
Luke Jackson: 12.0, 8.9, 1.4
1969-70 New York Knicks: Willis Reed, Walt Frazier, Dave Debusschere
Three of the league's All-Time Top Fifty players began to blend their talents in 1968 under savvy Knick Head Coach Red Holzman, resulting in three NBA Finals appearances and two World Titles in the ensuing four years beginning with the dramatic 1969-70 season.
Willis Reed: 21.7 ppg, 13.9 rebounds, 2.0 assists
Walt Frazier: 20.9 ppg, 6.0 rebounds, 8.1 assists
Dave Debusschere: 14.6 ppg, 10.0 rebounds, 2.5 assists
Totals: 57.8 ppg, 29.9 rebounds, 12.6 assists
Sharpshooting parts:
Bill Bradley: 14.5, 3.6, 4.0
Dick 'Fall Back Baby' Barnett: 4.9, 2.7, 3.6
Cazzie Russell: 11.5, 3.0, 1.7
One of the best perimeter shooting teams in the history of the game—and that's before Early Monroe and mad-bombing, memory man Jerry Lucas joined the team in 1971 & 1972 respectively—the Knicks hit about 48% of their shots and averaged 115 points per game en route to their 1969-70 title win over the formidable Lakers.
If there was ever a team made for the three point circle, it was most assuredly this one.
1970-71 Milwaukee Bucks: Lew Alcindor, Oscar Robertson, Bobby Dandridge
The Big "O" finally got his world championship ring in '71 with the Milwaukee Bucks after a long, illustrious stay with his home town Cincinnati Royals where he became the only player in NBA history to average a triple double—30.8 ppg, 12.5 rebounds, 11.4 assists—ten years earlier.
Lew Alcindor: 31.7 ppg, 16 rebounds, 3.3 assists
Oscar Robertson: 19.4 ppg, 5.7 rebounds, 8.2 assists
Bobby Dandridge: 18.4 ppg. 8.0 rebounds, 3.5 assists
Totals: 69.5 ppg, 29.7 rebounds, 15 assists
Smooth at Shooting Guard:
Jon McGlocklin: had great range, averaged about 16 ppg on 54% shooting.
The Bucks blew through the combination of the San Francisco Warriors, Los Angeles Lakers and Baltimore Bullets—winning 12 of 14 games—en route to their only NBA Title.
The day after completing their 4-0 sweep of the Bullets in the championship round, center Lew Alcindor announced he would henceforward be known as Kareem Abdul Jabbar.
1971-72 Los Angeles Lakers: Wilt Chamberlain, Jerry West, Gail Goodrich
No longer the scoring threat he was in his younger days, Chamberlain was able to grab a second NBA Championship, manning the defensive middle for one of the great sharpshooting backcourt's of all time.
Gail Goodrich: 25.9 ppg, 3.6 rebounds, 4.5 assists
Jerry West: 25.8 ppg, 4.2 rebounds, 9.7 assists
Wilt Chamberlain: 14.8 ppg, 19.2 rebounds, 4.0 assists
Totals: 66.5 ppg, 27 rebounds, 18.2 assists
Tough up front too:
Sweet Shooting, Jim McMillan: 18.8, 6.5, 2.6
Double/Double Man, Happy Hairston: 13.1, 13.1, 2.4
Now that's a starting five!
1973-74 Boston Celtics: Dave Cowens, John Havlicek, Jo Jo White
There have been few players in NBA history who combined brute force and a deft shooting touch quite Boston's Dave Cowens. "Big Red's" eleven-year career broke in with a bang in 1970 when he averaged 17 points and 15 rebounds during an exceedingly well received 81-game opening act on the famed Parquet Floor.
A pillar of strength down low, Cowens was ultra quick off his feet, especially effective from the top of the key—where the 6'9" southpaw out of Florida State rarely misfired—and an exceedingly difficult cover when he went off on one of his frequent powerful forays to the iron.
The Celtics of the early 70's engaged in sensational battles with the Knicks, Baltimore Bullets, Milwaukee Bucks and Los Angeles Lakers. They broke through for an NBA Title in 1973-74 behind the combined magnificent play of their own revamped Big Three—Cowens, NBA legend John "Hondo" Havlicek and the smooth as silk shooting guard, Jo Jo White.
Dave Cowens: 19.0 ppg, 15.7 rebounds, 4.4 assists
John Havlicek: 22.6 ppg, 6.4 rebounds, 5.9 assists
Jo Jo White: 18.1 ppg, 4.3 rebounds, 5.5 assists
Totals: 59.7 ppg, 26.4 rebounds, 15.8 assists
Key Cogs, Defensive Stalwarts:
Paul Silas: 11.5, 11.1, 2.3
Don Chaney: 10.4, 4.7. 2.2
The Celtics won 68 games in 1972, but were ousted by the Knicks in the Eastern Conference Finals before winning it all in 1973.
1976-77 Portland Trailblazers: Bill Walton, Maurice Lucas, Lionel Hollins
Lionel Hollins was a very solid two-way player, but maybe a bit of a reach in this context as part of an All-Time Big Three.
But we couldn't look past Bill Walton—healthy enough to play 65 regular season games, the most he ever managed as a starter—and Maurice Lucas, who by 1976 had already emerged as an all-time force at power forward.
As a whole, the Blazers meshed perfectly in 1976-77 sweeping past Kareem Abdul Jabbar and the Lakers in the Western Conference championship round en route to a 4-2 win over a loaded, Julius Erving led 76er team in the NBA Finals.
Bill Walton: 18.6 ppg, 14.4 rebounds, 3.8 assists, (3.2 blocks)
Maurice Lucas: 20.2 ppg, 11.4 rebounds, 2.9 assists
Lionel Hollins: 14.7 ppg, 2.8 rebounds, 4.1 assists, (2.2 steals)
Totals: 53.5 ppg, 28.6 rebounds, 10.8 assists
Just a heady ballclub that played defense and shot the ball well. Bobby Gross, Dave Twardzick and Larry Steele combined for another 31 ppg on 55% shooting. Walton broke down late the following year, precluding a shot at a repeat post season performance, and never resembled the same dominating player thereafter.
1979-80 Lakers: Kareem Abdul Jabbar, Jamaal Wilkes, Magic Johnson
Magic Johnson capped off an unforgettable rookie season by stepping in at center for an injured Abdul Jabbar in Game Six of the NBA Finals, leading the Lakers to a 123-107 victory against another loaded Philadelphia 76er team.
Exceeding all expectations, the Magic Man scored 42 points and grabbed 15 rebounds, while handing out seven assists—Jamaal Wilkes added 37—as the Lakers grabbed NBA Gold for only the second time since having moved west from Minneapolis.
With Magic at the helm, the legendary Jabbar manning the middle, the silky smooth Wilkes and then North Carolina flyer James Worthy playing big parts at the four spot, the Lakers—or Showtime, as they would come to be coined—would go on to win NBA Titles in five of the ensuing nine seasons.
Magic Johnson: 18.0 ppg, 7.7 rebounds, 7.3 assists
Kareem Abdul Jabbar: 24.8 ppg, 10.8 rebounds, 4.5 assists
Jamaal Wilkes: 20.0 ppg, 6.4 rebounds, 3.0 assists
Totals: 62.8 ppg, 25 rebounds, 14.8 assists per game
This Laker group had ample supply in additional firepower in Norm Nixon, Spencer Haywood and Michael Cooper. They averaged about 115 points per game despite ignoring the three point circle altogether, only hoisting about 100 balls from the circle all season long.
1982-83 Philadelphia 76ers: Moses Malone, Julius Erving, Andrew Toney
Frequently a bridesmaid leading up to the 1982-83 season, the Philadelphia 76ers took the NBA by storm from the opening tip and never pulled back until they had finished the job, defeating the rival Lakers 4-0 to win their first NBA Title since 1967.
By appearance, they were the kind of free wheeling, personality laden team that broke all NBA molds—albeit, to the tune of 65 regular season wins and a virtual 12-1 sweep thru the league playoffs.
It'd be almost impossible to top this perfectly blended trio of players. The vastly intimidating monster in the middle, Moses Malone, the free wheeling, multi talented Dr. J. Julius Erving and Andrew Toney, who history has a tendency to forget, but was one of the leagues most unstoppable offensive threats and a more than willing defender before an ankle injury first suffered in 1985 prematurely cut short his career.
Moses Malone: 24.5 ppg, 15.3 rebounds, 1.3 assists (2 blocks)
Julius Erving: 21.4 ppg, 6.8 rebounds, 3.7 assists
Andrew Toney: 19.7 ppg, 2.8 rebounds, 4.5 assists
Totals: 65.6 ppg, 25 rebounds, 9.5 assists
Two of the NBA's best—Maurice Cheeks and Bobby Jones—rounded out a starting unit that saw all five players shoot over 50% from the floor.
1985-86 Boston Celtics: Larry Bird, Robert Parish, Kevin McHale
One of Red Auerbach's last great maneuvers brought Kevin McHale and Robert Parrish to Boston. With those two soon to be NBA front-court greats teamed with Larry Legend, the Celtic's quickly reemerged as one of the leagues most formidable franchises, winning NBA Titles in 1980-81, '84 and '86.
Larry Bird: 25.8 ppg, 9.8 rebounds, 6.8 assists (50% from the floor)
Kevin McHale: 21.3 ppg, 8.1 rebounds, 2.7 assists (57% from the floor)
Robert Parish: 16.1 ppg, 9.5 rebounds, 1.8 assists (55% from the floor)
Totals: 63 ppg, 27.4 rebounds, 11.3 assists
Danny Ainge, Dennis Johnson and a reasonably healthy Bill Walton—who averaged 19 minutes, around seven points, seven rebounds and a block over 80 games—rounded out a great Celtic team that excelled to extraordinary heights during one of the most competitive periods the NBA has even known.
1986-87 Lakers: Magic Johnson, James Worthy, Kareem Abdul Jabbar
Another quick look at the Laker Dynasty of the 1980's. This one crystallized the transition from Jamaal Wilkes to James Worthy.
One of the games all-time transition forwards, the soft spoken Worthy never shot less that 53% from the floor in his first eight NBA seasons and played in seven League Finals—the Lakers winning three—while copping the Championship Round MVP in 1987-88.
Magic Johnson: 23.9 ppg, 6.3 rebounds. 12.2 assists (52% from the floor)
James Worthy: 19.4 ppg, 5.7 rebounds, 2.8 assists (54% from the floor)
Abdul Jabbar: 17.5 ppg, 6.7 rebounds, 2.6 assists (57% from the floor)
Totals: 62 ppg, 18.7 rebounds, 17.6 assists
Insanely deep with Byron Scott, A.C. Green, Michael Cooper, Mychael Thomspon and Kurt Rambis, who all logged significant minutes. Could easily be portrayed as the league's best team ever.
1991-92 Chicago Bulls: Michael Jordan, Scottie Pippen, Horace Grant
Only "Air" Jordan's essential two-year, mid-nineties respite from the game we loved to watch him play kept the Bulls from winning eight straight NBA Titles stretching from 1991-98.
In the first incarnation, or three-year NBA Title run (1991-94), it was the combination of Jordan, Scottie Pippen and Horace Grant who carried the team like few other trios have so effectively managed.
Michael Jordan: 30.1 ppg, 6.1 rebounds, 6.1 assists
Scottie Pippin: 21 ppg, 7.7 rebounds, 7.0 assists
Horace Grant: 14.2 ppg, 10.0 rebounds, 2.7 assists (58% from the floor)
B.J. Armstrong, Bill Cartwright, Jon Paxson averaged 24 points, eight rebounds and seven assists between them.
In the second half of the great Bull run (1995-98), Dennis Rodman stepped in for Grant and contributed a little better than fifteen rebounds per evening, glue-like defense and about 4,000 different hair color combinations.
2000-01 Los Angeles Lakers: Shaquille O'Neal, Kobe Bryant, Kobe Bryant's Socks
Actually, we'll throw steady, left-handed point Derek Fisher into the mix. But in reality, this slide is a homage to the three-year Laker championship run and the extraordinary accomplishments over that span by the combination of Shaquille O'Neal and Kobe Bryant.
There may have been no love lost between the pair, but that didn't keep them from putting up some incredible numbers when they were on the court together.
Shaquille O'Neal: 28.7 ppg, 12.7 rebounds, 3.7 assists
Kobe Bryant: 28.5 ppg, 5.9 rebounds, 5.0 assists
Derek Fisher: 11.5 ppg, 3.0 rebounds, 4.4 assists
Totals: 68.7 ppg, 21.6 rebounds, 13.1 assists
The rest of the team didn't amount to much. An aging Horace Grant, an undersized froward Rick Fox, Ron Harper, Brian Shaw, Robert Horry—a better hill of beans than the current crop in Miami, but that's really not saying much.
2006-07 San Antonio Spurs: Tim Duncan, Tony Parker, Manu Ginobli
The last of four NBA Titles is spread over nine seasons for the heralded Tim Duncan-led Spurs.
The team was originally propelled by their own version of the twin towers: 7'1" Navy vet David Robinson and the Virgin Island-born, 6'11" Duncan (a two-time regular season MVP, three time NBA Finals MVP). The two had an able helping hand from smooth backcourt operator, Sean Elliot.
Dashing Frenchman Tony Parker was a big part of the 2002-03 title run—first year Argentinian import Manu Ginobli a key bench part—setting the stage for the potent triple threat that was essential to the Spurs title runs in 2004-05 and 2006-07.
Tim Duncan: 20.0 ppg, 10.6 rebounds, 3.4 assists (2.4 blocks per game)
Tony Parker: 18.6 ppg, 3.3 rebounds, 5.5 assists
Manu Ginobli: 16.5 ppg, 4.4 rebounds, 3.5 assists
The balance of the squad didn't take your breath away, but Brent Barry, three balling defensive ace Bruce Bowen and the veteran SG Michael Finley all made nightly contributions.
2007-08 Boston Celtics: Kevin Garnett, Paul Pierce, Ray Allen
The veteran trio came together in 2007 as if by divine intervention from the basketball gods (with a good deal of help from ex Celtic mates Danny Ainge and Kevin McHale). They did not disappoint, as the city of Boston was able to raise another championship banner to go along with the 17 others already hanging from the newly configured, Fleet Center rafters. (Now known as TD Garden.)
The team returned to the NBA Finals last year in a losing effort as an injured Garnett was barely able to contribute. But in 2010-11, with all hands on deck, and in reasonably good health, the Celts look as good as ever as the post season fast approaches.
Kevin Garnett: 18.8 ppg, 9.2 rebounds, 3.4 assists
Ray Allen: 17.4 ppg, 3.7 rebounds, 3.1 assists
Paul Pierce: 19.6 ppg, 5.1 rebounds, 4.5 assists
Now one of the best point guards in the league, Rajon Rondo was just emerging as a game changer in 2007-08, averaging 10 points, four rebounds and five assists while playing a merciless brand of tenacious defense. Leon Powe, Eddie House, Sam Cassel, James Posey and Kendrick Perkins all made contributions as well.
2009-10 Los Angeles Lakers: Kobe Bryant, Pau Gasol, Andrew Bynum
Three-headed weapons come in varying forms. For the Lakers, Kobe Bryant and Pau Gasol have become staples, but the team becomes truly lethal when the big kid out of New Jersey's St. Joseph High, Andrew Bynum, is healthy and wreaking havoc in the low post.
They've won back-to-back NBA Titles and even with some talk about how Kobe may be slowing down, Los Angeles looks sharp heading down the stretch. They have recently won eight straight to elevate the 2010-11 season record to 46-19.
Kobe Bryant: 27.0 ppg, 5.4 rebounds, 5.0 assists
Pau Gasol: 18.3 ppg, 11.3 rebounds, 3.4 assists
Andrew Bynum: 15.0 ppg, 8.3 rebounds, 1.0 assists
Totals: 62.3 ppg, 25 rebounds, 9.4 assists
Derek Fisher, Ron Artest, Lamar Odom, Shannon Brown, Jordan Farmar, and of course, head guru in charge Phil Jackson all contributed to the cause.
Three's Simply Not Enough
Whether or not Dwayne Wade, Lebron James and Chris Bosh rank amongst the best three-man combos ever is secondary to the apparent fact that even in a watered down NBA—and the league has had a considerable resurgence amongst top teams in 2011—three great players on the court at one time will not suffice in lieu of a very poor supporting cast.
As of this moment, Miami's Big Three is combining for 69 points, 23 rebounds and 13 assists per game.
Heady numbers by the standards we've just observed, but unless those numbers expand exponentially come playoff time, Miami will be headed for an earlier than expected exit barring a miracle surge from the combined likes of Joel Anthony—who we like as an active, if not under utilized body in the middle—Eddie House, Mario Chalmers, Mike Miller, James Jones and new PG addition Mike Bibby.
Even if the Heat were to ascend at this point or sometime in the near future, we would not rank them on top of this ultra impressive list. In fact, they'd be hard pressed to enter our top five, which was only chosen with the greatest consternation.
1) 1979-80 Los Angeles Lakers: Magic, Kareem at or near his peak, Jamaal Wilkes
2) 1991-92 Chicago Bulls: Michael Jordan, Scottie Pippen, Horace Grant
3) 1985-86 Boston Celtics: Larry Bird, Kevin McHale, Robert Parish
4) 1971-72 Los Angeles Lakers: Wilt Chamberlain, Jerry West, Gail Goodrich
5) 1982-83 Philadelphia 76ers: Moses Malone, Julius Erving, Andrew Toney
5) 2000-01 Los Angeles Lakers: Shaquille O'Neal, Kobe Bryant, Derek Fisher
Hope you enjoyed it,
DR
Keep Reading

Boston Celtics: Like this team?