If You Could Have Anyone: A Realistic Approach to a Team of All-Star Caliber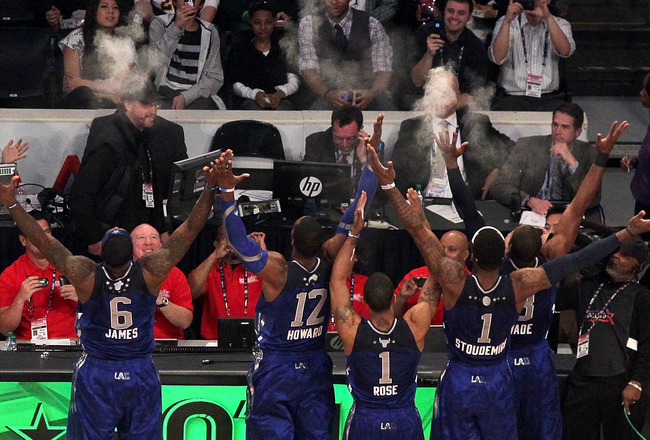 Noel Vasquez/Getty Images
Whether or not you watched the NBA All-Star game a few weekends ago, it's this time every year where everyone, amidst talks and rumors as the trade deadline approached, wonders what it would be like if there was an NBA franchise with a roster full of veritable All-Stars.

In cities all across the country, kids playing ball at recess, twenty-somethings sitting at the bar, and office workers standing around the water cooler all wonder the same thing: What, exactly, would happen if there was a team (or teams) in the NBA full of nothing but All-Star caliber players?

It might be a slightly unpopular opinion, and you're certainly welcome to call me a buzzkill (I'll leave my e-mail address at the end of this column), but I hate the idea of an All-Star team for more than one lighthearted exhibition game per year. To be honest, I'm not even the biggest fan of it once per year. I'd rather watch the highlights on SportsCenter or YouTube (I am a part of the worst generation in history, remember). I've probably seen the game only once out of the past five years (including this year).

But that's a different column for a different day.
The Rules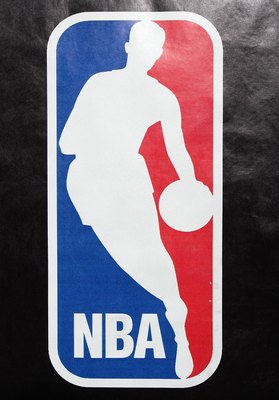 Ronald Martinez/Getty Images
But with everyone talking about All-Stars, it got me wondering: What would be the best possible team you could assemble in the NBA?

Before you shout "All-Stars, idiot!" at your screen, let me explain more specifically: What would happen if you took things like salaries, egos, and other similar factors into account and really tried to create a team that seemingly wouldn't be able to be beaten?

The idea gripped me, I ran with it, and here I am. It required a lot of research, and a lot of math, two things I really haven't had to do much of since high school, and for good reason.

The rules I set for myself on this are as follows:
1. Money, Cash, Benjamins, Moolah, Dolla Dolla Bills Yall, Etc.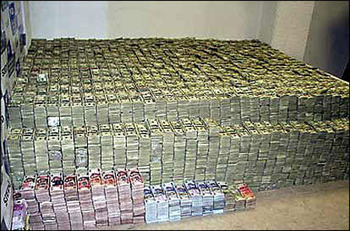 2010-2011 L.A. Lakers Salary
My team (insert name here... I'll probably come up with a name later on) isn't going to be paid more than the average team salary in the NBA for this 2010-2011 season (plus or minus a few hundred thousand dollars, because I've gotten slightly conflicting player salary information). The average happens to be right around $67 million, according to data cross-referenced between hoopdata.com, ESPN.com, and a couple other sites.
I wasn't joking when I said this involved a lot of math. Four different times I averaged out all 30 teams' salaries. BY HAND. Again, math.

Coincidentally, the NBA salary cap for this season is $58,044,000. The reason I didn't use this number as my goal to build a team with is that it's, to be droll, unrealistic. Only six teams (the Thunder, Bulls, Clippers, Cavs, T'Wolves, and Kings) are under that cap this season, due to things like clauses and cap exceptions that go over my head. Thus, I decided to simplify things a bit and just use the average salary.
2. More Cash Considerations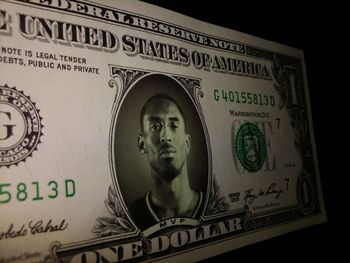 $1 million of Kobe's salary comes in bills like these
I will be using the salaries players will be earning this season to determine my team's payroll. I realize (and you will too, by the end of this) that if there really was an NBA team with the roster I'll lay out, in about two years (based on guys' salaries increasing as the years of their contracts go on, standard procedure) my team's salary would be upwards of… way too much money (although still a couple million less than Kobe will be making in 2013-14… zing? Being overpaid isn't really a knee-slapping insult.).
But at the same time, with the looming possibility of a league-wide lockout, maybe it wouldn't even matter.
3. The Delonte West Factor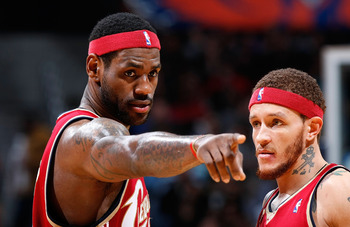 LeBron James marking Delonte West for death.
Kevin C. Cox/Getty Images
I'm building a team, not the Justice League.
I can't have so many big/conflicting personalities that my players would cause more problems than Charlie Sheen would with a bag of cocaine, a box of firecrackers, and a twitter account.
For example, if Delonte West were any good (play along for a minute), I wouldn't dream of putting him on the same team as LeBron. It would be completely counterproductive, regardless of the fact that I could probably market it as a reality show.

I can see it now:

Delonte: Hey 'Bron, how's your mom doin?
LeBron: You realize no one likes you, right?
Delonte: Oh yeah, pretty much everyone thinks I'm a dick, but your mom, dude.

Delonte West was found three days later in a creek.

On second thought, how much is Delonte's salary again?
I guess let's begin with the starting five:
Point Guard: Chris Paul, New Orleans Hornets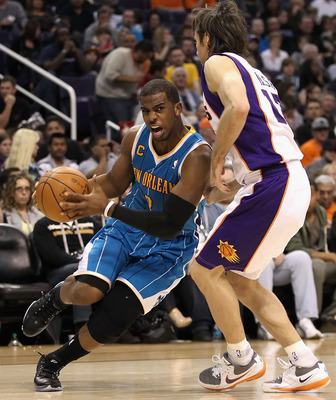 Christian Petersen/Getty Images
There isn't anyone in the league who can run a team better than Paul, who has been making people yell "What's he trying now, he's not athletic enough to do tha—WHAT ON EARTH?!" at their TVs since 2005.
He's the most efficient PG in the league by far and one of the most underrated defensive players in the league (don't forget, he's been on the All-NBA defensive team). He plays passing lanes well and could pick Matt Damon's pocket in Ocean's 11.

The only thing that strains this pick is his salary, which stands this year at about $15.3 million. I've thought through all the arguments:
"Rajon Rondo is averaging almost three more assists per game and is the best defender at the PG position at $6 million cheaper! Jerk."
"Russell Westbrook is becoming the PG equivalent of LeBron, is only 22, has a $3.4 million salary, and looks like Mos Def! Jerk."
"You forgot about Derrick Rose?! Jerk."

But after I got all the possible arguments for other guys out of the way, and got over being called a jerk so many times, the fact is that if given the choice, I wouldn't want anyone other than Paul leading my offense.
And for the record, I didn't forget about Rose...
Shooting Guard: Derrick Rose, Chicago Bulls

Jonathan Daniel/Getty Images
JUST HEAR ME OUT
This one is going to draw a few blanks; I guarantee it. Some of you may not have even been able to read that last sentence because your brains were still trying to figure out what I'm trying to do here.
Ever since Rose was drafted, I've agreed with the idea that he'd play PG for the Bulls simply because he'd be their best option at the position. Heck, he'd be the best option for almost all the teams in the NBA at PG. But in terms of his skill type, I've always thought that he should play SG. Or, to explain it better, if you have a better pure point guard to play, Rose would still be dominant at shooting guard.

He has the ability throw an amazing pass, but not the consistency and presence of mind to do it consistently like the best PGs in the league (CP3, Nash, Rondo, Williams). And most people have overlooked that over the past three seasons because he racks up very good assist numbers. This year, he's at 8.2.
But what most don't realize is that the brunt of those assists come because he draws so much defensive attention because he's so dynamic offensively. Basically, he's perfect for the shooting guard position. His size won't hurt him there because he's quicker than anyone in the league (except maybe Ty Lawson), and let's face it, if Ben Gordon can be a successful 6-3 SG, Derrick Rose can do it easily.
And it's not as if he wouldn't bring the ball up the court occasionally anyway. Don't worry, people; Derrick Rose is so good at basketball that just because he's not playing point doesn't mean he's not one of the top players in the league.

The last reasons I picked Rose here over guys like Kobe, Dwayne Wade, and everybody else (accurate description of the SG talent in the NBA) is because he only costs $4.6 million, he's pretty soft-spoken (aka he doesn't cause problems) and he's 22. It's as easy as that.
Small Forward: LeBron James, Miami Heat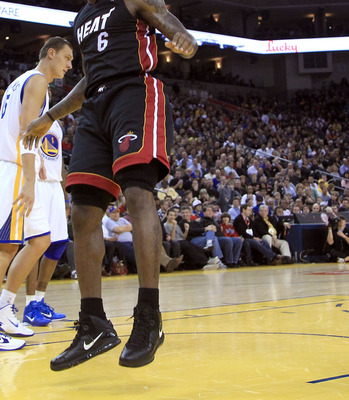 Ezra Shaw/Getty Images
This one is really not up for discussion. I didn't look into anyone else at the SF spot.

He gets his teammates involved better than any non-PG in the league (12th in the league in assists, only non-PG in top 24). He, despite being an utterly unlikable jackass when put under the microscope, is a very good teammate. Don't confuse him constantly being under media scrutiny with him causing problems on his team. If that were the case, the Heat wouldn't be 43-17.

He's the best basketball player in the world; it's time everyone just went ahead and dealt with that. I'm not going to go as far as to say he's the best basketball player of all time, because he's certainly not had the best career, but I will say there's never been a basketball player that can do all the things he can, especially not at this level of competition.
He's the fastest (not quickest) player in the league, most explosive/exciting (sorry Blake Griffin), can score in more ways than anyone, shoots close to 50 percent from the floor, and still manages to outweigh Zydrunas Ilgauskas (don't believe the 250 pounds he's listed at; Sports Illustrated has said that people in the league have speculated him being 270ish).

Oh yeah, he's an excellent defender too. Second in Defensive POY award a couple years back.

But the most reassuring thing to me about this pick is the fact that, despite playing for a team where he can potentially be third banana on any given night, LeBron hasn't missed a step and is playing more efficiently than he ever has, which is why his stats have barely dipped from last year. I'll be honest; I was expecting a 21-6-5 year out of him, not 26-7-7. I'll pay $14.5 million for that.
Power Forward: Blake Griffin, Los Angeles Clippers

Typical.
Kevork Djansezian/Getty Images
I realize this team is looking more and more like the Harlem Globetrotters, but with the kind of (belated) rookie season Griffin's having, it'd hard to leave him off the starting five, let alone the team.
So far this year, we've learned a few things about Griffin: He plays as high as anyone in the league, he's a great rebounder, he's a great passer for a big man, he's humble, he's developing into a good defender, and he's having a better rookie season than Shaq in '93 or David Robinson in '89, depending on your own opinion.

Now that my mind is on it, I can see the comparisons between the Admiral and Griffin. Both had to start their rookie seasons later than expected. Robinson because he had to fulfill his commitment to the U.S. Navy for two years, and Griffin because he jumped too high and hurt his knee (man I wish I could say that about myself). Both showed up in the NBA and proceeded to jump over unsuspecting veterans nightly, and both stat lines are eerily similar (except Griffin's nearly four assists/game compared to Admiral's nearly four blocks/game).

Griffin costs about $5.5 million, which is fairly large for a rookie contract, but consider that Dwight and Amar'e are both going for $16 million each.
It's like stealing an iPad from the display at Best Buy and then running back and leaving $50 on the empty display because you felt bad.
Center: Kevin Love, Minnesota Timberwolves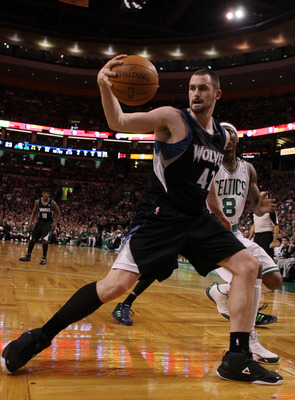 Sexy.
Elsa/Getty Images
With guys like Dwight Howard and Amar'e Stoudemire on the short list for Center with Love, I'm sure a lot of people are wondering why I picked the guy whose team makes a habit out of losing. It's simple: He's 22 and is having a season most comparable to Moses Malone.
If you would have told me last year that Kevin Love, the white kid with the pencil thin beard and the best awkward handshake in NBA history would get a 31 point, 31 rebound game, break Kevin Garnett's franchise record of 38 straight double-doubles, and be called the best white player since John Stockton (Love also broke his best double-double streak, by the way), I would have called you crazy. I would have called you even crazier if you had added that he'd be one of the league's best three-point shooters during all of this (43 percent, 1.4 makes per game).

And he only costs about $3 million. Rookie contracts are the best.

That rounds out the top five, and I'm at about $43 million dollars, give or take. By the way, the team's name will be the Delonte Wests. Just thought I'd add that in there. LeBron plays better angry anyway. Now for the bench, which I promise will have much less description:
Backup Point Guards: Stephen Curry, Golden State Warriors and Ty Lawson, Denver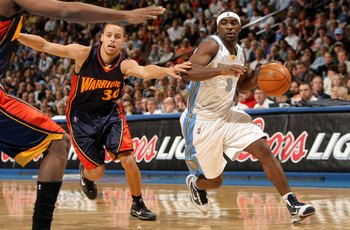 Stephen Curry and Ty Lawson
Doug Pensinger/Getty Images
I picked slightly contrasting guys here. Lawson is the quickest guy I've seen since Allen Iverson circa-2001 and can be a major sparkplug if CP3, LBJ, and D-Rose are unable to get it going (can you say unlikely?). He only costs $1.5 million as well, because he's only two years removed from North Carolina.

Curry, on the other hand, is an offensive savant. He can score effectively from nearly anywhere on the court. He doesn't play a lick of defense, but why would I really need him to? He'd be my $3 million purchase of the occasional "four three-pointers in a quarter" streak and a 94 percent free throw percentage for the close games.


Backup Shooting Guards: Eric Gordon, Clippers and Nick Young, Wizards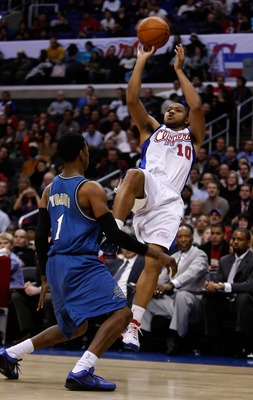 Nick Young and Eric Gordon
Jeff Gross/Getty Images
These guys are kind of the opposite of each other. Eric Gordon has the weirdest willingness to share the spotlight when his talent level is taken into account, and Nick Young has an unwillingness to pass the ball. Either way, they're both very proven scorers (and in Gordon's case, a very proven defender) and cheap ($4.5 million between them).


Backup Post Players: JaVale McGee, Wizards, Joakim Noah, Bulls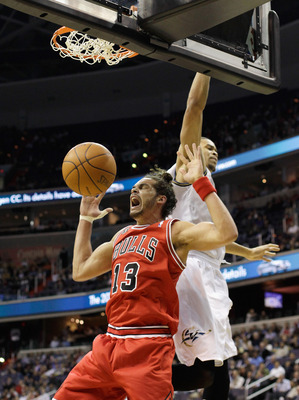 Joakim Noah and JaVale McGee
Rob Carr/Getty Images
Notice that I labeled this section as post players and not as power forwards and the subsequent one as centers. That's because all these guys have shown that they can play either position and play it well.

McGee is a defensive force, mostly because he's a freak athlete. He's in there mostly to make the crowd go nuts when Blake gets tired. But there are other draws to him. His offense has developed nicely enough this season, and his height and hops will make for a lot of alley-oops. $1.6 million.

Noah has really turned into an elite defender and rebounder, and he would provide a lot of energy off the bench. He's the kind of guy that can be a difference-maker. $2.5 million.
Backup Post Players: DeJuan Blair, Spurs and DeAndre Jordan, Clippers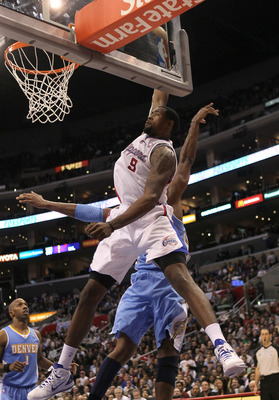 DeAndre Jordan
Stephen Dunn/Getty Images
DeJuan Blair has been kind of shocking this season, becoming a double-double machine in a frontcourt with Tim Duncan on the 46-10 Spurs despite only being 6-7. Even more surprising is that he was taken in the second round and therefore only costs $918,000.

Jordan is kind of the same way as Noah, but more raw and with more athletic talent. Great on the boards and capable of blocking four shots in a single possession, Jordan is also playing great alongside Griffin this year, and that chemistry would be welcome on the Delonte Wests. His salary is only about $850,000 as well.


Try and Beat the Delonte Wests, I Dare You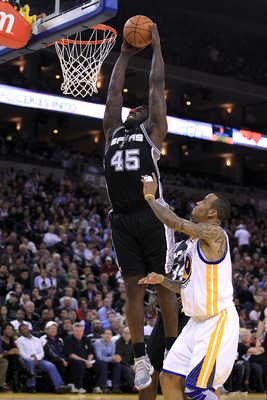 DeJuan Blair
Ezra Shaw/Getty Images
And that's the 15-man rotation. The salary comes out to be somewhere right around $66 million, again, give or take. The Delonte's have a lot of offensive firepower mixed with a lot of intimidating defensive presence, and hybrid guys that fit into their roles very well.

There are a lot of guys I didn't choose that many of you will probably disagree with. For you who say Kobe, he costs like $24 million dollars and would never make it through the season without causing problems because his usage would drop so low. But mostly the money.
The money thing goes for guys like Carmelo, Wade, Amar'e, and Dwight as well. Some of the other guys I didn't choose (Dirk, Danny Granger, Andre Iggy, etc.) were because of a bad combination of too much money and one-dimensional play.
I needed to handpick the guys I'd choose to give a lot of money to. CP3 and LBJ are the only guys I'm paying more than $6 million to, and that's because they've proven themselves to play nice with others, they have great all-around games, and they make their teammates a lot better.

I understand that this team could never conceivably happen unless David Stern read this column, loved it for some reason, changed his job title to "NBA Emperor" and made it happen. But that's not really the point.
I guess the point is that this team is a lot more conceivable than a team full of All-Stars, and while this specific team may not be possible in today's NBA, it is possible, with a lot of luck, for a team to build similarly (See the Heat, Knicks, and Lakers)

For ticket prices to come see the Delonte Wests play, contact me at robert.surbrook@gmail.com.
Keep Reading