NBA: Is Chauncey Billups the Key To a Playoff Series for the New York Knicks?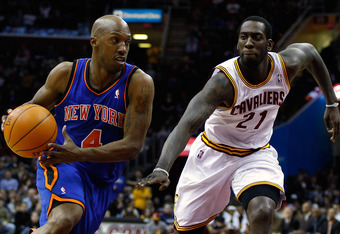 Jared Wickerham/Getty Images
It's not a lock, and anything can happen, but barring a collapse, the New York Knicks should make it back to the postseason for the first time since 2004. With only 25 games left, they have a five-game lead over the ninth-seeded Charlotte Bobcats, and with the talent they now have, that should be enough to secure a spot.
Right now, the Knicks are the sixth seed and would face the Bulls in the first round. Depending on what happens, they could face the Heat or Magic though.
But no matter who they face and how deep they go, who would be the guy to step up and help the Knicks win big games to possibly advance?
That guy would probably be Chauncey Billups.
That probably sounds obvious to you. How can the main player in one of the biggest trades in NBA history not be the go-to guy in the playoffs?
Well, Carmelo Anthony is obviously terrific. You don't need to hear that because you know that, and he's played well so far in three games with the Knicks, averaging 27.7 points per game. He's known for his fantastic ability to score and make all kinds of plays to put the ball in the basket. Really, no player can stop him, and LeBron certainly couldn't in the Heat's loss on Sunday night.
When the huge trade was made, some people were frustrated with the Knicks' decision to include Raymond Felton in the deal, knowing Billups would be the new starting point guard.
Who do you want taking the big shot late in games?
They heard what now seem to be rumors that Billups wanted no part of coming to New York City and was disgruntled to leave his hometown of Denver. They thought at the age of 34, he'd be too old to fit in coach Mike D'Antoni's uptempo offensive system and that it ultimately wouldn't work out.
What these same people didn't realize or remember was what kind of player Billups really is.
It's true he's not Felton anymore in the sense of running up and down the court for 40 minutes per game. But what he brings is more than what Felton has or will ever bring, and that's the ability to be clutch, play some defense and be a proven winner in the biggest games possible.
Felton was exciting to watch. He fit in perfectly, especially with Amar'e Stoudemire. You can make the case though that he was only available to the Knicks last offseason because of his poor play in the postseason last year.
Part of a Charlotte Bobcats team that made their first-ever playoff appearance, then-head coach Larry Brown disliked Felton's play against the Orlando Magic as the team got swept in the first round. Felton got beat badly by Magic point guard Jameer Nelson, averaging 11.8 points in the series to Nelson's 23.7.
Now you take a look at what Billups brings to the court come playoff time, and it would make you not even think of having Felton as the guy running the show.
This would be Billups' 11th consecutive playoff appearance that includes a stretch of six straight conference finals reached. He's averaged 17.8 points per game in the playoffs, and most importantly, won the 2004 NBA Finals MVP for the champion Detroit Pistons. That may be seven long years ago—the last Knicks' playoff appearance, coincidentally—but he's proving he could still do more of the same.
Let's not make this into a, "Carmelo can't come through" type of article. That's not the point at all. Anthony himself has had his playoff moments putting up points. The main point is, Billups is called, "Mr. Big Shot" for a reason.
So far in his first three games with the Knicks, Billups has been almost the savior. He had a nice opening performance against the Bucks in a win, then scored 20 fourth-quarter points trying to save the Knicks in a loss to the Cavaliers. He followed that up by draining a go-ahead three from 25 feet away over Dwyane Wade's outstretched arm with one minute left to help defeat the Heat.
Billups didn't only hit the big three, either. He also contributed a big steal that led to two Shawne Williams' free throws to pad the Knicks' lead to three. New York only allowed 86 points, and it was in part because of Billups' huge defensive effort.
The guy just has that "it" factor when it counts the most, and you always feel confident when the ball is in his hands. So in the first round of the playoffs, you can enjoy Carmelo making his nifty moves to get past defenders in the paint, and watch Amar'e slam it down to make the highlight reels.
But you can also watch Billups lead the team when it counts the most and drain the game-winning shots.
Enjoy his time in New York, because it might be short lived.
This article is
What is the duplicate article?
Why is this article offensive?
Where is this article plagiarized from?
Why is this article poorly edited?

New York Knicks: Like this team?