NBA Trade Deadline: Top 10 Players Not Traded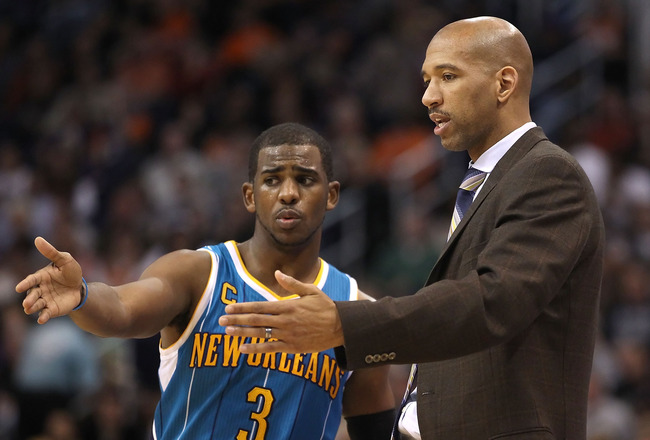 Christian Petersen/Getty Images
Now that the trade deadline is over, it's time to reflect on exactly what happened.
Some trades no one saw coming happened, some well-anticipated trades occurred and some guys that were sure to be moved went nowhere.
At the trade deadline, teams are faced with multiple decisions they can make.
Pack it up and get ready for next year?
Make a trade to bolster your playoff roster? Trade veterans for youth and try to rebuild?
Move players for draft picks? Make a trade to move yourself into the elites of the NBA?
These are all serious questions every single NBA team has to offer.
While there was more than enough activity surrounding the trade deadline, plenty of good players went unmoved.
Even though some of these guys weren't mentioned much in trade rumors, that doesn't mean they weren't at least considered.
Here is a look at the top 10 players that were not moved before the trade deadline.
10. Ramon Sessions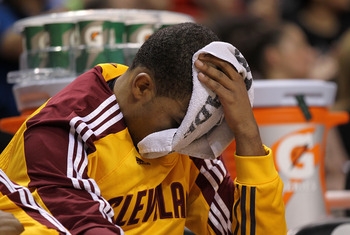 Mike Ehrmann/Getty Images
For all the things that have gone wrong in Cleveland this season, there is one bright spot.
That positive is Ramon Sessions.
Coming into the season behind Mo Williams and Daniel Gibson, Sessions was somewhat of an afterthought.
The fourth-year guard is seeing his best stint so far in the NBA.
On the season, Sessions is averaging 12.6 points, 5.4 assists and 3.0 rebounds per game.
However, it's all about what he's been up to lately.
In the last 10 games Sessions is putting up 19.9 points, 8.7 assists and 4.1 rebounds per outing.
If you can put up numbers like that when given minutes, you are a true NBA point guard.
Teams like Atlanta and Portland were rumored to be interested in Sessions. Whatever may have happened, no deal was done.
Cleveland instead elected to swap Mo Williams for Baron Davis.
With the Cavs holding onto Sessions, expect them to build around the young guard.
Ramon Sessions has a very bright future in the NBA, whether it involves staying in Cleveland or not.
9. Caron Butler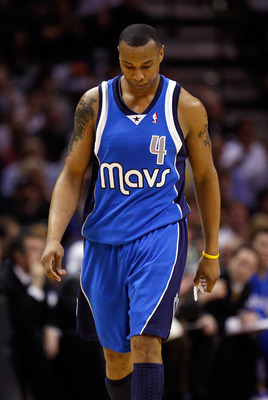 Ronald Martinez/Getty Images
Dallas really needed Caron Butler to be a big piece for the team this season.
Even though he went down with a major knee injury, Dallas hasn't missed a beat.
Guys like Jose Juan Barea, Rodrigue Beaubois and DeShawn Stevenson have all stepped up in his absence.
Mark Cuban and the Mavericks were rumored to be shopping the shooting guard before the deadline but were unsuccessful.
Butler does have an expiring contract, but at $10.5 million, it's hard for a team to absorb. Moving a contract that big would take serious maneuvering on the part of Mark Cuban.
Butler has stated his goal to make it back when the playoffs roll around. After undergoing major surgery, though, it would be very difficult to do.
Even if Butler is good to go by the playoffs, it's worth wondering if he should play.
Caron Butler is a guy that loves to have the ball in his hands and create on his own, which can develop problems.
The last thing the Mavs need during the playoffs is team chemistry issues.
Keep an eye on this situation, as it will certainly be interesting.
8. Yao Ming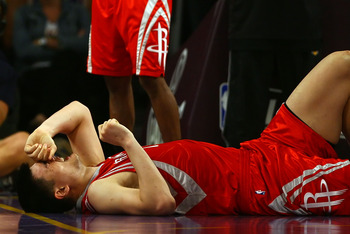 Jeff Gross/Getty Images
Poor Yao Ming. The big man out of China can't do anything to stay healthy these days.
He has now missed the last two seasons due to major injuries.
Now that major tolls have been paid to his body, the mystery if he can ever come back is in question.
Yao sits on a gigantic $17.6 million expiring deal. If someone were to bargain for a contract like that, they better have some serious financial flexibility.
Rumors came up about possibly shipping out his expiring deal, but no specifics came with it.
The most likely scenarios are that either Houston was asking for too much in return, or nobody wanted to attempt fitting his contract on their roster.
After Yao's contract expires, Houston will have quality financial relief.
Expect Houston to make some moves during the free-agency period this summer.
7. Stephen Jackson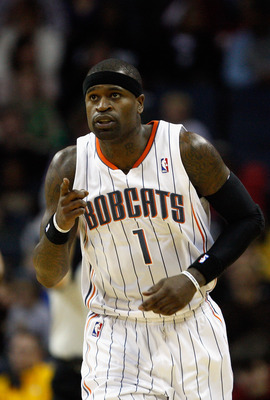 Streeter Lecka/Getty Images
Michael Jordan has made it clear that his Bobcats are rebuilding.
After trading Gerald Wallace to Portland, it became evident MJ wasn't kidding.
The Bobcats are only $8 million over the salary cap, and have three expiring deals all over $6 million. Foreseeing this type of financial relief is huge for Jordan and the Bobcats.
Although they did trade leading player Gerald Wallace, they maintained the troubled Stephen Jackson.
Jackson has three years and $8.4 million per year left on his deal, which isn't bad for a player that can score in a variety of ways.
If Jackson can keep his cool and lower his technical fouls, he will be a huge asset to Charlotte.
The Bobcats were even rumored to be shopping every player on their roster, including burst-out point guard D.J. Augustin.
Don't be surprised if Jordan seeks out big-name free agents the next few years, especially since Charlotte will have the money to do so.
6. Steve Nash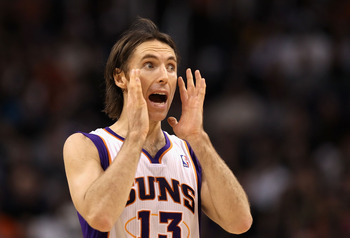 Christian Petersen/Getty Images
Suns fans dodged a serious bullet this trade deadline.
Rumors about Steve Nash possibly being shipped out of town surfaced all throughout the season.
Fortunately for the Suns, they didn't make the major mistake of trading their franchise player.
Even though the Suns should begin to rebuild, holding onto Nash is in their best interest.
He still plays at a Nash-like level, making all the plays and passes anyone can fathom.
It's the fact of what the rest of the team looks like.
They have 34-year-old Vince Carter and 38-year-old Grant Hill to go along with Nash and his 37-year-old legs.
On the flip side, they have young guys Channing Frye, Aaron Brooks, Marcin Gortat and Robin Lopez.
Expect Phoenix to rebuild in the near future, whether Steve Nash is in those plans or not.
5. Stephen Curry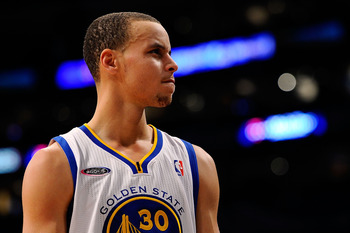 Kevork Djansezian/Getty Images
In a very surprising development, the Warriors were allegedly shopping Stephen Curry.
Almost every team in the NBA could use the services of Curry, a do-it-all point guard.
Even though the Warriors could not find a suitor for Curry just yet, don't expect the speculation to be over.
Golden State is filled with shoot-first point guards in Monta Ellis and Curry. Evidently, the Warriors front office elected to go forward with Ellis instead of Curry.
Since Curry only has one year left on his deal after this one, expect him to be traded soon. Whether it happens this summer or before next trade deadline, Curry will get traded.
The real interesting part of these talks will be what Golden State seeks in return.
Monta Ellis is a point guard/shooting guard type of player, so trading for either of those positions might be awkward.
They found a small forward in Dorell Wright, who has been extremely effective this year for the Warriors.
Golden State just signed power forward David Lee to a multi-year deal, so acquiring that position is out of the question.
The last position, and most likely one, would be for Golden State to acquire a center. They have Andris Biedrins, who is nothing short of a quality backup.
Get ready for some serious changes Warriors fans—they will be coming soon.
4. Danny Granger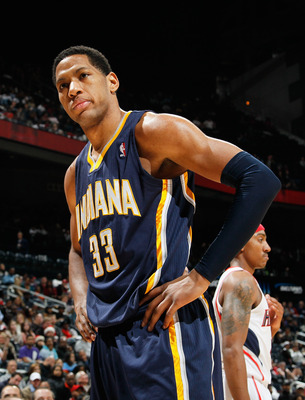 Kevin C. Cox/Getty Images
In borderline shocking rumors, Larry Bird and the Pacers' front office were open to moving Danny Granger.
Not to question Bird and the Pacers, but what in the world are they thinking?
Granger is the sole reason Indiana has anything to look forward to.
Like most of his Team USA members, Granger is enjoying great success this year. He is averaging 20.9 points, 2.7 assists, 5.7 rebounds and 1.1 steals per game.
On top of that, he is the only Pacer who can truly create his own shot.
Indiana sits at eighth place in the East, and trading Granger would all but guarantee them not making the playoffs.
The fact that Indiana was supposedly shopping Granger and not building around him is merely disturbing.
Please Indiana, keep Granger and build around him as much as possible. There is no way you will regret that decision.
3. Andre Iguodala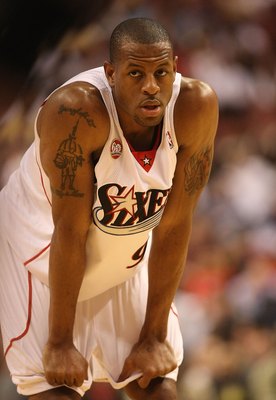 Nick Laham/Getty Images
Just like Danny Granger in Indiana, the 76ers were rumored to be offering Andre Iguodala.
Iguodala is as much a big part of the 76ers as Granger is to the Pacers.
Though Iguodala seems to be losing his health, it's very hard to imagine he's not worth keeping around.
He has been Mr. Indestructible the last few years, seldom missing a game.
This year has been quite the opposite.
Iggy has been hampered by an Achilles injury, one that can nag players all season long.
Expect to see sub-100 percent Iguodala this season, but a bounce-back to his normal production next year.
On top of the injury issues, Iguodala is signed up long-term. He still has four years left on his deal, and is getting paid over $12 million each year.
Keep Iguodala around Philadelphia—you won't regret this decision.
2. Chris Paul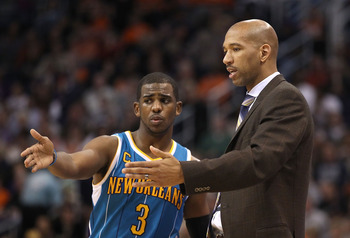 Christian Petersen/Getty Images
Chris Paul rumors are growing by the day.
Ever since Dwyane Wade, Chris Bosh and Lebron James joined forces in Miami, rumors about a "Big Three" in New York began overnight.
In a very interesting note, New York already has two of the three.
Just last week Carmelo Anthony was shipped out to New York to join Amar'e Stoudemire. This is a huge first step.
Deron Williams and Chris Paul's names have come up as potential suitors to jump aboard in New York. After Williams was traded to New Jersey, the chances of him signing in New York decreased.
On top of all of this, a recent article surfaced stating Chris Paul mentioned him, Carmelo Anthony and Amar'e Stoudemire teaming up in New York in 2012.
Paul has denied the report, but it's hard to imagine there isn't at least a shred of truth to it.
New Orleans doesn't exactly have many assets, and it will be hard to convince the superstar to stay in town without a strong roster around him.
Expect Chris Paul to be the center of trade rumors next season, just like Carmelo Anthony was this year.
1. Dwight Howard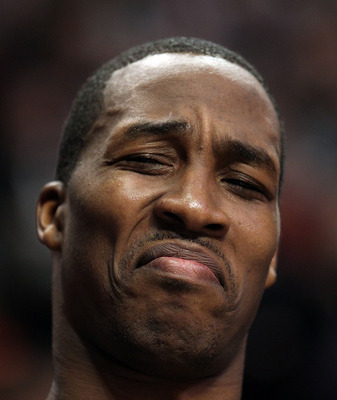 Jonathan Daniel/Getty Images
Just like Chris Paul, Dwight Howard will be a highly rumored player next season.
Howard has an opt-out clause after next season, meaning he could ditch Orlando at the drop of a hat.
The Magic have tried to bolster their roster, but it appears moves made this season have had minimal impact.
Rumors of Dwight Howard going to Los Angeles and New York were the initial talks.
Howard can go ahead and end the rumors by signing an extension this summer. Whether Howard does it or not, is completely up to him.
If Howard doesn't sign an extension this offseason, take that as a sign he wants to leave town.
Be careful Orlando—you can't lose a franchise player like Dwight Howard.
Keep Reading

New Orleans Pelicans: Like this team?