Detroit Pistons in Turmoil: Players Go AWOL and Miss Team's Shootaround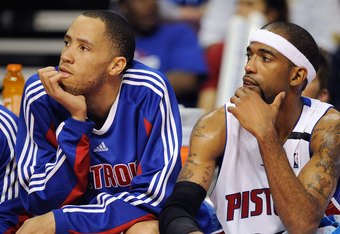 Prince and Hamilton
Gregory Shamus/Getty Images
So I'm guessing that some of the Pistons players are frustrated with the team and the way they are playing right now.
Why do I say that?
Tracy McGrady, Richard Hamilton, Tayshaun Prince, and Chris Wilcox all skipped out on the team's early shootaround before tonight's game against the Philadelphia Sixers.
According to multiple reports, the four players wanted to exemplify a protest.
Sources have told the Detroit Free Press that the protest took place because of the players' discouragement with head coach John Kuester.
Kuester has reportedly got into many confrontations with his players in his short stint thus far.
And the funny thing about this whole incident is the excuses the four came up with.
Team spokesman Cletus Lewis told reporters that McGrady missed because of a headache, Prince with an upset stomach (Pepto Bismol?), and Wilcox and Hamilton didn't report because they both missed the team's bus.
Ben Wallace also missed the team's shootaround, but he has an actual legitimate excuse—he has been dealing with a family matter for over a month now.
However, it is unclear the nature of the matter.
Kevin C. Cox/Getty Images
Austin Daye and Rodney Stuckey also reportedly missed the team's bus, but they both arrived at the end of the media session.
Kuester, frustrated with the outcome, told media personnel, "We'll go with the group that was here. We got a number of guys that have a bug, but these guys went through shootaround the way it was supposed to. We have some things, some excuses, not excuses, but absences because of headache and stuff like that.
"We'll go with this group right here because they went through shootaround."
As the day went on, Kuester told reporters that he expected every player to be in uniform and be ready to play.
To fire back at his players, Kuester told Stuckey, McGrady, and Prince that they would not start tonight's game in consequence of their actions.
A source close to the team told the Detroit Free Press that the team doesn't know what they're going to do for punishment to the players. However, he did succumb to questions that the players used an "organized protest".
Since becoming head coach, Kuester has been under some scrutiny.
The first-time head coach benched Stuckey just a week into the season, although the benching wasn't for very long.
Mike Ehrmann/Getty Images
He would then go on to bench long-time fan favorite Richard Hamilton on Jan. 12 and wouldn't play him again until Feb. 5. He has not played since then.
The Pistons organization has said that Hamilton has suffered a groin injury.
Detroit is currently 21-38 on the season, 6.5 games back of the Pacers for the last and final playoff spot.
With the way things are going right now, it looks as though the Pistons will be sitting at home for the second straight postseason.
Before missing the playoffs last year, they had made it the previous nine seasons.
It is clear that the Pistons are in a rebuilding stage and not to mention, lots of turmoil.
Hamilton had been the subject of numerous trade talks, especially ones that involved him going to the New Jersey Nets and Boston Celtics, respectively.
The latest rumor is that the Pistons will buy him out, as they do not want to pay him $20 million over the next two years.
Prince had also been involved in quite a few rumors.
Dallas had been interested in him, but could not close a deal before the deadline ended on Thursday. According to sources, there were a number of other teams calling for Prince's availability.
With instances like this going on within the organization, it looks like the owner Karen Davidson is going to have to choose between Kuester or the players.
And in my opinion, I don't think Kuester will be retained after this season.
The Pistons are going to need a lot of help to get back to the way they were in the early-to-mid 2000's, especially the 2003-04 team that won it all.
There is still a lot of work to do.
This article is
What is the duplicate article?
Why is this article offensive?
Where is this article plagiarized from?
Why is this article poorly edited?

Detroit Pistons: Like this team?