NBA Trade Deadline: Charlotte Bobcats Move Gerald Wallace and Nazr Mohammed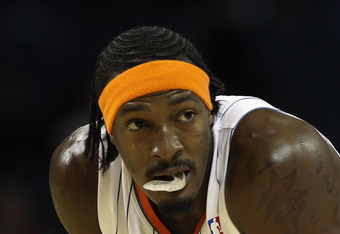 Streeter Lecka/Getty Images
As the NBA trade deadline crept into its final 24 hours on Wednesday, Charlotte Bobcats fans were shocked to hear fan favorite and the last original Bobcat Gerald Wallace was rumored to be heading to Portland in a last-minute trade.
As the sun set Wednesday, talks between the two teams cooled off, and Bobcats fans breathed a collective sigh of relief.
It became pretty apparent Wallace was staying put, and the team would look the same heading into Friday's home game. Media outlets that had reported the deal as "done" earlier in the day, rescinded those statements just as fast as they had been announced. Bobcats' head coach Paul Silas was even quoted as saying, "We're not going to do anything," when asked about the deadline.
Everything hit the fan on Thursday just minutes after the 3:00 p.m. deadline, as reports began flooding in that the Wallace-to-Portland trade was still on, and Nazr Mohammed had been traded to Oklahoma City.
The original report was that Wallace had been traded for Joel Przybilla and a second round draft pick, or basically peanuts. The blow was softened a bit when the details of the trade were made official, and it was learned the Bobcats would actually be receiving Przybilla, Dante Cunningham, Sean Marks and two future first-round picks. The first-rounders are the Blazers' 2011 (originally from New Orleans and is top-seven protected) and 2013 selections.
Brian A. Westerholt/Getty Images
Almost simultaneously, and with much less uncertainty on the players included, Mohammed was sent to the Thunder for Mo Peterson and D.J. White. Mohammed has spent the past four seasons with the Bobcats, mainly coming off the bench, but also starting from time-to-time when necessary. A notoriously hard-worker, Mohammed was also somewhat of a fan favorite in Charlotte.
Guard Sherron Collins and forward Dominic McGuire were waived in the Wallace deal, and forward Derrick Brown was waived in the Mohammed transaction.
So as the Bobcats sit just one game out of the Eastern Conference playoff picture and have been playing much better basketball under Silas, the move may come as a head-scratcher to many.
After all, Wallace is undoubtedly the most iconic Bobcat to ever step foot on the Time Warner Cable Arena floor. The tone of many Bobcats fans on Thursday after the news broke and deemed official was one of disgust and disbelief. For most, their favorite player was now packing his bags and heading to the opposite side of the country while their team's only serviceable back-up center was gone too. There will be no fanfare or grand entrance for any of the newly-acquired players, and the chances that any of them become real contributors for the team are slim.
The NBA trade deadline isn't meant to turn fringe-playoff teams into title contenders by any means, but rather to allow title contenders to make slight tweaks to their squads in preparation for the home stretch. The moves the Bobcats made on Thursday are tough to swallow in the minds of fans who find it tough to see past the here-and-now into the future of the team.
Chris Graythen/Getty Images
By getting rid of Wallace's and Mohammed's large contracts in exchange for a handful of expiring contracts, the team will be able to pursue free agents in the offseason and could possibly package together their additional first round pick in the 2011 draft with another future pick to move up higher in the lottery.
The problem with this path of thinking is the Bobcats have not had the greatest history of draft success. Picks like Adam Morrison and Sean May still stick out like sore thumbs in the memories of Bobcats fans.
This is the first time this franchise has had to deal with trading an iconic player while not getting anything legitimate or promising in return. It is a dangerous road to go down for a team that struggles to fill seats when marquee teams aren't in town.
However, the potential long-term possibilities that will be available for this team are hard to ignore. Since their inception, the Bobcats have never had ample cap room, something they will have this offseason. The landscape of the NBA is changing, and superstars are teaming up in bigger markets. Charlotte was once a major NBA market, and there's no reason why, with a couple of superstars, it can't be again. It's easy to score fans and fill seats when you're winning and contending.
So while Bobcats fans will miss "Crash" and "Naz," these moves may just be paving the way for future fan favorites.
This article is
What is the duplicate article?
Why is this article offensive?
Where is this article plagiarized from?
Why is this article poorly edited?

Charlotte Bobcats: Like this team?