NBA Trade Deadline: 5 Last Minute Deals That Will Affect The Playoff Picture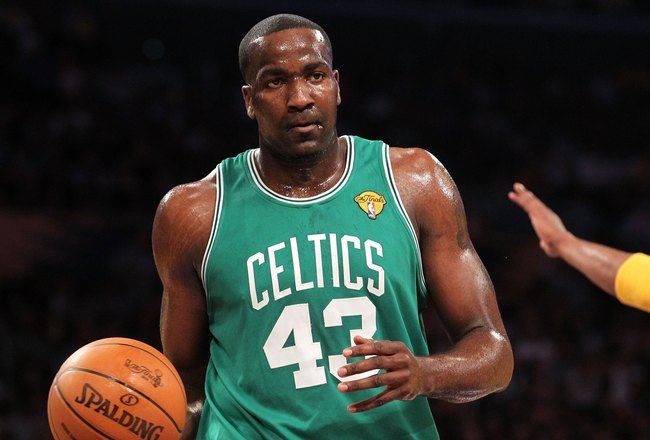 Ronald Martinez/Getty Images
After Carmelo Anthony and Deron Williams were each traded on consecutive days, many last minute deals were completed within hours of the NBA trade deadline today.
This had been one of the most anticipated NBA Trade deadlines in recent memory, in big part because there were such high speculations that All-Star Carmelo Anthony was on the move.
With many high-profile players switching teams in addition to Melo, this seasons' trade deadline has met expectations and then some.
Here are the five most relevant trades that occurred within hours of the 2011 NBA trade deadline.
5. New Orleans Hornets Acquire Carl Landry For Marcus Thorton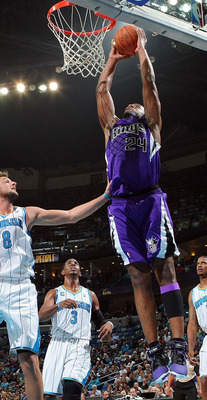 Chris Graythen/Getty Images
New Orleans, the No. 4 seed in the Western Conference, traded guard Marcus Thorton for big man Carl Landry.
Landry is a proven scorer in the league and nearly earned Sixth Man of the Year honors last year, after averaging 16.8 points off the bench for Houston. The Hornets currently rank just 27th out of 30 teams in points scored, so they could certainly use the extra offense. .
This deal was also likely made in big part due to the possibility that New Orleans forward David West switches teams after the season. West, 30-years-old, is a two-time Al-Star and will be a free agent this summer.
New Orleans does not have the benefit of playing in a major market or having a lot of money to spend, so it is unlikely that the Hornets will spend the necessary money in order to re-sign West.
4. Houston Sends Shane Battier To Memphis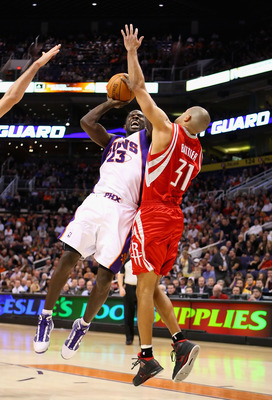 Christian Petersen/Getty Images
The Houston Rockets traded Shane Battier and guard Ish Smith to Memphis for center Hasheem Thabeet and a first round pick.
Houston also traded point guard Aaron Brooks to Phoenix for Gordan Dragic and a first round pick in a separate deal.
After an injury to Yao Ming early in the season, Houston hovered just below the .500 mark all year long, before finally trading away some of their top players on Thursday.
As far as the 2010-2011 playoff picture is concerned, Memphis will benefit the most from Houston's recent transactions. Shane Battier can play shooting guard, small forward, or power forward if necessary, and is one of the better defenders in the NBA.
Memphis is currently the No. 8 seed in the West, just half a game ahead of Utah. However, with the departures of Deron WIlliams from Utah and Carmelo Anthony from the No. 6 seeded Denver Nuggets, Memphis is in great position to make the postseason for the first time in five seasons.
.
3. Atlanta Trades Mike Bibby For Kirk Kinrich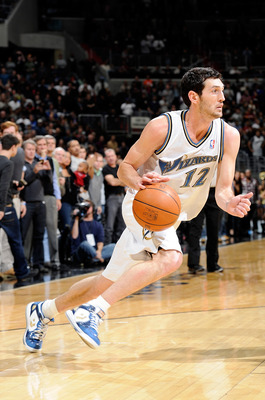 Greg Fiume/Getty Images
Atlanta traded point guard Mike Bibby, guard-forward Mo Evans, guard Jordan Crawford and a 2011 first round draft pick to Washington for point guard Kirk Hinrich and forward Hilton Armstrong
Mike Bibby, 31, had been struggling all year to defend quick point guards, so Hinrich, who is three years younger than Bibby, will be a major improvement in that area.
Besides playing defense, Hinrich is a good shooter and can be a creative play maker. In Atlanta, Hinrich will have many weapons around him, including Joe Johnson, Josh Smith and Al Horford.
Atlanta is hoping for a strong finish to potentially take over Orlando's spot as the No. 4 seed in the East so they can have homecourt advantage in the first round.
2. Kendrick Perkins to Oklahoma City. Jeff Green To Boston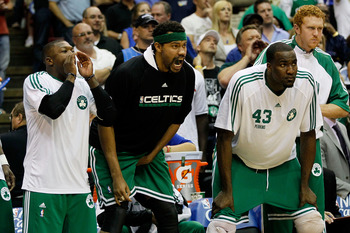 Kevin C. Cox/Getty Images
Less than an hour before the trade deadline, Boston traded starting center Kendrick Perkins and point guard Nate Robinson to the Oklahoma City Thunder in a deal for forward Jeff Green and center Nenad Kristic.
Boston had a roster loaded with big men prior to the trade. They now have less interior defense, but more offense.
Jeff Green has averaged more than 15 points per game each of the last three season, but will be a bench player on Boston with Paul Pierce starting at the small forward position.
Nenad Kristic is a better offensive player than Kendrick Perkins, but does not provide nearly the defensive presence that Perkins possesses. On the other hand, Boston still has big men Kevin Garnett, Shaquille O'Neal and Glen Davis to clog up the lane.
Oklahoma City strongly improved their interior defense with Kendrick Perkins, and they now have more depth at point guard with Nate Robinson. Although the Thunder lost a great scorer in Jeff Green, he was not a great fit for Oklahoma City because his playing style was so similar to Thunder superstar Kevin Durant.
Both teams seem to have benefited from the deal, with the losers being every other playoff contender in the NBA.
.
1. Gerald Wallace to Portland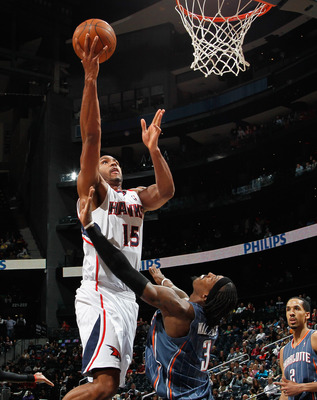 Kevin C. Cox/Getty Images
Just minutes before the trade deadline, the Portland Trail Blazers acquired forward Gerald Wallace in exchange for center Joel Pryzbilla, forwards Dante Cunningham and Sean Marks and two first-round picks.
Portland, currently the No. 7 seed in the West, was running very thin as far as big men. Injuries to Greg Oden and Marcus Camby had forced LeMarcus Aldridge to do nearly all of the work down low.
With Wallace, Portland now has a legitimate forward that can score and play defensive.
Similar to Memphis, Portland can jump up a few playoff spots before the end of the season with Utah and Denver getting weaker.
Keep Reading