NBA Power Rankings: Derrick Rose, Rajon Rondo and the 10 Best Point Guards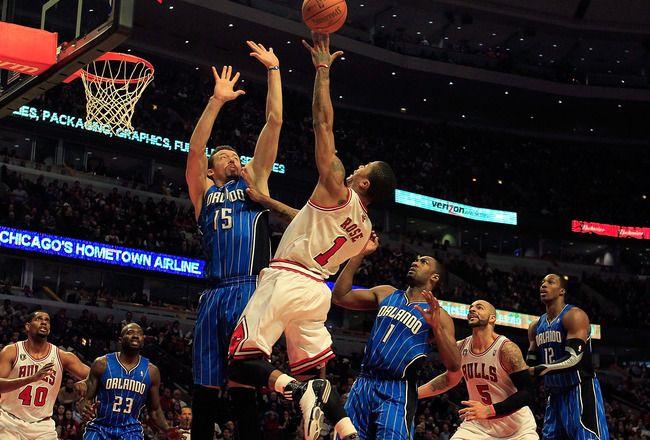 Jonathan Daniel/Getty Images
As all of you readers are well-aware of, one thing needs to be set straight: there are many great point guards in the NBA. In fact, I can't remember the last time that so many of them were excelling in all assets of the game.
I decided to go with along with a top 10 list to solve this mystery, and I used many factors before determining the outright leader among the crew. They need to be able to possess the skills necessary to obtain a title for their team.
Honestly, what team can win a championship without a legitimate point guard heading the chase? There is no "I" in team you know.
Without further adieu, here are the best point guards in the entire league and why I feel there spot is justified.
As always, thanks for reading my work and I hope you enjoy!
Honorable Mention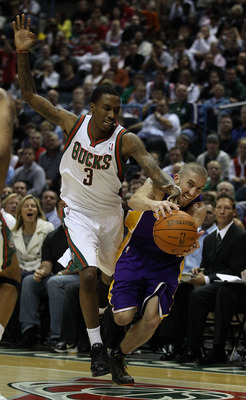 Jonathan Daniel/Getty Images
Brandon Jennings, Milwaukee Bucks
Tyreke Evans, Sacramento Kings
Jason Kidd, Dallas Mavericks
Jameer Nelson, Orlando Magic
Devin Harris, New Jersey Nets
Jose Calderon, Toronto Raptors
Chauncey Billups, New York Knicks

Baron Davis, Los Angeles Clippers
Mike Bibby, Atlanta Hawks
10. John Wall, Washington Wizards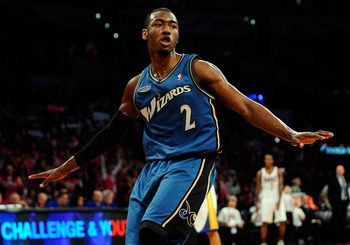 Kevork Djansezian/Getty Images
It has only taken John Wall two-thirds of a season to land himself a spot on this list.
He is seventh in the league with 8.9 assists to go with a solid 15 point per game average. He is an excellent passer and will be an All-Star for years to come.
Everyone's going to be doing the John Wall Dance in a few years once the 20-year-old (who is the youngest on the list, in case you were wondering) becomes a top point guard in this great league.
Once he receives a stronger supporting cast his numbers will skyrocket, as if they haven't already.
9. Tony Parker, San Antonio Spurs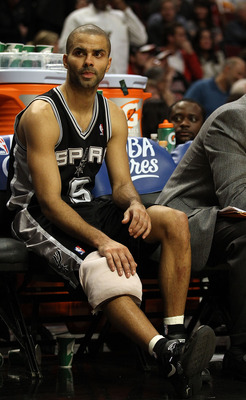 Jonathan Daniel/Getty Images
Tony Parker has had a controversial, yet productive season.
He and teammate Manu Ginobili have taken on stronger leads in the San Antonio Spurs' play of a season with the sudden decline of the best power forward ever, Tim Duncan.
He was found cheating on his wife with former teammate Brent Barry's wife.
However, he has maintained a spot on this list by helping lead the Spurs to an NBA-best 46-10 record.
He was a bit of an All-Star snub this season, showing off 17.4 point and 6.7 assist averages that really aren't too shabby.
Throw in the much improved 52 percent field goal percentage and you've got a man who deservedly so is rewarded a spot.
8. Stephen Curry, Golden State Warriors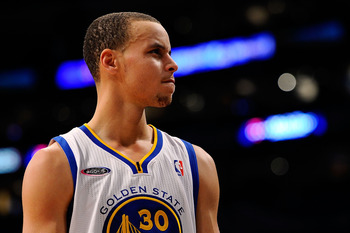 Kevork Djansezian/Getty Images
Stephen Curry is your basic definition of an overall solid point guard.
He displayed his talents at the Skills Challenge, and won the contest over the likes of Russell Westbrook, John Wall and Derrick Rose.
He shoots often, but more importantly, efficiently, as evident by his 48.3 field goal percentage. He also shoots the three well, besting 41 percent from beyond the arc.
He steals balls often, snatching from the opponents 1.7 times per contest.
He puts numbers on the scoreboard better than most on this list, adding 18.4 to the Warriors' total on average.
His surprisingly good passing is on par with most other points, dishing out six assists per game. He has found a way to compliment his unusually good (for a point guard) scoring ability with his ball movement.
Think about it too—he is only 22-years-old. He will eventually find his way to make it to the top of this list, and it might happen when the boys of Oakland find their way into the playoffs.
7. Raymond Felton, Denver Nuggets
Chris Trotman/Getty Images
Raymond Felton and his talents were taken from the city of Charlotte to the Big Apple. Then last night they were taken to the Rocky Mountains.
He has discovered that life is much bigger in said pastures, and efficiently helped turned the Knicks into legitimate perennial postseason contenders.
Now he has to work on a different project—becoming a leader for the Denver Nuggets.
He may be disappointed that he won't get to play with Carmelo and Amar'e in the city that never sleeps, but I believe that his 17.1 points and nine assists per game will do just fine in Denver.
6. Rajon Rondo, Boston Celtics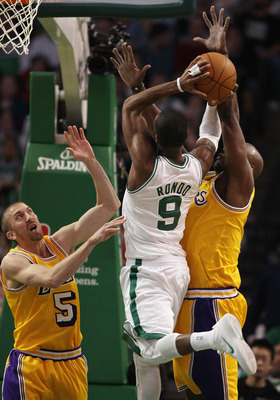 Elsa/Getty Images
I know I'm going to get ripped on for putting Rajon Rondo sixth on this list, but hear me out before you say anything.
He plays alongside four future Hall of Famers, three of which still produce night after night, and contrary to popular belief, they actually help inflate his 12.2 assist average.
I mean, what other point guard can dish it to the likes of Ray Allen and Paul Pierce, both of whom shoot over 50 percent from the field?
Aside from that, he is a spectacular defender, probably first among point guards, and the worst shooter on this list. He makes free throws at a Shaquille O'Neal-like 55 percent clip.
If he improves his shooting and proves he can do it without the Big Three, he will jump his way to the top of this list.
Please don't even tell me that he makes them better either. All three of them were already top 20 players before they were shipped to Boston.
5. Steve Nash, Phoenix Suns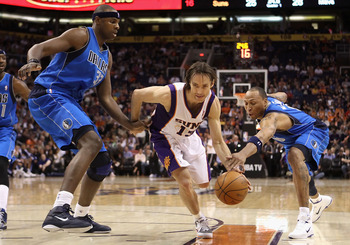 Christian Petersen/Getty Images
No one on this list has had a better career than the Phoenix Suns' own Steve Nash. Additionally, he is the second best passer listed.
He also does more for his team than anyone else you will find in these slides.
Raymond Felton? Eh. Felton wouldn't put up the numbers that Nash does if he suited up in the purple, orange, and white. Not only that but Felton works with a lot better teammates in NYC than the 37-year-old Nash is given in Phoenix.
Rajon Rondo? Please. The only thing Rondo has on the 6'3" Nash is that he excels better defensively. Sure, Rondo has more assists, but he plays with guys like Paul Pierce, Ray Allen and Kevin Garnett, who all make more than half their shots. I didn't even mention how much better of a shooter Nash is, either.
The fact of the matter is that Steve Nash's 16.8 point and 11.3 assist averages don't suggest how well he is actually playing.
Let's see Rondo or Felton put up those numbers playing with the not-as-good-as-he-one-was Vince Carter, Channing Frye and Grant Hill.
4. Russell Westbrook, Oklahoma City Thunder
Jeff Gross/Getty Images
Russell Westbrook (as if he already hadn't) made a name for himself over All-Star Weekend.
He did well in the Skills Challenge, finishing runner-up to Stephen Curry, a fellow 22-year-old who is two seasons removed from playing in the college ranks.
The thing Westbrook does better than nearly every point guard is score. He averages more than 22 on the scorecard every night, and conversely is also a great passer, tossing around 8.6 assists per game as well.
Not too shabby numbers considering Kevin Durant is just about the only other legitimate offensive conductor for the Thunder.
The UCLA-product will find his way to the top of this list if he can somehow limit his dismal 3.8 turnover average.
3. Deron Williams, Utah Jazz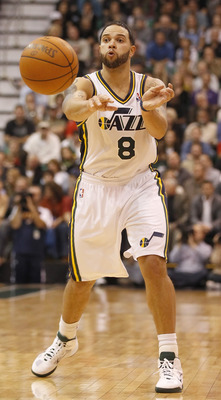 George Frey/Getty Images
Everyone has lost the utmost respect for Utah's Deron Williams, as he seemingly was the main catalyst surrounding Jerry Sloan's retirement.
The fact still remains, however, that Williams is the third best point guard in the land.
The 26-year-old Illinois product is in fact a much better defender than most may think. Just turn on one of the Jazz's game and you will instantly discover the passion that D-Will plays with on the other side of the hardwood.
His numbers aren't too bad, either. He averages 21.3 points and nearly 10 assists when he plays. His free throw shooting, currently at 85.3 percent, is a much better than clip than his career percentage of 80.8.
Now if he only he would be a better teammate then he'd find himself elsewhere on this list.
2. Chris Paul, New Orleans Hornets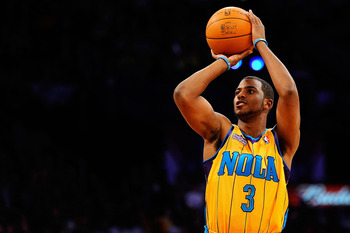 Kevork Djansezian/Getty Images
Chris Paul of the Hornets, simply put, excels at every facet of the point guard game.
He finished second in the MVP voting three years ago, and honestly hasn't taken a step back ever since he established himself as a top-tier point guard that season,
He passes extraordinarily well, almost as well as anyone, and this is displayed with his 9.6 assist average.
He doesn't shy away from shooting. This is apparent with his 47.6 field goal percentage from the floor to go with his outstanding 43 percent number from downtown. He also drains free throws at an amazing 89.6 percent rate.
His defense isn't anything to knock on either. Go ahead and try to.
The great thing about CP3 is that he does this all without the help of a fabulous supporting cast either, and he himself has created a playoff contender in New Orleans.
1. Derrick Rose, Chicago Bulls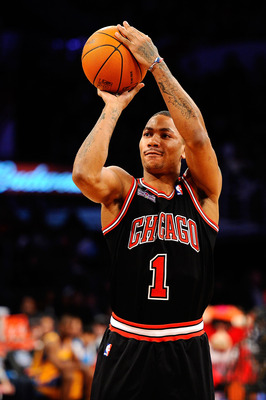 Kevork Djansezian/Getty Images
Chicago's Derrick Rose is the best point guard in the NBA, and it isn't just because he is a prolific scorer as some people may speculate.
He slashes to the basket and produces buckets like no other at his position.
He is an exceptional passer, dishing out 8.2 assists to the likes of Carlos Boozer and Luol Deng.
Additionally, he is the best shooter on this list, and he leads the Bulls (and all point guards) with a 24.9 scoring average. He also shoots 45 percent from the field and nearly 84 percent from the charity stripe.
The thing most people don't recognize, however, is that he excels very well on the defensive side of the ball for the Bulls.
His pedigree has become his ability to close out games, something that sets him apart from any other point in the league.
These skills have helped him become the best in the NBA, and they have helped the Windy City feel like magic for the first time since a fella by the name of Michael Jordan skipped town.
Keep Reading

Chicago Bulls: Like this team?