Los Angeles Lakers: What the Lakers Need To Do To Turn Around the Season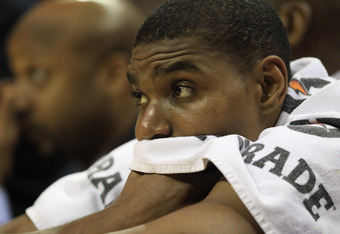 Streeter Lecka/Getty Images
With the All-Star weekend all but come and gone, the NBA's 30 teams will now shift their focus on the last stretch of the season. Of those 30 teams, there is one defending champion, the Los Angeles Lakers who, despite a 38-19 record, are sitting in third place in the Western Conference with more questions than answers.

Where's the determination to win? The determination to be the best team? Is Andrew Bynum the answer? Is this really the best the Lakers have to offer after two straight championship seasons? I don't believe so and I feel that the squad knows what needs to be done in order to, dare I say it, make them championship contenders again, but whether or not they will execute remains to be seen.

One of the problems that the Lakers have struggled to keep under wraps has been the turnovers. Currently averaging 13.4 a game, they are just a couple notches below the league average. It is no secret that one of the keys to winning any basketball game is to maintain the turnover battle and never let loose. Unfortunately the Lakers have had several miscues, misdirections and either tossed the ball away or cause a turnover from not paying attention to the simplest of things, and as such, the opponents take advantage and get points.

A key example would be during the recent game versus the Cavaliers, Blake passed it back to Gasol who apparently was going to pass to Odom, except Odom wasn't there, and the Laker bench was. Unfortunately, the bench isn't allowed to shoot the ball.

Another issue the Lakers must overcome if they want to make it to a fourth straight Finals is an inability to finish out games. Too many times this season, the Lakers are either tied or have a lead going into the fourth quarter, only to squander it with six minutes remaining and end up losing the game. You cannot expect to go into Dallas, San Antonio, Denver or Oklahoma City and just coast your way through. You must box out, get rebounds and add points to the score if you want to walk away with any kind of victory.

Andrew Bynum. Drafted in 2005, Bynum has been what many consider to be a bust. He's only played one full season (2006-07) and has only averaged 45.5 games a season. He was missed during the 2008 NBA Finals, what many would have considered a huge game-changer had he played. This season, he is still struggling to find his groove.

His lowest scoring night was against the Nets on January 14. 22 minutes played, scoring two points, five rebounds, two blocked shots and an assist. You will need more productivity from your big man if you're heading into San Antonio or Dallas. Don't even get started about the East if they make it out. His highest statistical night came against the Jazz last month, scoring 19 points, 11 rebounds, 3 blocked shots and an assist.

Ron Artest was phenomenal in Game 7 of the Finals last season versus the Celtics, no question about it. This season, however, he's averaging season lows across the board and that has many fans worried. His defense is more or less on par, however, you still need productivity on offense if you're going to win any games. Artest is struggling in that department several times a game and it hurts the Lakers. Whether or not they need to trade him is a different matter, but while on the team Artest will have to isolate any issues he's having and squander them, the time is now for Artest to increase his stock.

The bench. We all witnessed it last year in the Finals against the Celtics in Game 4 when the Celtics bench outscored the Lakers bench 36-18. That can't happen again, and it shouldn't, but will it? If your starters are slipping, it's no secret that you will need depth at the bench in order to help pick up the slack at any given time. This season has been a testament of that, where the Lakers have both won and lost games partly because the bench wasn't able to step in at the right time.

Should the Lakers wish to repeat as champions for a third straight season, they will need to dig deep, look within themselves and pull out all the stops. No more can they let the last shot be taken by the opponent, turn the ball over countless times and expect to still win. Andrew Bynum needs to work stronger and harder while Artest needs to pick up the offense again. If most of these issues can get corrected in the 25 games remaining, the possibilities are endless.
This article is
What is the duplicate article?
Why is this article offensive?
Where is this article plagiarized from?
Why is this article poorly edited?

Los Angeles Lakers: Like this team?