NBA All-Star Weekend: 10 Contest Winners Who Make You Say 'Who?'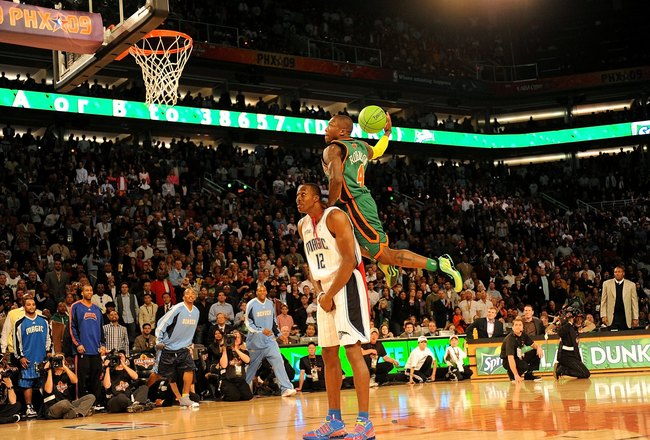 Believe it or not, Nate Robinson does not even crack the top ten.
Ronald Martinez/Getty Images
The 2011 NBA All-Star Weekend tipped off last night with Justin Bieber winning the MVP award of the Celebrity Game and Demarcus Cousins and John Wall dominating the Rookie Challenge. Everyone knows their names, but are you as familiar with some of the players who competed in the past Saturday night competitions, including the 3-Point Shootout and Slam Dunk Contest? I'm guessing some of you can't even name all of the participants in tonight's contests.
Each competition has produced some classic winners and memories. Who will ever forget Michael Jordan taking off from the free throw line to beat Dominique Wilkins in the finals in 1988? Or Spud Webb taking home the trophy in 1986 to become the shortest winner in history? That mark still holds true today.
Every fan remembers Larry Bird winning three straight titles, especially when he held up his index finger to signify number one when he hit the last shot to win. This year's contest alone features two Boston Celtics members who have also won in the past in Ray Allen and Paul Pierce.
But enough about the big names. What about the names of some of the past players who won that nobody remembered after that? I doubt some people even knew who they were going into the competition. With that being said, here is the top ten list of some of the most obscure players ever to win on Saturday night during All-Star Weekend.
10. Voshon Leonard: 2004 3-Point Shootout Winner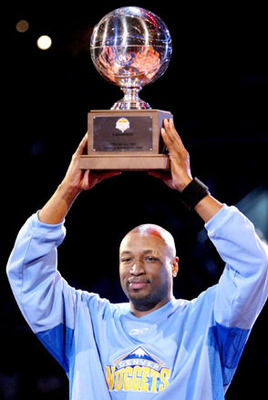 Leonard won the contest as a member of the Denver Nuggets. Believe it or not, he once averaged 30 points per game one season - in the CBA. Younger fans won't even remember the CBA, thanks largely in part to Isiah Thomas.
He was a star at the University of Minnesota, and went on to play for a handful of NBA teams. Much to my surprise, he averaged almost 12 points per game in the NBA. But still...
9. Dee Brown: 1991 Slam Dunk Contest Winner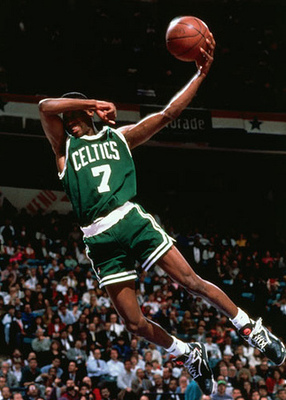 You may not know the name or the man, but you all know the dunk. Brown started a trend of the "no-look" dunk in 1991 as a member of the Boston Celtics. While no one really knows if he could see or not, the judges certainly gave him the benefit of the doubt, and Brown was named the winner.
Many have tried to replicate his famous jam, but there remains only one Dee Brown. Well, there was that guy who played at Illinois a few years ago as well, but you get the point.
8. Desmond Mason: 2001 Slam Dunk Contest Winner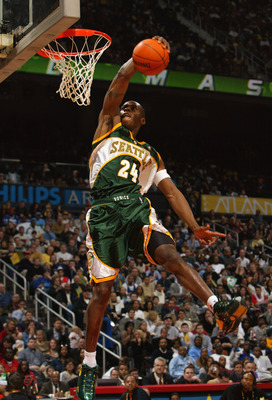 Jed Jacobsohn/Getty Images
Mason kicked around the NBA for the better part of a decade, but he will still only be known for winning the Slam Dunk contest in 2001.
This was around the time where the dunk competition was starting to make its way back to prominence, just one year after Vince Carter put on perhaps the greatest show of all-time. Mason had a good night as well, but no one was going to be able to live up to the previous year's contest. It wasn't possible.
Or fair.
7. Jason Kapono: 2007 and 2008 3-Point Shootout Winner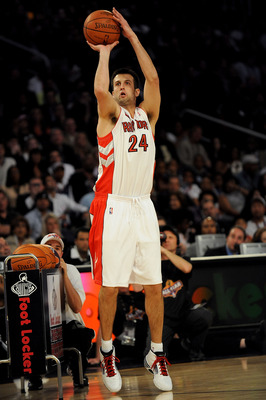 Ronald Martinez/Getty Images
Kapono is one of six players to win multiple 3-Point Shootouts, and has played for numerous teams in the league. But if you didn't look at the jersey he is wearing during the 2008 contest, could you name the team he played for when he won?
What about the prior season? I'll give you a clue. It was not the same team, but LeBron and Dwyane Wade would be proud.
6. Tim Legler: 1996 3-Point Shootout Winner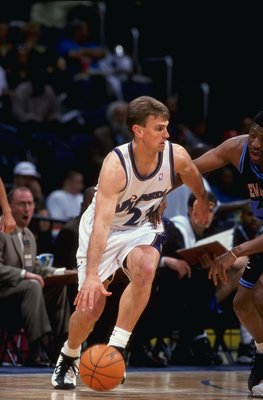 Ezra Shaw/Getty Images
Many people are surprised to hear the Tim Legler is not just that guy on ESPN talking hoops. He actually played in the league for many teams. That is generally what happens when you really only have one good season.
He stuck around for awhile, but is still only known for the one season he shot lights out from behind the line and won the competition in San Antonio.
Hey, it kept him in the game for longer than anyone would have expected, so everything certainly worked out well for him.
5. Gerald Green: 2007 Slam Dunk Contest Winner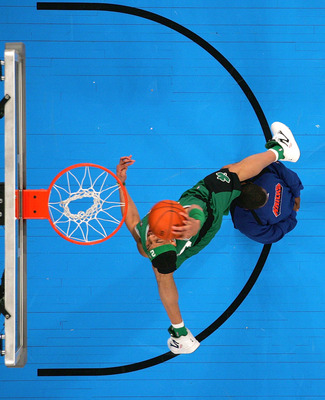 Jed Jacobsohn/Getty Images
Green was highly touted coming out of high school, but never lived up to expectations, which is so often the case.
Green was probably best known for a couple of things.
1. Being the guy who was involved in the trade that brought Kevin Garnett from the Minnesota Timberwolves to the Boston Celtics.
2. Donning a Dee Brown jersey when he won the Slam Dunk competition and dunking over Nat Robinson.
Now, had he dunked over Dwight Howard, that would have put him higher on the list.
4. Craig Hodges: 1990, 1991 and 1992 3-Point Shootout Winner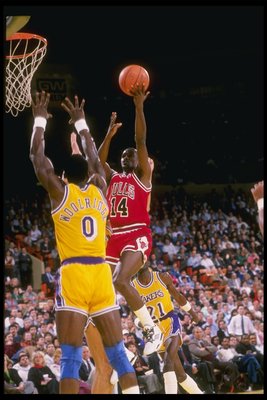 Stephen Dunn/Getty Images
Who will ever forget the name Craig Hodges as he helped lead the Chicago Bulls to their first handful of NBA championships? You all remember him carrying Michael Jordan and Scottie Pippen on their way to glory, right?
I actually included this photo during an actual game, because even though I grew up watching the Bulls, I never remember seeing this guy in an actual game. Clearly, I was wrong.
But nonetheless, Hodges is on the short list along with only Larry Bird as the only two players to win the 3-Point Shootout three straight times. Or three times period.
3. Cedric Ceballos: 1992 Slam Dunk Contest Winner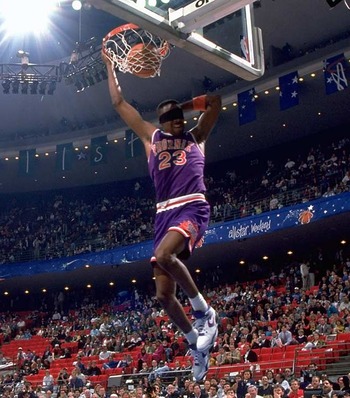 You all remember the rumors. The blindfold was loose. He could see through it enough. Mafia this, mafia that. Everyone heard what they were saying about Ceballos and his blindfold dunk in 1992. But only one person knows whether or not he could see through it at all.
And I'm guessing he wouldn't tell you if he could.
2. Harold Miner: 1993 and 1995 Slam Dunk Contest Winner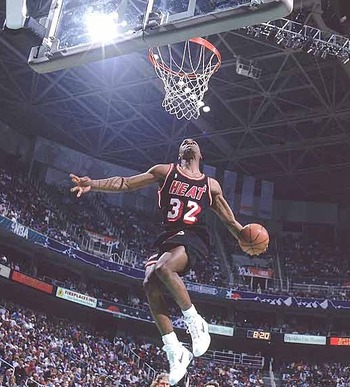 "Baby Jordan" won the contest twice, just like the real Jordan. The similarities end right there.
The hype was incredible surrounding this guy, but he is still only known as the guy who had two impressive nights in his career.
Sometimes, two is enough. It got him on this list and every television special aired during All-Star weekend.
1. Fred Jones: 2004 Slam Dunk Contest Winner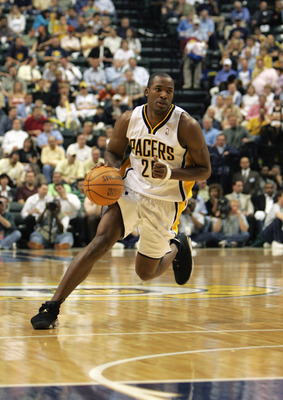 Andy Lyons/Getty Images
Who?
Exactly.
That is why Jones is number one on this list.
Will Anyone From Tonight's Contests Become a Name On This List One Day?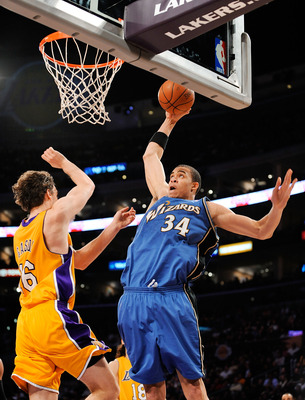 Kevork Djansezian/Getty Images
Sure, if JaVale McGee wins the Slam Dunk Contest.
Or if Dorrell Wright dethrones Paul Pierce and captures the 3-Point Shootout.
But no disrespect to ether player.
Keep Reading