NBA Trade Rumors: 10 Reasons O.J. Mayo Is Expendable to the Memphis Grizzlies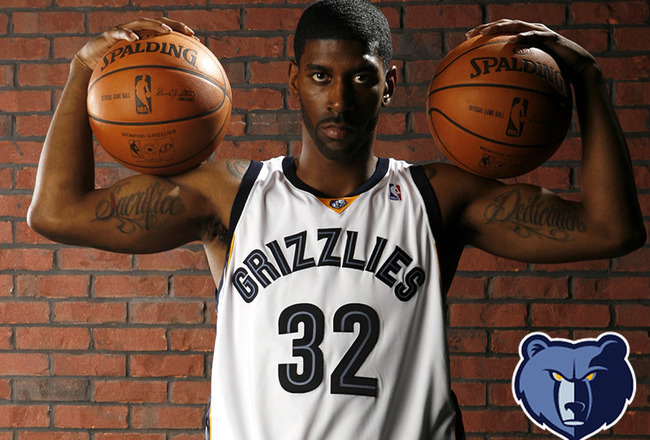 As the former number one high school basketball player in the nation and heir to LeBron James's throne, O.J. Mayo has been on the basketball radar for a long time.
So it is with no great pleasure that I write this article.
But with his level of play stagnating, and his role in flux, it seems apparent to me that it's time for a change. For O.J., and for the purposes of this particular exercise, for the Grizzlies as well.
10. Memphis Went 8-2 During His Suspension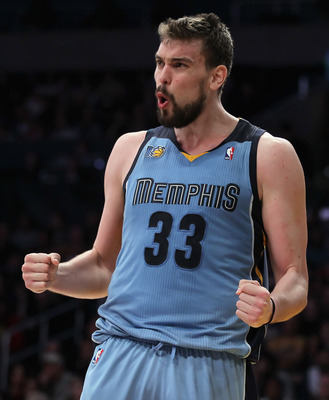 Jeff Gross/Getty Images
Let's start with the bottom line.
The Grizzlies are winning. Eight of their past ten. Nineteen of twenty-nine since Christmas, with wins over Denver, LAL, Orlando, and at Oklahoma City. The Grizzlies aren't beating cream puffs.
They currently sit a half game behind Utah for the eighth seed in the West, and there's a strong chance the Jazz won't be staying there for long.
9. Sam Young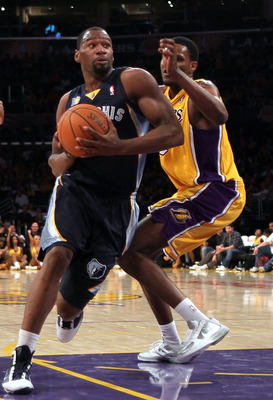 Jeff Gross/Getty Images
More reliable then spectacular, Young has averaged just under 10 points a game, along with 2.5 boards and 1.1 assists since replacing Mayo in the starting lineup.
Moving forward, I think the Grizzlies have to look at it like this: Sam Young may have a ceiling, but he also has a floor.
Sam Young is a small house. O.J. Mayo is a big house.
The big house would of course be better…if you had occupancy of the upper levels of the home. Which you might one day, but that's of no guarantee (they're of arguable construct). And in the mean time, the mortgage, the loan, the property tax…they all tie up your resources and keep you from making other investments.
Side note: all NBA GM's live in small houses.
8. Tony Allen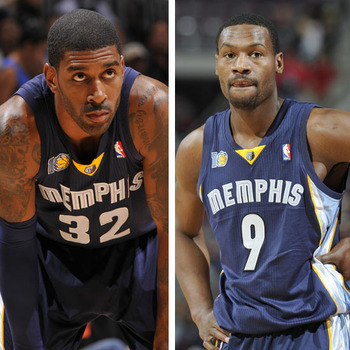 Further pushing Mayo toward redundancy, Tony Allen has taken O.J.'s place in the second-unit.
The twenty-nine year-old Allen has seen his minutes rise in the last twelve games, and has greatly contributed to an improving Grizzly defense that has allowed just 95 per over that span.
Also, without Mayo's one-on-one abilities (and proclivities), Memphis has been leaning more so on ball moment and interior play- which is probably what Memphis should be leaning on as frequently as possible.
As far as the Grizzlies are concerned, Tony Allen has the better hand.
7. Rudy Gay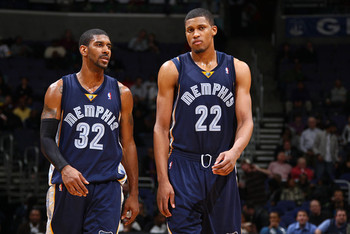 I'm reaching here a little bit, but if there is any argument about who is the go-to-guy on the perimeter for the Grizzlies, Mayo should be out by the deadline.
Not because Gay is the be-all end-all of franchise players, but because Memphis just signed him to a lofty $80 million extension.
They need to go about maximizing that investment.
6. Regression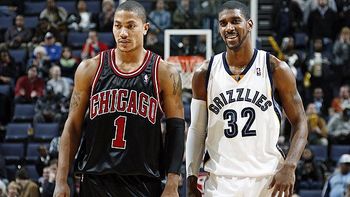 Career lows in points, rebounds, assists, field goal percentage, free throw percentage, blocks, and steals.
O.J. is playing ten fewer minutes a game, but his per-48 averages are down across the board as well.
Almost as notable as this year's step back should be last year's plateau. While his contemporaries Rose and Westbrook continued to evolve, Mayo's production leveled off in his second year.
Although he entered the NBA with just one year of college, Mayo was already turning twenty-one and far more of a finished product than was acknowledged at the time.
Which leads us to…
5. Precedent
Take a look at this year's All-Star team and find me someone who's production flatlined this early.
The closest guy I could find was Joe Johnson, and in no way does Mayo play JJ's floor-game.
The most notable trait of the budding star is the budding, and I think O.J. has already shown us what he has.
4. The Rashard Lewis Corollary
Jonathan Daniel/Getty Images
In 2009, Rashard Lewis tested positive for DHEA, the same substance for which O.J. Mayo has just served a ten game suspension.
At the time, Lewis claimed his test was the result of an over-the-counter energy drink (none of the top energy drinks have DHEA in them), the same explanation Mayo is giving now.
Now, it doesn't take a Cleveland Cavalier fan (who had just watched Rashard scorch us in the conference finals the previous year, and continued to watch him in hopes of catching him in some such scandal to somehow retroactive validate a 66-win, title-less season…huff, huff…deep breath), to realize that he hasn't been the same player since. Not even close.
And while O.J. is younger, he does represent a similar-type player; skill-reliant while marginally athletic.
The Rashard Lewis Corollary. The RLC.
You heard it here first.
3. Anderson Varejao, Gerald Wallace, and Wesley Johnson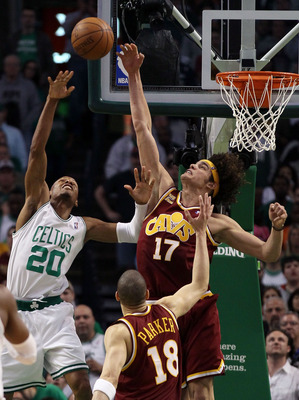 Elsa/Getty Images
Or someone from the Knicks perhaps?
Obviously (to a Cavs fan), Andy represents the grand prize in this scenario, and I don't think Mayo is enough to get him…but regardless, a number of teams are chomping at the bit to collect young assets, and Mayo's particular 'young' will never be higher.
The asking price for a twenty-three year old malcontent is substantially higher then the asking price for an older one.
Editor's note: Send him to Cleveland where he can have his reconciliation. Joey Graham is a heck of a defender.
2. Free Agency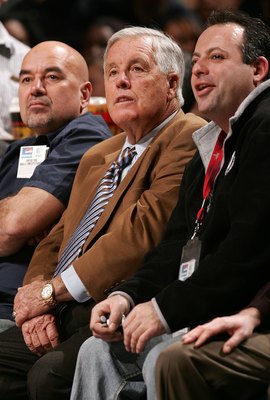 Jonathan Daniel/Getty Images
Here's a rarely mentioned tidbit: O.J. Mayo is up for an extension soon, and he won't be getting it from Memphis.
As you might remember, the Grizzlies are under the employ of one Michael E. Heisley; a fiscally-conscious chap who squabbled with Xavier Henry over the incentives in his rookie contract and traded Pau Gasol for money.
He will not be willing to dole out another $50 million-plus contract for a player whose contributions of late have been both inconsistent and, ultimately, inconsequential.
So age isn't the only reason O.J. will never be more tradable. I'd say the chances are strong he's out in two years regardless.
1. He's Not Elite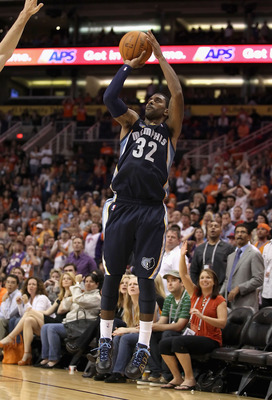 Christian Petersen/Getty Images
In a league dependent on stardom, stardom is the only asset you can't afford to trade.
O.J. Mayo is not a star.
He's solid, he can be good (I'd even bet he has an all-star season somewhere down the line), but he's not quite what we thought he might be coming into the league.
There's a pretty simple explanation as to why: The skills are there, and there's time for him to mature, but O.J. is a tier below explosive, and in a league where the athletic thrive, Mayo can't. There's a reason he's never averaged as many as four free throws a game - he can't consistently get to the basket.
And a player like that, a 6'4", 210 pound shooting-guard with limited athleticism? Those guys are replaceable.
Keep Reading

Memphis Grizzlies: Like this team?