NBA Dunk Contest: Michael Jordan, Blake Griffin, Best All-Time Field With Video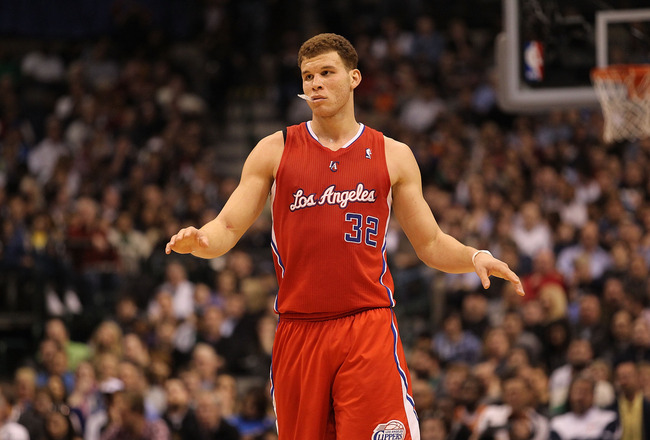 Ronald Martinez/Getty Images
The NBA Dunk Contest is quickly approaching and fans are eagerly anticipating watching Blake Griffin, DeMar DeRozan, JaVale McGee and Serge Ibaka throw down slam after slam.
The dunk is, after all, the most exciting play in basketball. Nothing can get a crowd pumped up like seeing a player throw the basketball down through the rim with authority. If there's some style involved, even better. If there's a player in the way that gets posterized, even better still.
Ever since dunking was first thought of, people have been thinking of new ways to make the slam dunk bigger and better. If you look back through the history of the sport, the records are filled with great players known for their dunking abilities.
So that got me thinking, if I could watch the Slam Dunk Contest with 10 contestants from all of basketball's history, who would they be?
The players would obviously be from their primes. I wouldn't want to see 2011 Michael Jordan dunk quite as much as 1990s Michael Jordan.
So read on for the 10 players that would fill up the field in my dream Dunk Contest. I've included videos of each and every player for your viewing enjoyment.
Vince Carter
Like him or not, Vince Carter is undoubtedly one of the greatest dunkers to ever play basketball.
Carter won the 2000 NBA Slam Dunk Contest after throwing down a 360 degree windmill dunk and the now-famous "elbow in the rim" dunk, among others.
But Carter's best dunk ever came that year in a different contest. It's not included in the embedded video because it didn't take place during NBA play, but don't let that take away from its greatness.
The Dunk of Death, as the French call it, occurred during the 2000 Summer Olympics. Carter literally jumped over 7'2" center Frederic Weis en route to the rim. If that doesn't prove his athleticism, I don't know what does.
Daryl Dawkins
The self-proclaimed alien from the planet Lovetron had a habit of nicknaming his own dunks.
Some of the more famous ones include: The Rim Wrecker, The Go-Rilla, The Look Out Below, The In-Your-Face Disgrace, The Cover Your Head, The Yo-Mama and the Spine-Chiller Supreme. But all of those pale in comparison to his backboard-shattering dunk, dubbed "The Chocolate-Thunder-Flying, Robinzine-Crying, Teeth-Shaking, Glass-Breaking, Rump-Roasting, Bun-Toasting, Wham-Bam, Glass-Breaker-I-Am-Jam."
Daryl Dawkins didn't stop at just nicknaming his dunks. He also liked to give himself alternate names. Sir Slam and Dr. Dunkenstein were two of the best, but Chocolate Thunder is the one that really caught on.
Can you tell yet that Dawkins belongs?
Julius Erving
Julius Erving's name is practically synonymous with dunking.
I've had the pleasure of meeting Dr. J in person and when I shook his hand I felt as though my right hand was literally being engulfed by his. It's no secret how he could palm the ball so easily.
Whether it's the Rock the Baby dunk over Michael Cooper or his dunk from the free throw line, Erving could slam with the best of them. He's the man who truly popularized the modern-day style of playing above the rim.
This contest would not be complete without Dr. J.
Blake Griffin
It's a true testament to Blake Griffin's dunking prowess that he is already included with the legends on this list. But, it is already justified.
When you watch the video, remember that the 10 dunks you see are all from the first half of Blake Griffin's first NBA season. All the other video compilations are over the course of the player's career. Just imagine what that will look like when Griffin is done.
Griffin has taken the league by storm and has already proven that he deserves to be considered one of the best dunkers ever.
There's a reason that he was invited to participate in the Slam Dunk Contest during his rookie season.
LeBron James
LeBron James is quite possibly the most athletic man to ever pick up a basketball at the professional level. Some of the dunks he's thrown down are just flat-out ridiculous.
James was supposed to compete in the 2004 Slam Dunk Contest during his rookie season, but an ankle injury forced to withdraw. He's chosen not to enter each and every year since then. I'm sure that James would be automatically in the contest if he wanted to be, but for some reason he doesn't.
The mystery of what he would do plus his insane talent and fun personality make James a must-have for the contest.
Michael Jordan
Of course we have to have Michael Jordan in this dream contest.
Not only is he the greatest player of all time, but he's also one of the greatest dunkers to ever live.
Ever heard the nickname Air Jordan?
Jordan won two Slam Dunk Contests during his storied career and it wouldn't surprise me at all to see him win this one too. We'd probably see another free throw line dunk at the very least.
With his tongue wagging just past his lips, Michael Jordan was known for flying through the air and seeming to defy gravity. There haven't been too many players like him.
Shawn Kemp
The ferocity of his dunks is virtually unmatched in NBA history.
Shawn Kemp was known for throwing down huge slam dunks and then celebrating afterwards. He would point at players he just posterized. He would hug it out with them too. But more than anything else, Kemp would work the crowd.
Isn't that what the Slam Dunk Contest is about? Kemp's dunks put crowds into frenzies, and that was when he was weaving through five defenders to get to the basket.
Imagine what The Rain Man could do on the court by himself.
David Thompson
While Julius Erving and Michael Jordan were known for their ability to glide through the air, David Thompson was known for his ridiculous leaping ability.
Supposedly, he could touch the top of the backboard.
The man who had a movie named Skwalker made about him competed in the first Dunk Contest and finished second to Erving's free throw line dunk. But according to many sources, Thompson produced some spectacular dunks during warmups that he chose not to use in the contest itself for some strange reason.
Thompson is the player that Michael Jordan looked up to, and that has to say something.
Spud Webb
Spud Webb was just 5'7".
In 1986, Webb was included in the NBA Slam Dunk Contest's field to the surprise of everyone, including teammate Dominique Wilkins. Many thought Webb was just included as a joke, but he ended up winning the contest.
There's nothing quite like seeing a little guy absolutely sky and throw the ball through the rim. For that alone, he has to be included.
Dominique Wilkins
Dominique Wilkins will forever be regarded as one of the NBA's best dunkers of all time. It is, after all, how he earned his nickname: The Human Highlight Film.
Wilkins won two Slam Dunk Contests during his NBA career and completed countless dunks on the court during games. His ridiculously powerful windmill jams became his trademark and no one has ever been able to make them with such regularity and ease.
Wilkins competed in five Dunk Contests during his career. Let's make it six.
Keep Reading