San Antonio Spurs: 10 Bold Predictions for the Post-All-Star Break
Doug Benc/Getty Images
With the NBA's best team to this point going into their final game against the Chicago Bulls this Thursday before the All-Star break, it is time to take a look at what is ahead for one of the favorites to win the NBA crown this year.
So far, the Spurs have had a dream season, achieving a 46-9 record and sending a forceful reminder to everyone once again that, even though they are getting up in years, they are not going anywhere.
Here are 10 bold predictions concerning the Spurs' for rest of the season after the All-Star break.
No. 10: James Anderson Will Have Several Huge Games Off The Bench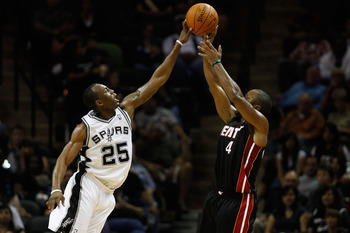 Chris Graythen/Getty Images
The Spurs have the league's best record so far and the best part is that they have yet to get fully healthy.
James Anderson, supposedly a steal for them at the 20th pick in the first round of this past NBA Draft, has barely played for the team due to injury. His sharp three-point shooting is what made him so desirable a pick in the first place and the Spurs love to take three-point shots.
Everybody has seemed to forget that Anderson is still very much a player that the Spurs are focusing their attention on—do not be surprised if he comes through with a couple of huge games off the bench when, say, Gary Neal is having an off-night.
No. 9: Gary Neal Will Hit Three Game-Winners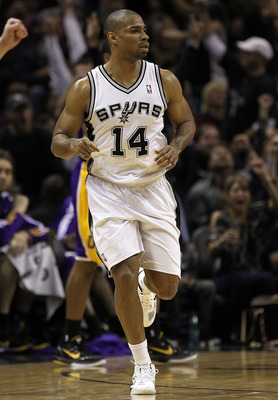 Ronald Martinez/Getty Images
Neal is essentially Roger Mason Jr. of two years ago. That is, if you add a floater in a lane and some sturdy defense on the perimeter.
The only thing RMJ has on Neal right now is the "clutch-ness" factor. Neal has proven to be an essential part to this Spurs team, but a lot of Spurs fans are waiting for him to prove his mettle when it matters most.
He hit a game-winner against the Los Angeles Clippers in a preseason match and with a few close games inevitably coming the Spurs' way, do not be surprised to see Neal be the man they go to in the closing moments of some games.
We already know Manu can hit a game-winner when called upon, but to have another guard who is capable of rising up quickly for a game-ending three-ball is definitely coveted as well.
No. 8: Gregg Popovich Might Actually Smile Again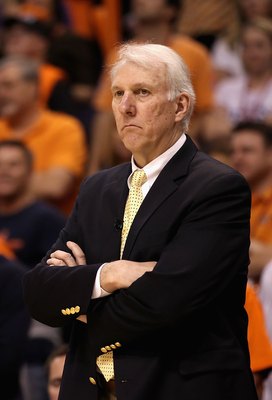 Christian Petersen/Getty Images
Did anyone see that grin Pop flashed when Antonio McDyess tipped in the game-winner against the Los Angeles Lakers two weeks ago? It was a unique moment to see the usually stone-faced commander get excited for his team so openly—especially since the playoffs have not even started yet; everybody knows that Pop really cares when the playoffs start.
Pop might have another reason to smile when he's given the Coach of the Year award this year if his team keeps it up. Then again, he might just shrug it off and quickly hand the trophy over to an assistant. He did the same thing when he won the award during the 2002-2003 season.
However, with the year the Spurs have had, Pop might actually look happy one more time. It is nice to see your usually calm, collected coach show his pride and joy once in a while.
No. 7: DeJuan Blair Will Average A Double-Double For The Rest Of The Season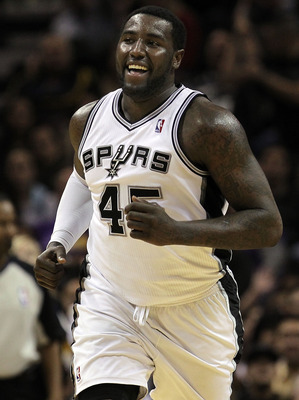 Ronald Martinez/Getty Images
A number of Spurs fans have been disappointed with Blair's play during the first half of the season. After a stellar rookie year in which he provided a burst of energy off the bench, DeJuan seemed to be struggling to adjust to being a starter (as well as playing the center position at a mere 6'7" in height).
Now, after a couple of notable games (a 28-point showing against the Raptors recently), "Grizzly Blair" appears to be on the prowl yet again. He has only averaged 8.5 points and 7.4 rebounds so far, but be prepared to see those numbers jump dramatically as Blair becomes more comfortable with his starting position over the second half of the season.
No. 6: Manu Ginobili Will Make an Even Stronger Case For Being an MVP Candidate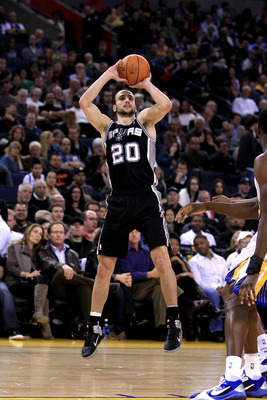 Ezra Shaw/Getty Images
Much like his own team, Ginobili is known as a second-half-of-the-season type of player. His heroics last year single-handedly willed the Spurs into the playoffs last year.
Ginobili will catch fire again after he gets a little rest during the All-Star break (even though he will be playing in the big game, Pop will be coaching, so let's just assume Manu will not get a lot of minutes in that game), which will thrust him into the talk as a top five MVP candidate.
He will not win the MVP (it's between Derrick Rose and LeBron James at this point), but you can bet, in the remaining 27 games that the Spurs have left, that Manu will kick his game into another gear.
No. 5: Tiago Splitter Will Not Work His Way Into The Rotation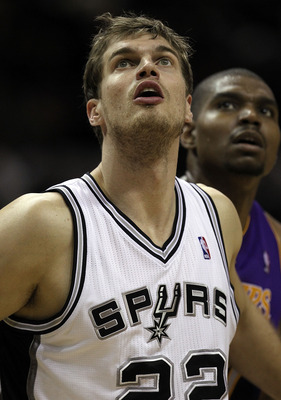 Ronald Martinez/Getty Images
In what appeared to be the Spurs' biggest free-agent splash since convincing Michael Finley to join the enemy after so many years as a Maverick, Tiago Splitter has not been able to work his way into the regular rotation since signing with the team in the offseason.
Whether it be bad timing with injuries (before the season began, and now as recently as last week) or a little awkwardness from time to time (a painful landing after a dunk against the Nuggets in garbage time), Splitter has not gotten comfortable with the Spurs so far.
He will not work his way into the rotation this year, but Spurs fans must not fret. It usually takes over a year to get comfortable in the Spurs system. Just ask Richard Jefferson about his first year with the team. Splitter has shown flashes that he can be a solid, dependable big man in the NBA, but playing time will have to wait for at least another year.
No. 4: Tim Duncan Will Post a Near Triple-Double At Least Once In The Playoffs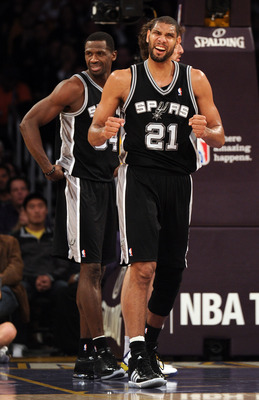 Harry How/Getty Images
It is no secret that Tim Duncan is posting career lows in points per game as well as rebounds per game. Many were shocked Tim was named an All-Star this past year. Even players like Kevin Love publically expressed surprise that the big man was able to win a spot on the team.
However, never doubt one of the best players to ever play this game. Do not be surprised to see Duncan rip off a monster game when it counts and his minutes go up—that being in the playoffs.
He is capable of performing on the biggest stage when called upon (just ask the New Jersey Nets in 2003, which saw Duncan nearly put up a quadruple-double in the title-clinching sixth game of the NBA Finals).
Sure, he is getting up there in age, but he can put a game on his back when necessary.
No. 3: They Will Finish With a 66-16 Record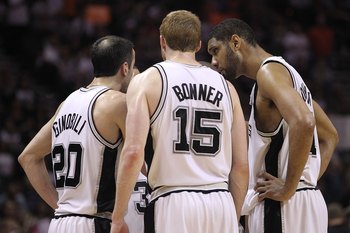 Ronald Martinez/Getty Images
Most NBA fans know that the Spurs have a reputation for being a slow-starting team. In order to finish the season at an above 65-win mark, the Spurs would need to post a very doable 20-7 record the rest of the way through. Their season has been compared to the 1995-96 Chicago Bulls 72-10 campaign, but it will be incredibly difficult for them to reach 70 wins.
A lot of critics are waiting for them to finally start slowing down and losing games they should win easily. I mean, the media has been predicting the end of the Spurs dynasty for the last decade, so by that logic they have to slow down at some point, right?
No. 2: They Will Beat the Lakers 4 Games To 2 In the Western Conference Finals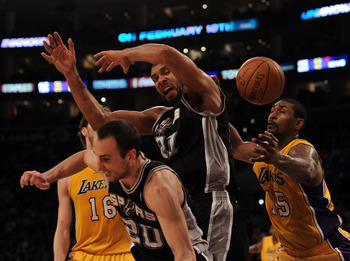 Harry How/Getty Images
Now, hear me out. Yes, last time the Lakers and Spurs met in the playoffs in 2008, L.A. handled San Antonio rather easily, disposing of them in five games and marching into the NBA Finals on a high note.
However, most forget that Manu Ginobili was playing on virtually one leg the entire series and that, a day before Game 1 began, the Spurs had to sleep on their plane when it had mechanical issues.
Add in a no-call on an obvious Derek Fisher foul in Game 4 against Brent Barry in the closing moments that could have potentially won the game for the Spurs, and absolutely nothing went right for San Antonio that year.
Because the Spurs' best players have stayed healthy throughout the year thus far and this will hopefully continue into the playoffs, San Antonio will get their revenge against L.A. in the Western Conference Finals.
It will take six games to do it, but the Spurs will close out the Lakers in a hard-fought Game 6 that will have Kobe giving everything he has to keep the Lakers alive.
In the end, he won't be able to.
No. 1: They Will Win the NBA Title In 7 Games Against The Boston Celtics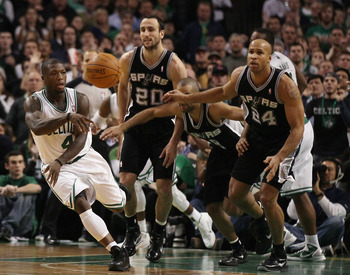 Elsa/Getty Images
The Spurs record when it comes to the NBA Finals: 4-0.
They have won the NBA Championship each time they have reached the Finals stage. It will be no different this year, as two defensive-minded teams in the Spurs and Celtics will come head to head in the 2011 NBA Finals.
There will be scuffles that occur, and some heroic performances from both Duncan (maybe he gets that triple-double here) and Paul Pierce.
Because the Spurs will have the best record at the end of this year, they will automatically get home-court advantage for the whole playoffs. This will prove to be the deciding factor in a grueling Game 7 which the Spurs will win 98-93.
Keep Reading

San Antonio Spurs: Like this team?