Dwyane Wade and Lebron James 92-Foot Alley Oop Symbolic of Heat's Season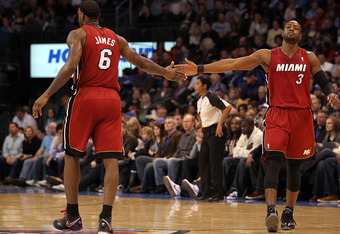 Ronald Martinez/Getty Images
At first glance, the 92 foot alley opp between Dwyane Wade and LeBron James was just a play during the regular season.
At a closer glance though, the play represents so much more.
Wade Starts the Play
Dwyane Wade was a National Basketball Association superstar fully committed to the Miami Heat organization. During the off-season, Wade spoke with multiple stars in the league to try to convince them to join forces with him for a title run in Miami. Just like then, Wade starts the play and before looking for anyone else, he quickly looks for his close friend LeBron James first to help him before he tries to do anything else.
What were they thinking?
Just like what the announcer in the video says as soon as Wade's plan (in this case the alley oop) is revealed, the first reaction that comes to mind is "What were they thinking?!?".
Just like when LeBron and Chris Bosh decided to team up with Wade for the Heat, fans around the league were screaming why and all anyone saw was a bad thing coming.
Just like with the play, no one thought it was going to work out very well and that it wasn't the best thing to do at the time.
Really we just had to sit back and wait and see if the players decision they made was one that would work out in the end.
We can't rush to determine how a play is going to end before it has even run its course fully.
As the Ball is in the Air
All of the attention is on Wade and LeBron to see if they can make this play work.
One has to sit back and admire the guts it took to pull of such a thing.
Can they play together?
Can they share the ball?
Can they have success?
Again, we can't rush to judgment and just have to wait and see.
It is a long play and a long season after all.
As the Ball Goes In
Despite the cries from all the doubters, LeBron scores and gives his team an even bigger lead, something that is quite common for the Heat as the rest of the league tries to catch up to the red hot team and their 39-15 record.
Even though it took a few games, LeBron and Wade finally developed the chemistry that everyone has talked about them needing to have as they pull off the remarkable play that only few could over attempt.
And that even less would try to do.
It is even better that the play came on the road, where the opposing fans spent their hard earned money to come to the game and boo Wade and James as loud and as long as possible.
They have to stop booing for at least a minute to let something so remarkable settle in.
Did that really just happen?
The two once again proved the doubters wrong.
It just makes us wonder what great plays and great memories that these two can continue to make together on the court.
Can they keep it up for the rest of the season?
Can they bring home a title?
No need to rush judgment. It's a long season after all.
This article is
What is the duplicate article?
Why is this article offensive?
Where is this article plagiarized from?
Why is this article poorly edited?

Miami Heat: Like this team?