NBA Trade Speculation: 5 Reasons Deron Williams Should Leave Utah Jazz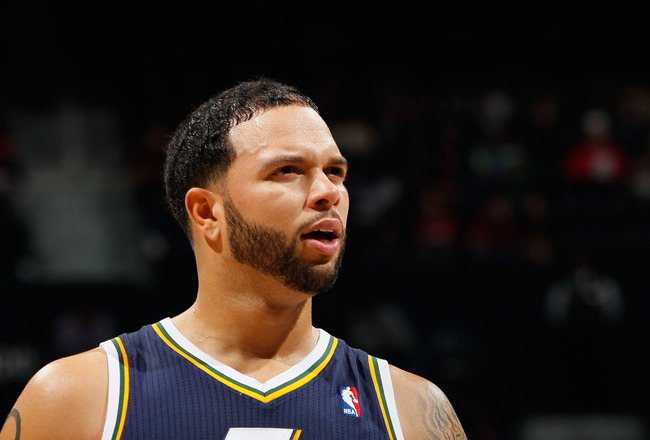 Kevin C. Cox/Getty Images
As one of the elite point guards in the NBA, Deron Williams rarely gets called for traveling.
By Feb. 24 at 3 p.m., Williams should change it up and move out of Utah.
With the trade deadline 10 days from now, it seems like almost every player gets looped into one trade or another. Williams is not impervious to these rumors as his name has been tossed around the trading block.
ESPN's Marc Stein reported Jerry Sloan's resignation and cited two sources close to the situation who speculated that Williams directly caused Sloan to retire after 23 seasons as coach, leading to controversy about Williams' attitude.
Regardless of the validity of the rumors, Williams and the Jazz have not been on the same page lately. Since starting the season 27-13 and looking like a contender, Utah has lost 11 of its last 15 games.
With the Jazz heading in the wrong direction, Williams should bolt out of Salt Lake City and get a fresh start.
5. Utah Angry about Sloan Resignation
Whether or not he is to blame, Williams will always be held responsible for Sloan's resignation.
The timing of the incident after a heated argument during halftime of a game just a few days earlier left Williams in hot water. Sloan and Williams had admittedly butted heads at times. It is rumored that Sloan thought upper management listened to Williams before him.
No matter which stories are true and which are false, Williams' name will always come up when Sloan's retirement is the topic at hand.
Jerry Sloan never got a title with Karl Malone and John Stockton although the team had some memorable seasons and close calls. With Williams at point guard, the Jazz never truly threatened for the title.
Title or no title, Sloan should be regarded as one of the most prominent coaches in NBA history.
Only one losing season in 23 straight years with the same team is quite an accomplishment.
4. Better as a Role Player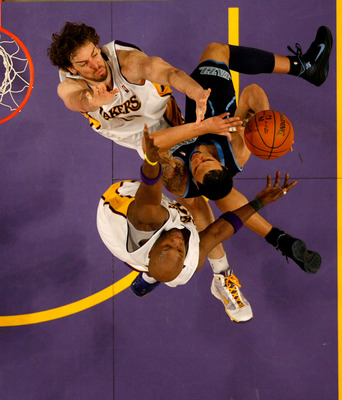 Stephen Dunn/Getty Images
Deron Williams gets more credit as a player than he currently deserves.
He has all the tools to be a Top 10 player in the NBA, but some people already rank him among the game's current greats.
Deron would be better off if he was surrounded by good players, rather than being a standout on an average team. The role of pass-first point guard would suit his abilities better. When he's forced to shoot more than 20 times in a game, he looks uncomfortable and out of his element.
Obviously, any player would play better if they were surrounded by better players. Deron has the ability to put up 11 or 12 assists per contest and flourish in a system where he didn't have to be relied on to score.
Imagine the possibilities.
3. No Help in Utah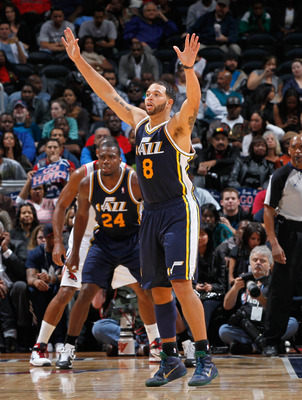 Kevin C. Cox/Getty Images
Andrei Kirilenko, Al Jefferson, Paul Millsap and Raja Bell. Those are the other four starters for the Jazz.
Some teams have more talent on their bench.
When the Jazz were 27-13, they were overachieving. Even though they will probably still land a playoff spot, the Jazz won't threaten any of the top four seeds in a best-of-seven series.
The Jazz will have a hard time giving up Williams because of his upside, but they should be scared to lose him in free agency and see nothing in return.
Utah would have to bring in a high-profile player to keep Williams around after his contract expires. If not, Williams will end up like Sloan.
Title-less.
2. Contenders Seeking Point Guards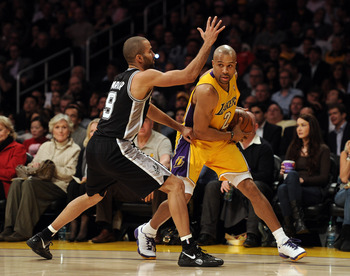 Harry How/Getty Images
There are a fair amount of teams in the NBA that need a new point guard. There are also teams that have serviceable ball-handlers, but an upgrade could mean an NBA championship.
Every time the Lakers lose a game, trade talks blossom from everywhere. The team and its fans are so unsure of which team is going to show up each night. One night everything clicks. The next night, the Lakers struggle to put up 80 points.
With Derek Fisher looking more like a backup point guard at this stage in his career, the Lakers could surely use a stronger, younger player. This is a team Deron could join and have an immediate impact on, if he's willing to watch his scoring total plummet.
At 45-9, the Spurs have been atop the NBA's standings for quite some time. The closest team is Boston, with a record of 39-14. With all the talk entering the season centering on the Heat, Lakers and Celtics, the Spurs have showed they shouldn't be forgotten.
It would be crazy to mess with a team with such an outstanding record right?
Wrong.
The playoffs will wear on an older Spurs unit. Teams like the Thunder, Hornets or Lakers could burn out the Spurs in a long series. If the Spurs added Williams, they'd be more likely to make a deep run and fill Duncan's hand with a fifth championship ring.
1. Stars Align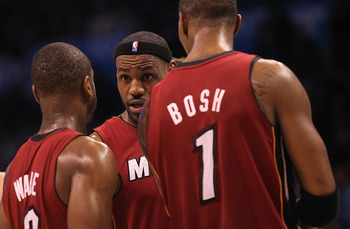 Ronald Martinez/Getty Images
The NBA is heading in a different direction these days. In the past, players would try to stick out a career with a franchise and bring a title home.
Now, it's becoming common for players to form—what I like to call—"superteams."
Similar to a supergroup in music, a superteam is a group of players that became famous in one place and got together to combine their talents. The only difference is they don't start a new team, one player stays put and others come to join.
Boston did it when they added Kevin Garnett and Ray Allen. Miami famously brought in LeBron James and Chris Bosh. Either the Knicks or Lakers look poised to do the same.
If Deron wants to ever win a title, he won't be able to do it alone. In Utah, he's virtually alone. He doesn't, have to go to San Antonio or Los Angeles. However, staying in Utah doesn't bode well for the 26-year-old guard.
Deron should pick a player he thinks he'd mesh with well and try to make something happen before his career passes him by.
Keep Reading

Utah Jazz: Like this team?