NBA Power Rankings: Al Horford and the Most Out-of-Position NBA Players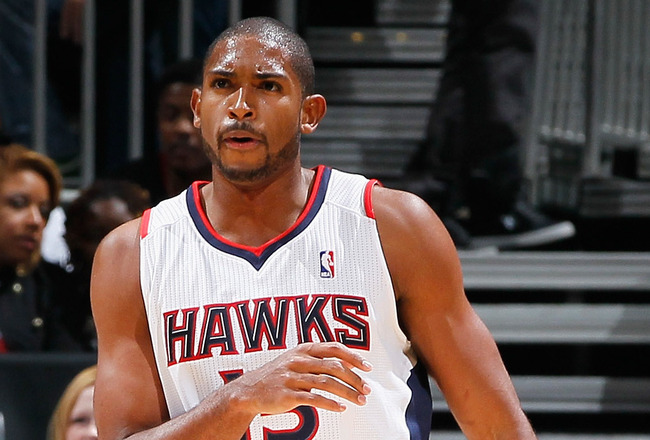 Kevin C. Cox/Getty Images
The NBA is all about matchups.
If you can find a favorable mismatch, the offensive advantage is enormous. You can force their opponents to over-help, get them in foul trouble, and create easy shot opportunities.
These mismatches often occur because certain guys play out of their natural positions, forcing them to assume unfavorable defensive assignments. Conversely, you can't run your offense as smoothly with an unbalanced lineup.
So which players in the NBA most need a position change? Here is a list of the guys who would be more effective if they switched roles on the court.
Al Horford: Center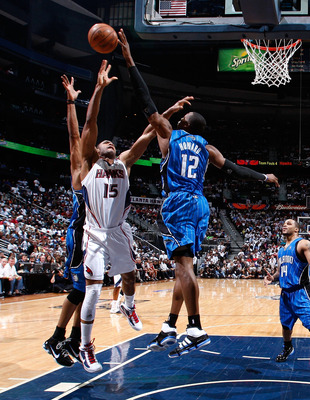 Kevin C. Cox/Getty Images
It's not as if Al Horford struggles at the center position. The two-time All-Star averages 16 points and 10 rebounds for the Hawks, one of the top teams in the East.
However, he would be much more effective as a power forward. Horford is generously listed at 6'10, which makes him vastly undersized in a conference that boasts Dwight Howard and the Celtics' slew of big bodies.
Atlanta has been unable to advance past the Eastern Conference Semifinals, largely due to the fact that Horford is not a legitimate center on a championship contender.
He has all the tools to play PF, including a midrange jumper and quick feet, and in that capacity his size would be a boon rather than a hindrance.
Rodney Stuckey: Point Guard
Elsa/Getty Images
For the past 4 years, the Detroit Pistons have been trying to convince themselves that Rodney Stuckey is a point guard. He's not.
I know that correlation does not imply causation, but is it a coincidence that the Pistons have gotten progressively worse with Stuckey at the reins?
Stuckey's game has shown little development during his time in the league, and his playmaking skills have not really evolved. He hasn't even managed to average 5 assists.
Although he's not a great shooter, Stuckey would probably be better suited to play shooting guard. He's certainly big enough to guard the 2, and he can be an effective scorer.
Jeff Green: Power Forward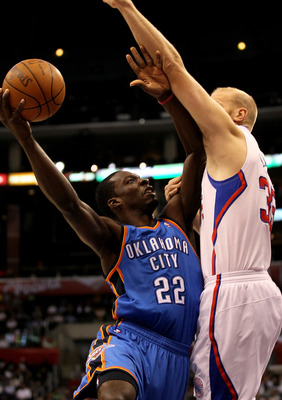 Stephen Dunn/Getty Images
Jeff Green is a good power forward on a good team, but I don't think he can be a great power forward on a great team.
He doesn't rebound well enough (career average 5.8), he lacks a refined offensive post game, and he's a tad small to guard PFs like Pau Gasol or Dirk Nowitzki.
Oklahoma City's balance and personnel make it so Green can be effective at power forward, especially when you consider his high basketball IQ, but he might be more successful at the small forward position.
He has the athleticism to guard most threes, and his skill set translates better to SF.
Chuck Hayes: Center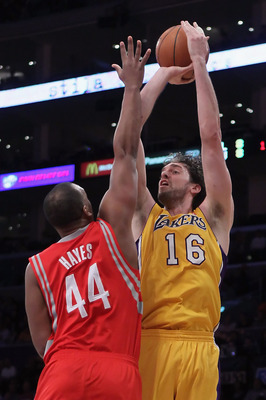 Jeff Gross/Getty Images
Saying Chuck Hayes is undersized is a monumental understatement. The Houston Rockets' center is just 6'6, making him shorter than many shooting guards in the NBA.
Hayes has survived due to his strength, girth, and positioning, but his height puts him at a severe disadvantage on both ends of the court.
Offensively, he struggles mightily to finish around the rim. Defensively, he can't challenge any other big man's shot, allowing for relatively easy looks at the basket.
Hayes would still be undersized at power forward, but it would be less noticeable than at center.
DeJuan Blair: Center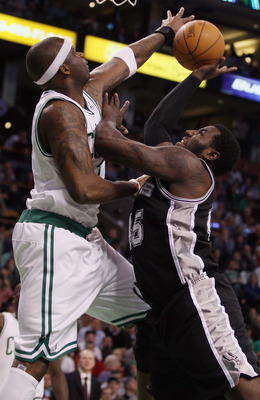 Elsa/Getty Images
Yet another wide-body who doesn't quite measure up height-wise, DeJuan Blair is very fortunate to play alongside the taller, longer Tim Duncan.
At 6'7, Blair is not a genuine center. While it doesn't matter much right now due to the current composition of the Spurs, Blair will probably have to face his shortcomings at some point.
You can already predict where he will have trouble. Even with San Antonio's myriad weapons and offensive efficiency, Blair only shoots 49% from the field, a poor number for a big man.
DeMar DeRozan/Corey Brewer: Shooting Guard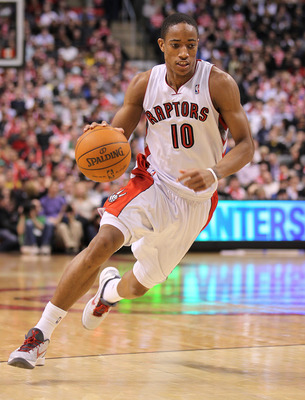 Claus Andersen/Getty Images
It might be a little nitpicking to distinguish between shooting guards and small forwards - they often play rather interchangeable swingman roles - but these two guys don't deserve the word "shooting" anywhere near them.
Although there are obvious exceptions, SGs are traditionally deadly marksmen (Ray Allen), whereas SFs are athletic slashers (LeBron James).
DeRozan shoots a putrid 7.1% from downtown, having only connected on two 3s all year. By comparison Brewer looks like Reggie Miller, despite his pitiful 29% average.
Are we surprised that DeRozan and Brewer start on two of the worst teams in the league, Toronto and Minnesota?
Amare Stoudemire: Center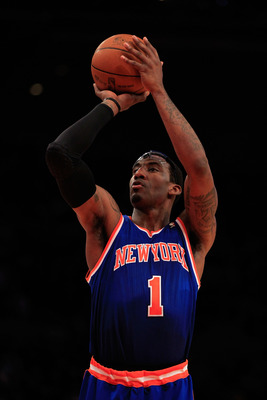 Chris Trotman/Getty Images
Recent lineup changes by Mike D'Antoni - Timofey Mozgov has started the last handful of games - almost prompted Amare Stoudemire's removal from this list, but he has played plenty of center throughout his career.
While he thrives in any capacity on the court, playing center takes away from Amare's effectiveness. If he is forced to constantly bang bodies for 48 minutes, he can't run the court or attack the rim with as much energy or intensity.
Furthermore, Stoudemire is still not the greatest defender or rebounder, so relying on him as the last line of defense can be risky.
As a power forward, Amare can unleash his full offensive arsenal, while receiving help in the other areas of the game. We all know New York is targeting Carmelo Anthony, but if the Knicks can find a legitimate center, they will be extremely dangerous.
Keep Reading