Derrick Rose: Reasons Why Nicolas Batum Was Wrong About Rose's Defense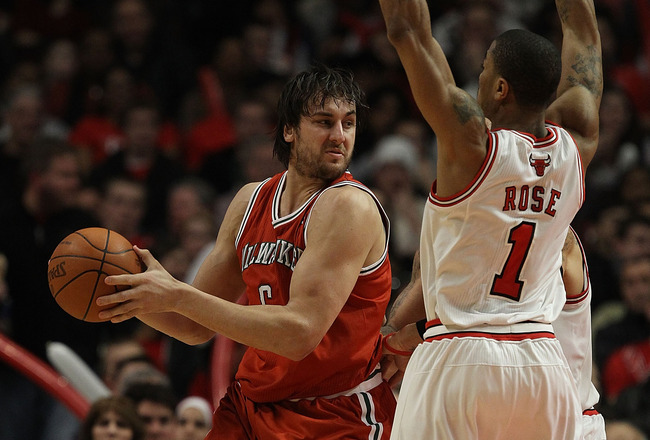 Jonathan Daniel/Getty Images
After Andre Miller made Derrick Rose look silly after the Portland Trail Blazers defeated the Chicago Bulls last week, 109-103, Portland's Nicolas Batum could not wait to jump at the chance to ridicule Rose.
"We know that Derrick Rose is a good offensive player," Batum said. "But you have to play defense, too. He can't guard Dre. You gotta play defense. He can't play defense, so that's why we put Dre inside and try to attack him."
Was Batum correct or was he just trying to feed fuel to the fire?
Here are the top reasons why Nicolas Batum was wrong about Derrick Rose's defense.
Bulls Are the NBA's Best in Points Allowed Per 100 Possessions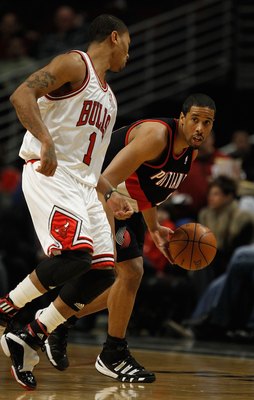 Jonathan Daniel/Getty Images
The Chicago Bulls are the best in the league with allowing the fewest points per 100 possessions to opponents.
The Bulls have given up just 92.5 points per game this season.
Much of the credit can not be directly aimed at Rose, but he adds another element to their defense as he helps creates pressure, and he is starting to evolve as a true defensive play caller.
Opposing players on offense against Rose average just 0.77 points per possessions, which is the best among any other position player.
Rose Can Snag Defensive Rebounds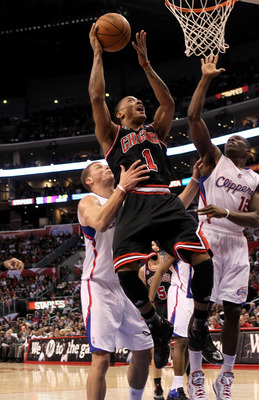 Stephen Dunn/Getty Images
Rose will fight his way through any defender to make sure he is the one who is holding the ball at the end of the play.
Rose is constantly fighting for the boards and doesn't care how big his opposition is compared to him. He will claw his way for the possession and will shove away defenders to open space up for his own players to grab rebounds, too.
He has twice posted double figures in defensive rebounds and has registered a defensive board in every game this season.
He is currently averaging 3.4 defensive rebounds per game.
Rose Can Block Shots
Rose has the ability to send you right back where you came from with his sensational blocks.
The 6'3" point guard already has 34 blocks on the season, passing his total of 27 from last year.
Rose leads the league in blocks per games amongst point guards.
In January, he recorded nine games where he registered a block.
Rose Has a Wide and Strong Body
Jonathan Daniel/Getty Images
Rose's wing-span of 6'8" helps him become a stronger and better defender against smaller players.
Rose is basically taller than most players he will be guarding, and it would be easier for him to use his body size for him to defend with.
With his muscle built, it makes it extremely difficult for players to post-up or to even drive on Rose.
Rose Is a Ball Thief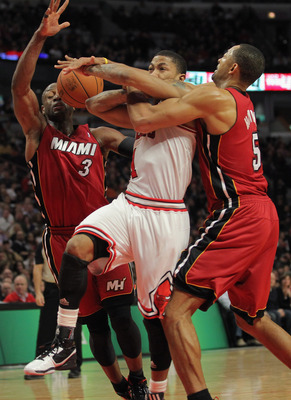 Doug Pensinger/Getty Images
Derrick Rose creates so much havoc and confusion for the opposing offense that players often find themselves forcing the needle instead of creating space, which results in turning the ball over.
Sometimes, Rose would steal the ball away himself.
Currently, Rose is averaging one steal a game, but he has 52 steals on the season.
He Is Great at Defending the Pick and Roll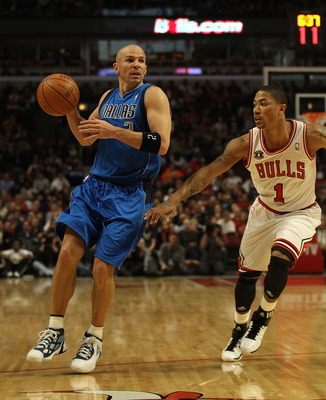 Jonathan Daniel/Getty Images
With every defender, you need great athleticism to counterpart the opposing team's attack.
Rose has a great understanding of his environment, and this enables him to quickly read screens.
He is excellent with maneuvering around pick and rolls by quickly hurrying back to the player he was guarding.
When Rose gets the chance to squeeze by the screens, it helps the Bulls protect the weak side of the court, and it prevents other teams from finishing their plays.
Rose Is Excellent in Isolation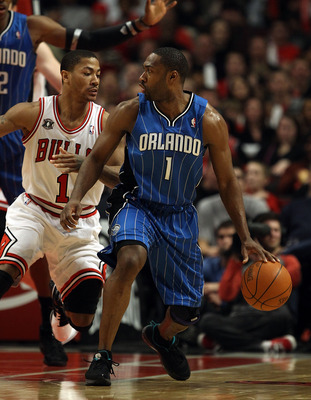 Jonathan Daniel/Getty Images
When Thibodeau calls for isolation, he knows he can rely on Derrick Rose to deliver for him.
Rose is not afraid to back down, and he will do everything in his own power to make a play.
It's apparent Rose is a more focused player once he is playing one-on-one as he tries to bait the offensive player to make an ill-advised shot.
Rose buckles down when he is defending a player on his own by shutting down the driving lane, and like a missile honed in on its target, he will not back down until he cripples his enemy.
Rose has allowed just 0.61 points per possession to opposing players when he is in isolation defense.
Rose Is Stellar against Opposing Point Guards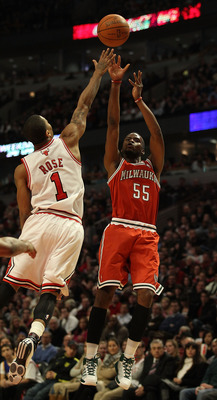 Jonathan Daniel/Getty Images
Rose plays at a high level when he is facing his fellow guards around the league as he wants to prove he is the best at his own position.
He is not allowing opposing point guards to feel comfortable at all during games, and this is proven by their weak shooting percentage they have when they are covered by Rose.
Point guards struggle to score over 15 points against Rose, and they are lucky if they even shoot over 50 percent.
Keep Reading

Chicago Bulls: Like this team?