Toronto Raptors: 10 Ways to Ensure That They Make the Playoffs Next Season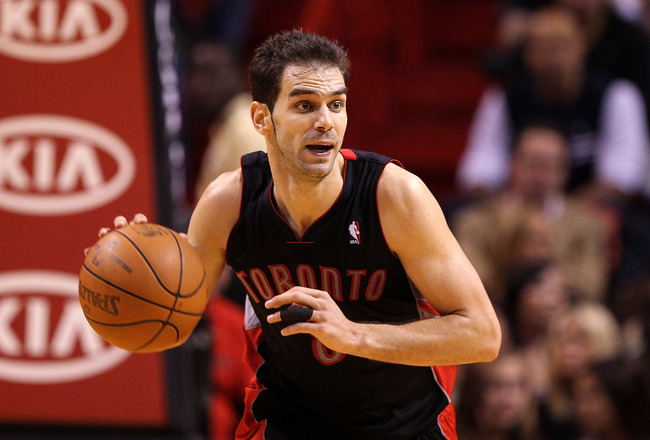 Mike Ehrmann/Getty Images
The Toronto Raptors headed into the season with very low expectations after Chris Bosh left the team.
In the early goings of the season, it seemed as if the Raptors would have exceeded expectations by a lot. Unfortunately for the team, leading rebounder Reggie Evans went down with a foot injury and all the chaos began to erupt.
The Raptors would go on to lose a franchise record 14-straight games. Luckily, the Minnesota Timberwolves were able to let Toronto beat them.
There are still huge steps to be taken for this franchise in order to get them back into playoff contention.
This list will explain as to what the Raptors should do in order to make the playoffs next season.
Enjoy!
Tank This Season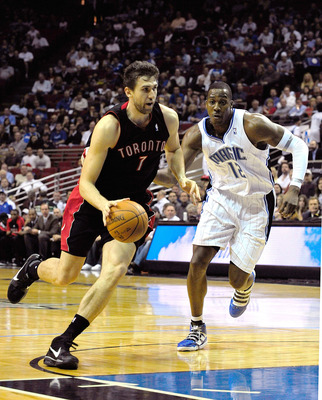 Sam Greenwood/Getty Images
We all know the record of the Toronto Raptors, and it will not be enough to take them to the playoffs this season, unless they win 20 straight games.
They have the fourth worst record in the NBA right now, only above the Cavaliers, Timberwolves and the Kings.
The best bet for the end of this season, is the fact that the Raptors will be getting a lottery pick, possibly in the top 5.
If they tank this season, and possibly end up with worse records than the Timberwolves and the Kings, then the Raptors have a high chance of acquiring the first pick in the draft, which they can use to help them out.
Draft Terrence or Perry Jones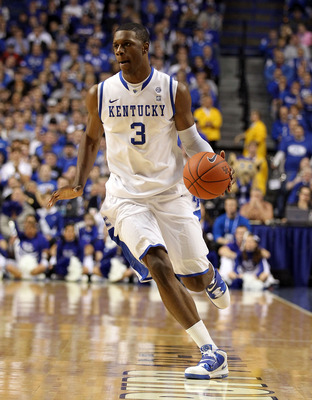 Andy Lyons/Getty Images
The NBA draft is just around the corner, and it looks as if the Raptors will be getting a very high pick to acquire a good player.
Terrence is a 6'8" forward who can play any position from point guard up to power forward. He has very good ball handling skills and has a variety of moves to get the two or three points. He is very good at drawing fouls and is great at grabbing boards, especially on offense.
Perry is a 6'11" small forward as well. Despite his huge frame, he can handle the ball with a lot of ease. He has a 7'3" wingspan, which is the reason to his rebounding ability which would be useful. Perry has a lot of athleticism for his size and that is a great feature for someone his size. He likes to work from the top of the key and takes his man off the dribble.
These are two players that the Raptors should look into if they want to improve their roster at "3" position.
Draft Enes Kanter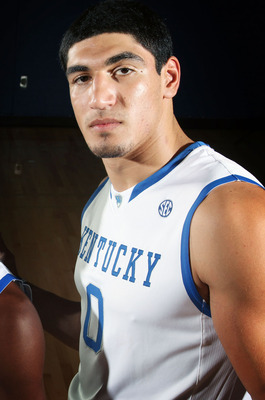 The Raptors last offseason were looking to sign a center who could take Bargnani's position, while at the same time, moving Bargnani to the power forward spot.
This is the same plan the Maverick's used on Dirk Nowitzki. If this move is to happen, Bargnani will have less of a burden on his back and will play even more improved basketball.
Kanter is a 6'11" center from Turkey. He has excellent size and strength, which is very useful in the post. He has a huge variety of post moves that he uses to get the easy bucket. He has a very huge basketball I.Q and is a huge force when it comes to rebounding. Kanter can also play with his face to the basket much like Bargnani does. He can easily shoot the mid and close range shots.
Kanter's only flaw are his knees. He has had many knee problems and his knees have never been 100 percent during NBA checkups.
Another problem is that Kanter has mainly played in Europe, and basketball in Europe is much different than basketball in the USA and Canada. In his only season playing high school basketball in the United States, he was not very consistent. This shows that Kanter may not be NBA ready.
Kanter is a great fit for the Raptors and should be taken to consideration for the draft.
Trade For a Consistent Small Forward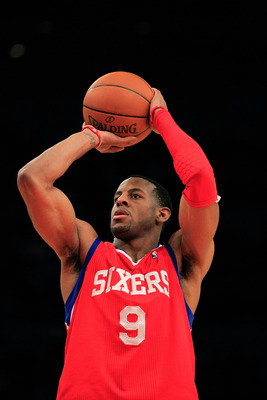 Chris Trotman/Getty Images
Sonny Weems and Julian Wright are not working out very well this season.
Julian Wright may not be the best offensive player on the team, but his defense and hustle for the ball make him the best defender on this squad, so props to him. He is a player that should be playing off the bench and is the extra one-two punch.
Sonny Weems is an exciting player, but dunks do not accomplish much in this league other than taking you to the dunk contest. He is not a very good shooter and his defense is not something to brag about.
Weems' contract ends this season and it would be better for the Raptors to either send him away before the trade deadline or to not sign him when the time comes.
If the Raptors can acquire someone like Iguodala, the team will have a better future.
Use Free Agency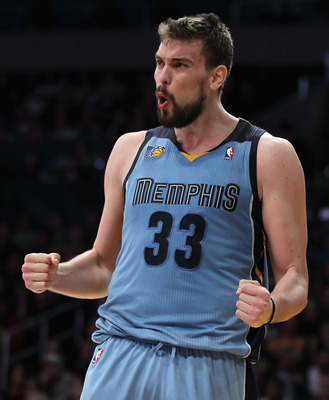 Jeff Gross/Getty Images
Much explained in the Kanter draft slide, getting a true center and moving Bargnani to the "4" is something the Raptors are looking into.
When Dirk was playing his first two season in the NBA, he was not much of a rebounding threat when he played center. The Maverick's moved him to the power forward position and his rebounding numbers skyrocketed.
This is something that can hopefully happen for Andrea Bargnani, who looks to be struggling at grabbing many rebounds.
If the Raptors can bring in someone, possibly Kendrick Perkins, who rejected a contract extension from the Celtics, then they can complete the transition of Bargnani to power forward.
They can also look for someone to sign to fill the small forward position if they are to not draft any of the players mentioned above.
Some other options are Marc Gasol, Vince Carter, Wilson Chandler, etc
Practice Defense More Than Offense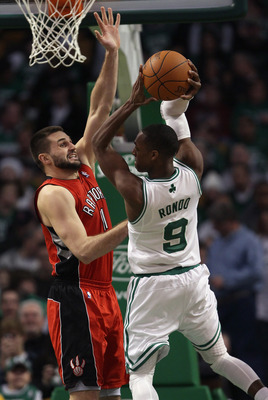 Elsa/Getty Images
The Toronto Raptors have been known for scoring a lot of points, but at the same time, surrendering even more points which lead to the losses.
If the Raptors can work on defense, especially in the paint, they will not let the other team continuously get offensive rebounds and get second chance points.
This season they are currently 23rd in points allowed, allowing almost 105 PPG while scoring only 99 PPG, which is 16th in the league.
One player who must work on his game in the post defensively is Andrea Bargnani. When other centers back up against him, he seems to do okay, but once the opposition makes a post move, Bargnani seems lost and the other team gets two points. He does not box out much which leads to him not getting rebounds and leads to the other team getting those offensive boards.
It is not him that must improve, as he is probably the best Raptor right now. Everyone else needs to improve as well.
This is a great, young squad that has some improvements to do, and if they can achieve these defensive goals, they can make way for the playoffs next season
Develop Ed Davis' Offensive Game Over the Summer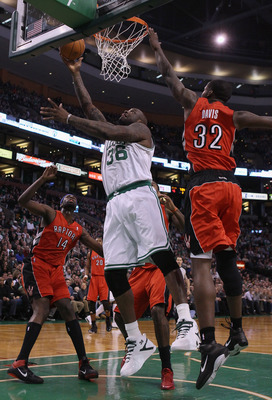 Elsa/Getty Images
Ed Davis is one of the best defensive players on the Raptors right now and his defensive abilities will give him All-Defensive team honors later in his career.
Although Davis' defense is an amazing upside to his game, his offense is not very amazing.
He can get to the basket and get easy standing dunks along with some post moves that he has developed over the season.
His shooting abilities though, are the worst aspect of his game, along with his free-throw ability.
If Ed Davis can work on his free-throw shooting and his close-to-mid range shooting, he can easily become a 20 point, 10 rebound per game player along with two to three blocks.
He was a great pick and one of the gems of the draft. Many teams will regret passing on this guy in the near future, especially if Davis can produce an offensive game.
Give Jerryd Bayless More Playing Time
Mike Ehrmann/Getty Images
This is one move that can begin right now.
Calderon is one of the best passing PG's the team, and even the league has seen. Calderon is the point guard who should stay as the Raptors starter and Jerryd Bayless can easily be his backup and at the same time, DeRozan's backup.
Bayless is a combo guard who can play the "1" and "2" positions. He is a player who focuses on scoring more than any other aspect of the game to say the least, and at most times, it is an upside.
Bayless, in recent games, has shown that he has the ability to continuously score baskets and either extend or cut leads.
If he is given more playing time, he can be a happier person, and being a happier person, will lead to much better production on the court.
He is the future PG of the franchise unless another deal is made to bring in a better PG and should be given more playing time.
Bring Sam Mitchell Back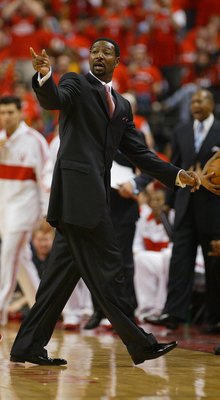 Claus Andersen/Getty Images
Sam Mitchell won the Coach of the Year Award with the Raptors after leading the team from a 21-61 record to 47-35, the franchises' first-ever division title, and a playoff berth for the first time in five seasons.
In the 2008-2009 season, after starting off the season 8-9, Mitchell was relieved of his duties. Many fans, including myself, are very angry at this choice and still are. If Mitchell was to stay with the Raptors, maybe they would be fighting for a playoff spot last season and the season before.
I am not suggesting to fire Triano, but to merely send him back to his former seat as an assistant coach.
Mitchell is a fan-favorite coach and many fans will be pleased if he can come back.
Mitchell is currently an assistant coach for the New Jersey Nets.
Keep Doing What They're Doing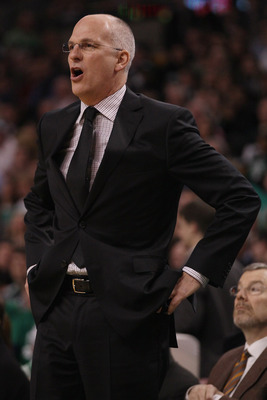 Elsa/Getty Images
The Raptors are not a very bad team, although their record suggests otherwise.
They are one of the youngest teams in the league and it will take some time for the players to adjust with the new environment.
Bargnani is slowly learning on how to adjust to his new leadership role and he is doing a good job so far.
With some roster adjustments and a much better team chemistry, this team can eventually become contenders for the last three spots in the Eastern Conference and will eventually compete with the likes of the Miami Heat and Chicago Bulls.
If the Raptors look at teams like the Pittsburgh Penguins of the NHL or the Oklahoma City Thunder, where it took some time to adjust to the losses of big names from the team, they can slowly rise in the standings.
Thanks For Reading!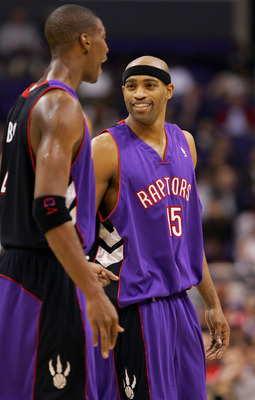 Streeter Lecka/Getty Images
Thanks for reading my fellow Raptors fans, I will keep on writing Raptors articles for your enjoyment and for you guys to get updated on the team.
It will obviously take some time for this team to get to the form that they were in the past, but rebuilding takes time.
Comment on what you guys think the Raptors should do
If anyone is interested in collecting NBA cards, please contact me at pyaghoobians@yahoo.com
Keep Reading

Toronto Raptors: Like this team?