NBA Trade Ideas: 5 Reasons The Minnesota Timberwolves Need to Move Corey Brewer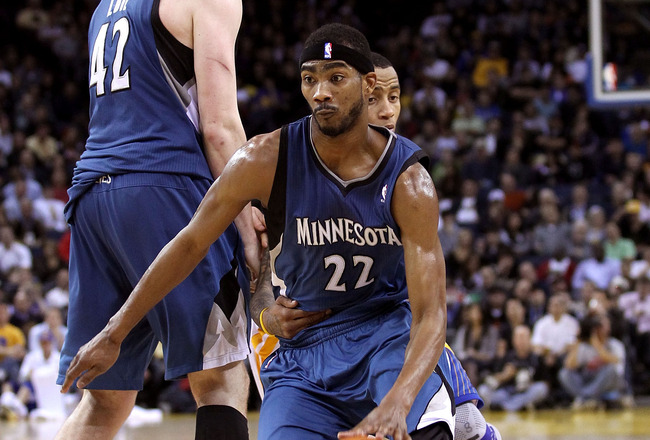 Ezra Shaw/Getty Images
Corey Brewer might be Minnesota's most potent option as the trade deadline approaches.
A spectacular defender and a veteran by the Timberwolves' standards, the former Florida Gator is one of the eldest of the bunch, and in turn, has a lot of wisdom that could translate well onto other squads.
It will be difficult to bid adieu to Brewer, who has become a fan favorite at the Target Center ever since Kevin Garnett left in the summer of 2007, but what needs to be done must be done.
It must've been difficult for No. 22 to go from winning two national championships in Gainesville to becoming a seemingly rock bottom cellar-dweller in Minneapolis, but he has taken his play seriously and he will never be forgotten if he leaves.
Brewer's talents fit in well with the squad, but in all honesty the Timberwolves have too much on their hands at the two and three. They will definitely be looking to add frontcourt depth, as well as a consistent point guard as the trade deadline becomes nearer in sight as the days go on.
The following slides go into great detail on why Corey Brewer must be moved before the craziest time of the moving season occurs on February 24th at noon in the Timberwolves' central time zone.
With all that in mind, I hope you enjoy and thanks for reading!
5. He Wants To Be On a Winning Team...Again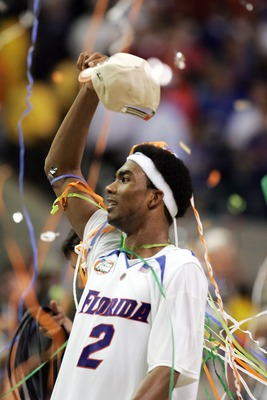 Andy Lyons/Getty Images
In three seasons as a Florida Gator, Corey Brewer won 92 games.
In three-plus seasons as a Minnesota Timberwolf, Brewer and the crew have won a dismal 74 contests.
It might be a little unbelievable to hear, but he is the longest tenured Wolf at the moment in his fourth season, and isn't it about time he goes to a team that has a shot? I mean, I know it's basketball and all, but seriously? Winning a quarter of your NBA games isn't easy considering you won 80 percent in college.
In all honesty, a handful of playoff-caliber teams could use a guy like Brewer.
A perfect example are the Chicago Bulls. The Windy City's club doesn't have a legitimate option at the two position. Couldn't they use a guy like Corey Brewer?
While Corey hasn't come out and said it, I'm sure it bothers him to play for a team that hardly comes by wins, but with his admirable charisma he does it all with a smile on his face, feigned or not.
I'd like to take this time to personally thank Corey Brewer for doing all he has done for the team, as well as putting up with the Minnesota Timberwolves and their recent losing seasons.
It's been fun Corey, but you deserve to take your talents, that could be used elsewhere, to a winning team.
4. He Needs To Be Dealt While He Still Has a Decent Amount Of Trade Value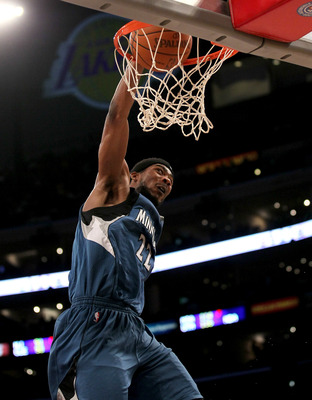 Stephen Dunn/Getty Images
Corey Brewer won't be one of the most sought out free agents this February, but at the same time, he isn't exactly flying under the radar.
NBA scouts drool at his above average defensive mindset, and they know he is very capable of leading a team.
His trade value is high by most standards, and he could be dealt for some good players.
The fact of the matter, however, is that the Timberwolves must part ways with the 6'9" Brewer before it becomes too late.
Brewer doesn't get a lot of playing time anymore in Minnesota and this is partially due to the overflow of average ballers wearing the black, blue and white. Couple that with the fact that he isn't exactly putting up last year's numbers and you can see his trade value decrease if he remains in the Land of 10,000 Lakes until summer comes around.
His points-per-game average has dropped from 13 to a mediocre 8.9. His steals are up, a sign that he still is playing hard, but his minutes are down from 30 last year to a paltry (by his standards) 24 when he suits up.
He is also shooting just under 40 percent from the field this season, and this might make one wonder whether or not last season's scoring was a fluke.
The Wolves need to rid themselves of Brewer before his numbers dip even further, along with his trade value.
3. He Doesn't Get The Playing Time That Other Clubs Would Give Him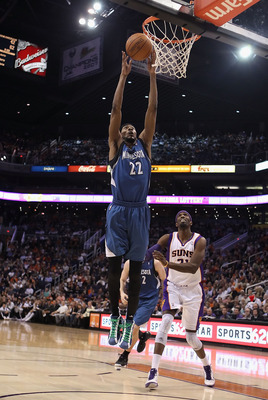 Christian Petersen/Getty Images
Corey Brewer has become somewhat of a combination between a shooting guard and a small forward during his time in Minnesota.
Look at the hoard of average players who play at the same positions as Brewer: Wayne Ellington, a second-year man whose shooting has improved since last season; Lazar Hayward, a rookie who has shown heart recently and is not afraid to take a shot; Wesley Johnson, another rookie whose contributions have been noticed by the team, but definitely not amazing; and Martell Webster, a guy whose pedestrian play has been a little bit of a letdown since returning from a back injury.
Then there's Michael Beasley, but he's a different case, as he has showcased his skills efficiently this season.
Last season Brewer played over 30 minutes per game and displayed his talents during that time. As well as having a prolific season defensively, notably with a career-high 1.4 steals-per-game, Brewer proved he can score, averaging 13 a night for Minnesota.
He was also the only Timberwolf that played and started every single game during the 2009-10 season, a testimony to his durability when he is healthy.
I could think of a list of decent teams that would use Brewer more than Minnesota has tossed him into the action.
The Golden State Warriors could use some depth behind the dynamic duo that is Stephen Curry and Monta Ellis. If Brewer took his talents to Oakland, it would open up opportunities for Golden State.
I've already mentioned the Chicago Bulls in a previous slide, and I stand firm by my solution there.
The point is that he could be needed in many different cities, and he would rightfully so get additional playing time if given the opportunity.
2. Teams Love Lockdown Defenders and Will Trade a Decent Amount To Get Him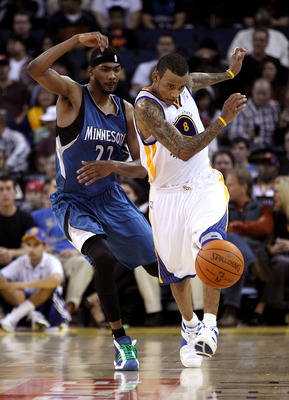 Ezra Shaw/Getty Images
Corey Brewer is a very solid one-on-one defender.
He has been grabbing loose balls every which way throughout his four-year career, and this season has been no exception as he is averaging a career-high 1.61 snags per game.
During his tenure at Florida, he was primarily known as the guy that would do anything to help the team win, his pure and excellent defensive moves are a prime reason why his skills have translated and he has succeeded thus far in his professional career because of it.
He also plays much bigger than his skinny 6'9", 185-pound frame suggests and this is a reason he has been the main catalyst defensively for the Timberwolves.
In addition to his defense, teams would love his attitude. This guy always has fun on the court and is often seen smiling and laughing on camera.
Maybe it's because he knows he indeed is a lockdown defender.
1. Dealing Brewer and a First-Rounder Could Get Minnesota a "Star"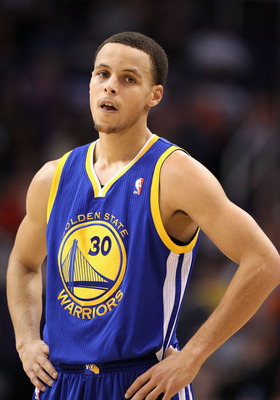 Christian Petersen/Getty Images
I would like to open this slide by saying there is a difference between a "star" and a "superstar".
Michael Beasley is a star.
Dwight Howard is a superstar.
With that in mind, a talent like Brewer, who still at just 24-years-old, can contribute in this league for a decade longer if he remains healthy and in shape.
So (hypothetically) who could the Wolves acquire by trading a first-round pick and Brewer?
Think a Stephen Curry-type. Only time will tell how much longer he and Monta Ellis will remain in the Golden State backcourt and he would immediately start for the Wolves if brought over.
If the Warriors need another role player, bam! They have a few of them in Jonny Flynn or Sebastian Telfair.
It would give the Wolves a second chance at Curry, whom they passed over in the 2009 draft to select the stubborn Ricky Rubio and the injury-proned Jonny Flynn.
Curry would bring intensity to the backcourt, something that has been absent throughout the majority of this mediocre (by the Timberwolves' recent history and their standards) season.
His shot would by no means deteriorate if he was sporting a new uniform and calling the Target Center home.
Brewer could ultimately be the centerpiece of such a trade, so why not try to go for it all? Both teams can agree that it could be a positive move.
With that, I wish the best of luck to Brewer and his future travels.
Keep Reading

Minnesota Timberwolves: Like this team?