New York Knicks: 1 Reason To Trade Wilson Chandler Instead of Danilo Gallinari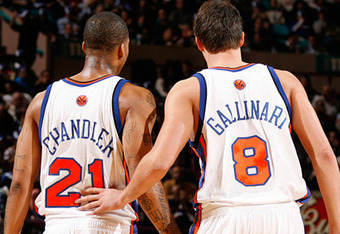 MSG Photos

Free throw efficiency.
One large reason the New York Knicks should attempt to trade Wilson Chandler instead of Danilo Gallinari is because of Gallinari's ability to get to the free-throw line and knock down the shots consistently.
Both Wilson and Danilo have tremendous talent and Wilson shoots very well from the line. Danilo has the ability to go to the line whenever he wants, a skill that is very valuable, and a skill that Wilson has yet to acquire.
Wilson Chandler from the line:
Wilson Chandler shoots a very nice 80 percent from the free-throw line. For the amount of driving he does, he does not manage to get to the line enough.
He has made 92 of 115 from the line. He is a slashing forward, but does not pick up the foul consistently enough.
Danilo Gallinari from the line:
Gallinari is shooting an extraordinary 88 percent from the line.
Who would you rather keep?
He has made 233 of 264 attempts so far this season, and is driving more and more.
Gallinari wins the battle of attempting and making free throws because when he is having an off-night, he is still able to drive to the basket. He can attempt between 13-15 free throws any given night, and knock them down with ease.
When Chandler is missing his shots, it can get ugly. As the season wears on, we see Gallo driving to the basket much more, and Wilson drawing the shooting foul much less. It is a very productive night if Wilson can shoot six free throws, while that is what we have grown to expect from Danilo.
It is nice to see Gallinari hear the whistle and throw the ball in the air. It shows that his goal is to get to the line, and that is very smart.
Here are some stat lines that show the differences between Wilson and Danilo and getting to the free-throw line when they are struggling from the field.
Wilson Chandler:
January 14th against the Kings: Wilson shot 4-14 and did not attempt one free throw.
January 19th against the Rockets: Wilson shot 4-13 in 40 minutes and hit one of two free throw attempts the entire game.
January 21st against the Spurs: Wilson Chandler shot a dreadful 3-10 and did not get to the line once.
Danilo Gallinari:
January 27th against the Heat: Gallo got the line 10 times and hit seven of them. In this game he managed to only go 5-15 from the field.
February 4th against the 76ers: Danilo shot 4-12 from the field, but managed to get to the line nine times. He nailed them all…
Danilo is the more valuable player to this team. Wilson needs to be hitting his shots in order to contribute, and if the Knicks are able to acquire Carmelo Anthony, Wilson will not get too many opportunities to take shots.
Gallo is able to get to the free-throw line whenever he wants, and knocks them down at 88 percent.
Gallinari is much more valuable to a team that would hope to compete for an NBA title because he does not need field goal attempts to get points. All he needs is the ball and he can pick up the shooting foul.
Who would you rather keep on the team? Leave your thoughts in the comments section.
This article is also featured on NYKnicksNow.
This article is
What is the duplicate article?
Why is this article offensive?
Where is this article plagiarized from?
Why is this article poorly edited?

New York Knicks: Like this team?