Kobe Bryant: How Much Longer Will the Lakers Superstar Be an Elite NBA Player?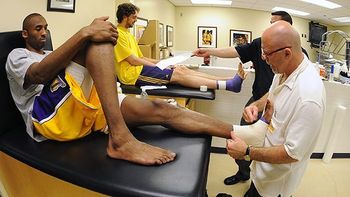 There are those who believe Los Angeles Lakers superstar Kobe Bryant is no longer an elite player in the NBA. The buzz goes that Kobe is old and has slipped back to only All-Star status, no longer mentioned in the same breath as LeBron James, Dwyane Wade or Kevin Durant.
Is there truth to this belief? And, if Kobe is still an elite player, how much longer will he remain at that level?
Recently, Laker Legend and the NBA Logo himself, Jerry West, questioned how much longer Kobe and his Lakers have to be considered champion contenders. West specially stated that "you can't change player's tires like you can on a car."
What wasn't said from West was that he was referring to Kobe Bryant. Whether this was merely an observation or a veiled attempt to motivate Kobe (like that is even necessary), only West knows the truth.
But the questioning of Kobe continues.
TNT Analyst and Mr. Mouth, Charles Barkley, constantly says that Kobe has "lost it" and is no longer an elite player.
But the reality is this: Kobe's game continues to change and evolve as he ages. That's the only truth to any of the recent comments. Although Kobe no longer dunks with reckless abandon or hangs in mid-air, it doesn't mean Kobe has fallen from elite status. In fact, expect Kobe to remain at the top for at least another three years. There's no reason preventing him from excelling until at least age 35.
So, let's throw out all the rumors and look at real facts. Ready?
There are five main areas to consider how much longer Kobe will remain an elite player.
1. A Scorer Is Always a Scorer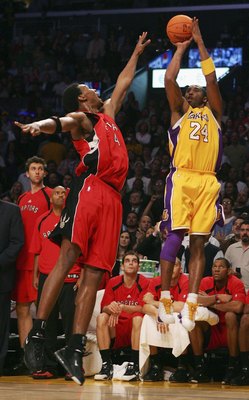 Jeff Gross/Getty Images
There is no denying that Kobe has lost some lift over the years. He no longer seems to hang in midair or perform the aerial dance of creativity he used to display night after night. But Kobe will always do what he has always done: score.
Kobe might not dunk like he used to, but he is still the league's most fundamental player. No one practices more and continues to add to his arsenal.
Look for Kobe to keep adding new pieces and wrinkles to his game as he ages. This will keep him in elite status for years to come.
2. Kobe's Game Will Change Just Like Michael Jordan's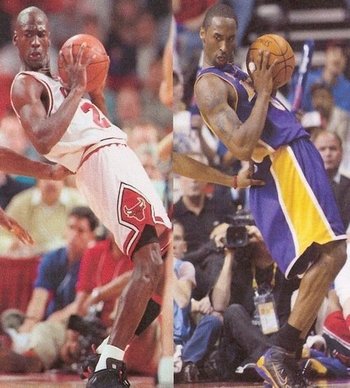 Father time ticks along for everyone. It did for MJ and it will for Kobe. But a player can still remain on top.
MJ remained the league's best player at 36, when he won a second three-peat.
Kobe is only 32. Sure, Kobe has more miles on him because he went straight to the NBA, but regardless, MJ was even scoring over 20 points a game at 40.
Yes, MJ at 40 was still a massive scoring threat. I know that is hard to believe. He was Ground Jordan by that time, but it still didn't change the fact he was one of the league's top players.
MJ no longer could fly, but it didn't matter. He adapted as his body changed and he was still deadly.
Kobe's game has already matured and changed. He isn't that same player that went out and drained 81 on Toronto. Kobe, like MJ before him, has embraced his post-up game, going so far to study with legend Hakeem Olajuwon a few summers ago.
So, look for Kobe's game to continue to change, and instead of a blow by, he'll go to a patented post-up move. MJ developed one that carried him deep into his 30's and so will Kobe.
Kobe's relentless work effort to change his game will keep him in elite status for many more years.
3. From Cold-Hearted Killer to Facilitator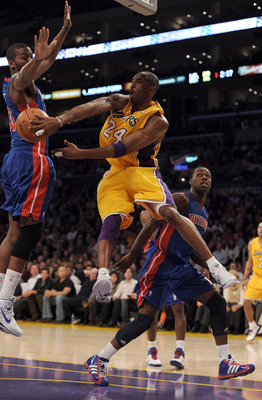 Harry How/Getty Images
What will keep Kobe on top and allow his Lakers to contend year after year is the continued transition Kobe is making from scoring threat to facilitator.
And, yes, this is an ever-evolving thing. Some nights, he still goes out and shoots too much, not involving his teammates enough. But more than often now, Kobe is the facilitator that coach Phil Jackson wants. And, when Kobe involves his teammates, the Lakers are deadly.
The more Kobe continues to embrace the role of willing passer, with the weapons surrounding him, the more the Lakers will continue to excel.
So will Kobe.
Even as he continues to age, Kobe remains the number one threat to an opposing team. But instead of taking it to the other team one-on-three style as he did in years past, now Kobe can still be a threat and make the pass to the open teammate. He has the pieces that will deliver.
Kobe's scoring average might drop over the next few years, but his assists should increase and that will keep him and his Lakers on top.
4. Work Ethic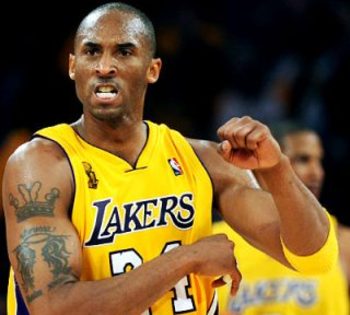 No one trains harder than Kobe Bryant. His work ethic is legendary. He also keeps his body in perfect condition. This won't change as the next few years unfold. Look for Kobe to push his body further, take even better care of it and remain in elite conditioning.
The times have changed from the old days when players who hit 30 began to show their age. Fitness and training methods now allow for players to remain on top deep into their thirties.
So, look for Kobe to continue to improve, like a fine wine, with age.
5. Retirement Is Still Far Off

Kobe Talks Retirement

It seems like the greats are never here long enough. We wish their careers could last forever. That's why we never want them to retire. We can't get enough and hope they will always be playing.
Michael Jordan simply dazzled us. Early in his career, it seemed like he really could fly and hang in mid-air. And then, he started winning titles and seemed like he couldn't be beat. His play was breathtaking and he dominated the 1990's. But, then, he too was gone.
Hear this and let it really sink in: Kobe will not be here forever.
But right now, this moment, we are truly witnesses, privileged to greatness, just like when the legends of the past played. Kobe is a gladiator giving his all each night in the arena, ready to die, his passion dripping from his jersey along with his sweat.
So, whether you love, like or even hate Kobe, you have to cherish this talent.
Because soon enough, this great warrior will step away and leave the game that he has given so much. Kobe will leave the sport that he loves, the battles that defines him. Like the others before him, Kobe too will be gone. And, that will be a sad day.
But right now, in this moment, in this season, Kobe is far from done and so are his Lakers. You heard what he said from the video above.
So, quit counting him out. But, if you want to buy into the hype, keep believing that just because Kobe has aged, that he is no longer an elite player, do so at your own risk.
Just wait until June when Kobe hoists another NBA title and reminds everyone that a player's game can change but he can still remain elite.
Want to learn the details of Kobe Bryant's legendary work ethic? Or why Kobe considers himself a "talented overachiever" and an "outcast" for much of his life? Check out the new book, The Kobe Code: Eight Principles For Success- An Insider's Look into Kobe Bryant's Warrior Life & the Code He Lives By, at www.PatMixon.com.
Keep Reading

Los Angeles Lakers: Like this team?