Houston Rockets: Top 10 Trade Targets To Replace Yao Ming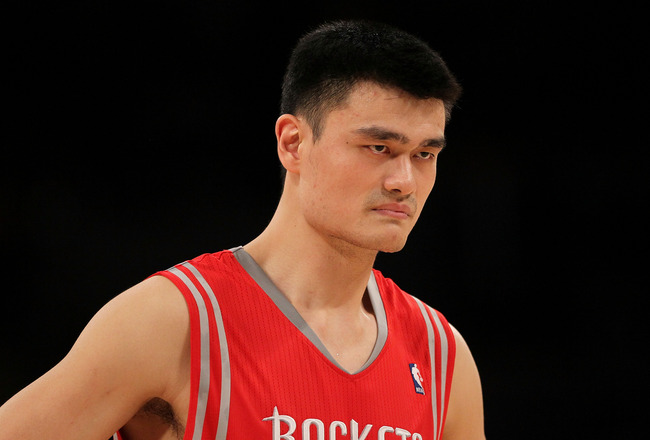 Jeff Gross/Getty Images
Houston Rockets center Yao Ming's injury prone career has continued to escalate at the cost of the franchise's base for success.
With another season ending injury in 2011, the Rockets have been granted a salary exception that will allow them to do some shopping to pull in a more viable option at center.
So, who do they go after? Here are ten centers who could replace Yao.
Josh Powell
Chris Graythen/Getty Images
Josh Powell is a young center who's proving to have a lot of potential.
Powell has been a bench contributor for the Atlanta Hawks, who have rotated through a peculiar bag of "undersized" centers in the past few seasons.
At 6'9", Powell is not the towering presence most would expect to replace a man who stands at 7'6", but he would be a solid and cheap inclusion.
Maybe my opinion is skewed, being a Hawks fan, but I think this guy has starting potential. Within the Hawks unorthodox ten man rotation, Powell just hasn't seemed to fit in.
But, he can play. That's why he's my wild card pick here.
Jermaine O'Neal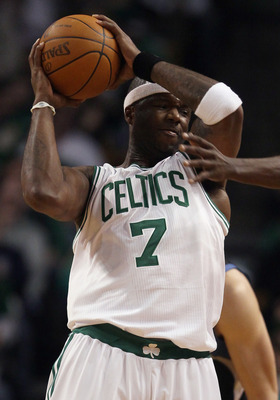 Elsa/Getty Images
Once a star starting center in Indiana, Jermaine O'Neal has since fallen off to a utility role in a jam packed Celtics roster.
O'Neal is in a front court with the likes of Kendrick Perkins, Kevin Garnett, Glenn Davis, and Shaq'.
Does he have a career in Boston? Nope.
But, the 6'11", 255 pound O'Neal would be a great fit in Houston.
At 32, he's a little on the old side, but many believe he has what it takes to get back to the form that made him a feared starter.
Serge Ibaka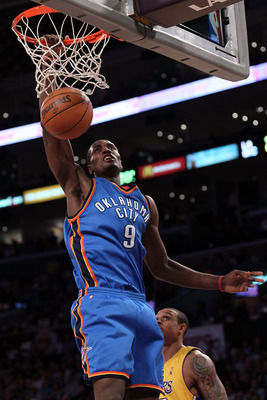 Stephen Dunn/Getty Images
Here's a guy that could sneak nicely into a starting role at center.
Ibaka, who's been a power forward-center rotator in Oklahoma City, hasn't been that dominating starting center you typically envision.
But, he's become a fan favorite in OKC. Ibaka is a raw athlete, at 6'10", 235 pounds, but is a block machine and energetic offensive presence.
Hasheem Thabeet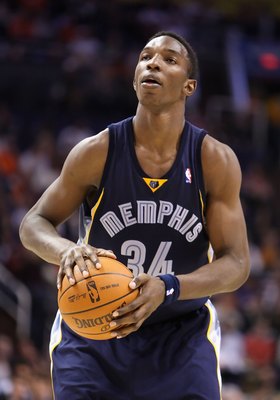 Christian Petersen/Getty Images
Formerly the most popular name in the world of college basketball, Memphis Grizzlies center Hasheem Thabeet has been rather quiet in his rookie season in the NBA.
He's averaging 1.2 points per game at the secondary center position.
At 7'3", Thabeet is the closest you will get to Yao these days, especially with the equally injury prone career of Greg Oden.
Thabeet had some noticable mechanics issues coming out of the University of Connecticut, but he's a dominating presence and definitely should be on the Rockets radar.
Shaquille O'Neal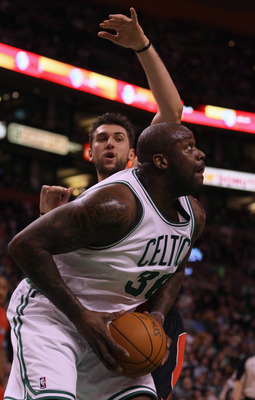 Elsa/Getty Images
Yes, even big Shaq' seems like a good idea at this point.
The journeyman center is currently, as stated earlier, in a jam packed situation in Boston.
He might be old as dirt, and injured currently, but he's proven to be more of an impact player than Houston has seen in years.
Shaq' could definitely be a risky, but beneficial short term option for the Rockets if they need to go out and get something right now, which is inevitably the case. He's a high risk, high reward prospect.
Samuel Dalembert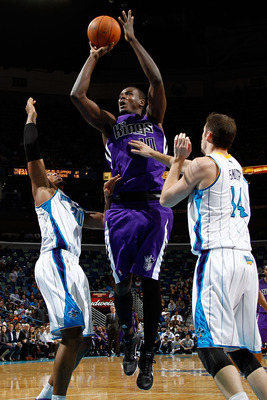 Chris Graythen/Getty Images
How about taking a stab at the Haitian Sensation?
Samuel Dalembert was a fairly popular player with Philadelphia, and is currently in a lull with the Sacramento Kings.
The 6'11", 250 pounder has been a flashy athlete, but hasn't proven to be a rock solid center.
The only issue right now is that Dalembert's 13,000,000 plus salary is significantly higher than the rest of the men on this list.
Jeff Foster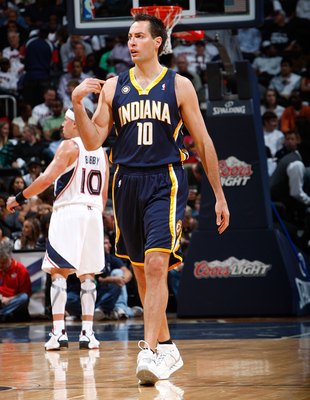 Kevin C. Cox/Getty Images
Houston could bring Jeff Foster back to the Lonestar State.
With Roy Hibbert taking the load in Indiana, second string center Jeff Foster, who's been a staple with the Pacers, could use a new home.
Why not send him home?
The former Texas State player and San Antonio native might be old, and more of a perimeter presence than a true center, but he's a sizable and tenured option who will undoubtedly help more than hurt the team.
Dexter Pittman
Jamie Squire/Getty Images
Dexter Pittman is another Texan who would be a good choice.
At 6'11, 308 pounds, he's definitely got the post presence to fill in for Yao.
Pittman went from what some called an overweight liability to one of the more impressive centers in college basketball last season, losing tons of weight to get in NBA shape.
Now he's at the bottom of the thickest center lineup in the NBA with the Heat.
I'd for sure put my radar on Pittman if I was Houston.
Zydrunas Ilgauskas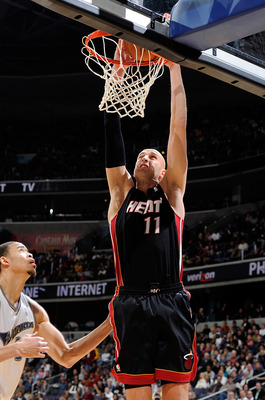 Greg Fiume/Getty Images
If you are looking for a giant foreign center, at a low price, look no further than Zydrunas Ilgauskas.
The Heat center has been a very productive player with Miami and Cleveland, and is a guy who can stretch the court with his trademark jump (or, lack thereof) shot.
He's 7'3", and is currently on a bargain of a contract.
J.J. Hickson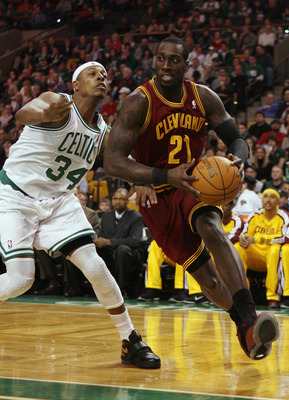 Elsa/Getty Images
Cleveland center-forward J.J. Hickson has been in a tough situation, being part of the infamous losing streak of the Cavaliers.
He has not come close to replacing LeBron as a legitimate star for the franchise (nor was he really expected to), but he's likely the most talented player on this list.
The 22 year old is only 6'9", but he has an endless skill that includes a post presence.
He's a cheap, ultra talented, and star powered prospect that could make plenty of Rockets fans happy.
Keep Reading

Houston Rockets: Like this team?