NBA Trade Rumors: 5 Rockets Who Could Be on the Move
Christian Petersen/Getty Images
Riding a three-game winning streak against three conference rivals, things are finally beginning to look up for the Rockets. The defense is finally gaining some consistency, the shots are beginning to fall and the team is closing out games with authority.
However, with the trade deadline approaching, the Rockets are far from a complete team. They lack a center who can defend longer big men and rebound, they still struggle to score in crunch time, and they have a very inconsistent defensive team. Sitting on some fat expiring contracts in Yao Ming, Shane Battier and Jared Jeffries, with a $6.33 million trade exception, the Rockets are in position to do just that.
Will they get Carmelo Anthony? Likely not, but there is little doubt that the Rockets will make a move. Every year since Daryl Morey took over as general manager, the Rockets have made a trade within a week of the trade deadline.
Will this year be any different? Read on to find out who might be on the move in any trade.
(Note: I did not consider Yao Ming for this list because he has not been with the team for the entire year, save the first five games)
5. Jordan Hill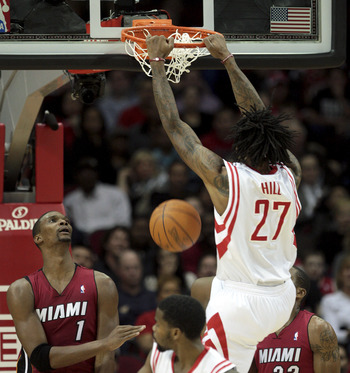 Bob Levey/Getty Images
Acquired in a three-team deal at the trade deadline last year, Jordan Hill has established himself as a very intriguing big man prospect over the last season with the Rockets. While he has made tremendous strides on the offensive end, he still remains a question mark every night because of his uneven performances.
Because of this inconsistency, rookie big man Patrick Patterson has taken his spot as the first big man off the bench. With his playing time falling significantly and with another qualified young player at his position, many are starting to wonder if he is trade bait.
The trade talk is less than surprising to say the least. While they made a trade for him in February, the Rockets have never seemed very high on Hill. At first they restricted his playing time, they signed and drafted numerous big men that could infringe on his playing time, and lastly they seem to always mention Patterson instead of Hill when talking about the team's future.
While he is not the most likely player to be moved on the team, it would not be surprising to see him in another jersey come March.
4. Courtney Lee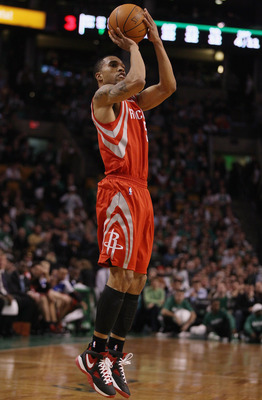 Elsa/Getty Images
Another player acquired in the last year, Courtney Lee has established himself as a solid two-way contributor off the bench, spelling Kevin Martin quite well. With a nice jump shot and defensive ability, Lee has been an anchor off the bench for a second unit that has been very much up and down.
Despite his impressive contributions, Lee appears to be caught in a numbers game as the Rockets have an outrageous number of capable wing players. With Kyle Lowry, Aaron Brooks, Ishmael Smith, Kevin Martin, Terrence Williams, Shane Battier and Lee able to play the point guard, shooting guard and small forward, every solid wing player is not getting the minutes they deserve.
However, unlike some of those players, Lee is getting some major interest across the league. Because every team needs more defense, Lee is generally held in high regard. The Bulls, most prominently, are going after Lee as they desperately need a shooting guard, but they are not alone.
Many teams, like the New York Knicks, would love to acquire another top-flight defender like him. While the Rockets regard him highly, there's a decent chance that they give in to an offer for Lee after looking down their bench and seeing who could take his place.
3. Jared Jeffries
Elsa/Getty Images
Likely the least prominent player on this list, Jeffries has only seen spot duty for the Rockets this year and seems to lack a role on the team as of this moment. While another injury could change that, the fact that he has played so little despite the Rockets' horrible luck with injuries speaks to how many people are in front of him on the depth chart.
While his value to another team would lie in the defense he would bring, his contract is the true reason why he is likely to be moved. With an expiring contract of nearly $7 million, the Rockets could send Jeffries to another team along with cash to cover his remaining salary and manage to duck under the luxury-tax line.
Given the reasonable likelihood that the Rockets will miss the playoffs for the second year in a row, that financial benefit could be huge for the Rockets. Getting under the luxury tax could bring a financial benefit of up to $8 million, a huge financial benefit for the Rockets.
While the Rockets are not in dire straits financially, the opportunity to save so much money could be a proposition too tasty to pass up.
2. Chase Budinger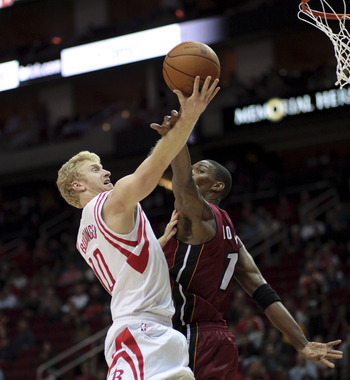 Bob Levey/Getty Images
Another player caught in a numbers game on the wings, Chase Budinger is a player who many in the front office consider expendable at this point in his career. While he is a supremely valuable player when he is making shots, his inability to bring consistent effort and score when his jumper isn't falling has him on the trading block.
It is not only his play that is warranting anger in the Rockets front office. While the Rockets pride themselves on hard work and extra effort, Budinger is known for his lackadaisical effort, both on the court and off it. On off nights, Budinger is known to often stay out late and party a bit too much.
On top of that, it is the player behind Budinger who may be pushing him the most. Terrence Williams, a player who has drawn much curiosity from fans, has the potential to be much better than Budinger is. He is a tremendously gifted passer, an above-average rebounder and defender and he is among the best in the league slashing to the rim. However, because of Budinger, he is stuck on the bench.
Many have inferred that Budinger's consistent playing time is merely the Rockets' showcasing him, and this theory seems to be fairly valid. While he can help the team, perhaps his greatest value would be in what he brings back in a trade and the freeing of Terrence Williams.
1. Aaron Brooks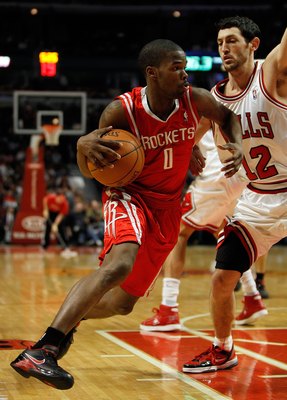 Jonathan Daniel/Getty Images
The most likely player to be moved is the player with the most issues on the team, Aaron Brooks. Just a year removed from winning the league's Most Improved Player award, Brooks has hit a wall in an injury-curtailed season and is struggling in the worst way.
After spraining his ankle horribly and missing a month-and-a-half, Brooks has failed to regain his past form and has looked extremely frustrated in trying to get back. Because of Brooks' struggles and Kyle Lowry's strong play, Lowry has retained the starting point guard responsibilities even with Brooks' return, much to the chagrin of the sensitive Brooks.
The conflict came to a head Saturday night when Brooks walked off the court to the locker room after being subbed out, earning himself a one-game suspension and potentially more consequences. Understandably, the Rockets are now reportedly working hard to move Brooks, and the Knicks are interested.
It's a sad conclusion for a player with so much potential, but in the end the Rockets have to move forward without him as distractions in the locker room can fracture a team.
Keep Reading

Houston Rockets: Like this team?