San Antonio Spurs: Reasons Tony Parker and Starters Shouldn't Rest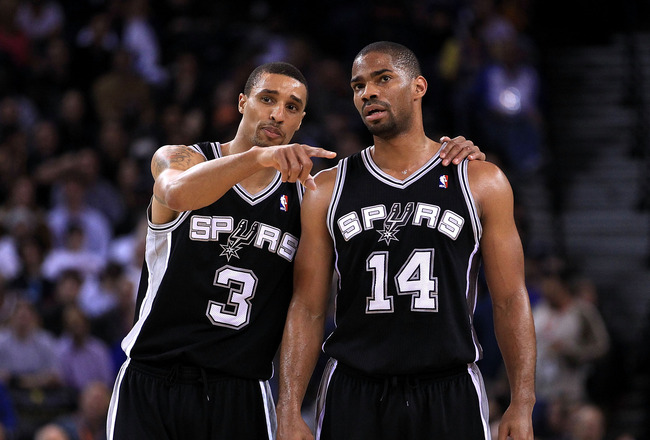 Ezra Shaw/Getty Images
The San Antonio Spurs (40-7) are currently the winningest team in the NBA.
As it turns out, their biggest threats in the West, the Dallas Mavericks (31-15) and Los Angeles Lakers (33-14), have at least twice as many losses as the Spurs.
Although the Spurs are looking good in hopes of any championship, it is still too soon to tell.
Their biggest concern should remain constant: getting to the NBA Finals.
With such a great start to the season, should they begin to rest their starters or fight for the No. 1 seed?
Only Time Can Tell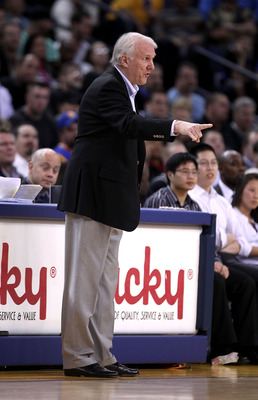 Ezra Shaw/Getty Images
Regardless of the fact that the season is beyond the halfway point, the Spurs still have 35 games remaining in the regular season.
Although only two of their remaining games are against teams that they have already lost to, it doesn't mean their chances of making it to the finish line are just as easy.
In fact, eight games will be against some of the teams that are still a huge threat, despite their rough start and already damaged records.
Lest we forget, one of their first losses did come against the LA Clippers (18-28).
As it looks to be a numbers game, the Spurs could very well start to sit out their starters during low key games—however, that would be one risk that shouldn't be taken, especially if they want to be the No.1 seed.
If anything, they can definitely start taking them out during the first half—as it seems the Spurs are a second half team.
Starters Health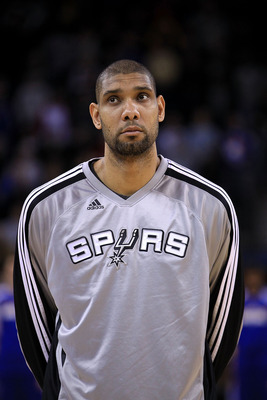 Ezra Shaw/Getty Images
Expect the unexpected—a motto that should be engraved in stone and set in just about every locker room.
Aside from the aforementioned loss to the Clippers, the Spurs should also be cautious towards unforeseeable injuries.
The Dallas Mavericks are a prime example of how fast a season can be turned upside down. They were handed a devastating eight losses—half of their season total—when point forward Dirk Nowitzki went out with a knee injury.
It's not a promise that such tragedy will not happen to Spurs and, even so, it's not something that can be prevented—unless the risky decision of letting the starters rest is wiser than risking injuries.
The Three Stars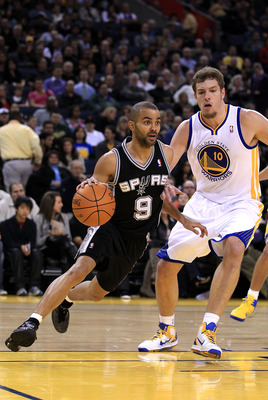 Ezra Shaw/Getty Images
Losing either of the starters, especially the three stars—Tony Parker, Manu Ginobili, and Tim Duncan—would destroy the pedestal the Spurs are currently sitting on.
They are the team leaders in all five categories (points, rebounds, assists, steals and blocks); together, they are averaging 65.6 points per game (out of a team total of 104.4 points per game).
The more time they spend on the court means the more chances they have of getting injured.
It's a vicious circle, if thought about, but it's something that can't be overlooked if they want that fifth ring.
Bench Is Strong Enough To Carry on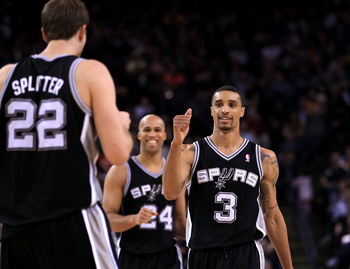 Ezra Shaw/Getty Images
If confidence in their outstanding performance has left the Spurs feeling juvenile enough to take the starters out, then fans shouldn't fret.
Although it's not the best bench in the league, the bench did prove to be good in the preseason and occasionally through minimal court time so far during the regular season.
Every player on the roster has played in at least two games and many have played at least 15 minutes per game.
Although each bench member is averaging less than 10 points per game, they are still getting some points with the little time given on the court—in comparison to the starters.
So, given the time, their talent will show persistent; of course, that would mean the starters can get a rest.
Do Unto Others As They Would Do Unto You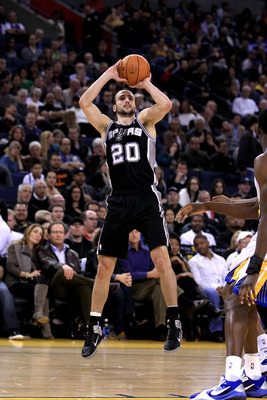 Ezra Shaw/Getty Images
It's obvious that other teams aren't going to sit their big players out anytime soon.
They also can't focus their game on their star players either—as we've seen that could lead to an equal amount of trouble.
The rest of the league is in the same range, record and talent wise; it would be too much of a risk to just make it easier for others.
Same should go for the Spurs. They can't just take out their starters or leave their starters in to carry the load, not if they want to expect and get the best out of their season.
Tough Call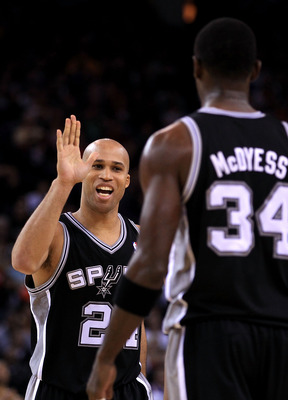 Ezra Shaw/Getty Images
It's really a tough call and there isn't a right or wrong answer.
However, for the sake of being the No. 1 seed and keeping the big goal insight, they need to keep the starters in the game. At the same time, in hopes of keeping players uninjured, they also need to think of sitting some out for at least a quarter.
Denise Charles is a Featured Columnist for the San Antonio Spurs. She has been with Bleacher Report since September 2010. Follow her on Twitter. Also, support Cruz Productions.

Keep Reading

San Antonio Spurs: Like this team?