NBA Power Rankings: Manu Ginobili and Each Team's Best Second-Round Steals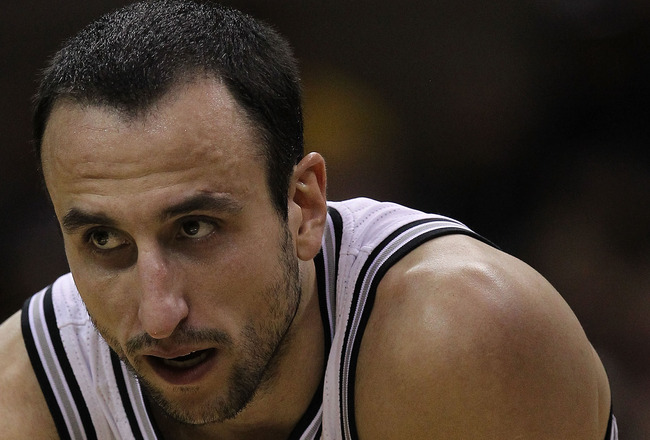 Ronald Martinez/Getty Images
By now, everyone's heard Manu Ginobili's story. David Stern called his name with the 57th pick of the 1999 NBA Draft, and no one in Madison Square Garden even noticed.
Until now.
Ginobili's play over the past few seasons has propelled the San Antonio Spurs to a championship caliber team that people keep expecting to fall off. Thanks to Gregg Popovich's foresight in the second round, Ginobili has been a mainstay for Texas' most talented team.
Popovich, however, isn't the only late-pick genius. Every other team has made second round picks, and the talent level ranges from scrub to starter to star. While not all franchises have grabbed a Ginobili level, some have done just fine and others have done even better.
But which team made the best choice?
Note: Back in the day, the draft used to be much shorter due to less teams, so some studly players may have not actually fallen to what we today consider the second round.
30. Toronto Raptors: Jimmy King
Jonathan Daniel/Getty Images
Stats: Two seasons, 13.9 mpg, 4.5 ppg, 1.8 rpg
Yes, that's right. Someone who didn't even play a full 82 games in his career is the best second rounder for the Canadians.
Considering Toronto has only made nine second round selections and three of them haven't played a single NBA game. It's slim pickings. But at least he beat Roko Ukic!
29. Charlotte Bobcats: Ryan Hollins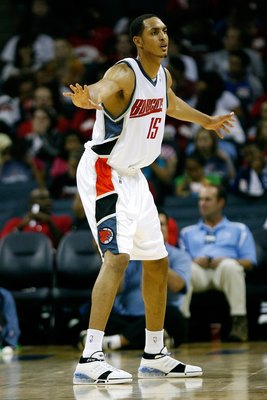 Kevin C. Cox/Getty Images
Stats: Five seasons, 11.9 mpg, 4 ppg, 54.6 percent FG
Again, not much quantity as the young franchise has only five second rounders, although picking quality of any sort could help.
Hey, at least Michael Jordan is in charge. He can make some good choices, right?
Right?
28. Minnesota Timberwolves: Howard Eisley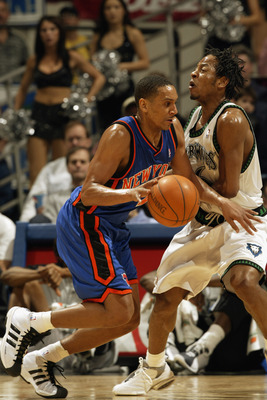 Elsa/Getty Images
Stats: 12 seasons, 20.4 mpg, 6.5 ppg, 3.5 apg
Howard Eisley didn't do much with the Wolves, but playing 12 seasons and being a critical part in those stellar 90s Jazz teams is nothing to be ashamed of.
What is something to be ashamed of is that the Wolves have only drafted one player who has been a consistent starter: Mario Chalmers.
Needless to say, he got dealt.
27. Memphis Grizzlies: Matt Barnes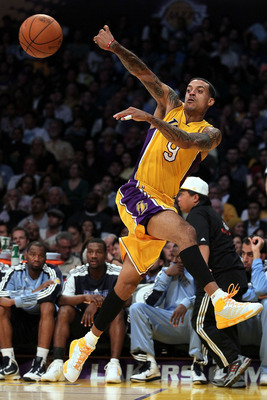 Jeff Gross/Getty Images
Stats: Seven seasons, 21.3 mpg, 7.3 ppg, 4.4 rpg
The Grizzlies didn't exactly reap the benefits of Barnes, as he never signed with the team and caught on with the Clippers, the first of his eight teams.
Memphis reserve Sam Young comes in at a close second. Maybe his backup role to Rudy Gay will lead to him stealing the throne from Barnes.
Or to a trade.
26. New Orleans Hornets: Brandon Bass
Chris Graythen/Getty Images
Stats: Six seasons, 17.5 mpg, 7.4 ppg, 4 rpg
Sure, Malik Rose played forever and Lee Nailon scored more, but Bass could be shooting up this list shortly. With his increased role in Orlando, he's been closing in on double-doubles nightly.
If New Orleans had kept him, 2005 would have been the year of the Hornet: Chris Paul also came to town in that draft.
25. Orlando Magic: Anderson Varejao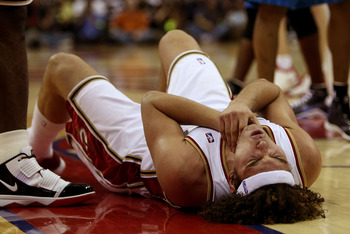 Elsa/Getty Images
Stats: Seven seasons, 24.7 mpg, 7.1 ppg, 6.9 rpg
Before Varejao got hurt, Cleveland only had one tradeable asset. Now they have none.
The Magic are probably kicking themselves for not letting him play a minute in Orlando. A frontcourt of Varejao and Dwight Howard could have been deadly.
24. Chicago Bulls: Toni Kukoc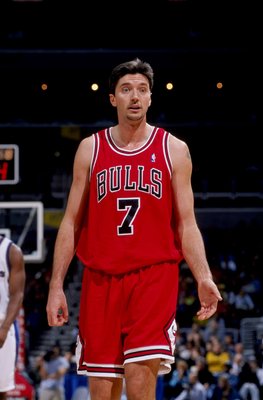 Doug Pensinger/Getty Images
Stats: 13 seasons, 26.3 mpg, 11.6 ppg, 4.2 rpg
A very skilled scorer and one of the best sixth men in the 1990s, Kukoc accompanied Michael and Scottie to a handful of titles.
Don't get it twisted; the Croat could ball. He scored nearly 19 per game in the 1998-99 season and rebounded very well for his size throughout his career.
23. Miami Heat: Sherman Douglas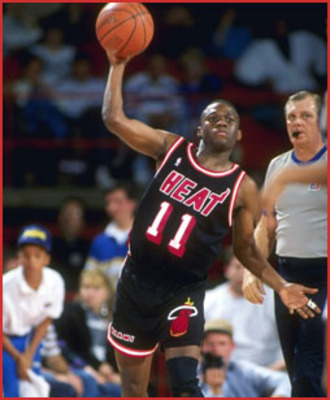 Stats: 12 seasons, 27.6 mpg, 11 ppg, 5.9 apg
If there's one thing to be said about Douglas, it's that he never plateaued. "The General" played extremely well in his first two seasons and slowly fell apart.
Then again, the only person giving him a run for his money is Marcus Thornton, and he hasn't had an assist in years. So Sherm's in the clear.
22. New Jersey Nets: P.J. Brown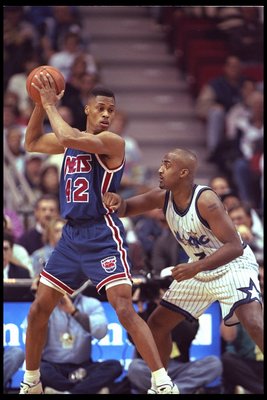 Getty Images/Getty Images
Stats: 15 seasons, 31.1 mpg, 9.1 ppg, 7.7 rpg
In his prime, Collier Brown Jr. was the definition of a hustle player. The Big Cat played more than 70 games in most seasons and was always a threat on the boards and from mid-range.
Of course, he also was the definition of journeyman. He was good enough to help teams win, but not good enough to keep around.
21. Denver Nuggets: Vernon Maxwell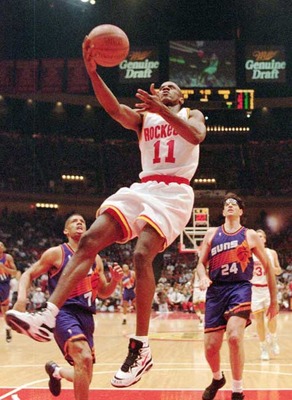 Stats: 13 seasons, 28.4 mpg, 12.8 ppg, 3.4 apg
Not many players can say they scored in double digits for 10 seasons in the NBA, but Mad Max is one who can. His instant spark helped the Rockets to those two titles in the mid-90s.
Sadly, Maxwell wasn't one for efficiency. A career 39.8 percent mark from the floor is nothing to write home about, and 11.6 attempts for 12.8 points is very sad.
20. Boston Celtics: Danny Ainge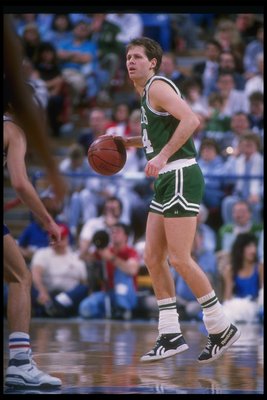 Otto Greule Jr/Getty Images
Stats: 14 seasons, 26.6 mpg, 11.5 ppg, 4 apg
In college, Ainge was one of the best scorers in the county. But similar to fellow Brigham Younger Jimmer Fredette, many thought he couldn't maintain that pace in the NBA.
Those scouts couldn't have been more wrong. Ainge was a lock for double-digit scoring nightly and an integral part of those Boston Celtics' Finals runs in the early 1980s.
19. Indiana Pacers: Antonio Davis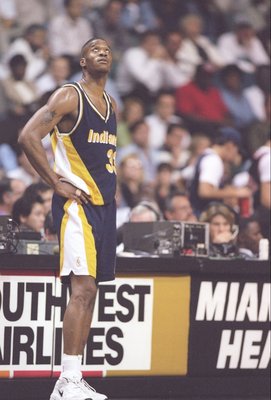 Andy Lyons/Getty Images
Stats: 13 seasons, 28.9 mpg, 10 ppg, 7.5 rpg
Davis knew his role and played it well. No one expected him to explode, but during his prime, if he didn't have a double-double, everyone just looked confused.
Who knows, he might even start on the all-time Toronto Raptors team, although that's nothing to brag about.
18. Phoenix Suns: Jeff Hornacek
Stephen Dunn/Getty Images
Stats: 14 seasons, 31.5 mpg, 14.5 ppg, 49.6 percent FG
The man played 14 seasons and put up double-digit points in 12 of them. If that's not good enough, he did it by shooting nearly 50 percent from the field, a shockingly high number for a guard.
Ask those great Jazz teams of the mid-to-late 90s if they could have done it with Hornacek's hustle. You might get slapped for even thinking it.
17. Portland Trailblazers: Clifford Robinson
Stephen Dunn/Getty Images
Stats: 18 seasons, 30.4 mpg, 14.2 ppg, 4.6 rpg
Those last three stats are dragged down by the length of Robinson's career. He had 10 straight seasons where he averaged more points and rebound per game than those averages.
Truth is, Cliff scored, period. No one asked him to play defense. His teammates gave him the ball and watched him go for 20 points with regularity.
16. Utah Jazz: Paul Millsap
Elsa/Getty Images
Stats: Five seasons, 25.2 mpg, 10.8 ppg, 6.7 rpg
Yes, his averages are lower than some of those before him, but his potential is not. He's up to 17 points and 7.7 rebounds this season, thanks to a starting role with the Jazz.
With the improvement he's shown over these past five seasons, he's on his way to the All-Star game. Shortly.
15. Dallas Mavericks: Mark Price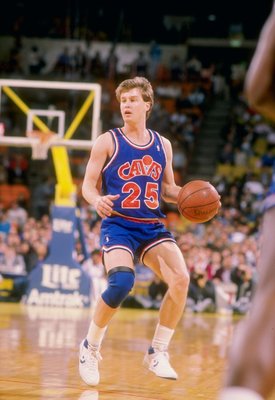 Mike Powell/Getty Images
Stats: 12 seasons, 29.9 mpg, 15.2 ppg, 6.7 apg
The Georgia Institute of Technology grad never played in Dallas, but made a name for himself in Cleveland. Oddly enough, his "Decision" took his talent to the Bullets.
Price could shoot the lights out. Nearly automatic from the free throw line, he cashed in his sniper skills to the tune of nine double-digit scoring seasons in 10 years.
14. Houston Rockets: Calvin Murphy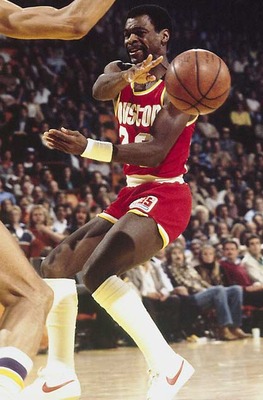 Stats: 13 seasons, 30.5 mpg, 17.9 ppg, 4.4 apg
It seems as if a lot of these second-round gems are pure scorers and Murphy fits that role in spades. He never averaged under 10 points per game and during the mid-70s dropped 20 like it was nothing.
He also was a fan favorite, playing for the Rockets all 13 seasons, including one with the team when they played in San Diego.
Raise your hand if you know any other San Diego Rockets. Exactly.
13. Golden State Warriors: Gilbert Arenas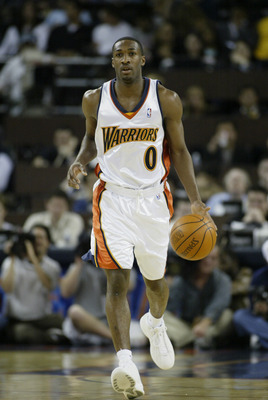 Jed Jacobsohn/Getty Images
Stats: Nine seasons, 36.5 mpg, 21.9 ppg, 5.6 apg
Monta Ellis may pass Arenas in the future, but right now, Agent Zero holds the mantle for the Bay Area. He didn't play there that long, but he's an All-Star caliber player coming from the second round.
Sure, he's had his off-the-court issues, but that clearly doesn't bother his shooting...on and off the court. He's contended for the scoring title in multiple years and never dipped below double-digits in points.
12. Oklahoma City Thunder: Bob Rule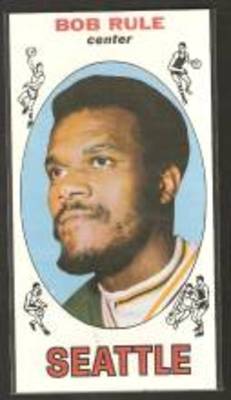 Stats: Eight seasons, 29.4 mpg, 17.4 ppg, 8.3 rpg
Seattle may never have moved if Rule had a complete career. His rookie scoring mark of 18.1 points was the franchise record for 40 seasons until Kevin Durant broke it.
The double-double machine unfortunately tore his achilles tendon in the fourth game of his fourth season. He had been dropping 25 points and 10 boards with regularity, but after the injury, never regained his form.
11. Los Angeles Lakers: Rudy LaRusso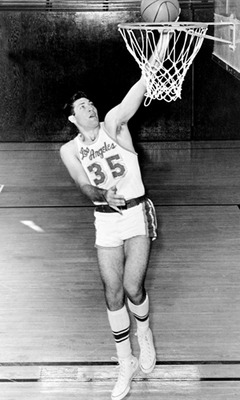 Stats: 10 seasons, 33.3 mpg, 15.6 ppg, 9.4 rpg
The Lakers' big man (because 6'7" was big in the 1960s) played strong in the post and could gobble up the boards. While not much of a shooter at 43 percent, LaRusso had no problem dropping 20, even late in his career.
Honestly, his only competition for this spot was Nick Van Exel. So LaRusso was a shoo-in.
10. San Antonio Spurs: Manu Ginobili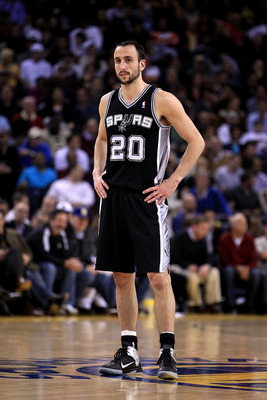 Ezra Shaw/Getty Images
Stats: Nine seasons 28.1 mpg, 15.3 ppg, 4 rpg
The numbers aren't eye-popping, but when a man who's used to coming off the bench gets MVP talk throughout the season, he's clearly got a lot of skill for someone picked at the very bottom in 1999.
He has had some health problems, but the recent Spurs championship teams would have not won those without him. He's clutch, has a great first step and makes up an excellent backcourt with Tony Parker.
9. Philadelphia 76ers: Chet Walker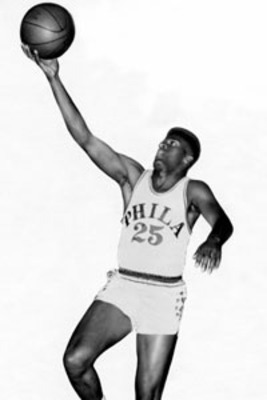 Stats: 13 seasons, 32.4 mpg, 18.2 ppg, 7.1 rpg
If this were a list of Bradley graduates, The Jet would be No. 1. Drafted by the Syracuse Nationals in 1962, Walker immediately posted double-digits in points each night with an efficient 47 percent from the field.
Unfortunately, his career ended prematurely. At 34 years old, he still averaged 19.2 points per game and only missed six games. Those type of numbers today would get him Hall of Fame consideration.
8. Detroit Pistons: Dennis Rodman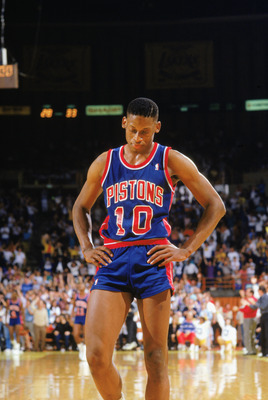 Rick Stewart/Getty Images
Stats: 14 seasons, 31.7 mpg, 7.3 ppg, 13.1 rpg
Yes, most people say "Dennis Rodman" and think wedding dresses and ridiculous hair. They often forget that he was an integral part of many championship teams in Detroit and Chicago.
Most teams have never had a player average more than 15 rebounds per game for six seasons. In fact, some entire starting frontcourts don't average that many. Even at 38 years old, he still grabbed 14.3 boards while playing for Dallas.
Respect that hustle.
7. Cleveland Cavaliers: Carlos Boozer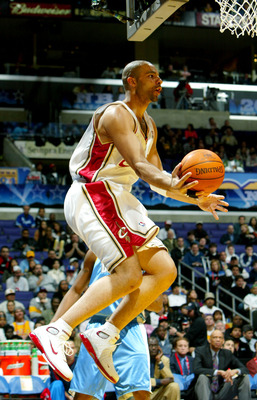 Jed Jacobsohn/Getty Images
Stats: Nine seasons, 32.7 mpg, 17.4 ppg, 10.2 rpg
To think that the piece the Cavs needed to keep LeBron James around was a second-round pick is astonishing. What's more astonishing is that they didn't pony enough money to secure the former Duke Blue Devil's signature before the 2004-2005 season.
While he's had some minor injury issues, Boozer has been a machine, averaging a double-double in six of his nine seasons. His efficiency and glasswork brought him a huge paycheck from Chicago this past offseason, making him one of the highest paid second round selections ever.
6. Atlanta Hawks: John Drew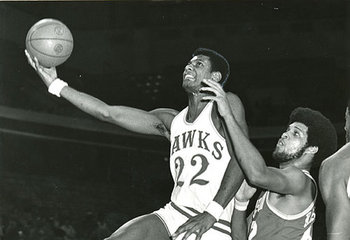 Stats: 11 seasons, 29.5 mpg, 20.7 ppg, 6.9 rpg
There are clearly two John Drews. The better half was an unstoppable scorer and a beast on the boards who starred for the Atlanta Hawks and made multiple All-Star teams.
The worse half struggled with a cocaine addiction. He won Comeback Player of the Year in 1984, but relapsed and became the first player to be banned from the NBA under the drug abuse policy.
5. Sacramento Kings: Jack Twyman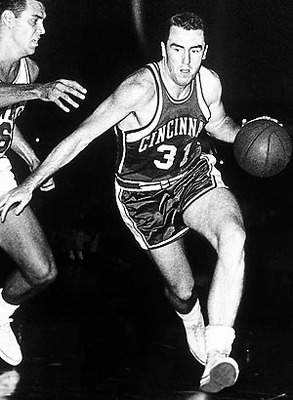 Stats: 11 seasons, 31.8 mpg, 19.2 ppg, 6.6 rpg
Twyman just edges out Nate Archibald on the Kings' list. While he was the definition of a volume shooter, no one can deny how good the prominently-browed Cincinnati Royal looked putting up nearly 30 points each night.
What may be more impressive, however, is that the Hall of Famer played more than 68 games every season, including seven in which he played every night. Ask a player to do that nowadays, and he might strangle his coach.
4. Milwaukee Bucks: Alex English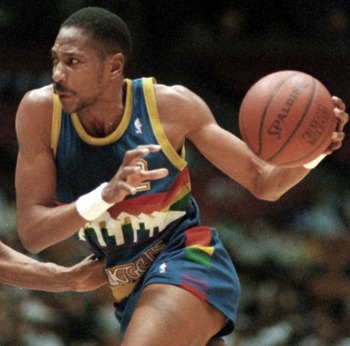 Stats: 15 seasons, 31.9 mpg, 21.5 ppg, 5.5 rpg
Michael Redd might be good, but English could eat him for breakfast. Can't imagine why Milwaukee wanted to get rid of him, as he became a scoring champion and scored more than 20 per game for nine straight seasons.
He did all of this shooting a phenomenal 50.7 percent from the field for his career. That, as well as the dedication to play under 78 games in a season only once, made him into a Hall of Famer.
Side note: His nickname, "The Blade", is still one of the best ever.
3. Washington Wizards: Gus Johnson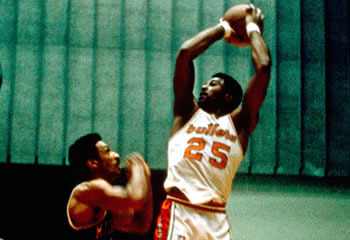 Stats: 10 seasons, 33.1 mpg, 16.2 ppg, 12.1 rpg
His short stint in the NBA weighed down his numbers a bit, but don't think anyone confused Honeycomb for a softy. The five-time All-Star had only one NBA season in which he averaged below 16 points and 11 boards.
He also made the All-NBA Defense team in two consecutive years, but considering they didn't keep track of blocks and steals back then, it's hard to say why. Just know that he didn't make the Hall of Fame in 2010 for nothing.
2. Los Angeles Clippers: Spencer Haywood
Stats: 14 seasons, 34.8 mpg, 20.3 ppg, 10.3 rpg
Yes, it's shocking that the Clippers (or the Buffalo Braves, as they were called then) actually made a good decision on draft night. Sadly, they immediately messed it up and sent Haywood to Denver.
In his rookie season in the ABA, Haywood averaged an insane 30 points and 19.5 rebounds, earning him MVP honors. His accomplishments don't end there, however, as he was an All-Star Game MVP (1970), a two-time All-NBA First Team member (1972-1973) and a champion with the Lakers (1979-1980).
Gotta love that irony.
1. New York Knicks: Willis Reed
Stats: 10 seasons, 35.5 mpg, 18.7 ppg, 12.9 rpg
The Captain, a nickname apparently handed out across New York, has to be No. 1. If the Grambling State player's numbers don't do it for you, check out his accomplishments:
Two-time NBA champion, (1970, 1973)
Seven-time NBA All-Star (1965–1971)
1965 NBA Rookie of the Year
1970 NBA MVP
1970 NBA MVP All-Star Game MVP
Two-Time NBA Finals MVP (1970, 1973)
NBA's 50th Anniversary All-Time Team
Hall of Famer (1982)
Enough said.
Follow me on Twitter.
Keep Reading

New York Knicks: Like this team?