Hold The Mayo: What the Grizzlies Need to Do Moving Forward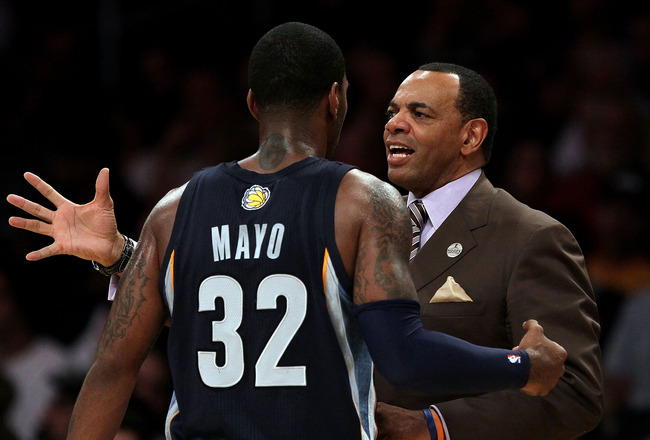 OJ Mayo and coach Lionel Hollins argue on the sidelines during a game
Jeff Gross/Getty Images
OJ Mayo was suspended earlier this week for violating the NBA's anti-drug policy. This recent misstep was one of several this year for the troubled guard.
Earlier in the season, Mayo displayed his immaturity by getting into a fight on the team plane with guard Tony Allen.
What drew the fight? Well, it was a simple card game that had the two players swinging at each other.
This, on top of several other things, are great examples why Mayo needs to get the heck out of Memphis and start over somewhere else.
Here are five things the Grizzlies need to do in the immediate future, and none of them involve keeping Mayo.
5. Go Forward With First Round Pick Xavier Henry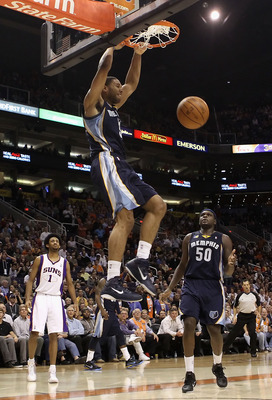 Xavier Henry has the ability to be a game changer in Memphis
Christian Petersen/Getty Images
The Memphis Grizzlies made a statement pick in last years NBA Draft by selecting Xavier Henry in the first round.
Just three years after selecting shooting guard OJ Mayo in the lottery, the Grizz made a great move by picking their shooting guard of the future.
The 6'6 shooting guard product out of Kansas was a great pick by the Grizzlies for many reasons.
While still very raw at 19-years old, Xavier has showed flashes of many current veteran players.
Earlier in the season, coach Lionel Hollins compared the shooting guard to long-time pro Shane Battier. This is a very fair comparison at this point in Xavier's development.
Just a few weeks into the season, Hollins stuck Henry on the other teams best offensive player, Kobe Bryant. It takes tons of confidence and pride to stick a 19-year old on the five time NBA champion who can score in so many ways.
Xavier has demonstrated at such a young age how good he can be on defense, and that's a hard thing to come by in the NBA.
Guys can play in the NBA for years and years if they can be the best defensive player on the court. They don't even have to play offense if you can be that good at defense. Just ask Bruce Bowen, Keith Bogans, Raja Bell, and many more.
While Xavier hasn't been spectacular on offense, that is certainly a skill that can be developed.
Henry already possesses a sweet lefty stroke and can shoot from anywhere on the court. Give this kid some time to develop his dribble and drive ability and watch out.
Memphis, stick with Xavier Henry as your shooting guard of the future and watch him blossom into an all-NBA talent.
4. What a Player Like Mayo Can Do To Destroy Team Chemistry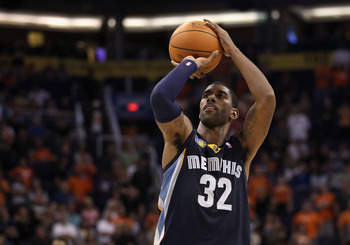 Christian Petersen/Getty Images
OJ Mayo has been filled with controversy just about his entire basketball career.
Even in high school, the recruitment of Mayo was one that was very shady and filled with speculation. Many powerhouse programs didn't even recruit the high school star because of the baggage that came along with him.
It was apparent that Mayo had been accepting money for years, and big time college programs wanted nothing to do with that.
Mayo eventually proved all the skeptics right, getting USC into major trouble for all the violations he caused while being there.
That is just the beginning.
While Mayo was able to stay somewhat out of the headlines for negative publicity his first two years, he has done anything but that this year.
Mentioned in the first slide, Mayo was suspended twice this season already. Once for fighting on the team plane and once for violating the league's anti-drug policy.
Yikes. These types of instances should raise red flags very quickly in the NBA today.
Hate to say this, but OJ Mayo is heading down the tumultuous road that Allen Iverson paved himself over his career. Everyone knows Iverson can without a doubt still play in the NBA, it's just Iverson is such a terrible teammate and locker room killer that nobody wants him.
Even the way that Mayo and Iverson play the game is similar. Both being shoot first and don't pass guards, it's almost impossible to win in the NBA with guys like that.
Sorry OJ, but you need to shut your mouth, be more mature, pass the ball more and then you will be able to have an established career.
Unfortunately, Mayo has done just the opposite of that this year, making him an easily disposable player.
3. Development of Point Guard Of The Future, Mike Conley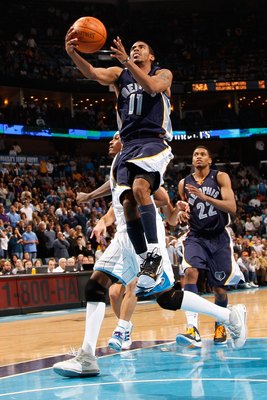 Chris Graythen/Getty Images
Earlier this season the Grizzlies elected to sign Mike Conley to a 5-year, $45 million extension.
Without a doubt, this signing had people around the league wondering what the Grizzlies were thinking.
But convinced that Conley would develop into a legit NBA point guard, the Grizzlies pulled the trigger. 47 games into the season, Conley is playing as good as he's being paid.
Conley is currently averaging 13.6 ppg and 6.6 apg. While the 13.6 points per game might not be all that impressive, it's solid for this team chalk full of scorers.
The Grizzlies possess scorers like Rudy Gay and Zach Randolph, so Conley's 6.6 assists a night are stat worth following.
Not only are Conley's assists high, but he is also averaging over one and a half steals a night, making him a good defensive player.
Also adding to Conley's resume, his across the board numbers have improved every single year in the NBA. For a 23-year old that was thought to come into the NBA too soon, that's huge.
Taking the most shots per game he has in his career, Conley makes the most of them. He is currently shooting 45 percent from the field, another career high.
These types of developments in Conley's game should make the Grizzlies feel good about their signing. If he keeps improving his numbers every year like he has, he should be an established point guard in just a few seasons.
Good signing Memphis, Conley's ceiling is much higher than people want to think.
2. Trade Mayo Now! Get Young Developing Talent Or a Potential Lottery Pick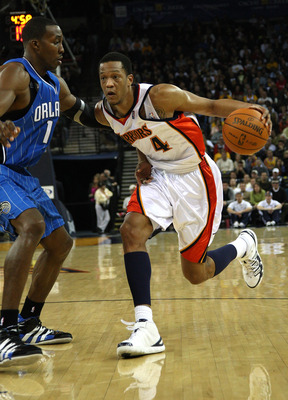 Anthony Randolph has shown glimpses of NBA success in limited minutes
Jed Jacobsohn/Getty Images
A lot of people might think I'm crazy for saying this, but trade Mayo for Anthony Randolph.
Randolph has without a doubt had his struggles in his short NBA career, but he is the type of guy that has to develop and learn what the NBA is all about.
When this young stud does develop, watch out.
Randolph is currently on his second NBA team in three seasons. Many might see this as a bad thing, while others say he just hasn't found his spot.
At 21-years old, this kid has so much basketball left in his future.
Playing his first two seasons under sporadic head coach Don Nelson, many believe Randolph was set back in his progress.
If Randolph can find the right home and head coach, this guy could be a monster. He is still so raw and he is a project without a doubt.
You can't find an NBA team that wouldn't want his services once he puts it together. By the time he is 23 or 24, the NBA will know if Randolph is a legit player or a bust.
The Grizzlies need to take that chance. Trade Mayo for Randolph and consider it a low risk/high reward situation.
If the Grizzlies don't believe in a young player like Randolph, get another first round pick. Memphis could do serious damage in this years draft with two first round picks, especially with another lottery pick from another team.
Trade Mayo to a decent team that will most likely finish on the tail end of the lottery. Take Indiana, Charlotte, Milwaukee, or even New Jersey for example.
Since everyone knows the Nets want to make some sort of move this season, why not trade controversy filled Mayo for a first round lottery pick?
Either of these moves would be a win-win for the Grizzlies
1. Build Around Conley, Gay, and Gasol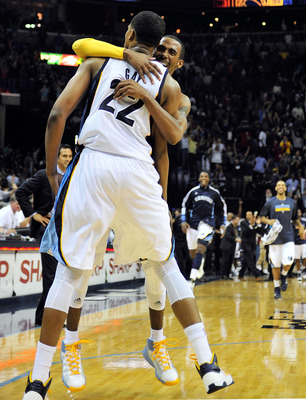 Mike Conley and Rudy Gay celebrate a hard fought victory
Grant Halverson/Getty Images
Whatever the Grizzlies decide to do with OJ Mayo, one things remains constant. Memphis needs to build around their young core of players Rudy Gay, Mike Conley, and Marc Gasol.
These three guys are without a doubt capable of carrying an NBA team. With Gay, Conley, and Gasol being 24, 23, and 25 years old respectively, these guys are studs.
Rudy Gay has continued to show he is one of the top small forwards in the NBA. Averaging over 20 points and six boards a game, he can only get better.
The Grizzlies signed Gay to a 5-year extension this past off season, locking up the UConn product for years to come. Sit back and enjoy the ride Memphis, Gay is without a doubt an All-Star.
Marc Gasol is a young center that is capable of posting the numbers his brother, Pau, currently does.
While Gasol has somewhat took a step back in his production this season, there is little reason to worry.
NBA players, and particularly overseas players, tend to hit a funk at some point in their first three seasons in the NBA. Unfortunately for Gasol, this is that year.
It isn't all bad for the 25-year old Spaniard. He is currently averaging career highs in assists, blocks, and free throw percentage. Those three statistical categories are some of the most important for centers in the NBA without a doubt.
Expect Gasol to improve on his overall numbers significantly in the second half of this season, making him a serious NBA center.
Mentioned previously, Conley is a solid developing point guard.
With Conley's continuing improvement in every statistic across the board, watch out for this guy in years to come.
Memphis needs to continue to fill in the spaces around these three young studs.
Once these guys grow into NBA All-Stars in a few years, this Grizzlies team will contend with anyone. Be excited Memphis, the future is looking good.
Keep Reading

Memphis Grizzlies: Like this team?