Los Angeles Lakers vs. Boston Celtics: Who Wins All-Time Fantasy Series?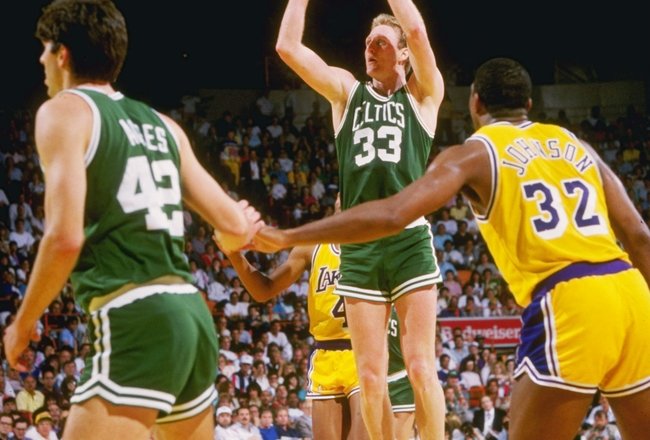 Rick Stewart/Getty Images
Is there a better rivalry in all of sports than Celtics vs. Lakers? And, who would win a seven game series if the best Celtics were matched up against the very best Lakers?
Since its inception in 1946, the NBA has had 64 championships. More than half (33) have been won by either the Lakers or Celtics (16 and 17 respectively).
Such sheer dominance by two teams just does not exist in any other professional sport in this country. The New York Yankees, with 27 World Championships, and hockey's Montreal Canadians, with 24, surely have dominated their respective sports and have had great rivalries (Brooklyn Dodgers and Toronto Maple Leafs come to mind) but none of the magnitude of Lakers - Celtics.
There's no love lost between these two powerhouse franchises. The last time they met, in June of last year, the Lakers beat the Celtics in Game 7 after being down by as many as 13 points late in the third quarter. This Sunday, they'll get to renew their battle at Staples Center when the defending champion Lakers host Boston in the first of two regular season match ups.
Celtics loyalists will argue that their beloved teams of the late 50's and early 60's, which won a remarkable 11 of 13 NBA crowns under the leadership of Bill Russell, marked their franchise as the sport's greatest of all time. That may be true, but taken in context over the course of the NBA's history, the question of which franchise has the superior team remains a tossup and is fodder for ongoing heated debate.
Los Angeles first dominated as the Minneapolis Lakers of the 1950s under George Miken who helped revolutionize the game. The Lakers showed their superiority in 1971-72 when they won a then league record 69 games and bulldozed their way to the title under Wilt Chamberlain, Jerry West and Gail Goodrich. Then came "Showtime" in the 1980s and more recently a three-peat and a two-peat under the watchful eye of Uber Coach Phil Jackson.
Boston has dominated Los Angeles when the two have met in the Finals. They've played for the world championship 12 times, with the Celtics winning nine of those titles.
Yet, after going zero for eight from 1959 to 1984, the Lakers have beaten Boston in three of their last four meetings and are just one back of the Celtics for most championships.
If you had your pick of the 30 most celebrated Lakers and Celtics of all time, which fantasy franchise would you choose and who would win in an epic, historic fantasy showdown series? And, in Game 7, with it all on the line and seconds ticking down, who would you want taking the final shot?
Let's examine the 15 players from each team and see who prevails in a Fantasy Series Showdown between the Lakers and Celtics.

Lakers Reserves: The Bottom Five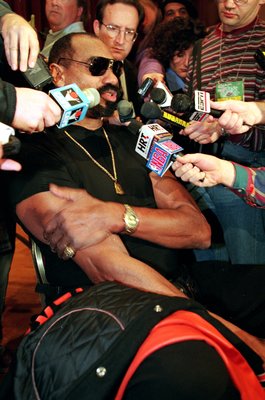 Brian Bahr/Getty Images
Who wouldn't want these fabulous five waiting in the wings?
Wilt Chamberlain, 7'1" center. The Big Dipper was the dominant offensive player of his generation and altered the way the game was played. He once scored 100 points in a single game and holds the all time leading scoring average for a season at 50.4. But despite his remarkable skills (he led the league in assists one year and was always at or near the top in rebounding), Chamberlain never achieved that much success as part of a team. He did win two titles (one with Philadelphia and the other at age 35 with the 1971-72 record setting Lakers) but he also lost numerous titles, mainly to Bill Russell and the Celtics.
Jamaal Wilkes, 6'6" forward. Often called "Silk" because of his silky smooth moves, Jamaal Wilkes won wherever he played. He started his career with the Golden State Warriors (they won the title that year) but signed as a free agent with Los Angeles and was an essential element of the Showtime teams that won three world championships in 1980, 1982, and 1985. Wilkes was a three time All Star, known for his sweet stroke and subtle efficiency around the hoop. He averaged 22.6 ppg during his best year (1980-81) and retired with a 17.7 average and 50 percent shooting from the floor.

Derek Fisher, 6'1" point guard. When you think of true leaders who find a way to win, you immediately think of D-Fish. Also known for his miraculous, clutch baskets, Fisher is a five time world champion with the Lakers. His coast to coast driving layup over three trailing Celtics (Ray Allen, Glenn Davis and Kevin Garnet) with under a minute to play propelled the Lakers to a Game 3 win at TD Garden in last summer's showdown. Fisher's most famous game winner, however, will probably always be the catch and shoot "nothing but net" jumper with .04 seconds on the clock to beat the Spurs in May 2006. We're still playing the video back to see how he was able to get the shot off in time.
George Mikan, 6'10" center. This gentle giant revolutionized the game during the NBA's infancy. Playing on the Minneapolis Lakers of the '40's and '50's, Mikan was the protoype big man in a sport that until then, was played mostly be smaller men who were more nimble. Goaltending was allowed until Mikan came along and made a mockery of it with his shot blocking. The league outlawed the rule. Mikan made five All-Star teams. In nine professional seasons, Mikan won seven championships and turned the Lakers into basketball's first legitimate dynasty.
Byron Scott, 6'3" guard. Scott played 10 years with the Lakers and won three championships. Though never voted to the All-Star team, Scott was the team's starting guard from 1984-93 and played alongside Magic Johnson, James Worthy and Kareem Abdul Jabbar. He led the league in three point accuracy (43 percent) in 1984-85 and was team scoring leader (21.7) in 1987-88.
Boston Reserves: Beantown's Bottom Five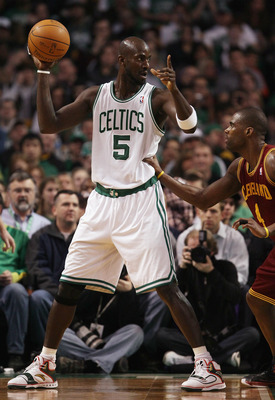 Elsa/Getty Images
This five would start anywhere for anyone. What a powerhouse group.
Rajon Rondo, 6'0" point guard. Rondo has developed into one of the premier point guards in the NBA over the past few seasons. Now in his fifth year with Boston, the deft passing Rondo is having a monster season with his league leading 12.9 assists per game. He is also third in the NBA in steals with 2.45 per contest. Rondo has increased his assist numbers every year and is a consistent double digit scorer. He directs the Boston attack.
Kevin Garnett, 6'10" forward. In just three seasons with the Celtics, Garnett has earned his wings, helping take the team to two Finals appearances where they won their 17th World Championship in 2007-08, crushing the Lakers in six games and then losing in seven games to L.A. last year. The perennial All-Star is among of the game's best shooting big power forwards. In 15 seasons he's averaged just under 20 ppg and is right at 50 percent shooting from the floor.
Ray Allen, 6'5" forward. A tremendous scorer with a superb stroke, Allen joined the Celtics the same year as Garnett after having flourished for 10 seasons with Milwaukee and Seattle. Allen is one of the best three point shooters in history and is having his best year yet from beyond the arc, hitting on 45 percent of his shots. He makes 90 percent of his free throws. Some of Allen's best shots have come under playoff pressure: He set an NBA record in Game 2 of last year's Finals when he nailed eight three pointers on his way to 32 points and a Boston victory against the Lakers.

K.C. Jones, 6'1" point guard. One of the game's best defenders, Jones was a part of the great Celtics teams that won so many championships in the '50's and '60's. He was not a great scorer (7.4 ppg career) not a great shooter (39 percent from the floor) but, boy, could he play defense. He's an eight time NBA champion.

Cedric Maxwell, 6'8" forward. One of the game's more colorful players, "Cornbread" won two titles as a member of the Celtics in 1981 and 1984. Although he played on a team with superstars Larry Bird, Kevin McHale and Robert Parrish, Maxwell still managed to be named MVP of the 1981 Finals and scored 24 points in a decisive Game 7 over the Lakers in 1984.

Lakers: First Five Off The Bench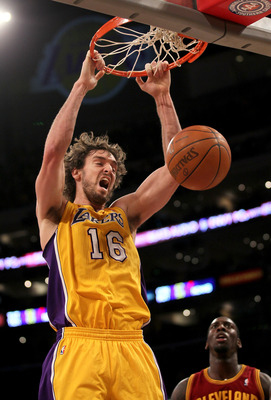 Stephen Dunn/Getty Images
This group could win an NBA title on its own.
Gail Goodrich, 6'1" point guard. No one worked harder than Goodrich. Always considered "the other guy" playing next to the legend, Jerry West, Goodrich nonetheless made a name for himself through sheer determination, hard work and passion for the game. In 14 seasons in the NBA, Goodrich averaged 18.6 ppg and was a five time All-Star. He also was the Lakers leading scorer on that championship team of 1971-72 that went 69-13 during the regular season and included West and Chamberlain.
Jerry West, 6'2" guard. Perhaps no one felt the pain of losing to the Celtics more than Jerry West. During one of the most illustrious careers in sport, West took his Lakers to the NBA Finals nine times but only came away a winner once (1971-72). Six of those Finals defeats came at the hands of the Celtics. Nevertheless, West left an indelible mark on the game. He was an All-Star every year of his 14-year career and was the third player (after Chamberlain and Oscar Robertson) to reach 25,000 points. West was a perfectionist and continued to work at his near flawless game throughout his career. The NBA silhouette logo is thought to be that of West.
Shaquille O'Neal, 7'1" center. The Big Diesel is a lock for basketball's Hall of Fame and will one day have his number retired by the Lakers. He played eight of his 18 years with Los Angeles, during which time the team won three consecutive championships. Shaq also won a title with the Miami Heat. He combined immense size (325-250 pounds depending on the year) with quickness and a smooth touch around the basket to become one of the most prolific big scoring centers in the history of the game. He's a 58 percent career shooter from the floor and his average of 23.8 ppg is among the best ever.
Michael Cooper, 6'5" guard/forward. "Coop" was a defensive superstar during his 13 years with the Lakers. He was First Team All Defensive Team five times and won Defensive Player of the Year in 1987. He also won 5 rings with the Lakers (1980, 1982, 1985, 1987, 1988). Larry Bird called Cooper the best defender he ever faced.
Pau Gasol, 7'0", power forward. Arguably one of the top two or three forwards playing in the NBA today, Gasol has been to the Finals all three years with the Lakers, the last two as World Champions. He can score (18.6 ppg on 52 percent shooting), pass (3.9) and rebound (10.5) as well as anyone playing the game today. When Gasol arrived in Los Angeles in 2008, the team was in a funk. Paired with Kobe Bryant and company, Gasol may have been the difference maker in turning L.A. into a perennial contender.
Celtics: First Off The Bench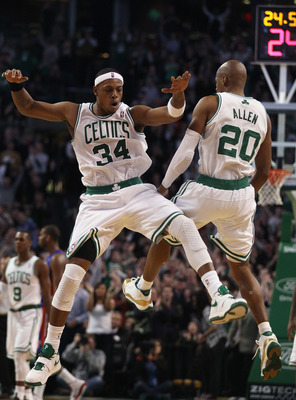 Elsa/Getty Images
Size, defense and great scoring all add up to an All-Star Boston Bench.
Paul Pierce, 6'7" forward. Although he has just one championship under his belt, "The Truth" remains one of Boston's all time leading players. He had the unfortunate timing of being drafted by Boston when the team was down on its luck (1988). Now in his 13th year, Pierce is just as solid as ever, averaging 19.1 ppg to go along with five rebounds and three assists. He's having the best shooting year of his career, hitting on 51 percent of his shots. He's determined to get his Celtics back to the Finals and win it after a disappointing outcome in 2010.
Sam Jones, 6'4" guard. In Los Angeles, they referred to Jerry West as "Mr. Clutch" but in Boston that title belonged to Sam Jones. His Coach Red Auerbach often commented that Jones was one of his favorite players because of his dedication to the game. "He'll do anything you ask him," said Auerbach. "He's always in shape and ready to play, and nobody works any harder at basketball than he does." Jones could also put the ball in the basket with regularity. During his career Jones scored 15,411 points and averaged 17.7 ppg.
Dave Cowens, 6'9", center. If anyone stood for the working class in Boston, it was Cowens. An undersized center with little foot speed or leaping ability who managed to carry two of his teams to NBA championships in the 1970's. A seven time All-Star known for his tenacity and hustle, Cowens averaged 17.6 points and 13.6 rebounds over his career. He was the league's MVP for the 1972-73 season and averaged 18.9 ppg and 14.4 rebounds in 89 playoff games.
Robert Parish, 7'1" center. Parish is the Iron Man of the NBA—he played in more games than anyone in league history. He also played on three championship teams with Boston during a sensational career. "The Chief" was known for his uncanny shot blocking abilities, finishing his 21 year career sixth on the all time list with 2,361 and sixth in rebounds with 14,715. He's also one of the top shooting big men, having finished 13th in the league with 23,334 points for his career.
Tom Heinsohn, 6'7" forward. Those Celtics teams of the '50's and '60's were something special and Heinsohn was a big part of them. He won eight championships with the team, averaging over 18 ppg in 654 career games. The knock on Heinsohn was that he shot too much—his shooting percentage of 40 percent will attest to that, but his overall hustle more than made up for it. Heinsohn always played with a true passion for the game and it showed.
Starting Lineup: The Point Guards, Bob Cousy and Magic Johnson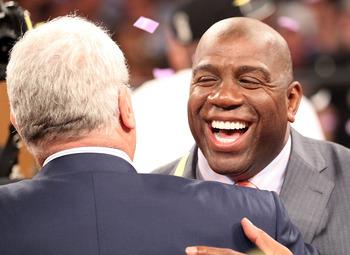 Ronald Martinez/Getty Images
Earvin "Magic" Johnson, 6'9" point guard (Lakers). When he entered the NBA at the tender age of 20, Magic Johnson was a revelation. Here was a true point guard inside the body of a power forward, but with lightning speed, cat like reflexes, incredible passing skills and an above average shot from long distance. He literally could do it all and Magic Johnson did it all with a perpetual smile on his face. Magic averaged 19.5 ppg and shot 52 percent from the floor for his career He also had 7.2 assists and a more than respectable 11.2 rebounds per game, made all the more remarkable by the fact that he mostly played around the perimeter as a guard, but often drove to the basket on offense and helped out the forwards on defense.
Magic's 1,724 steals places him ninth place on the all-time list. He was the consummate player and teammate. His passion for the game was infectious and even helped raise the level of play of people like Jabbar, the game's most prolific scorer.
vs.
Bob Cousy, 6'1" point guard (Celtics). A six time NBA World Champion with the Celtics, Bob Cousy was magic before there was "Magic". He was flashy, quick and a tremendous play maker and passer. He led the NBA in assists eight consecutive seasons and made 13 straight All-Star teams. He made the Celtics of Bill Russell, K.C. Jones and Tommy Heinsohn much the same way that Johnson did with the Lakers of Jabbar, James Worthy and Byron Scott. For his career, Cousy averaged 18.6 ppg though his field goal percentage was a pedestrian 37 percent. He also dished out an average of 7.5 assists and actually grabbed over five rebounds, a testament to his passion for the hustle play.
Match Up: Despite their huge size difference, I still see this as a fierce battle between two of the best point guards to ever play the game. I would have to give the very slight edge to Johnson, based on his height advantage and defensive tenacity.
Starting Five: McHale and Worthy, Strength Vs. Finese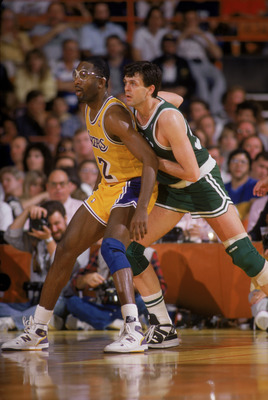 Rick Stewart/Getty Images
Kevin McHale, 6'10" forward (Celtics). They broke the mold of the ideal NBA power forward when they made Kevin McHale. With his long arms and wingspan, McHale used them to his advantage and became one of the best inside big men the game has ever seen. Along with Larry Bird and Robert Parrish, McHale helped form the nucleus for a dominant Celtics team that captured three NBA World Championships in the 1980's ('81, '84 and '86).
Former NBA Coach Hubie Brown told the Boston Globe: "McHale became the most difficult low-post player to defend—once he made the catch—in the history of the league. He was totally unstoppable because of his quickness, diversification of moves and the long arms that gave him an angle to release the ball over a taller man or more explosive jumper."
McHale averaged 17.9 ppg and shot a remarkable 55 percent from the floor during his career. He also pulled down 7.3 rebounds and totaled 1,690 blocks over the course of 13 seasons in the NBA.
vs.
James Worthy, 6'9" forward (Lakers). They called him "Big Game James" and nothing described this North Carolina superstar better. Winner of three NBA championships (1985, 1987, 1988) and member of the Showtime teams of Magic Johnson and Kareem Abdul Jabbar, Worthy was more than worthy of his alter ego moniker.
He upped his scoring averages every time the playoffs came around—from 17.6 in regular season play to 21.1 in playoff action. Worthy, known for his swooping, one handed dunks on the run (usually from a Magic Johnson outlet pass), also holds the all-time record for the highest field goal percentage in a five-game playoff series (72 percent) in the 1985 Western Conference Finals against Denver. And he recorded the first triple double of his career in Game 7 of the 1988 Finals against the Pistons in a game in which he had 36 points, 16 rebounds and 10 assists. He was MVP of that series for the winning Lakers.
Match Up: Obviously, another tough call on who wins this battle. Worthy has the speed while McHale has a height and reach advantage. Both were excellent mid range shooters. Over seven games, I believe that McHale has a very slight edge.
Bird Vs. Baylor: Superb Shot Maker Vs. Best Passer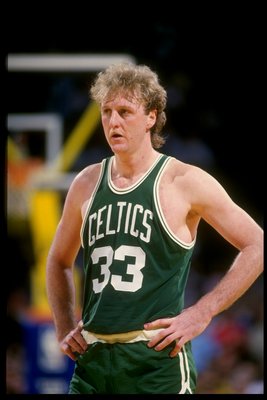 Rick Stewart/Getty Images
Larry Bird, 6'9" forward (Celtics). There are superstars in the NBA and then there are players like Larry Bird. Like several of the names on these fantasy teams, Bird did his part to revolutionize the game. Yet, he stands a notch above the rest because he brought to the game flawless perfectionism and a never ending reach for the top of the basketball mountain.
Bird could shoot (50 percent for his career, including 38 percent from 3-point range), pass (6.3), rebound (10), force steals (1.73), hit free throws (89 percent) and win. The leader of Boston's "Big Three", Larry Bird was a driving force behind the Celtics championships of the 1980's and a main reason (along with Magic Johnson) why the NBA's attendance and popularity skyrocketed during the decade.
Bird was synonymous with hustle points, often sacrificing himself by diving into the stands for loose balls. For someone without natural physical gifts, Bird more than made up for it with basketball intelligence, always knowing where his teammates were on the court and how to get positioning for rebounds. Larry Bird was a true joy to watch.
vs.
Elgin Baylor, 6'5" forward (Lakers). Before there was Michael Jordan, Julius Erving or Connie Hawkins, there was Elgin Baylor. Playing at a time when the league was smaller and games were rarely televised and ESPN was a thought in someone's mind, Baylor ruled the courts on the offensive side of the ball.
Playing alongside Jerry West and Wilt Chamberlain, Baylor helped the Lakers reach the NBA Finals eight times during his career. He was a scoring machine with moves around the basket that often defied logic.
"Elgin certainly didn't jump as high as Michael Jordan," former teammate Tommy Hawkins told the San Francisco Examiner. "But he had the greatest variety of shots of anyone. He would take it in and hang and shoot from all these angles. Put spin on the ball. Elgin had incredible strength. He could post up Bill Russell. He could pass like Magic (Johnson) and dribble with the best guards in the league."
For his career Baylor averaged 27.4 points and 13.5 rebounds per game. From 1960 through the 1962-63 season, he averaged 34.8, 38.3, and 34 ppg.
In a sad irony, Baylor's last season was the beginning of the 1971-72 campaign. That was the year the Lakers finally broke through and won a championship. Baylor retired after 14 amazing years without a ring.
Match Up: Two different types of players, but both superstars who knew how to score and play defense. With his height advantage, you have to give the edge to Bird. Baylor would surely get his points, but Bird did more through passing, rebounding and shooting.
Shooting Guards: John Havlicek and Kobe Bryant
Harry How/Getty Images
John Havlicek, 6'5" guard/forward (Celtics). He's Boston's all time leading scorer (26,934) and played on eight championship teams during his illustrious 16 year career.
What made Hondo special was his all around work ethic coupled with an uncanny ability to play both ends of the court with equal passion, as if it were the last game of his career. He came off the bench for those great Boston teams of the 1960's and is perhaps known as the best sixth man ever.
Havlicek is quoted on the NBA.com site as saying, "It never bothered me because I think that role is very important to a club. One thing I learned from Red Auerbach was that it's not who starts the game, but who finishes it, and I generally was around at the finish."
For his career, Havlicek averaged 20.8 points, 6.3 rebounds and 4.8 assists per game. He was a tenacious defender, known for steals late in big games that helped clinch victories. Like his counterpart on the Lakers, John Havlicek worked harder than anyone else to improve his game. He played and performed at a high level until he was 38.
vs.
Kobe Bryant, 6'6" guard (Lakers). Kobe Bryant passed several Hall of Fame scorers this season (including Havlicek) and now stands at 26,934 and in ninth place, hot on the heels of Dominique Wilkins, Oscar Robertson and Elvin Hayes.
Since he first entered the NBA as a precocious 17 year old from Lower Merion High School in Ardmore, PA, Kobe "Bean" Bryant has been compared to the great Michael Jordan. Bryant admits to having patterned some of his spectacular game around MJ, but that he always wanted to create his own legacy. After 14 seasons and five world championships, Bryant can most definitely lay claim to being one of the sport's all time greats.
All five championships for Bryant have been won with Phil Jackson as coach. The first three came early in his career, playing alongside Shaquille O'Neal. The last two came in 2008-09 and 2009-10, the most recent being against the Boston Celtics. Winning championships is what matters most to Bryant, but it's the game to game highlight reel of a career that intrigues most fans.
Bryant scored 81 points in a single game against Toronto on January 22, 2006 to break the franchise mark or 71 set by Elgin Baylor. Only Chamberlain's 100 points in 1962 were more. In that same month Bryant scored 45 points or more in four consecutive games, joining Baylor and Chamberlain as the only other player to do that.
Match Up: Another match up for the ages. In a seven game series, you have to like Kobe. There's a reason he's known as the best closer in the game. He makes the big shot when his team needs it. Hondo would give him fits during this fantasy series, but when the game is on the line and clock is ticking down, who do you want to have the ball for the last shot?
Center Stage: Bill Russell and Kareem Abdul Jabbar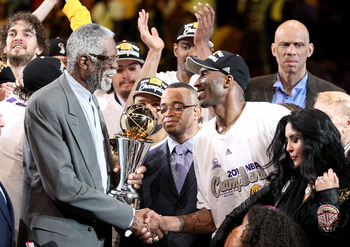 Christian Petersen/Getty Images
Kareem Abdul Jabbar, 7'2" center (Lakers). Perhaps no player in NBA history has more team and personal accomplishment than Jabbar. When he retired after 20 seasons at the age of 42, Jabbar stood alone at the top of all scorers with 38,387 points, more than 2,000 ahead of the second place Karl Malone and more than 6,000 points ahead of Michael Jordan.
His accomplishments are truly incredible: Rookie of the Year, member of six NBA championship teams, six-time NBA MVP, two-time NBA Finals MVP, 19-time All-Star, two-time scoring champion, and a member of the NBA 35th and 50th Anniversary All-Time Teams. He also owned eight playoff records and seven All-Star records.
Hall of Fame Coach Pat Riley, who coached Abdul-Jabbar for eight seasons in L.A., was quoted in Sports Illustrated as saying, "Why judge anymore? When a man has broken records, won championships, endured tremendous criticism and responsibility, why judge? Let's toast him as the greatest player ever."
Most think of Jabbar has a tremendous scorer, with a nearly unstoppable "Sky Hook" that he made famous. But the introverted Jabbar, who led UCLA to three consecutive NCAA championships (1967-69), could also play defense. He has 3,189 blocks during his career and averaged 11.2 rebounds per game.
vs.
Bill Russell, 6'10" center (Celtics). If Jabbar was the consumate scorer, Bill Russell was the Picaso of defense, a true master at his craft. No one player has dominated the boards in the way that Russell did during a remarkable career that saw him bring 11 championships to Boston in 13 years.
Russell averaged 22.5 rebounds per game and led the league four times in that category. He collected 51 rebounds in one game and 49 in two others and had 1,000 or more rebounds in 12 consecutive seasons for the Celtics.
Along with Michael Jordan and Jabbar, Russell is considered one of the top two or three players of all time, and most definitely its best defensive player. He altered the way defense in the NBA was played. His court sense was uncanny. He played in an era before shot blocking statistics were kept, but Russell surely would have led that category for many years.
Russell could also score on the other end of the court. For his career, he averaged 15.1 points and 4.3 assists per game. Yet, it was his team play and defensive superiority that carried the Celtics to their greatest triumphs
Don Nelson, who played along side Russell in Boston, might have said it best when asked by the Boston Globe to describe his former teammate. "There are two types of superstars. One makes himself look good at the expense of the other guys on the floor. But there's another type who makes the players around him look better than they are, and that's the type Russell was."
Match Up: Kareem's Sky Hook against Russell intimidating defense. Over a seven game series and in their primes, I think Russell might have a slight edge and be able to neutralize Jabbar somewhat.
Would it be enough for the Celtics to prevail? See the final slide for the answer.
Lakers Prevail In Seven: Bryant Leads Charge With Buzzer Beater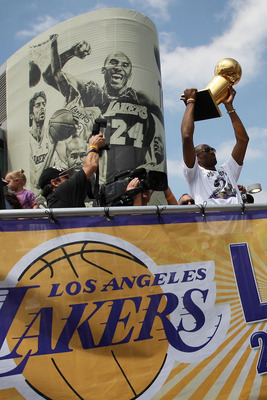 David McNew/Getty Images
These two fantasy teams, the Los Angeles Lakers and Boston Celtics, would scrape and battle for seven games.
Both teams would prevail on their home courts until Game 7 at Boston Garden. The Lakers would employ the Triangle Offense built around Kobe, Magic and Kareem. The Celtics, with Russell pounding the boards, Havlicek pursuing Kobe, Bird scoring from outside and McHale from inside, would match L.A. every step of the way.
With the game tied and only seconds remaining, Kobe Bryant attacks the basket looking to score the final points. At the very last second he somehow finds Magic cutting to the rim as a trailor, feeds him in perfect rhythm and watches as Johnson slams it home to win the game and the series.
Lakers 4, Celtics 3.
Los Angeles Lakers Are Fantasy World Champions.
Keep Reading

Los Angeles Lakers: Like this team?