NBA Power Rankings: The 10 Biggest Remaining Contests Before the All-Star Game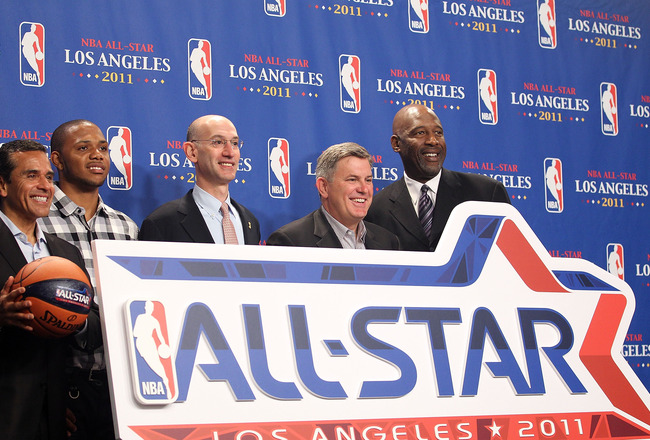 Ronald Martinez/Getty Images
It is hard to believe that we are not that far away from the All-Star break of the 2010-2011 NBA regular season.
Just yesterday it felt like LeBron James was tearing Cleveland's heart out on TV, Amar'e Stoudemire was headed to New York and the Lakers were an instant lock for a three-peat.
A lot has changed, ladies and gents, and as the All-Star Game approaches, it is time to take a close look at 10 of the most important matchups remaining before the All-Star break.
January 21: New York Knicks Vs. San Antonio Spurs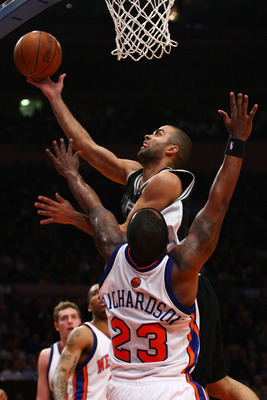 Chris McGrath/Getty Images
The last time these two teams met, the Knicks delivered a knockout of an offensive game, putting up 128 points and upsetting Spurs head coach Gregg Popovich so much that even when the game was still in reach, he pulled his starters with three minutes remaining.
That game, which took place on January 4 in Madison Square Garden, helped the Knicks prove to themselves that they do have what it takes to play with the contenders.
You know Pop and the Spurs have not forgotten that game, and with the Knicks in their house on the 21st, they will be looking for a little revenge. The Knicks will certainly be looking to stay on track, as Amar'e Stoudemire has had some of the best games of his career against San Antonio.
January 25: Los Angeles Clippers Vs. Dallas Mavericks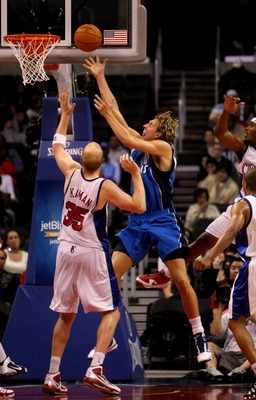 Stephen Dunn/Getty Images
Seemingly everyone had the Los Angeles Clippers as their sleeper pick out of the West, predicting that a team headed by Blake Griffin would do a lot of damage in the conference this year.
After another Clippers-like start to the season, this team is finally starting to come together (seen most recently with an unlikely victory against the star-studded Miami Heat), thanks to a shot-blocking/rebounding beast of a frontcourt in Griffin and DeAndre Jordan.
On the other side of this matchup, the Mavericks seem to be in the midst of a tailspin, mostly due to Caron Butler's season-ending leg injury, as well as an untimely injury to one of the best power forwards to ever play the game, Dirk Nowitzki.
While the Mavs scramble to find a legitimate second scoring option to place alongside Dirk, they still need to stay focused on the task at hand.
A win against the Clippers could give the Mavs the confidence boost they need, while on the flip side a Clippers victory against Dallas could give LA the same boost New York saw once it beat the San Antonio Spurs in early January.
January 25: Utah Jazz Vs. Los Angeles Lakers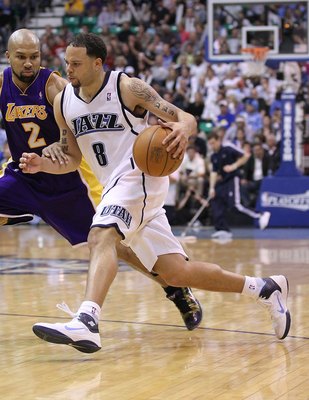 Jed Jacobsohn/Getty Images
Kobe Bryant and the Lakers have had the Jazz' number for the last couple of years in the playoffs. Whenever the Jazz looked primed to finally topple their Western Conference rival, the Lakers always had a response for any obstacle Jerry Sloan and co. presented.
Add in the drama surrounding Derek Fisher's exit from Utah, which still has a lot of fans steamed, and this is certainly a heated Western rivalry.
Paul Millsap has emerged as a bona fide star in the league, as Carlos Boozer's departure from the team enabled the Jazz to award Millsap with more minutes, and he has blossomed into a potent post threat.
The Lakers have been all over the place lately and with Andrew Bynum continuing to get used to his teammates, you can bet Lakers head coach Phil Jackson is going to really want to get his size heavily involved against the slightly undersized Jazz.
January 27: Miami Heat Vs. New York Knicks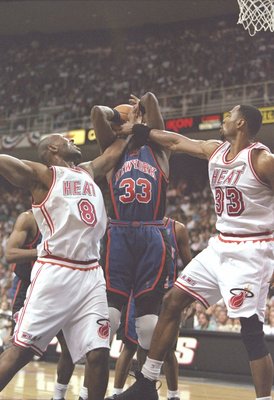 Andy Lyons/Getty Images
The epic rivalry between these two squads is remembered by most through fists thrown in the mid '90s. There is certainly some history between these two teams and we as NBA fans love that.
With the number of star players that were added to these two clubs, the matchups are incredibly enticing. The bigger, bulkier Amar'e Stoudemire against the leaner, smooth-shooting Chris Bosh is one that will be watched closely.
The Heat beat the Knicks earlier this season on December 28th, as Dwyane Wade went nuts for 40 points. However, with Stoudemire playing MVP-type basketball, it will not be the least bit surprising if Amar'e decides to go bananas in the spotlight. He's done it before.
January 28: Orlando Magic Vs. Chicago Bulls
Jonathan Daniel/Getty Images
Many Bulls fans thought this season might be a cursed one when star acquisition Carlos Boozer got injured in a freak gym-bag tripping accident that sidelined him for a chunk of the beginning part of the season.
However, the Bulls have not slowed down and look to be a legitimate threat in the Eastern Conference this year.
The Magic are still adjusting to a trade that saw them add a ton of three-point options, which is great news when you consider how well they have mastered their game plan. It will be fascinating to see how the Bulls' perimeter defense does against the quick and sharpshooting Magic squad.
If Carlos Boozer can bait Dwight into a few foolish quick ones due to Boozer's outstanding mid-range jump shot, the Magic could be in for a long night. However, if Dwight appears to be overpowering and this makes the Bulls collapse on him, it could be a lights-out kind of night for the Magic ballista.
January 30: Miami Heat Vs. Oklahoma City Thunder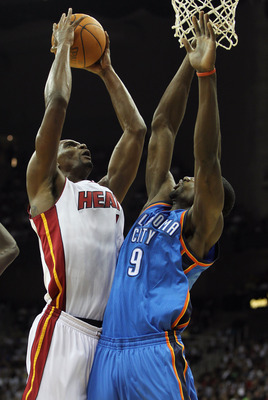 Jamie Squire/Getty Images
It is no secret that Kevin Durant is one of the toughest covers in the game, thanks to his quickness and slithering penetrating moves that give defenders fits.
Let's just say that the power of LeBron James versus the finesse of Durant should be an intriguing battle and is an excellent choice to be shown on ABC.
The Heat certainly have more star power, but the Thunder have Durant and the explosive Russell Westbrook, as well as some stellar bench play.
The Thunder need this game to prove all their doubters wrong and be considered once again in "elite" status, while the Heat will be looking to exploit the Thunder's overall scrawniness.
February 3: San Antonio Spurs Vs. Los Angeles Lakers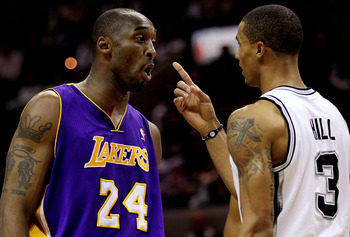 Ronald Martinez/Getty Images
The Spurs and Lakers have had some of the most intense games I have ever witnessed. Whether it was Derek Fisher's 0.4 shot or Roger Mason's unlikely four-point play, these teams have always delivered incredible contests.
Tim Duncan wants what Kobe has, that being five championship rings. The Spurs beat the Lakers in San Antonio on December 28th, but things will definitely be different in the Staples Center.
Recently, Kobe has looked pissed off about everything, even when his team beats a good team like the Thunder. His competitive nature has not died down at all, and as the season goes on it will only increase.
The Spurs are the best team in the Western Conference right now, and a win here might further elevate their status to "the team to beat." But if the Lakers get a victory here, it might come across as a resounding statement of "we're still here."
February 9: Chicago Bulls Vs. Utah Jazz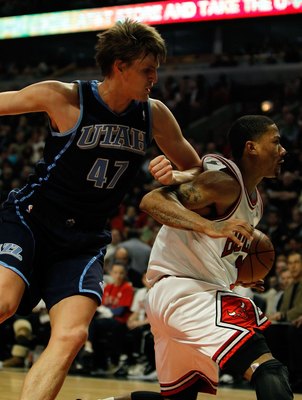 Jonathan Daniel/Getty Images
The return of Carlos Boozer.
That is what this game will be labeled. It will be interesting to see how Jazz fans respond to Boozer's return, seeing that he already spurned one team before them (the Cavs).
Add in the fact that he handled being on the Jazz last year sort of like Carmelo Anthony is handling being on the Nuggets this year, and Utah has a right to be annoyed with the guy.
More importantly, however, this is an excellent matchup between two quality teams. Derrick Rose against Deron Williams will undoubtedly be tons of fun to watch, considering both are super quick and very savvy in the open court.
You can expect Paul Millsap to bring it to Boozer as well and show him that the Jazz are better off under his care.
February 10: Los Angeles Lakers Vs. Boston Celtics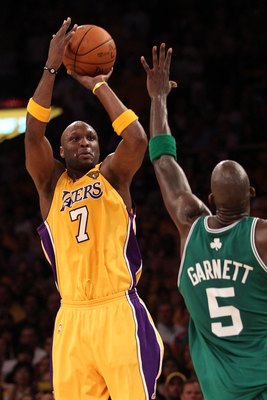 Christian Petersen/Getty Images
Ever since the Celtics acquired Ray Allen and Kevin Garnett to form the "Big Three" in Boston and the Lakers acquired Pau Gasol in a steal of a deal, this has been the marquee matchup of the NBA.
The history between these teams and the championships each has earned have gone a long way to establishing this as arguably the most decorated rivalry in the history of sports.
Seeing that the Celtics let the title slip away to the Lakers last year by losing a 3-2 lead in the series, as well as blowing the fourth quarter of Game 7, you know that they are going to come at the Lakeshow angry and looking for blood.
Oh, and by the way, Shaquille O'Neal used to play for the Lakers before a certain Kobe allegedly chased him out of town. So yeah, there's plenty of drama to go around here.
February 11: Los Angeles Lakers Vs. New York Knicks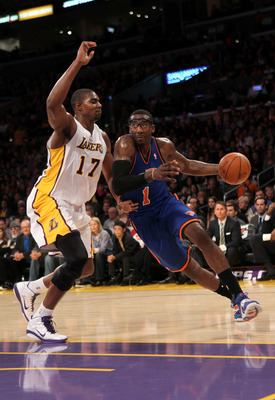 Stephen Dunn/Getty Images
The Knicks have shown everybody so far this year that they deserve the rest of the league's respect.
Having a front runner for MVP in Amar'e Stoudemire, as well as a surprise in Landry Fields, has given the Big Apple an energy it has not had since the days of Allan Houston and Latrell Sprewell. Last time it had that kind of vibe they shocked the world by making the 1999 NBA Finals.
Going against the Lakers will certainly give the Knicks a good indication as to if they might have what it takes to get to that stage again. Both New York and Los Angeles are huge markets, so as expected, this game will have plenty of buzz surrounding it.
Kobe dropped 61 points last time he was at Madison Square Garden. Star players love to have huge games at the Garden, so do not be surprised to see an offensive showcase come February 11th.
Keep Reading