LeBron James, Miami Heat: 15 Reasons They've Grown Into NBA 'Villain' Role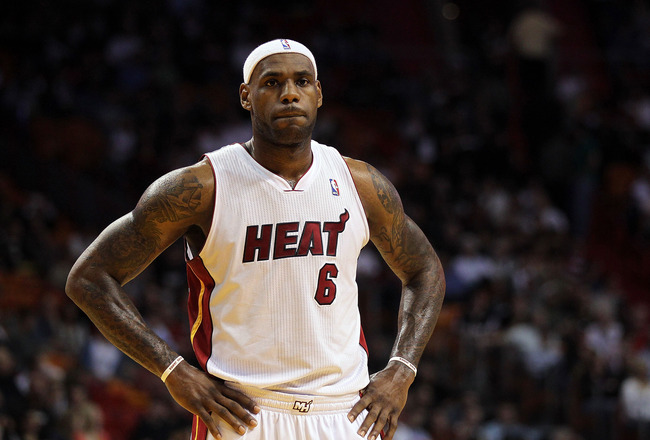 Mike Ehrmann/Getty Images
The Miami Heat endured a slow start this year amid overwhelming pressure and intense scrutiny from fans and the media alike. But they quickly righted the ship and embarked on a remarkable stretch of games, winning 21 out of 22, and shooting to their expected place at the top of the NBA power rankings.
A funny thing happened during that time, though, that was perhaps to be expected, but interesting nonetheless. They became one of the most hated, resented teams in the league.
Now, they've fallen on a bit of hard times again, losing their last four games in a row, including at home last night to the Atlanta Hawks. Maybe a bit of adversity will make them more lovable in the public's eyes.
Or maybe they should just get used to being the villains. Here are 15 reasons why.
15) The League Needs A Villian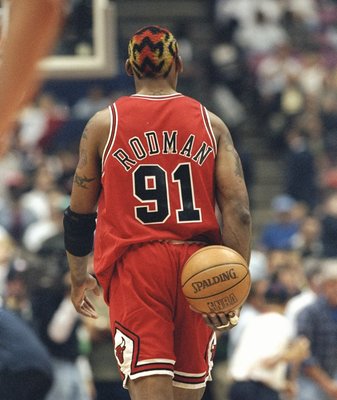 Ezra Shaw/Getty Images
The NBA is just so much better and more fun when it has a really good villain for fans to root against.
The Lakers have been that team in recent years, with Kobe Bryant as the poster boy. Before that it was the Bulls with Dennis Rodman. Before that it was the Pistons with ... Dennis Rodman, among others.
A perceived villain helps fuel rivalries among teams, interest among fans, and most importantly to the league's bottom line, TV ratings. So the Heat best get used to being the villain, because that angle will continue to be played up all over the league.
Remember, hatred can be a more powerful emotion than love.
14) Pat Riley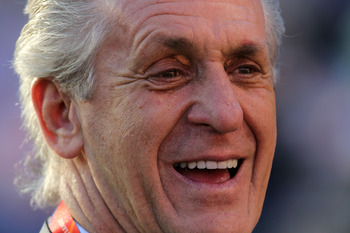 Ronald Martinez/Getty Images
Pat Riley has engendered a villanous reputation for a while now, long before this year's formation of the new look Heat.
As the coach of the Lakers in the 1980's, Riley was hated in Boston, among other places, for being the arch rival of the Celtics, and leading L.A. to multiple championships with their uptempo, 'Showtime' style.
After moving on to the Knicks in the early 90's, he re-made the team in the image of bruising thugs, and caused widespread resentment among fans who thought the Knicks style was not basketball. Chicago fans now hated him as well, due to the Bulls bitter rivalry with New York.
Then he pulled off a stunning exit from New York, moving on to Miami in a power grab that gave him control as both coach and G.M. Knick fans who had worshipped him now turned on him in droves, and he gained a whole new legion of haters.
And through his years in Miami, whether it was his sudden return to the bench when he realized he could win another title with Shaq (gaining haters in L.A.), or his thuggish squads led by Alonzo Mourning, he's done nothing to counteract that image.
So, add this season to the already myriad reasons why people love to hate Pat Riley. As long as he's a part of the team, he'll be hated by many.
13) Erik Spoelstra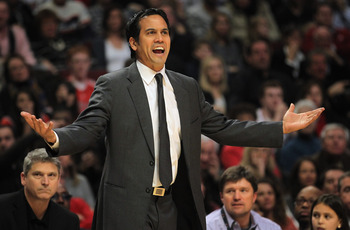 Doug Pensinger/Getty Images
I'm sure Heat coach Erik Spoelstra is a perfectly nice guy.
But one can't help but feel like he's like the fast food cashier who wins the lottery. He landed on a miraculous good fortune that he didn't really earn. He simply happened to be in the right place at the right time.
The Heat were a decent team in his first two seasons, but nobody would've confused them with a true championship contender. Similarly, Spoelstra was largely viewed as a decent coach, a serviceable one, but not exactly the kind of dynamic presence on the bench who would help guide the team to the promised land.
Now, of course, he's winning games left and right and is one of the hottest coaching commodities in the league. But does he really deserve it?
12) They Haven't Paid Their Dues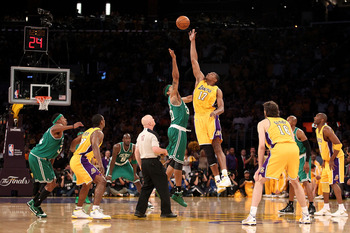 Christian Petersen/Getty Images
Lots of other teams build a winner over time, and their years of struggle before finally cresting the summit of that mountaintop give them credibility.
The Pistons struggled to get over the hump and past the Celtics and Lakers for years before making their claim to greatness with back-to-back titles. Then it was Michael Jordan's Bulls who had to overcome Detroit. The Spurs had been pinned with the label of playoff underachievers before establishing their dynasty.
But the Heat haven't done it like that. They're like the new kid that shows up at the playground for the first time, a playground that lots of guys have built sweat equity on for a while, and starts calling the shots like he owns the place. They haven't earned it.
Maybe if they struggle for a couple of years with this squad, then we'll give them their due, in like, 2014 or something.
11) Doesn't Miami Have Enough?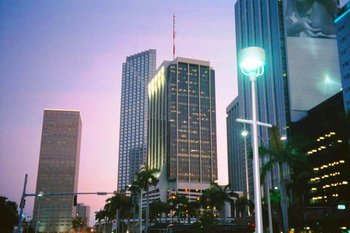 C'mon, it's Miami, for crying out loud. It's already got beautiful weather, miles of beaches, a trendy downtown, and an inordinate amount of gorgeous girls in bikinis.
Plus, the Heat, one of the youngest franchises in the NBA, already won a championship just a few years ago with another superstar they stole from another team, Shaquille O'Neal.
And while we're going there, how about the Marlins? They bought two championships that are widely hated around the rest of the baseball world because no sooner had they hoisted the trophies in 1997 and 2003 before the teams were systematically dismantled by an ownership group that had no interest in building a winning franchise, they just wanted to take their title and run.
So don't do it to us again, Miami. You're more than blessed in other areas. Leave the sports to the cities with franchises that actually care to be something more than flashes in the pan.
10) LeBron Took The Easy Way Out
Elsa/Getty Images
It's just not the way things have traditionally have been done. And it's not the way you'd teach your kids to do it.
LeBron quit on the Cavs. He could've stuck with it, built something special there, and still emerged a champion, even more beloved than ever. But he couldn't handle the work. News flash LeBron: hard work is what most people do while toiling in obscurity their entire lives.
Michael Jordan didn't have a winning team in Chicago for a long time. But he stuck it out, and had the patience to have a winner built around him. Paul Pierce's many years of frustration in Boston could've ended with him leaving for Memphis, but it didn't, and he was rewarded for hanging in there. Even Kobe, to a degree, stuck it out through a few tough post-Shaq years in L.A. because he identified with the franchise.
Not LeBron. He appeared downright apathetic towards the end of last season playoff loss to Boston, and now we know why. He had already made up his mind and his thoughts were already in Florida.
That's the recipe for your fans turning on you every time.
9) They Flouted The Rules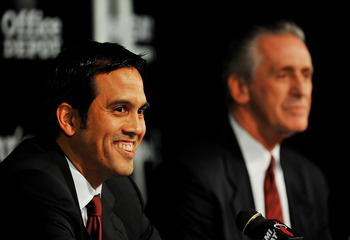 Doug Benc/Getty Images
The NBA's salary cap rules were put in place partially to specifically prevent super teams like the Heat from being created, by functionally limiting the amount of salary they could devote to any one player.
Teams were also given a specific exception (popularly called the Larry Bird exception) that provided an incentive, to both teams and their incumbent players, to re-up with each other. A team is allowed to go over the salary cap to re-sign its own player, and a player is allowed to sign a larger contract with his own team than with another.
LeBron James and the Miami Heat thumbed their noses at these rules this past offseason in getting LeBron James and Chris Bosh to join forces with Dwyane Wade. Everything they did was perfectly legal, of course, but it wasn't in the spirit of the rules.
The league can't like it, because it provides a blueprint for other teams to try to exploit loopholes in the future. And even most players can't like it, because it serves to marginalize all but the top tier stars, so that everyone else gets less of the pie.
You know who likes it, though? Erik Spoelstra. And of course Pat Riley.
8) It Makes Them Closer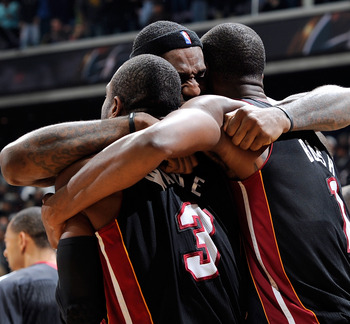 Greg Fiume/Getty Images
If they can insulate themselves enough from the chatter surrounding them, they'll find that their bonds with each other are that much more real, and more difficult to sever.
Did you ever have a girlfriend or boyfriend that your parents told you not to see? Didn't that just make you like them more, and make the two of you grow closer? Well, this is just like that.
Ok, it's not just like that, but a similar principle applies. They believe in each other, despite what the naysayers say. And their relationship with their teammates feeds off of that energy.
It also further isolates them from the outside world, causing them to be seen that much more as villains.
7) It's So Easy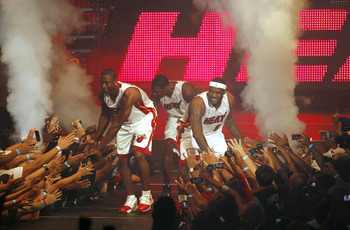 Marc Serota/Getty Images
Who else are we going to hate right now?
The Spurs? Tim Duncan has always been one of the most likable, down-to-earth stars in sports, and the Spurs thrive on a workmanlike, everyman image. How do you hate San Antonio? Most people couldn't even pick it out on a map.
The Celtics? They rode their own super trio to a championship a few years ago, but for some reason, that team has always been more likable than these Heat. We relate to Paul Pierce's struggles and eventual redemption with his original team. Ray Allen has never been controversial, and Kevin Garnett is admired for picking up the pieces and sublimating his ego to win when the Timberwolves didn't want him anymore.
We hate the Heat by default. It's the easy choice. There are enough teams who thought they had a legitimate shot at getting either LeBron James or Chris Bosh to fill an entire playoff bracket. They smugly came on the scene with an indulgent pyrotechnic-filled party.
It's the perfect script to hate. Hollywood couldn't have drawn it up any better.
6) It's Motivation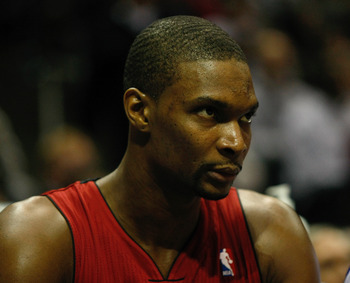 Scott Boehm/Getty Images
Being hated can either break you, or it can motivate you.
After threatening to do the former at the start of the season, lately, it seems to be doing the latter for the Heat. They've grown stronger through the adversity, and after a while, you get used to it and start to feed off of it.
Michael Jordan was known for inventing perceived slights about the smallest little things, simply in order to use those slights as motivation for his next game. He'd turn compliments into insults every day on purpose, to constantly nurture the idea in his own mind that he still had something to prove every time out there, even if in reality, he didn't.
That's a lesson the Heat would be well served to learn. 'Us Against The World' isn't a cliche for nothing. It's a cliche because it works.
5) It's Getting Old Hating the Lakers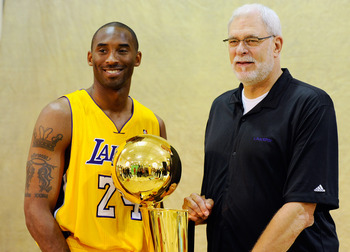 Kevork Djansezian/Getty Images
I've already mentioned how the Lakers have been the chic team to hate lo these many years. But that's starting to lose its appeal.
Sure, they're still as formidable as ever, but there's nothing really new to latch onto there. Kobe hasn't done anything tabloid worthy of late, Phil Jackson is still zen karma cool, and the team has begun to develop a workmanlike vibe that's not conducive to igniting riots in the streets.
Dare I say it, they've actually grown more lovable over time. Now that they've already won the last two championships, what else is there to deny them? If they win another one, they win another one. We're bored with that story. The public is always looking for what's new, what's hot, what's fresh.
The Lakers aren't that anymore. The Heat are.
4) Disappointment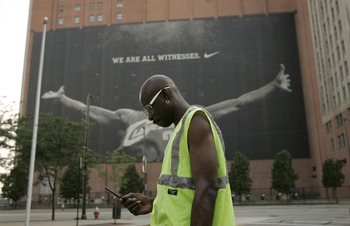 J.D. Pooley/Getty Images
The feelings in the Cleveland area, and throughout northeastern Ohio, are unique.
LeBron represented something more than a basketball player to them, he was more than some athlete or celebrity there. He represented hope. He personified the idea that the region wasn't as downtrodden as it might appear on the surface. And that there was great hope for the future.
Seeing him turn his back on all of that was especially painful. It's something that many people, in Cleveland and other areas like it, simply couldn't wrap their heads around. He became something less. No longer transcending the sport, he was now just another greedy athlete.
Maybe it was unfair for people to put all of that on his shoulders. He's just a young man playing a game. But he also was aware of having that responsibility to Ohio, and embraced it while he was there. So losing him was like losing a member of the family.
And you don't get over something like that quickly.
3) Bitterness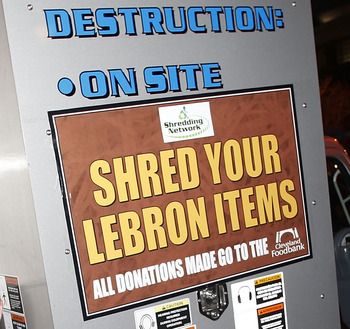 Gregory Shamus/Getty Images
LeBron didn't do anything that he wasn't completely entitled to do, of course. In the end, he simply made the decision that he felt would give him the best chance of winning, now and in the future. And he wanted to play basketball with his good friends.
We don't want to hear all that, however. We want to take the role of the spurned lover. We like to live in the past, and hold onto it, instead of letting it go like we should. We live in fantasies of what might have been, instead of living in the reality of the here and now, of what is.
So, we grow bitter. We take it personally. LeBron didn't just decide to leave (or not choose) your team, he decided to leave (or not choose) you. We see our lives as that much emptier because of that loss.
Focusing that negative energy can be cathartic. It's a natural high, it makes us feel good to unite against a common energy. So, count on it to continue for the foreseeable future.
2) Jealousy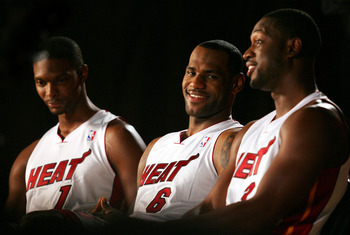 Marc Serota/Getty Images
As much as anything, fans in other cities are simply jealous that Miami was able to make such a dramatic move to make themselves into an elite team overnight.
You can hate the way LeBron went about things, and talk about the three players colluding all you want, but the bottom line is, if they had decided to play for your team, you'd be loving them right now.
With them not on your team, you realize that they now present one more formidable obstacle to your team winning. And that's not good. You want what they have.
You're just jealous.
1) The Decision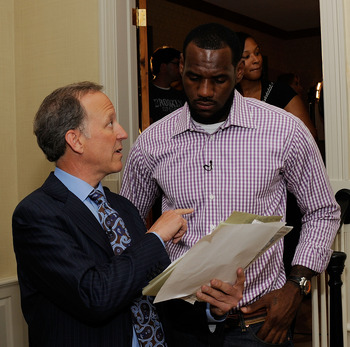 Larry Busacca/Getty Images
Above all, of course, that ill-fated TV special takes the cake as the primary reason people now love to hate LeBron, and by extension, the Heat.
It was awkward from the outset, and reeked of self-centeredness, self-indulgence, self-importance, and lots of other 'self' adjectives. It wouldn't have been as bad had he announced he was staying put, but add where his decision took him into the mix, and LeBron couldn't win.
So, the Heat may as well settle in to the role of being the NBA's most hated team, and LeBron should get used to being one of the league's most hated players. At least people care, one way or another. Better they hate you then they simply aren't interested, LeBron. Think of it that way.
Keep Reading

Miami Heat: Like this team?