Blake Griffin Gets Tossed, But The LA Lakers Still Lost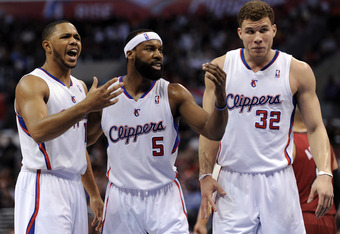 Harry How/Getty Images
In what is becoming one of the most bitter rivalries in all of basketball, Blake Griffin kept his double double streak alive at 26 games, and propelled the Los Angeles Clippers to an exciting 99-92 win over their cross-town rival Los Angles Lakers on Sunday evening.
Everyone knows by now that both of these teams call the The Staples Center their home, and that the Clippers and Lakers rotate playing their games in one of the best arenas in all of basketball, The Staples Center.
When Blake Griffin and the Los Angeles Clippers play an opponent as the home team, the court is changed over to the red, white, and blue colors of the upstart Los Angeles Clippers.
But it still looks sort of weird you see the game on TV and when the game doesn't sellout, because the seats are still purple and gold, undoubtedly Los Angeles Lakers colors, and never to be mistaken for anything else.
Nevertheless, it is what it is, and if any city in our beloved United States of America can handle something like this, most fans know that it would have to be in either L.A. or New York, so let's keep it moving.
Blake Griffin was the story in this game like he has been all year for the Clippers, by scoring 18 points and pulling down 15 rebounds before getting into a scuffle and tossed with only 5.7 seconds left in the game.
What NBA player comes to mind first when the subject of dominating their position is talked about?
"It shows we're capable of beating good teams like them. It would be better if we would keep beating those teams and start beating everybody else as well. That's the next step for us." Said Griffin.
Eric Gordon led all scorers in the game with 30 points and even outscored Kobe Bryant (27), as the Los Angels Clippers and the Los Angeles Lakers gave the fans their money's worth in what was to become a battle of epic proportions.
Old school versus new school seemed to be the theme of the night as these two teams in Los Angeles have built-up an enormously intense rivalry on the basketball court.
Even though the Clippers don't sellout every game like the Lakers do, there isn't an empty seat in the house when these two teams go at it.
"We have a good rivalry," said Gordon, who scored 24 points in the Clippers' loss to the Lakers last month on Derek Fisher's buzzer-beating layup. "We always look forward to playing against these guys, and it's always real interesting."
Gone are the days when the Los Angeles Lakers can just mark a "W" in the win column whenever they see the Los Angeles Clippers on their schedule. This is largely due to the emergence and outstanding play from the player that has a virtual lock on this year's NBA Rookie of the Year award—Blake Griffin.
Ezra Shaw/Getty Images
In a town where the paparazzi hails over all forms of media by hounding celebrities with controversial photographs, and everything on television seems to pale in comparison to the legendary Rodeo Drive and the "laid back" atmosphere of L.A. and Hollywood, Blake Griffin is creating a special buzz in this area of the U.S. which has always been known as the media capital of the world.
The Clippers are already the next best thing in Los Angeles as a result of Blake Griffin's impact on the team and on the city as a whole.
Word around Los Angeles now is "when you can't get a ticket to see a Lakers' game, just wait until the Clippers play and go see them, because Blake Griffin is arguably the most exciting player in the league, and you'll definitely get your money's worth," said a die-hard fan who chose to remain anonymous.
Legendary Lakers' coach Phil Jackson wasn't pleased with his team's play in this game. "I didn't like our energy. We had some things going for us, but overall I just didn't like our energy."
The Lakers know that the Clippers have a long way to go, but just like in other famous rivalries, you can just throw each team's record coming into the game out of the window, because it really doesn't matter anymore when these two teams lace-up the sneakers to play basketball.
Five players on the Lakers finished in double figures including every starter with the exception of veteran guard Derek Fisher, who only had two points. Veteran guard Steve Blake came off the bench to score ten points to give the Lakers a balanced scoring attack, but it was not enough.
What is the biggest rivalry in the NBA now?
Baron Davis, the much-maligned former All-Star, scored 14 points, and Blake Griffin tied teammate DeAndre Jordan for a game-high with 15 rebounds.
On this day in L.A., the Los Angeles Clippers showed the Los Angeles Lakers that there is a definitely a new sheriff in town in the place where both teams call home—the Staples Centers and the wild wild West. I'm just saying.
For more information: mikeaikins@hotmail.com
Follow me on twitter @mikenice_1
When you just can't get enough of this basketball stuff, checkout my blog by clicking on the following link: "I'm Just Saying"
This article is
What is the duplicate article?
Why is this article offensive?
Where is this article plagiarized from?
Why is this article poorly edited?

Los Angeles Clippers: Like this team?