Boston Celtics: Midseason Report Cards for Rondo, Pierce, Garnett and Company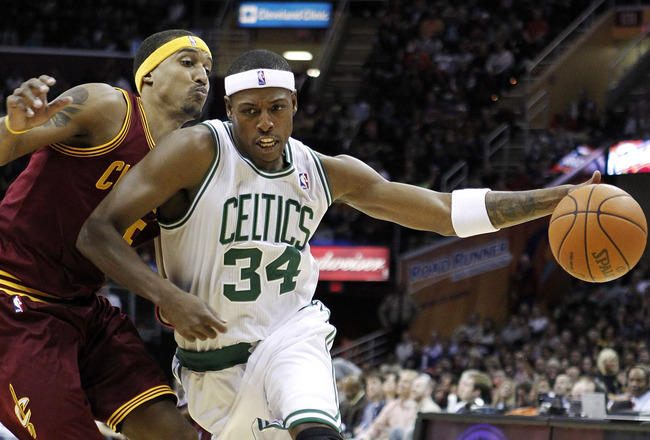 Gregory Shamus/Getty Images
The Boston Celtics have just about reached the halfway point of the NBA season, so it's time to hand out midseason grades to the Big Three, Rajon Rondo, Doc and the supporting cast.
There isn't much to be displeased with, and quite a few of these report cards will go up on the refrigerator, but like an overbearing parent says, "If you're not getting an A, then there's room for improvement."
Still, the Celtics have made the most of the season thus far, overcoming injuries and continuing to play competitive NBA basketball.
Ray Allen: A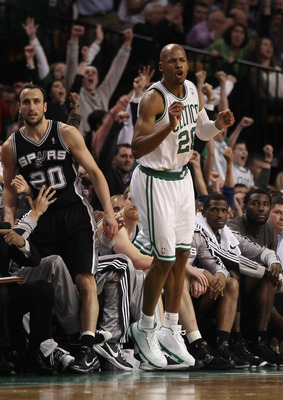 Elsa/Getty Images
Pros
Ray gets an easy A because he is exceeding last year's production, usually something you see from guys in contract years, not guys who signed new deals and who are one year older.
He is shooting over 50 percent from the floor and 45 percent from behind the arc, nearly a 10 percent increase from last year.
The kicker is that he's one of only five guys to play in every game, showing his durability despite getting up there in age.
Cons
His free throw shooting is at its lowest point in over 10 years...but still sits at 88 percent.
Avery Bradley: D+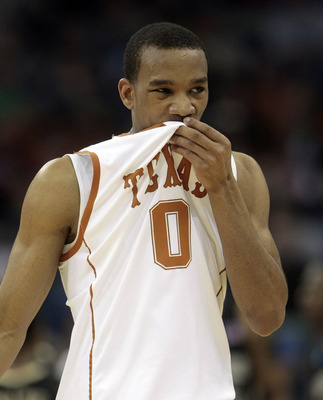 Dave Martin/Getty Images
Pros
Let me preface this by saying it's not necessarily fair to give out poor marks to guys who rarely set foot on the court, but such is life for Avery Bradley.
He looks decent at times but is still a very raw, inexperienced player. Bradley is learning from the one of the best pure point guards to come around in a long time, so Rondo being Bradley's "tutor" should help in the long run.
Cons
He's that kid who sits at the back of class and never speaks, so you don't know where you stand on him.
Marquis Daniels: B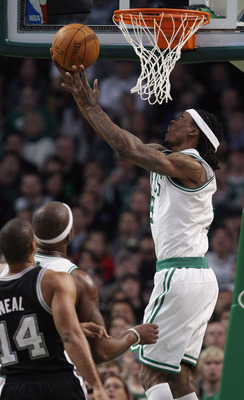 Elsa/Getty Images
Pros
Daniels does a little bit of everything for the Celtics, which has made him a valuable, albeit unspectacular, role player.
He is a more capable offensive player while assuming the defensive role vacated by Tony Allen in the offseason.
Cons
Marquis seems too comfortable with role player status and could be more productive while on the floor with the second unit.
Glen Davis: B+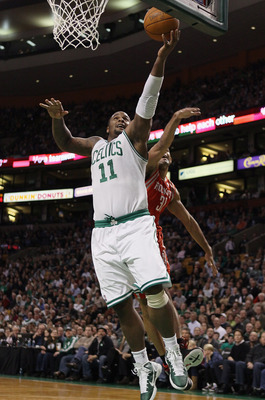 Elsa/Getty Images
Pros
Davis has nearly doubled his production, while doing the same with his minutes. It's the type of numbers you want to see with a similar minutes increase.
He's also been instrumental on the defensive end by taking charges like no one else in the league. He has finally come into his own and is showing what he is capable of.
Cons
Baby is trying too hard to show off his improved range, which has led to more missed shots of late. He still has room for maturation as well.
Semih Erden: C-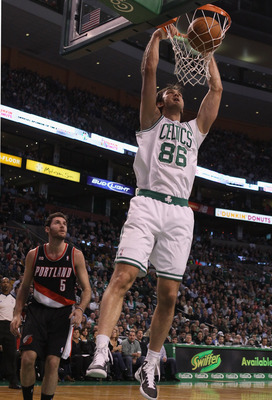 Elsa/Getty Images
Pros
Semih has shown solid basketball instincts for such a raw talent. He shoots a high-percentage shot while showcasing decent athleticism.
He's also been able to fill in at key times when injuries have prevented the Celtics' other bigs from getting onto the court.
Cons
Semih has actually taken a step back since the start of the season, being displaced in the rotation by Luke Harangody.
He also still has a long way to go in order to compete during meaningful stints and needs to greatly improve his presence around the rim.
Kevin Garnett: B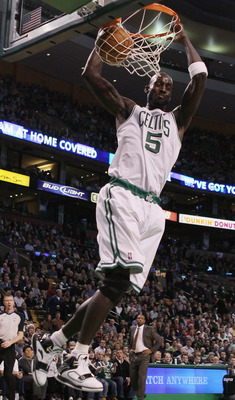 Elsa/Getty Images
Pros
KG has had a better season than last, looking healthier and more athletic until a calf injury put him on the shelf for nine games.
He's back, so hopefully he'll be able to perform to his pre-injury status, where he was pulling down nearly 10 rebounds a game.
Cons
Injury concerns will now be noted alongside his name until he hangs up his sneakers.
Whether by his own accord or others, Garnett is also becoming a TMZ gossip-type player, and there is no need for his antics to get more headlines that his play.
Luke Harangody: C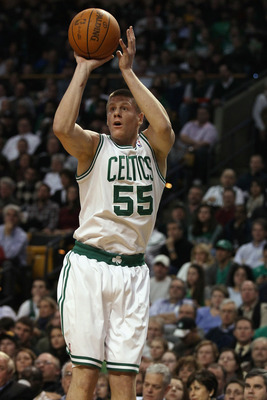 Elsa/Getty Images
Pros
Harangody has taken over the role vacated by Brian Scalabrine but has shown that he is not just a cult hero. He cracked the rotation while Kevin Garnett was out and played well in his allotted minutes.
While superstardom won't befall Gody, he's an energy guy that the fans have rallied behind, improving his grades with his hard work.
Cons
He's still a bottom of the rotation guy and can improve in almost every category, but he appears to have the work ethic needed to improve.
Jermaine O'Neal: F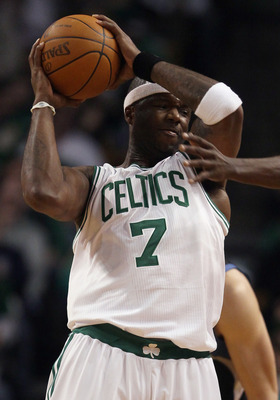 Elsa/Getty Images
Pros
None to date.
Cons
O'Neal is being told by doctors to consider season-ending surgery, an inevitable that will happen before long.
Jermaine's inability to stay on the floor has all but foreshadowed his future with the Celtics and most likely his time left in the NBA.
Shaquille O'Neal: B-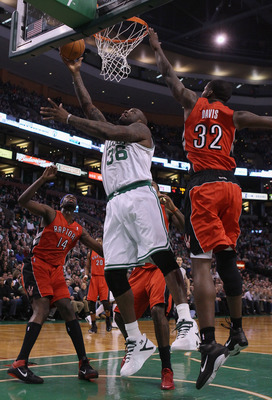 Elsa/Getty Images
Pros
Shaq has been a welcome addition to the Celtics, playing well in his role and infusing "fun" into the Celtics. You pretty much know what you're going to get out of him on most nights.
Cons
He's still Shaq, now just an older version. It's the same issues that have plagued him since he was a rookie (free throw percentage) to when he became over the hill (defense).
Paul Pierce: A+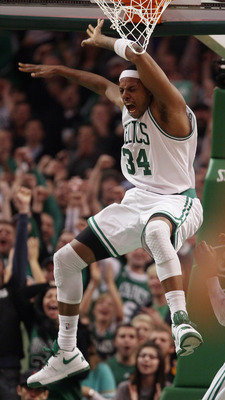 Elsa/Getty Images
Pros
Pierce has continued to play at an elite level this season, doing virtually no wrong. Numbers-wise, he's shooting his best percentages ever while lowering his turnovers.
He's still clutch with the game on the line and hasn't missed any time yet, while playing a tick above last year's minutes per game.
Cons
None to date.
Nate Robinson: B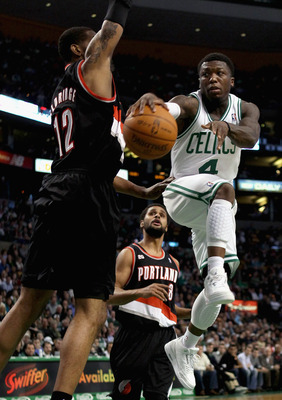 Elsa/Getty Images
Pros
Nate has adjusted well to his bench role, yet filled in admirably as a starter when Rondo was down with his injuries. His attitude is also right where you would want it to be: riff free.
Cons
Robinson is still both erratic and sporadic. He's prone to long stretches of inconsistent play and turns in some head-scratching plays now and then.
He also may injure himself celebrating at some point if he's not careful.
Rajon Rondo: A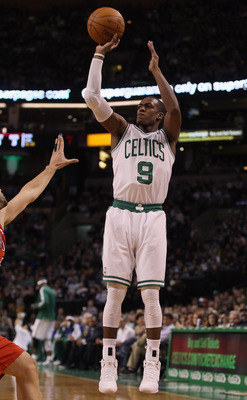 Elsa/Getty Images
Pros
Rondo has been a catalyst for the Celtics' success this season, no doubt, but for those of you thinking he's worthy of an A+, he's not there yet.
Still, he's improved every facet of his game and has brought excitement back to the NBA with regards to the passing game. Rondo is one of the few who can wow a crowd by simply handing off the ball.
Cons
Concerns about Rondo's longevity are starting to surface. He's been injured multiple times this season, and one has to start wondering why and how this may affect him down the road.
While Rondo is hitting more and more jumpers, his free throw percentage is as ugly as Acie Earl. It really puzzles me how in this day and age guys cannot hit more than (just) half of their free throws.
Von Wafer: D+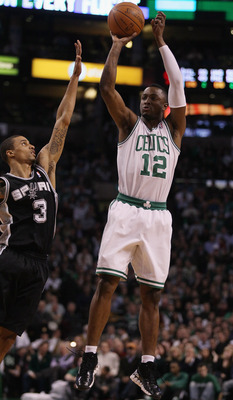 Elsa/Getty Images
Pros
He has a Mohawk. Von is playing more these days and has shown some scoring flashes, which is why the Celtics signed him, but it's not enough to warrant significant minutes.
Cons
Wafer is a fairly one-dimensional player who doesn't contribute much outside of jump shots. He can handle the rock but always seems to end up shooting a mid-range jumper, disregarding his teammates.
Delonte West: F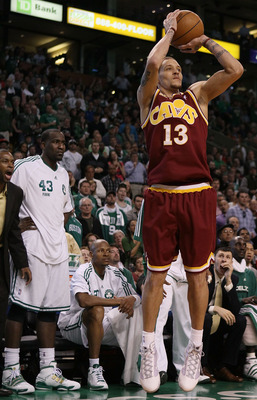 Elsa/Getty Images
Pros
None to date.
Cons
A 10-game suspension, freak injury and fight with Von Wafer have Delonte being held back a year.
Doc Rivers: A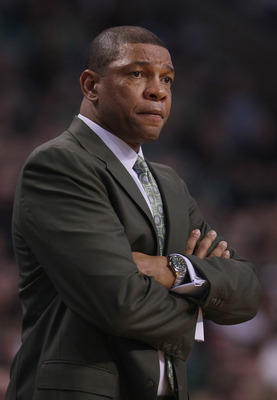 Elsa/Getty Images
Pros
Doc knows how to coach veterans. He works around injuries, and the team has still been able to perform at a high level.
Cons
None to date.
Group Project: A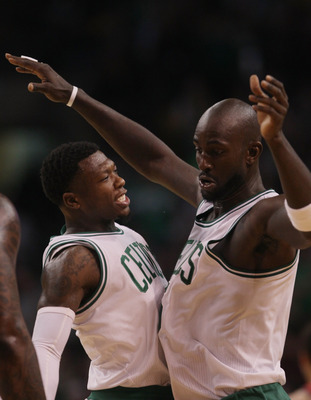 Elsa/Getty Images
Pros
You can't point your finger at the second best team in the NBA. Whatever they need to improve upon is far outweighed by their current stature as an elite NBA team with players who have overcome injuries and still continue to gel with one another.
Cons
"Gino Time" doesn't occur as much as I would like. For those who may need a translation, this means the Celtics aren't blowing out their opponents at an eye-popping rate, possibly leading to eventual losses as the rigors of a full NBA season trudge along.
Follow me on Twitter if you'd like article updates or MMA predictions.
Keep Reading

Boston Celtics: Like this team?