NBA Power Rankings: Ranking Chris Paul and The Top 10 Point Guards In The NBA
Chris Graythen/Getty Images
One month away from the 2011 NBA All-Star Game in Los Angeles, we are beginning to see the fans' opinion of who are the elite players in the league.
At the point guard position, it is Derrick Rose for the Eastern Conference and Chris Paul for the Western Conference as the starters for now.
But are these two players really the best point guards in the NBA today?
Where do young guns Rajon Rondo and Russell Westbrook fit into the equation?
Do the ancient Steve Nash and Jason Kidd still make the list?
Here are the top ten point guards in the NBA today...
10. John Wall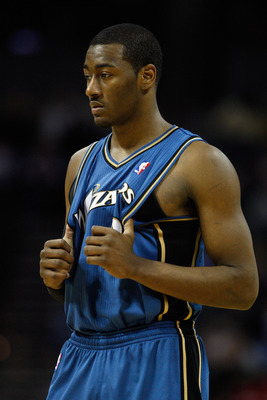 Streeter Lecka/Getty Images
John Wall could be the fastest player in the NBA today in just his rookie season. Sadly, he and Nick Young seem to be the only worthwhile pieces on the Washington Wizards roster.
Wall has had some problems with durability, and he is not the most efficient shooter with a field goal percentage under 40 percent. However, those are problems that may disappear as Wall gets more experience in the NBA.
Wall is already a terrific NBA defender and leader for the Wizards. Plus, he has a really cool song written about him.
9. Tony Parker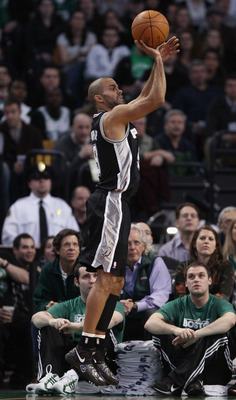 Elsa/Getty Images
Tony Parker has responded to a down year in the 2009-2010 season with a rebound year. Parker's statistics are up in points per game, assists per game, steals per game, rebound per game and field goal percentage.
Parker has been a big part of the Spurs somewhat surprising resurgence this season. Many had counted the Spurs has a declining team with Tim Duncan and Tony Parker considered on the downside of their careers.
However, Parker has proven that he still has much left in the tank with his performance this season.
8. Stephen Curry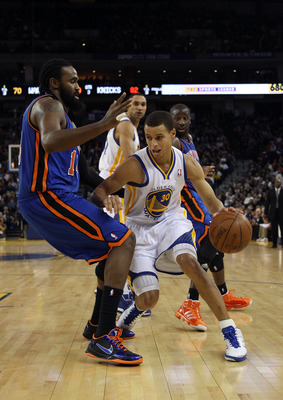 Ezra Shaw/Getty Images
There is only one negative thing that could be said about Stephen Curry's season this year. He has not markedly improved from his rookie season.
That being said, Curry's rookie season was stellar, and he is one of the ten best point guards in the NBA today. Curry is one of the best pure shooters in the league and has developed into a true point guard in a manner that few NBA scouts expected.
Curry is also a excellent defender and averages just a hair under two steals per game. With possible improvement on the horizon, Curry could find himself amongst the top five point guards in the NBA at some point in his career.
7. Raymond Felton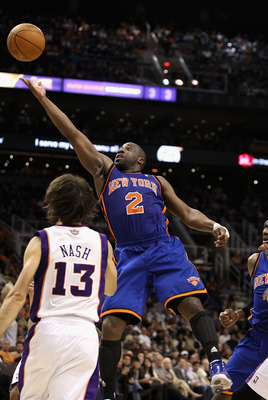 Christian Petersen/Getty Images
The New York Knicks finally did something right in free agency between the signings of Amar'e Stoudemire and Raymond Felton. Some had maligned Felton has a turnover prone, scoring first point guard for his days in Charlotte; however, he has truly blossomed for the Knicks this year.
Felton has responded well to Mike D'Antoni's system and is averaging career highs for the Knicks in points, assists and steals per game.
He is not the most efficient scorer, but he does find a way to put up points and dish out assists at an incredible pace.
6. Steve Nash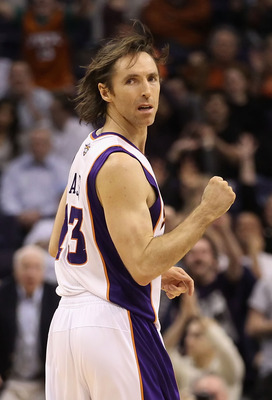 Christian Petersen/Getty Images
Steve Nash is getting up there in years, but he remains one of the best point guards in the game today. Nash hasn't showed much decline despite turning 37 in one month and losing pick and roll partner Amar'e Stoudemire.
Nash is still second in the NBA with 10.8 assists per game and is also averaging his highest points per game in the last four seasons. Moreover, Nash is one of the most efficient point guards with a 52.1 percent field goal percentage.
At some point, Nash will decline, but at this rate that might not be until he turns 40.
5. Russell Westbrook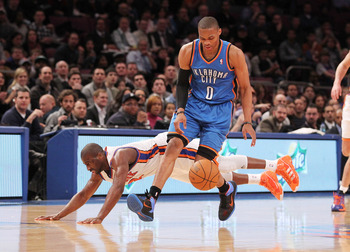 Al Bello/Getty Images
Westbrook could be a candidate for most improved player in the NBA this season, his third as a professional. The Oklahoma City Thunder point guard is second amongst point guard in scoring averaging 22.2 points per game. Westbrook also leads all point guards in rebounding.
Westbrook could find himself even further up on this list if he continues to improve at his current rate. He is one of the most balanced point guards in the league. He scores, passes, rebounds and plays defense at an elite level. If he could improve his field goal percentage, he would have a better chance of landing a starting gig for the Western Conference All-Star team.
4. Rajon Rondo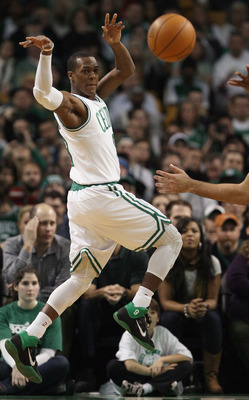 Elsa/Getty Images
Rajon Rondo may not score as much as the other players on this list, but he is the best distributor of the basketball in the NBA today. Rondo averages a league best 13.4 assists per game.
In two triple doubles this season, Rondo had 23 and 24 assists, respectively. Boston is clearly not the same team without him as evidenced by their 7-4 mark without their starting point guard.
Rondo may turn the ball over a bit too much; however, he is one of the best defenders in the league and is second in the NBA in steals.
3. Deron Williams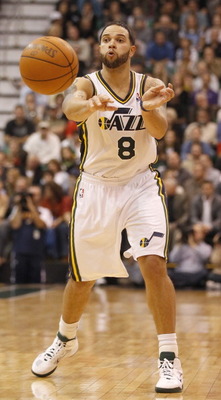 George Frey/Getty Images
Some might have expected the Utah Jazz's Deron Williams's statistics to drop with the departure of Carlos Boozer for the Chicago Bulls, but that has not been the case this season.
While Williams is averaging a little over one assist less than last year's pace, his points per game average is up by more than three points. With Boozer gone, there is little question who is the centerpiece of this Utah Jazz team.
2. Chris Paul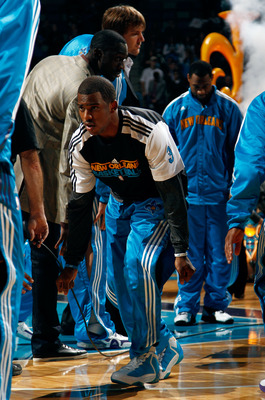 Chris Graythen/Getty Images
Chris Paul's scoring averages have dipped tremendously over the last three seasons, which prevent him from being the top point guard in the NBA this season. Just two years ago, Paul was averaging just under 23 points per game. Now, Paul barely scrapes over 16 points per game this season.
On the other hand, Paul remains one of the best distributors in the NBA averaging 9.8 assists per game. More impressive is his assist to turnover ratio which is approximately four to one.
Paul could make this list solely on the merit of his defense. He is one of the quickest, agile players in the league, and consequently he leads the NBA with 2.8 steals per game.
1. Derrick Rose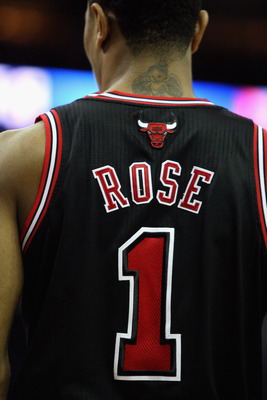 Streeter Lecka/Getty Images
Derrick Rose is the best point guard in the NBA and a sure-fire MVP candidate this year. While Rose's field goal percentage has dropped somewhat this season, he has truly flourished as an elite player this year.
Rose is averaging 24.3 points per game, eight assists and nearly five rebounds. This year, Rose has added a three point shot making him nearly unstoppable because of his ability to drive to the basket.
Rose does not have the best court vision in the NBA or the ability to distribute the ball like a Steve Nash or Rajon Rondo, but he is the most balanced and talented point guard in the league.
Keep Reading