NBA Trade Rumors: Could Carmelo Anthony Spark the Knicks To an NBA Title?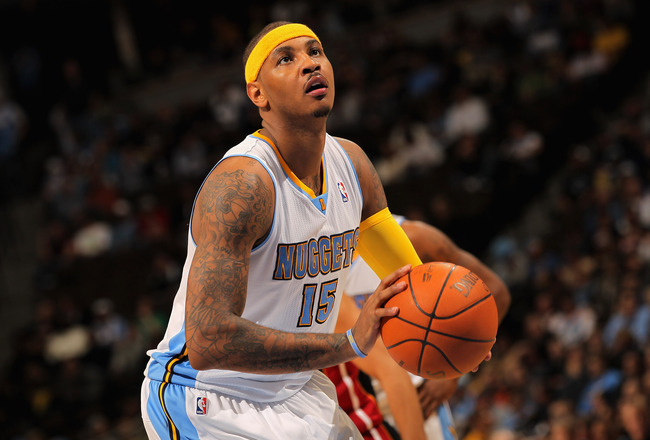 Doug Pensinger/Getty Images
It is no secret that Carmelo Anthony and the New York Knicks want to find a way to make a trade happen that would bring the All-Star to New York.
A deal was nearly completed that would have sent Anthony to the Nets earlier in the week, but New Jersey isn't the same situation as New York.
If Anthony was to get shipped to New York, how would that change the Knicks' chances at an NBA Championship?
Can they win it all with Melo? Read on to find out.
5. No – Even If They Add Anthony, It Probably Is Still Not Enough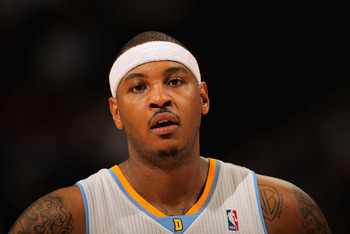 Doug Pensinger/Getty Images
There is no question that Carmelo Anthony is a fantastic player that would help the Knicks make a leap in the playoffs, however I am not convinced that he would be enough for New York to get over the hump.
All you have to look at is the rosters in Boston, Miami and Orlando. Even with Melo, I think the Knicks would be the fourth best team in the Eastern Conference.
5. Yes – Quality Complimentary Pieces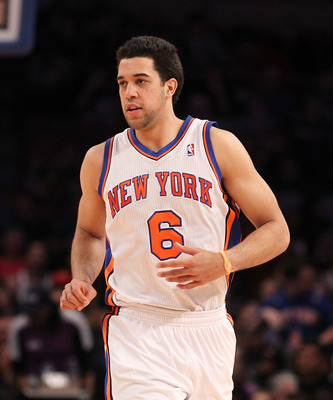 Al Bello/Getty Images
The Knicks have gotten a lot out of some young and unlikely pieces.
Landry Fields, Toney Douglas and Wilson Chandler have all made huge contributions this year.
Fields is a rookie out of Stanford. He was a second round pick and not many expected much out of him. However, he is averaging just over 10 points a game as the starting shooting guard.
Douglas was traded by the Lakers to the Knicks after Los Angeles drafted him a year ago. He is averaging 8.8 points per game and has played great for the Knicks off the bench.
Chandler has become one of the best young small forwards in the NBA. He is averaging a career high 17.7 points and 6.3 rebounds per game. He would likely be part of a trade package because he has an expiring contract, but if he stays put he will continue to progress for the Knicks.
4. No – Not an Up-Tempo Guy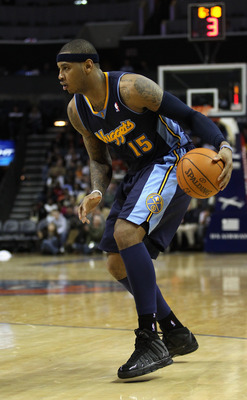 Streeter Lecka/Getty Images
The Knicks are leading the NBA in points per game and Mike D'Antoni's run and gun system is the reason for it.
When he was running the Suns, their goal was to get a shot off within 12 seconds of possession. While the Knicks aren't shooting quite that fast, they are scoring like crazy.
Carmelo is a slow down, halfcourt player. His addition would be a juxtaposition from the Knicks system.
4. Yes – Move Would Reenergize Carmelo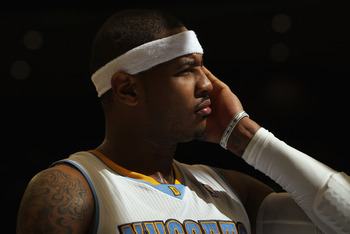 Doug Pensinger/Getty Images
Carmelo Anthony has been going through the motions for most of the season. His Nuggets have dropped off a lot this year and his impending trade has put handcuffs on the team.
Anthony wants to be a Knick and if he got that wish it would turn his season around. He would work hard to show that he deserved the move.
3. No – The Knicks Need a Shooting Guard Not a Forward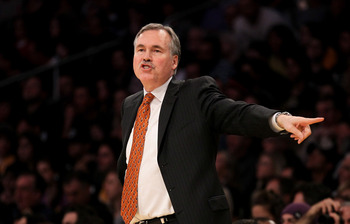 Stephen Dunn/Getty Images
The one thing holding the Knicks back is the lack of a shooting guard.
Carmelo does not really fill their need, but he is still a marquee player.
Someone like O.J. Mayo would be a better acquisition for them.
3. Yes – Helps Rebounding Problem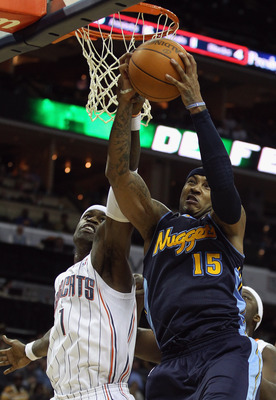 Streeter Lecka/Getty Images
One thing plaguing the Knicks is their rebounding. Amar'e Stoudemire plays away from the basket so he has not been the rebounding weapon they need.
The Knicks also don't have a true center to help Amar'e rebound.
Carmelo Anthony is one of the better rebounders for his position and he would give the Knicks a legitimate rebounding forward to help get boards.
2. No – Too Many On Ball Players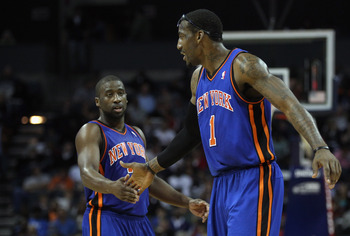 Streeter Lecka/Getty Images
Raymond Felton and Amare Stoudemire are both guys that are at their best with the ball in their hands. That's fine for the team they have, however Carmelo Anthony is also a guy that dominates the ball.
There would be some adjustment time needed for the Knicks. Just like the Heat did earlier in the season, I would expect the Knicks to struggle during that adjustment period.
2. Yes – Playoff Experience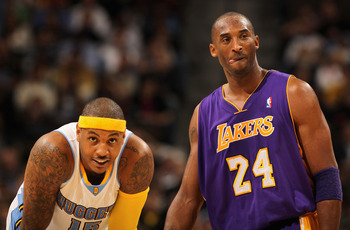 Doug Pensinger/Getty Images
During his seven years in the NBA, Carmelo Anthony and the Nuggets have been in the playoffs every year.
He has played a total of 45 playoff games during his career. During that career he has averaged 24.5 points, 7.1 rebounds and three assists per game.
He has more playoff experience than anyone on the Knicks roster not named Amar'e and that experience is invaluable.
1. No – Knicks Would Gut the Roster to Get Him
Chris McGrath/Getty Images
In order to get Carmelo, the Knicks would likely have to trade some very valuable pieces off their roster.
Many of those pieces have gotten them to the position they are in now and would likely result in a drop in the standings even with the addition of Anthony,
1. Yes – Matches Up Against LeBron and Kobe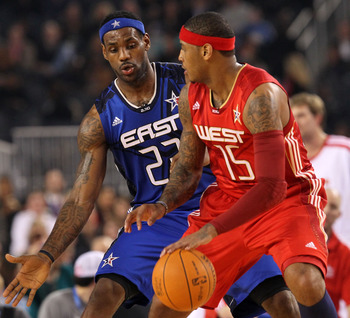 Ronald Martinez/Getty Images
Up until this point the Knicks have not had a guy on their roster that can match up against LeBron James or Kobe Bryant. Carmelo Anthony is a guy that can do that.
He is physical enough to match up with James and skilled enough to take on Bryant.
If the Knicks are going to win an NBA Championship in 2011, they will likely have to face at least one of those two guys and possibly both of them.
Carmelo gives the Knicks their best chance at winning against those players.
Conclusion: Could Carmelo Anthony Spark the Knicks to an NBA Title?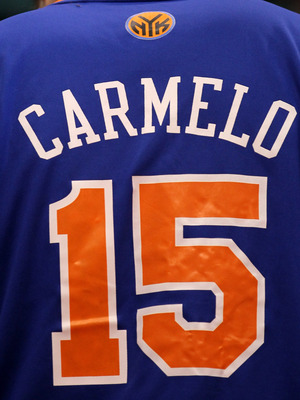 Stephen Dunn/Getty Images
The answer to this one lies more in the other players involved in the trade. If the Knicks get a few more key pieces in the deal without giving up too much, then I think they could find a way to win a championship in 2011.
Here is a trade that could benefit all the teams involved that would send Carmelo to the Knicks.
Knicks get:
Carmelo Anthony
Arron Afflalo
Nuggets get:
Eddy Curry expiring contract
Danilo Gallinari
O.J. Mayo
Hasheem Thabeet
Knicks First Round Pick 2011 and 2012
Grizzlies get:
Anthony Randolph
Wilson Chandler expiring contract
Roger Mason expiring contract
Al Harrington
Nuggets First Round Pick 2011
This trade would give the Knicks a shooting guard they really need and give them Carmelo. The Nuggets would not only get pieces to help them rebuild in Mayo and Gallinari, but they also get picks. Memphis gets a few young guys that help them this year and expiring contracts to help them in the offseason.
Keep Reading

New York Knicks: Like this team?