Exclusive Interview- Vlade Radmanovic: Has He Gone From Space Cadet to Leader?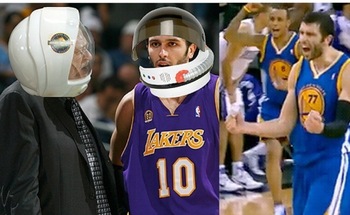 As any long-time Los Angeles Laker fan will tell you, current Golden State Warrior forward Vladimir Radmanovic had many ups and downs during his nearly four years with the Los Angeles Lakers.
Most specifically, Vlade was in and out of head coach Phil Jackson's doghouse constantly.
But boy the times have changed.
The player once known as a "space cadet," as labeled by Jackson, and famous (or is it notorious?) for injuring himself while illegally snowboarding during the NBA All-Star break, is a different, grown-up player.
Seriously?
I know you don't want to believe it. But it's true.
Vlade is now not only a solid basketball player for the Golden State Warriors, but one of that young team's veteran leaders.
I had the chance to sit down, one on one, with Vlade after practice this past Monday at the Warriors facility in downtown Oakland and I had to throw out all of my preconceived notions about the ex-Laker.
First off, Vlade is thicker in person but didn't seem as tall or as lanky as on TV. He is also very cordial and open. He came over, we introduced each other, and the interview began.
He was relaxed and answered all my questions, even offering some new insights as well as a few dodgeballs.
We talked about going from space cadet to veteran leader and I asked him if he had any thoughts about the recent Ron Artest versus Jackson feud.
And we discussed the coaching styles of Jackson compared to Vlade's current coach, Keith Smart. Lastly, we talked about how the Warriors were preparing for the upcoming Laker game.
Here's a slide by slide recap of my questions and Vlade's candid answers.
From Space Cadet to Veteran Leader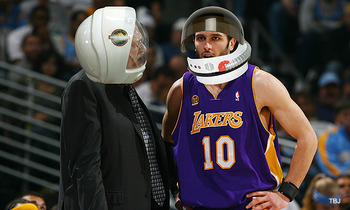 A few weeks ago, during a losing slump, the Warriors had a "players only" meeting and Vlade spoke and called out some of his teammates. He said the team was lazy and that they needed to practice harder.
I know that sounds surprising, given his Laker resume, but hear me out.
Regarding the leadership role he assumed, I asked Vlade if him speaking up and getting on his teammates about re-dedicating themselves to practice had anything to do with his time in LA.
Specifically, I wanted to know if Kobe Bryant's work ethic had rubbed off on Vlade. Or had Phil Jackson taught him anything about the benefits of practice.
Or, I asked, maybe it was just age, that he was now a seasoned vet.
Vlade was honest and said that: "It is all of it. In order for you to be successful, you obviously have to pay attention to practice."
He continued, saying: "We all like to play games and spend as many minutes in a game but this is the hard part, the sweat."
The biggest point he made was that: "Nobody sees this hard part of the mental and physical aspect of the game. But, at the same time, this is where you get better."
He wanted to emphasize the importance of practice and preparation to his teammates. He really felt that: "Someone had to step up and speak up. And I took that responsibility."
At this stage of his career, Vlade's a real pro He knows what he is good at ("shooting") and he treats his sport like a professional. Like him or not, he comes to work every day.
The portrayal in LA may have been right, it may have been wrong or, maybe, Vlade's simply grown up.
He talked about how important for your body it is to practice, to maintain that high level of conditioning and how it actually keeps you healthy.
He even added that: "A lot of bad things can happen to you on days off [i.e.. Injuring himself during a prohibited snowboard trip]. It happened to me and so, I'm just speaking from experience, telling the guys."
Now that was not only funny that he alluded to his snowboarding incident with the Lakers, but showed me how much he has matured, now using it as a warning to his teammates.
Comparing Coaching Styles: Phil Jackson Vs. Keith Smart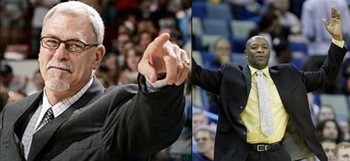 I asked Vlade to compare the coaching styles of Los Angeles Lakers head coach Phil Jackson to the Golden State Warriors new coach, Keith Smart.
He said: "Every coach has his own style. Phil is the guy who runs triangle [offense]. Tex Winter is the man who gave Phil the idea of this offense."
Vlade then compared and talked about his current coach, Smart, saying: "Keith is totally different style coach. He likes the up tempo game and a lot of running."
Two totally different guys and as Vlade said to end this question, it really is hard to compare them.
You're talking about the NBA's most successful coach who has run the same offense for something like 20-plus years, both with these Lakers and Michael Jordan's Chicago Bulls.
Coach Smart is in his first full year as a head coach in the NBA and his style fits his undersized team. They run and gun but this team, unlike Don Nelson's before it, play defense as well.
Prepping For the Triangle
The Warriors play the Lakers tonight (Wednesday) at home and, so, during the practice I attended on Monday, it looked like they were working on some defensive schemes specifically against the Lakers triangle offense.
I asked Vlade about this, if the team had practiced against any triangle sets. He said: "Yes, but every team in this league knows what the Lakers are already running. There's no secret to that. They have success no matter what a team does against them."
Vlade added that: "The Lakers really pay attention to details when it comes to their offense."
That makes so much sense but was nice to hear from a player who ran that offense for so many years. Phil Jackson preaches execution and from the way Vlade described it, that begins on the practice floor.
For those who remember Vlade only as a "space cadet" per Jackson, he actually opened up about that time with the Lakers.
He said: "When I was there in the beginning, a lot of things (about the triangle) don't make a lot of sense or why you are doing this. But everything happens for a reason."
The main point Vlade made about the Lakers and their mystical offense is that Phil (and Tex before him), have been using it for so many years. It's proven and obviously works.
I like to say, there is a method to the madness. I suggested this to Vlade and he could only laugh.
Vlade Adding to His Arsenal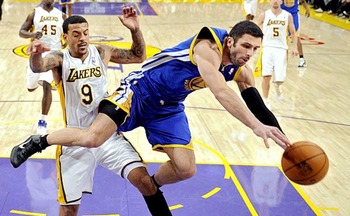 As of late, I have noticed that Vlade seems more aggressive in his play with the Warriors.
As defenders run him off the three-point line, Vlade will now take the ball hard to the hoop, many times ending in a dunk.
This was not the case in LA. Vlade would simply pass.
I wanted to know if this was a conscious change or improvement in his game. He said that he: "Began this season shooting poorly. But over the past month or so, he's got his shot back. And now, that opens up his game."
So my observations were correct. We're not talking dunk contest or anything, but Vlade taking it to the rim will only help his outside shooting.
Ron-Ron Versus Phil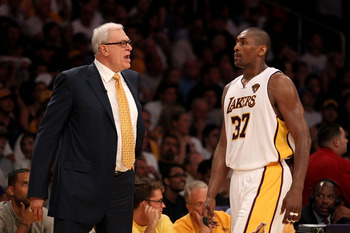 Christian Petersen/Getty Images
Since Vlade had spent so much time in Lakers head coach Phil Jackson's doghouse and was at the receiving end of both verbal assaults and blitzes through the media, I had to ask the player what he thought about the recent Ron Artest and Jackson feud.
Vlade claimed to not know about what happened. So, I told him.
Here's his response.
"I know Phil is the kind of guy who likes to motivate players through the media. Obviously, some players like it and some don't."
Vlade did give one great line when he said at the end of this series of questioning: "I don't think Phil is going to change."
Vlade smiled and then chuckled. I couldn't help but laugh at the irony.
Last Second Shot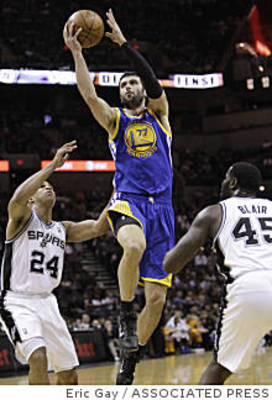 It was so refreshing to talk to this guy who was beaten up so badly in LA. Maybe he deserved it then, but he is a much different player now.
Vlade is a unique player, born out of the old European style of basketball. We know the stereotypes: great shooter, not aggressive, can't create his own shots.
He said that: "The [European] game is changing there, with the shot clock going from thirty seconds down now to twenty four. It is more like the American game now and players are more like the Americans, too."
That was an interesting observation and I would think over the next few years, we'll really start to see more and more Europeans coming into the NBA with fully rounded games and bodies, unlike how Vlade arrived over 10 years ago.
Vlade's worked hard to improve his game and remove those European flaws. And it's paid off. He's made a career in the NBA when most players can't.
Now he seems to have found his place with these Warriors. He's a solid contributor, mostly from the bench, but playing heavy minutes and he has become dependable as a defender.
Vlade's a nice fit for Coach Smart's up-tempo offense and he opens up the court for the speedy Warrior guard combo of Monta Ellis and Stephen Curry.
I expect Vlade to continue to play well for these Warriors, except for Wednesday night against the Lakers.
Are you a Kobe lover or hater? Want to gain an insider's look into Kobe Bryant's life and learn the details of his legendary intensity & work ethic? Check out the new book, The Kobe Code: Eight Principles For Success- An Insider's Look into Kobe Bryant's Warrior Life & the Code He Lives By, at www.PatMixon.com. Count on one thing. Your perception of this superstar will be changed.
Keep Reading

Golden State Warriors: Like this team?