Rasheed Wallace To Come Out Of Retirement: Should Celtics Even Take Him Back?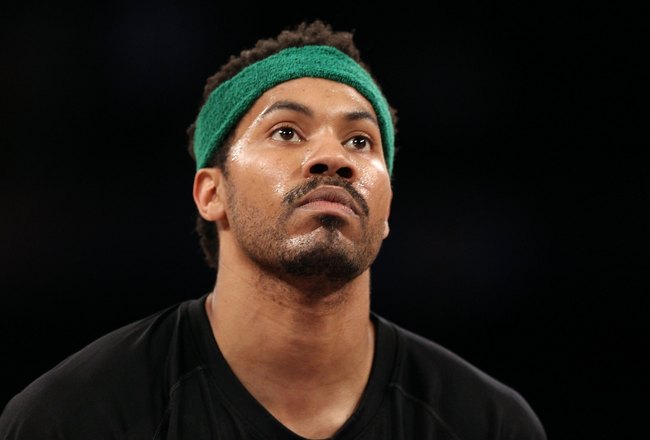 Christian Petersen/Getty Images
Rasheed Wallace back in a Boston Celtics uniform?
It could happen according to Stephen A. Smith, who said that Wallace plans to come out of retirement for one last shot at beating the Los Angeles Lakers in the NBA Finals.
Wallace did this dance in the days after Boston's Game 7 loss, contemplating whether he would join Paul Pierce and Ray Allen in returning to the Celtics for one final season and a chance at a championship. But instead he decided to retire.
The Celtics wasted little time parting ways with Wallace, quickly signing Shaquille and Jermaine O'Neal to provide size up front. But Wallace was one of Boston's best players in the NBA Finals and he's a veteran "big" who creates match-up problems with his outside shooting.
Several teams would have interest in signing Wallace for the playoff run, but do the Celtics even have room for him?
Here's a detailed look at the other bigs on the Celtics roster and if Wallace would be a good fit.
Kendrick Perkins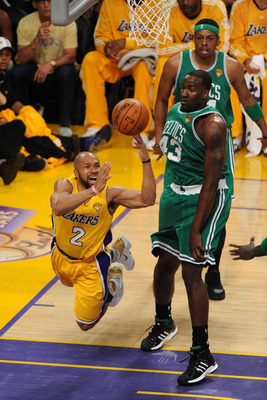 Lisa Blumenfeld/Getty Images
Perkins was the Celtic's starting center until he tore his ACL in the Game 6 loss to the Lakers. Rasheed Wallace stepped in for Perkins and played well in Game 7, but it wasn't enough.
Perkins is set to return from offseason knee surgery in two or three weeks, but it may take at least a month for him to get back into the rotation.
The 6'10", 280-pound pro is one of the best interior defenders in the NBA and he had the best season of his career in 2009-10.
He scored a career-high 10.1 ppg while shooting over 60 percent. He also pulled down 7.6 rpg and averaged nearly two blocks a game.
Perkins is a disaster offensively, but the Celtics don't need him to score points. There isn't anyone in the NBA with a better grasp of how the Boston defense works, and Perkins has anchored one of the league's best defenses the past three seasons.
The big question: Will he be the same player he was before the injury?
Kevin Garnett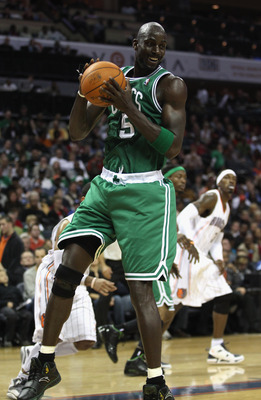 Streeter Lecka/Getty Images
Garnett has played with a new fire this season.
His scoring is up to 15.0 ppg, his rebounding is a team-high 9.5 rpg and he's shooting a career-high 53.9 percent from the field. He's got his ups back and is still the defensive leader of the team. Or was.
Garnett hurt his leg a couple of weeks ago against the Detroit Pistons and has been out of action ever since. He's expected back soon, but the injury is still a crushing blow to one of the best power forwards in basketball history.
The 6'11", 253-pound veteran has struggled with lower body injuries the past few years and is not capable of playing much more than 30 minutes a game.
If the leg injury lingers, then the Celtics will need someone else to fill the minutes.
Shaquille O'Neal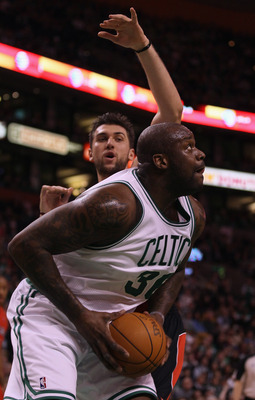 Elsa/Getty Images
The Celtics signed "The Big Aristotle" to start in place of Perkins while he recovered from his injury. Shaq has dealt with a few injuries of his own this season but he's started all 28 games he's appeared in.
The 7'1", 325-pound behemoth is the oldest player in the NBA at 38 years, but he can still do a lot of things well.
He's unstoppable in the paint once he gets the ball, and he's an above average rebounder. He's averaging a career-low 9.9 ppg and 5.2 rpg, but that's mostly because his minutes are down to 21.3 mpg. The important stat to look at is his 67.1 field goal percentage, which would be the highest of Shaq's 18-year career.
Shaq is a liability on the defensive end because he's not quick enough to stay with his man on switches. Still, he's miles better than Perkins on offense and is one of the few players in the league who can give Dwight Howard some trouble.
Shaq will split time with Perkins at center once he returns, though it's unclear at this point who will be the starter.
Jermaine O'Neal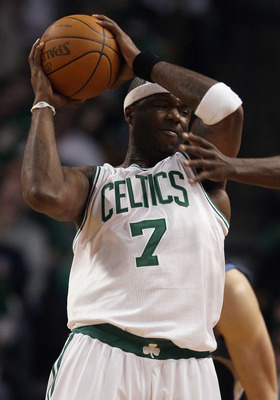 Elsa/Getty Images
Jermaine O'Neal was signed in the offseason to give the Celtics some size, specifically to match up with the Miami Heat and the Orlando Magic.
But O'Neal's been a big disappointment in Boston so far.
He missed over a month with a knee injury, and even in his return he's struggled to be a productive player. He's averaging just 5.2 ppg and 3.8 rpg on 44.7 percent shooting, to go along with just over a block a game.
O'Neal is similar to Wallace because he's big (6'11", 255 pounds) and can knock down the occasional jump shot, but he doesn't have three-point range.
He's always been regarded as a standout defensive player (career 1.9 bpg), but he seems lost trying to execute Boston's defense and regularly misses assignments.
He used to be one of the best big men in the game, but after 14 years of NBA experience he's starting to look like he could use some more time on the bench. He's already playing less than 20 minutes a game and that's only going to go down when Perkins comes back.
Glen Davis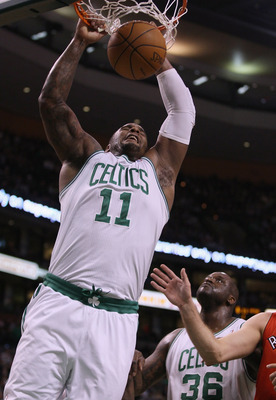 Elsa/Getty Images
Davis has always done a good job filling in for Garnett at the "four," both in the regular season and in the playoffs. He's putting up career highs this season in scoring (12.6 ppg), rebounding (5.4 rpg) and shooting (46.2 percent), and definitely belongs in the Celtics rotation.
But Davis doesn't have the same skill set as Garnett and isn't capable of handling the scoring load by himself if Pierce and Allen are cold.
He's seemed hesitant at times about taking his shot, and isn't athletic enough to be an effective post player despite his size (6'9", 289 pounds).
Davis is best suited to be exactly who he is—Garnett's back up.
The Celtics won't get very far in the playoffs with Davis as their starter, but he's perfect as the first or second forward off the bench.
Semih Erden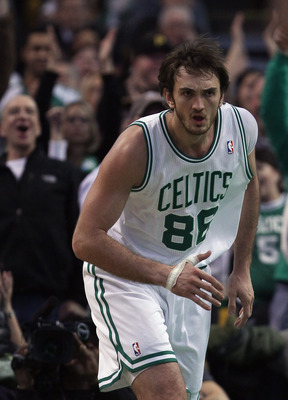 Elsa/Getty Images
The 6'11", 240-pound rookie was forced into action this season by injuries to the two O'Neal's, and was impressive in limited playing time. The rookie made four starts and played reasonably well.
Despite only averaging 3.8 ppg and 2.3 rpg, Erden showed flashes of being a capable NBA center.
He's still raw offensively, but he's very quick for his size and generally makes good decisions on the defensive end of the floor.
Erden is unlikely to see any significant minutes once Perkins gets back, but he could be a valuable member of the Celtics rotation next season or even possibly Perkins' long-term replacement.
Luke Harangody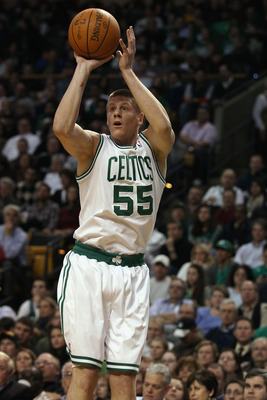 Elsa/Getty Images
The 6'7", 251-pound rookie out of Notre Dame also was not expected to see much playing time in a Celtics uniform this season.
But with Garnett out, Harangody has stepped up as the back-up power forward and played surprisingly well.
He scored 17 points and grabbed 11 boards in 27 minutes of action last week, and has been a consistent contributor since.
Harangody spent four years at Notre Dame and was one of the best players in the nation because he does so many things well. He can shoot from anywhere on the floor, he can rebound the ball and he knows how to play defense.
Harangody will return to his seat on the bench once Garnett returns, but may see some playing time in blow-outs.
Rasheed Wallace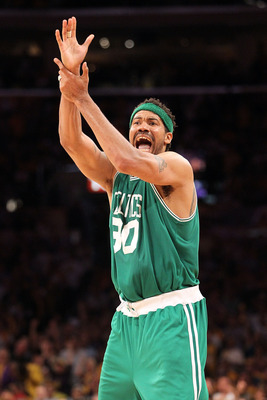 Ronald Martinez/Getty Images
The 6'11", 230-pound Wallace was once one of the best players in the NBA.
Then he joined the Boston Celtics and seemed to stop caring. Wallace was a disaster in his first season in Boston.
He rarely stepped foot within the three-point arc and was a lazy defender and rebounder. He shot a career-worst 40.9 percent as he bricked shot after shot, especially from long-range (28.3 percent). He brought almost nothing to the team when he wasn't knocking down his threes, which was often.
But in the playoffs Wallace was reborn.
He started hustling and playing defense. He got to the free throw line. He started knocking down shots, making 34.5 percent of his threes.
Wallace was finally playing like the player that the Celtics thought he would be.
So Do They Need Him?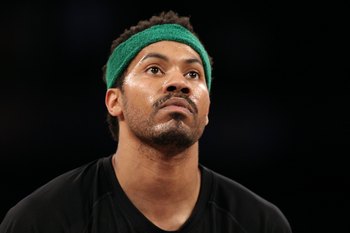 Christian Petersen/Getty Images
The Celtics have four centers and three power forwards on their roster. By any team's standards, that's a lot of size.
They need it too because their main competitors in the Eastern Conference are the Miami Heat (a team who's only discernible weakness is their lack of size) and the Orlando Magic (who have Dwight Howard). There's also the Los Angeles Lakers to consider, who have probably the best 4-5 duo in the NBA with Pau Gasol and Andrew Bynum (and Lamar Odom coming off the bench).
If Wallace were to return he would be, at best, third on the depth chart at either center or power forward, wherever Doc Rivers prefers to use him.
There hardly seems enough minutes to go around for the players that are in Boston right now, let alone enough minutes to accommodate a 36-year-old veteran like Wallace.
But the caveat here is that the big men the Celtics are relying on to carry them to an NBA championship are, well, not reliable.
Both O'Neals are huge injury risks. Perkins is trying to return form an injury that sometimes takes two seasons to fully recover from and he has a history of other injuries, most notably with his shoulder. Garnett hasn't been healthy for an entire season since 2008.
Glen Davis is a role player at best and the two rookies aren't ready for playoff action just yet.
If the Celtics go into the playoffs with all seven big men healthy then it makes little sense to bring in Wallace to disrupt the rotation and team chemistry. But the chances of that happening are roughly zero.
If Rasheed Wallace truly wants to return to the Celtics for one final run, then Doc Rivers will find a place for him. There aren't more than a handful of players in the league who can actually defend Wallace on offense, and if he's committed to playing defense then he can be a serious force on that end as well.
In baseball you can never have enough pitching. In basketball you can never have enough big men.
Wallace is coming back and the Celtics couldn't be happier.
Keep Reading

Boston Celtics: Like this team?