Baller Beats: The Best NBA Player/Team Music Tributes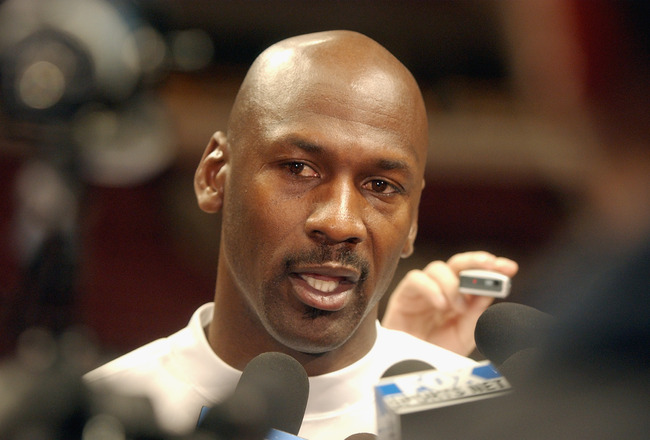 Jonathan Daniel/Getty Images
Music and hip-hop are kind of like Peyton Manning and funny commercials. No matter how hard you try to separate the two, it's simply impossible.
From Timbaland & Nelly Furtado's "Promiscuous" to Jay Z's "Empire State of Mind," player mentions are rather common nowadays.
In many ways, the correlation between music and sports is almost natural. For one, both industries are based on performance, celebrity, and superstardom.
Their achievements require both tremendous talent, sweat, hard work, and, although optional, quite a bit of swag.
With that, let's look at some of the best music/player tributes in basketball. An immortalization of sport, there's no questioning that all of these songs celebrate the game in style.
NOTE: All the songs on this list were produced organically (i.e, not for a video game)
Kobe Bryant: Lil Wayne
"He's The Greatest on the Court, I'm the Greatest on the Verse"
Such is the mantra of Weezy's tribute to Kobe. Arguably the game's best player since Jordan, Kobe, with his five rings, is considered the modern champion.
The song goes on to list Kobe's many superstar qualities. Between his "assassin's mentality," ruthless defense, and unrivaled motivation, the Black Mamba, as confirmed by Lil Wayne, is undoubtedly one of the greatest players of all time.
Similarly, Lil Wayne, with his mega-hits, innovative rhymes and undeniable showmanship, is considered one of the best rappers to have ever lived.
Shaq may not have gotten the memo, but Kobe has certainly proven that he could "do it without" the big Aristotle.
Do The John Wall: Troop 41
It's gotta be pretty cool to have a worldwide dance crazy AND a song dedicated to you. Two years out of high school, no less.
Troop 41, a rap group from Wall's hometown, produced this rather terrific song.
Interestingly enough, part of the music video was filmed at Word of God Christian Academy, Wall's High School.
With an exceedingly bright future on the horizon, there may be a few more tributes in the works for the electrifying rookie point guard.
LeBron James: Debonair
After Lil Wayne came out with his Kobe tribute, Debonair's LBJ rap was considered by some as a response.
James, the current two-time defending MVP, has responded emphatically.
The battle between James and Kobe for basketball supremacy should only heat up this season (no pun intended).
Of course, in the eyes of some, recent circumstances have destroyed James' credibility as the greatest player in the game today.
Regardless of your opinion of the man, however, there is no questioning LBJ's talent.
A showman on and off the court, James does in fact elicit quite a debonair image.
(I Wanna Be) Like Mike: Teknoe
The theme song to what is probably the best commercial of all time, there is no doubting both the greatness of the player or the song.
"Like Mike" was featured in a 1992 Gatorade Commercial, way before G2, Fierce Grape and even plastic bottles.
The song portrays Jordan as a premier role model, as epitomized by lines such as "sometimes I dream that he is me."
A six-time NBA champion, the most clutch player in NBA history, and the spokesperson for about 54,000 different companies, Jordan's "become legendary" slogan is represented through the man's entire body of work.
Well, maybe not his front office career. But certainly everything else.
Dwyane Wade: Solo Crawford
The song was produced prior to this decision-filled summer. Regardless, Dwyane Wade, a surefire future Hall of Famer, is among one of the best in the game today.
Wade, whose 2006 NBA Finals was ranked by ESPN's John Hollinger as the best individual championship series performance since the ABA/NBA merger, has captivated both the league, its fans, and young AAU players alike.
Even with James on his team, Wade has shown the uncanny ability to completely dominate games.
Leading one of the hottest squads in the NBA, Wade has had a number of 30-plus point performances, taking the legend of Flash to new heights in the process.
We Already Won: Flo Rida
The Miami Heat have quite the playlist to compile.
When he's not being failed to be handled by the club, Flo Rida is evidently rooting the squad down in South Beach.
The song was released very shortly following the formation of the three-headed monster down in Miami. Although many of the lyrics such as "ain't no more need to play no more games," "We got LeBron James, it's already done," and "Another championship, we'll do it again," could be considered preposterously premature, it truly encapsulates the newfound swag of the Miami Heat.
With all these tributes, the King James and company better make due with their championship aspirations.
Champions: Ron Artest
Among Ron-Ron's many wacky off-the-court undertakings is a somewhat flourishing rap career.
This song and music video was created following the Lakers thrilling Game 7 victory against the Celtics.
Artest's postgame antics, which culminated in this artistic masterpiece, featured not only a memorable postgame interview during which he thanked his psychiatrist, but also a postgame conference where he demanded a Wheaties Box.
The true breakfast of champions, perhaps it was the Wheaties incident that was in fact responsible for the song title.
If the Lakers end up three-peating, there's no telling what Artest will come up with.
Keep Reading