NBA Power Rankings: Miami Heat and Orlando Magic Climbing The Ladder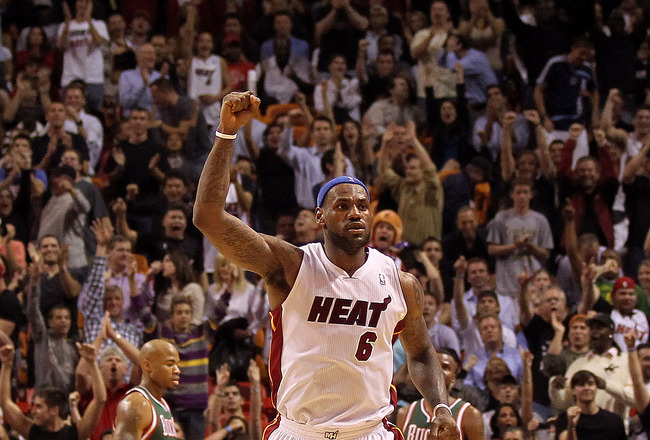 Mike Ehrmann/Getty Images
When the 2010-11 season began, it appeared that LeBron James and the Miami Heat were not going to be the powerhouse everyone expected them to be. Dwight Howard was surrounded by aging veterans on the Orlando Magic, and the only competitive team in the Eastern Conference was the Boston Celtics.
On the other hand, the Western Conference came out of the gates roaring and ready. The usual suspects of the Los Angeles Lakers and Dallas Mavericks were winning, but other Western Conference teams surprised us all.
The New Orleans Hornets got off to a terrific start. The San Antonio Spurs, who some expected to step back a bit this year, still possess the best record in the NBA. Even the Memphis Grizzlies and Golden State Warriors were playing better than expected.
The tides, however, have turned.
The Los Angeles Lakers hit a funk including a Christmas Day blowout by the Heat. The Dallas Mavericks have lost Caron Butler for the season and are clearly not the same team without Dirk Nowitzki for the last couple of games. Even the Spurs, who we thought were untouchable, are on a two-game slide.
The Eastern Conference is a different story. The Magic and the Heat are both on seven-game winning streaks. Miami has won a cool 19 of their last 20 games. Boston has Rajon Rondo back, and he is looking like a dark-horse MVP candidate.
So with the balance of power shifting, here are updated power ranking for the first week of 2011.
30. Cleveland Cavaliers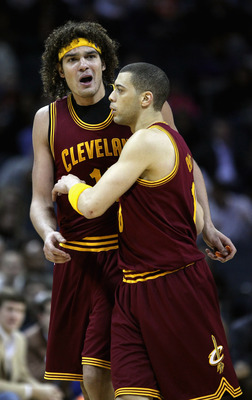 Streeter Lecka/Getty Images
We knew that Cleveland would stumble this year without LeBron James. We just didn't know it would be this bad. Cleveland is just 8-27 and has the worst record in the NBA.
The Cavaliers have lost eight in a row. Dan Gilbert's prediction isn't looking so great right now.
29. Washington Wizards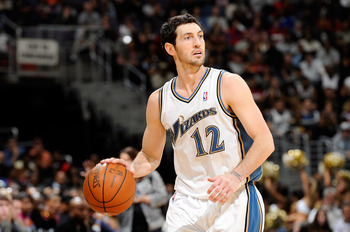 Greg Fiume/Getty Images
John Wall seems to be the only good thing going for the Wizards right now, and even he has had some issues with injuries and field goal percentage.
Nick Young is a solid player, but this team just lacks the talent to compete on a nightly basis.
It doesn't help when JaVale McGee and Andray Blatche lose their heads and get into a fight off the court, either.
28. Minnesota Timberwolves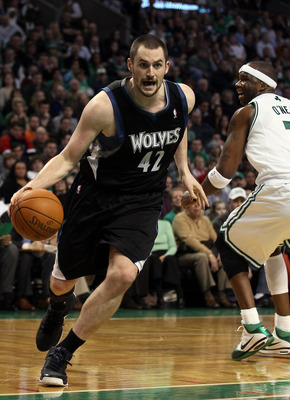 Elsa/Getty Images
Kevin Love has already expressed his desire to get out of Minnesota once he becomes a restricted free agent.
With all the talk of contraction, it doesn't help when your franchise player wants to get out of town.
27. Sacramento Kings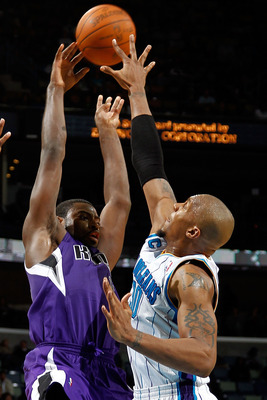 Chris Graythen/Getty Images
Sacramento took a game from the Denver Nuggets this week, which must be considered somewhat impressive.
The Kings do have some solid assets in Tyreke Evans and DeMarcus Cousins, but behind them, this team is just filler.
26. Detroit Pistons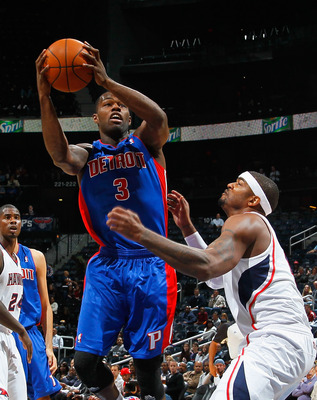 Kevin C. Cox/Getty Images
The problem with the Pistons is not that they do not have any talent. Detroit has five players who are averaging double-digit points per game.
The problem is that all of that talent is secondary supporting players. Detroit is without a true star.
The biggest evidence is that Rodney Stuckey leads the team with just over 15 points per game.
25. New Jersey Nets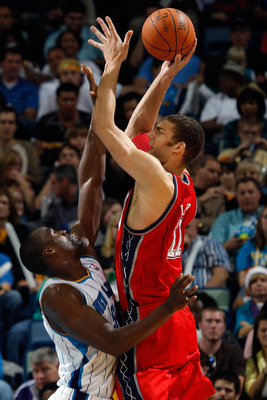 Chris Graythen/Getty Images
New Jersey still holds hopes of acquiring Carmelo Anthony before the trading deadline. If the Nets cannot trade for Anthony, he will likely be lured to the Knicks this summer.
The Nets are an offensively challenged team ranking second to last in points per game.
Behind Brook Lopez and Devin Harris, there is little to offer the Nuggets outside of draft picks. Derrick Favors is promising but still needs a couple of years to develop.
24. Los Angeles Clippers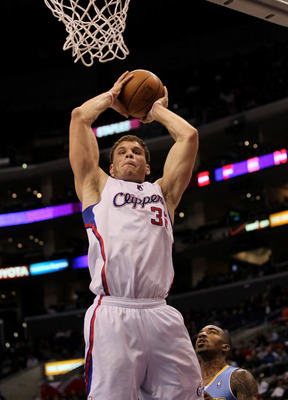 Stephen Dunn/Getty Images
The Clippers have a talented roster, but they have not seemed to pull out the close games this season.
Blake Griffin is the clear choice for Rookie of the Year this season and could be the best young power forward in the game today.
Once the Clippers find some supporting cast around Griffin and Eric Gordon, they could actually begin to rival the Lakers for support in Los Angeles.
23. Toronto Raptors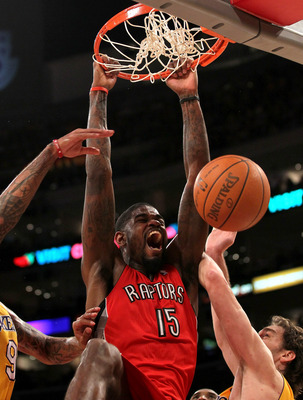 Stephen Dunn/Getty Images
The Toronto Raptors have dealt with the loss of their best player better than the Cavaliers, but they are still not a playoff team this year.
In a sense, this team is like a slightly more talented Detroit Pistons. There is no overwhelmingly talented player, but there are eight players averaging double-digit points.
If the Raptors could only defend anyone, they could win a few games in a row.
22. Charlotte Bobcats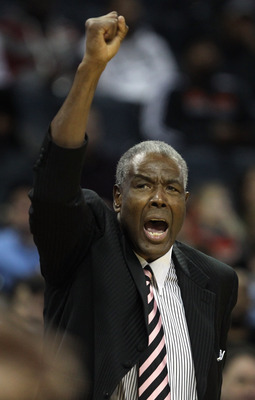 Streeter Lecka/Getty Images
The Bobcats have seen an enormous improvement since Paul Silas took over. Charlotte has won three of their last five, and the two losses came to the Miami Heat and the Golden State Warriors by one point.
D.J. Augustin has played well as of late. When Gerald Wallace returns, the Bobcats may be able to make a run for the eighth playoff spot.
21. Philadelphia 76ers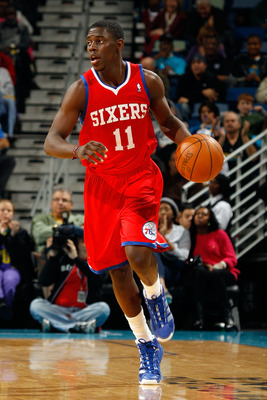 Chris Graythen/Getty Images
While Jrue Holiday has taken a major step forward this year, Andre Iguodala has taken an equal step back. Elton Brand has also displayed his age this year.
Philadelphia is at least a few players away from truly competing in the Eastern Conference.
20. Golden State Warriors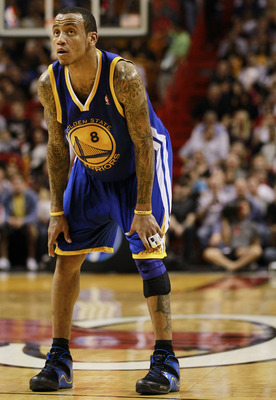 Marc Serota/Getty Images
As usual, the Warriors are averaging over 100 points per game this season, but also, as usual, Golden State is allowing more points than they can score.
Stephen Curry, Monta Ellis and Dorrell Wright have all played well, although David Lee has been somewhat of a disappointment as a free agent.
19. Phoenix Suns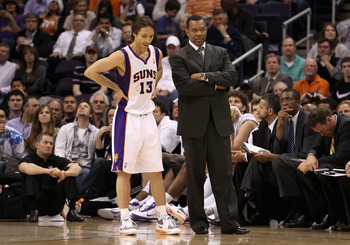 Christian Petersen/Getty Images
The Phoenix Suns have lost six of their last seven games. The Suns are the second-worst defensive team in the league allowing more than 108 points per game
Steve Nash should be traded this season while he still has value. Vince Carter and Grant Hill are too old to ever win a championship with Phoenix. This team should begin to rebuild, starting with a Nash trade.
18. Milwaukee Bucks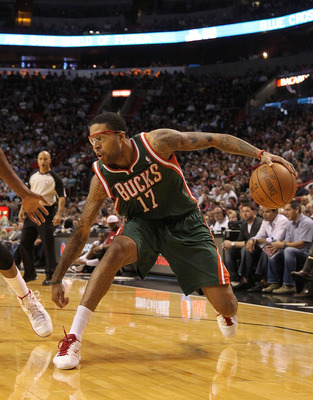 Mike Ehrmann/Getty Images
The Bucks are an enigma as a team. Over the last month, the Bucks have beaten the Lakers, the Rockets and the Dallas Mavericks twice. Milwaukee also competed very well with San Antonio and Miami in games.
The Bucks are a terrific defensive team, but they also have the worst offense in the NBA. The Bucks could surprise by making a run and competing for a playoff spot.
17. Indiana Pacers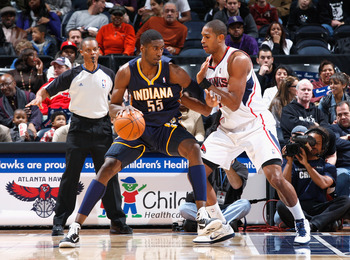 Kevin C. Cox/Getty Images
The Pacers are on a bit of a slide, losing four of their last five and eight of their last 11. Roy Hibbert has developed into a nice starting center, and Danny Granger should be an All-Star this season.
However, Darren Collison has not improved as many expected he would in his second season in the NBA. The Pacers are merely an average team in the Eastern Conference, but that might be good enough for a playoff spot this year.
16. Memphis Grizzlies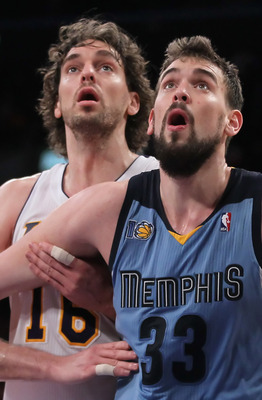 Jeff Gross/Getty Images
Rudy Gay has taken an enormous step forward this season after a summer playing for Team USA.
The main problem with the Grizzlies has been consistency. Memphis has won three in a row against Los Angeles, Oklahoma City and Utah, but they also recently lost to Sacramento and New Jersey.
In a surprising rumor, O.J. Mayo is on the trading block, especially after he got into a fight with teammate Tony Allen over a gambling dispute.
15. Houston Rockets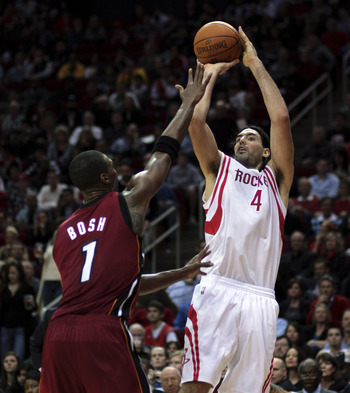 Bob Levey/Getty Images
The Houston Rockets had turned around after a sluggish start, but recently their play has been inconsistent. Houston has lost four of their last five games and three in a row.
Even without Yao Ming, the Rockets are a competitive team that can win on any given night. At the same time, Kevin Martin and Luis Scola do not provide enough offense to compensate for a weak defense.
14. Portland Trail Blazers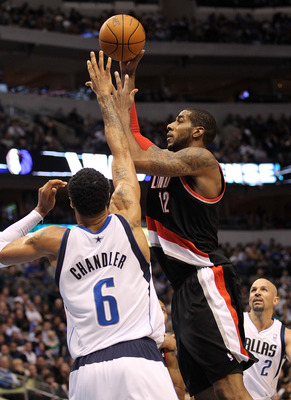 Ronald Martinez/Getty Images
The Blazers created further space between themselves and the Houston Rockets for the eighth playoff seed with two wins this week over the Rockets.
Portland could surely use Brandon Roy back. They are a completely different team without their All-Star guard.
13. Denver Nuggets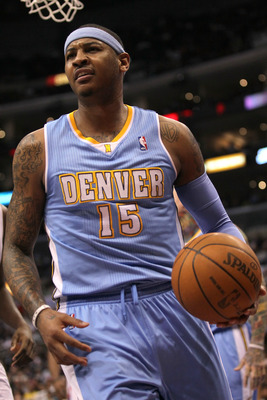 Stephen Dunn/Getty Images
The Nuggets lost to both the Sacramento Kings and Los Angeles Clippers this week. The Nuggets desperately need to start winning some games.
They're going to need a cushion for when Carmelo Anthony is eventually traded.
12. New York Knicks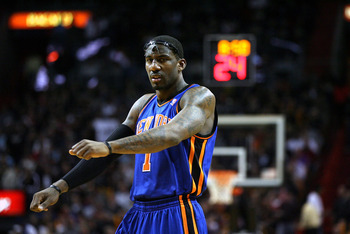 Marc Serota/Getty Images
The Knicks still can't beat the Heat or Magic, but New York has been coming up with some impressive wins as of late.
The Knicks beat the Pacers and the Spurs this week, just a couple weeks after beating the Thunder and the Bulls.
Amar'e Stoudemire is still a top-three MVP candidate and Raymond Felton could be in the running for Most Improved Player.
At the same time, the Knicks are still the sixth-best team in the Eastern Conference.
11. New Orleans Hornets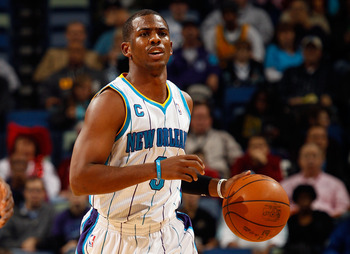 Chris Graythen/Getty Images
The Hornets are just 10-14 since winning 11 of their first 12 games.
New Orleans are an enigma of a team. Over the last month, the Hornets have dominated the Jazz by 29 points, won a road game at Boston and beat the Hawks at home.
However, New Orleans also has losses to Detroit, Minnesota, Golden State and Philadelphia. Chris Paul is underperforming his career averages in nearly every statistical category.
10. Oklahoma City Thunder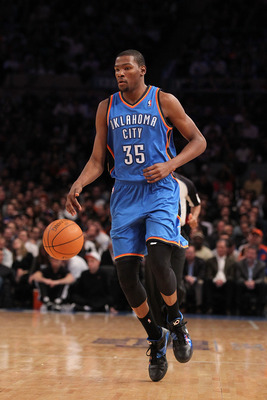 Al Bello/Getty Images
The Thunder lost two of three games this week with the losses coming to the San Antonio Spurs by 27 and the Memphis Grizzlies.
Even the victory over the Dallas Mavericks this week was somewhat shallow since the Mavericks were without Dirk Nowitzki and Caron Butler.
Oklahoma City is in the bottom third of the the league in defense and needs to work on stopping opponents' offenses if they are to get out of the first round of the playoffs this year.
9. Utah Jazz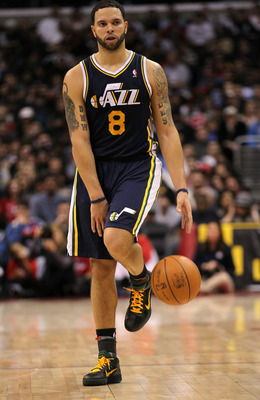 Stephen Dunn/Getty Images
The Jazz are on a two-game slide, with losses this week to the Memphis Grizzlies and Atlanta Hawks.
Since Nov. 26, the Jazz have beaten just one team that is currently above .500. Utah is a terrific team, but really lacks depth and talent beyond Deron Williams, Al Jefferson and Paul Millsap.
8. Atlanta Hawks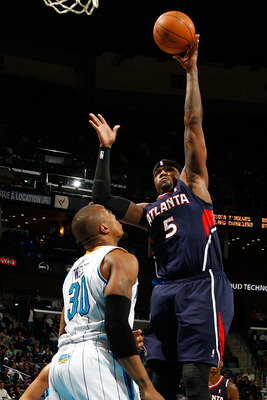 Chris Graythen/Getty Images
Atlanta is winners of three straight and five of the last six games. The Hawks have continued to rely on a core of Joe Johnson, Al Horford and Josh Smith.
The Hawks have looked very similar to last year's team. The Hawks have a lot of talent, but they are not even a top four team in the Eastern Conference this year.
7. Los Angeles Lakers
Christian Petersen/Getty Images
The Lakers beat up on some mediocre competition this week against the Detroit Pistons and Phoenix Suns.
Before this week, Los Angeles had lost four of six games. Reports of conflict with Ron Artest at team practices and a spat between Kobe Bryant and Phil Jackson were much publicized.
Pau Gasol no longer looks like an MVP candidate, Ron Artest is averaging career lows in several statistical categories and Andrew Bynum has not returned strong from injury.
6. Chicago Bulls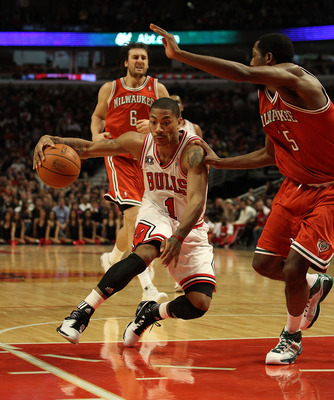 Jonathan Daniel/Getty Images
Chicago has been led by Derrick Rose, who is a legitimate MVP contender this season.
Carlos Boozer has been terrific since being hampered by an injury to start the season. Of course, once Boozer returned, Joakim Noah was sidelined with a broken thumb.
The Bulls have been rumored to be seeking a shooting guard through the trade market. Chicago has lost two in a row in lowly Philadelphia and New Jersey.
5. Dallas Mavericks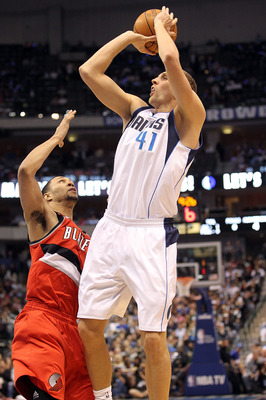 Ronald Martinez/Getty Images
Dallas took a big hit when it lost Caron Butler for the rest of the season to a knee injury. Now Dirk Nowitzki is day-to-day and not expected to play Saturday against Orlando.
The Mavericks have lost four of their last six, including games against Toronto and Milwaukee. Jason Terry will have to pick up some of the scoring load with Caron Butler out.
4. Orlando Magic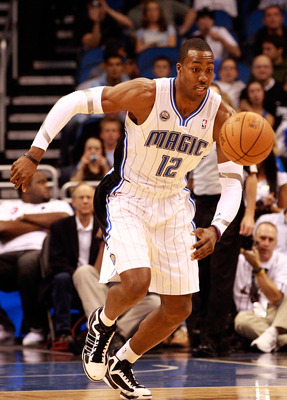 Sam Greenwood/Getty Images
The Magic are winners of eight straight games in a streak that includes victories over the San Antonio Spurs, Boston Celtics, New York Knicks and the Houston Rockets.
The midseason trades of Rashard Lewis and Vince Carter seem to have worked. Gilbert Arenas is still dropping 10 points and 4.4 assists per game, despite limited minutes.
Some people seem to sleep on the Magic this year with the talk of the Heat and the Celtics, but they are a very talented and deep team.
3. Boston Celtics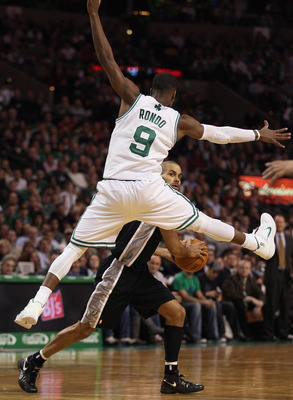 Elsa/Getty Images
Boston has used an easy patch in the schedule to rebound from a tough stretch which saw the Celtics lose three of four games.
Boston has won their last four games; however, three of the games were against Toronto and Minnesota.
Rajon Rondo has to be considered in the MVP race. He is averaging 14 assists per game. Boston is clearly not the same team without him.
2. San Antonio Spurs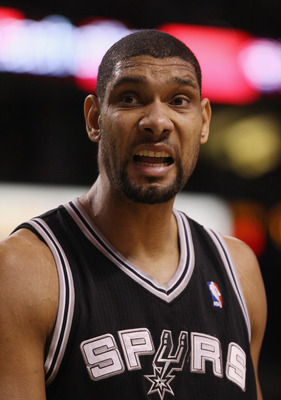 Elsa/Getty Images
The last week has proven that even the San Antonio Spurs can go through rough patches. The Spurs have lost two of their last three games, including a double-digit loss to the New York Knicks.
San Antonio will get an easy back-to-back against the Minnesota Timberwolves for the next two games, but the Spurs will face a test at Milwaukee next week. The Spurs beat the Bucks by just two points at home earlier this season.
1. Miami Heat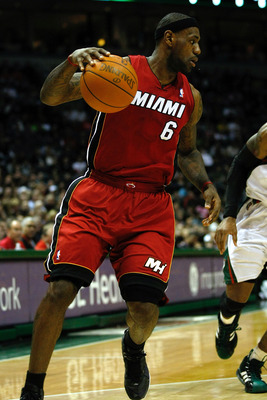 Scott Boehm/Getty Images
Perhaps the most interesting statistic for the Heat that no one is talking about is average point differential. Miami is winning games by an average of nearly 10 points per game.
The Heat have won 12 straight road games, eight straight overall and 20 of their last 21 games.
Miami is the second-best defensive team in the NBA this season, but is also in the top five in field goal percentage.
LeBron James and Dwyane Wade have really learned how to play together, but there is still much to prove against the Celtics, Spurs, Magic and Mavericks.
Keep Reading