Bill Walton: B/R "Throws It Down" With the Big Man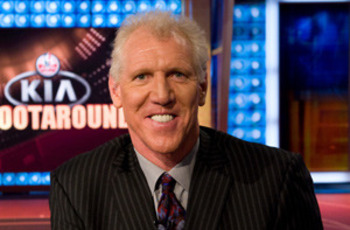 Bill Walton is sitting on his undersized chair, sipping on a cup of sizzling miso soup and chatting about bold Guinness beer, legendary big men who "threw it down," the lessons he learned on and off the court and, in typical, hyperbolic, Walton-esque jargon, how he thinks the NBA is "on fire."
Bleacher Report was the only online-media outlet invited to interview the three-time NBA champion and College Player of the Year, Bill Walton, in Hollywood, Calif., as he shot a commercial for Guinness that will appear this coming March.
At first, Walton, 6'10", towered over me, kind of like how a five-year-old feels gawking upwards at the Empire State Building. But within seconds, Walton's massive, intimidating exterior was revealed to be that of a jolly, gentle giant.
He cracked jokes with the production assistants, reminisced of how his green commercial attire reminded him of his high school colors at Helix High in San Diego, and then had more somber moments as he discussed his genuine, unwavering appreciation for basketball, like the sweet nothings whispered to his first love.
Bill Walton: Background
If there is one thing Walton is not, it's simple.
UCLA graduate ('74), two-time NCAA champion ('72, '73), three-time NCAA Player of the Year ('72, '73, '74), two-time NBA champion ('77, '86), Hall of Fame inductee ('93), famed sportscaster and commentator, humanitarian and philanthropist, father of a NBA player, Luke Walton (Los Angeles Lakers).
You May Not Know:
In 2001, Bill was named as the inaugural inductee into the Grateful Dead Hall of Fame.
In 2009, Walton was named one of the top 50 sports broadcasters of all time by the American Sportscasters Association.
Walton and his older brother Bruce (UCLA '73) are the only brother combination in history to have played in the Super Bowl and to have won an NBA championship.
Walton and his third son, Luke, are only the third father-son pairing to have ever won NBA championships, as well as to have each won multiple NBA championships.
Walton on the Boldest Beer Around: Guinness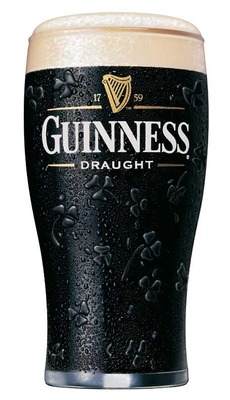 W.L.: What is the premise of this Guinness ad?
B.W.: Guinness is the boldest of beers, and this campaign is all about Guinness celebrating boldness in sports. As the tagline says, this beer isn't for everyone—it's only for the bold. It's not for people who only pick No. 1 seeds in their March Madness brackets. It's not for people who want their team to punt on 4th-and-2. And it's not for someone driving the lane to tie the game instead of shooting a three for the win. Guinness is only for the bold.
W.L.: What connection to do you see between Guinness and basketball?
B.W.: The harmonic convergence that is Guinness and championship basketball is the theme that life is to be celebrated. The way I see it, while championship basketball is an unbridled imagination and personality exploding throughout the universe, it doesn't happen without discipline, commitment and sacrifice, and that's why Guinness' commitment to responsible behavior is the perfect match.
Walton on the Five Greatest Big Men of All Time and Today's Best Big Man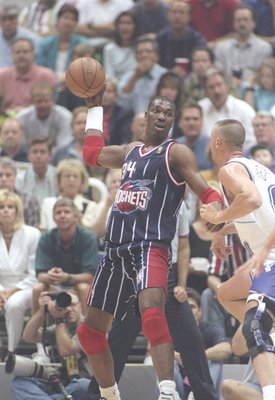 Brian Bahr/Getty Images
Among the abundance of hyperbolic quotes that Bill Walton has uttered in his career as a sportscaster— including a personal favorite, "Greg Ostertag is one of the top centers on this planet"—no doubt the one he's most well-known for has become: "Throw it down big man! Throw it down!"
Because he was a "big man" when he competed, I decided to ask him who he considers to be the top five big men of all time, a constantly debated and controversial topic among basketballs fans young and old.
B.W.: In chronological order, the five greatest big men of all time were Bill Russell, Wilt Chamberlain, Kareem Abdul-Jabbar, Hakeem Olajuwon and Shaquille O'Neal.
W.L.: Who are the best big men in the NBA? Who is your favorite?
B.W.: Well, guys like Amar'e Stoudemire, Kevin Garnett, Shaquille O'Neal, Tim Duncan and Dwight Howard are dominant big men, but Pau Gasol is my favorite right now. He is such a beautiful basketball player. The great thing about him is how he's totally changed the direction of the Lakers. Shaq brought an element of power that had never been seen since Wilt. But now you have Pau, and none of his game is power—he's basically Steve Nash in a seven-foot body. And then again, Nash is Pau Gasol in a 5'10" body. It's a great thing for the sport what Pau is doing.
Walton on Kobe Bryant and Greatness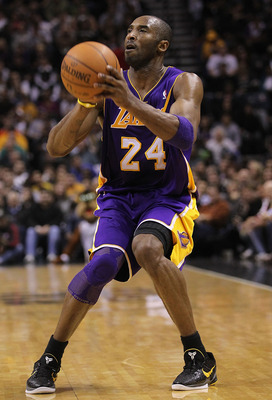 Ronald Martinez/Getty Images
I interviewed Bill the day after Kobe Bryant surpassed Dominique Wilkins to become the 10th highest scorer of all time. As I began my question to Bill, "So Bill, I'm not sure if you know, but last night Kobe surpassed…" then suddenly a gargantuan hand came into view making an up-and-down gesture in an attempt to "shush" me—it was Bill who had a big smile on his face.
He said: "Will, I apologize for interrupting, but I was with Dominique last night."
He went on to say: "I'm Kobe's biggest fan. We take players like Bryant, James, Jordan, Doctor J, all the truly great ones, we take them for granted because they do it every day. They are able to deliver peak performance on command and able to drive people's patterns, behaviors and habits. They are the guy's who make this game what it is. The truly great ones make it seem so effortless. Television is the main revenue source, and as important as it for basketball and the NBA, it doesn't do the game justice. Fans at home watching don't realize how fierce it is, how hard it is, and how tough it is."
After a quick sip of water, Bill stared me straight in the eyes with a stern look and said: "If you have any taste for NBA basketball, go sit in the front row one night." Then he let out a playful chuckle, followed by a beaming smile: "Then you will be blown away as to how incredible these guys are."
Walton on the Reborn New York Knicks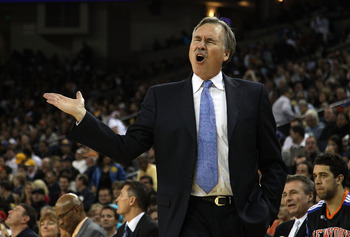 Ezra Shaw/Getty Images
W.L.: At the beginning of the season, it seemed like the Knicks were one big question mark, but they have blossomed into one of the premier teams in the NBA. What is your opinion on their season thus far?
B.W.: What's happening with the Knicks is just fantastic. It's especially great for the fans, who are incredibly passionate and remarkably loyal. For a long time they deserved better, and they've got it now.
But, really, I'm just the biggest Mike D'Antoni fan. I mean, he saved basketball, first in Phoenix, and now he's doing it in New York. It's incredible what he's been able to do in a very short time, which most people don't realize. We all expect everything to be fixed in 30 seconds. But there was a lot of ground to be made up and it's finally happening. The crowd is back and now it's so fun to watch. The style they play, between guys like Fields, Chandler, Felton and, of course, Stoudemire, man, it's just pure fun to watch.
Walton on the San Antonio Spurs and the Magnificent Manu Ginobili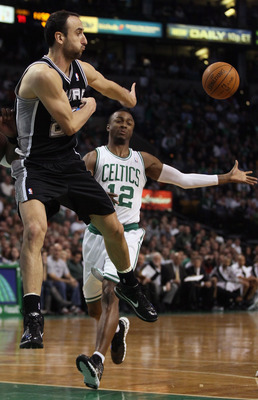 Elsa/Getty Images
W.L.: The Spurs are on a tear, 19-2 at home and 10-4 on the road, but do you think they will be a consistent factor throughout the season and into the playoffs?
B.W.: The Spurs are great. Tim Duncan is a historical level player. Tony Parker is one of two international players to be a finals MVP (Hakeem being the other). Manu Ginobili is capable of being the best player in any game ever played. You've got a Hall of Fame coach in Gregg Popovich, who is every bit as capable as Phil Jackson and Doc Rivers. You've got new young talent, like this guy (DeJuan) Blair, who is simply a skilled basketball player.
But what Ginobili does—I mean, he does things that defy description. What he's best at is his mind, and that's where great champions come from; the smartest, toughest mentally, most creative, imaginative, and the ones who are willing to lead. He's got all of that. His only problems are health, but if you give him the durability of a Kobe or LeBron or Kareem, the history of basketball is a lot different.
Walton on LeBron James and the Miami Heat Trio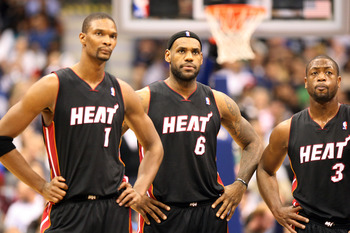 Layne Murdoch/Getty Images
W.L.: What was your initial reaction to LeBron James, Dwyane Wade and Chris Bosh playing together in Miami?
B.W.: Listen, nobody criticized Pierce, Allen and Garnett. Nobody criticized Wilt for coming to play with Elgin Baylor and Jerry West. Or what about guys like Robert Parish, Larry Bird, James Worthy, Magic Johnson—they never endured any criticism because of who they chose to play with.
W.L.: Of the trio, it seems like LeBron James receives the most heat. He tends to be either glorified or despised for his choice to go to Miami. What are your thoughts?
B.W.: All the unwarranted criticism of LeBron James is a result of jealousy. Who among us would have done anything different then what LeBron did? If he had just changed two words, like if he had said, "I'm taking my talents to New York," then they would've said, "Wow! that's the greatest thing." But he chose Miami, which for him was better.
LeBron is a fantastic player. I learned two great lessons from John Wooden, which were the first things he said to me the first time I met him when he came to recruit me when I was 15. He said, playing basketball is a privilege that you earn. Then he said, it's not how good you are, it's how good your team is. LeBron has earned the privilege to play and now he's got teammates—really good ones. Everything in Miami is better than what he had in Cleveland. Also, it's his life! His contract was up, he took the risk, and made a choice. This is LeBron's life.
Walton on Idolizing, Meeting and Befriending His Heroes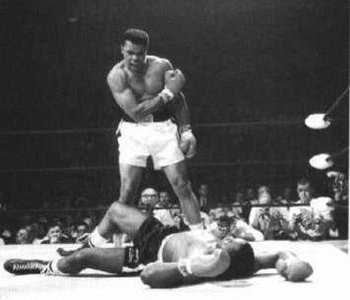 W.L.: When you were growing up, who inspired you to compete and play basketball?
B.W.: I come from the most unathletic family you've ever seen. Never shot a basket with my dad. Saw him run one time at the church picnic and I fell over laughing.
But I had two childhood sports heroes, Bill Russell and Muhammad Ali. There are no greater heroes that young people could have in terms of ideals, sacrifice, commitment to the team, character, and being that moral compass, that shining star. I was really lucky, because then I got to meet these guys. I became their friends. To find out that they were nicer and better people than they were athletic heroes or champions, talk about dreams coming true.
Walton on Basketball: The Perfect Game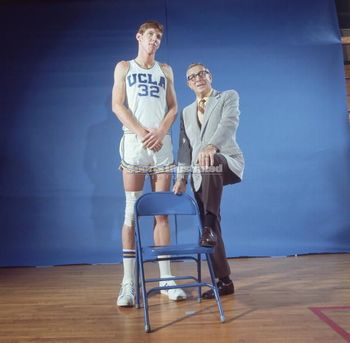 W.L.: What is it about basketball that has kept you so dedicated to the game, whether as a player, sportscaster or fan?
B.W.: To me, basketball is the perfect game. All you have to do is wait for the opening tip, but it's a game by rule that is a game of skill. The great thing is that it allows great players to be historical forces that will influence generations, creating the bigger question of, what's next? And that's the best part of life —what's next?
W.L.: How do you feel that the game has changed since you competed?
B.W.: Well, it's not just basketball that has changed over the years, but the youth culture and the structure. Guys come in to a man's league without a foundation, without the realization of the value of a great coach, and without knowing the importance of the team. They tend to, when things go bad, rely too much on the structure of someone else to do their job, which is to win a basketball game, which you learn to do on the playgrounds at a very early age.
That's why I'm the biggest believer in positive leadership and the positive approach of encouragement. Players have to live by the mantra that you'll never learn what you don't want to know. Then coaches live by the mantra you have not taught until they've learned. When those two emotions, thoughts, platforms come together, then it really happens. John Wooden was proof of that.
Walton on Overcoming a Speech Impediment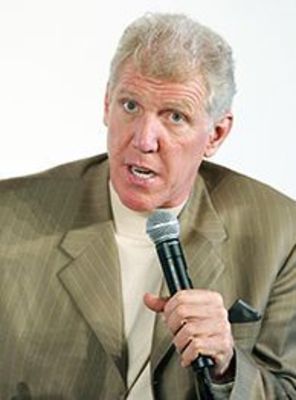 W.L.: Many people know you as an exceptional athlete and outspoken, jovial sportscaster, but few people know that you suffered from a stutter as a young man. How long did you have the speech impediment and how did you break out of your shell?
B.W.: I couldn't speak at all until I was 28 years old. Learning how to speak is unquestionably my greatest feat. A stutter is like a bad back; until you have one, you have no idea. I had no idea. With my severe stuttering problem, I couldn't say thank you or hello. I grew up thinking only lucky people could talk. But then I learned that was untrue when I met Marty Glickman, who taught me that talking, like basketball, was not a gift, but needed to be developed.
I have the life I have now for a lot of reasons, but none more so than my failures and limitations. I'm a better person, a happier person today, because of those failures, limitations and losses in life. I never thought I'd say that—because when you're older and you've been where I've been you learn a lot. Over these 58 years, you learn, ultimately, perspective, relatively, tolerance and patience—things I never would've learned if we'd just won all the time.
Keep Reading