Kobe Bryant vs. LeBron James: Heroes & Villains Exchange Roles, Lift NBA Ratings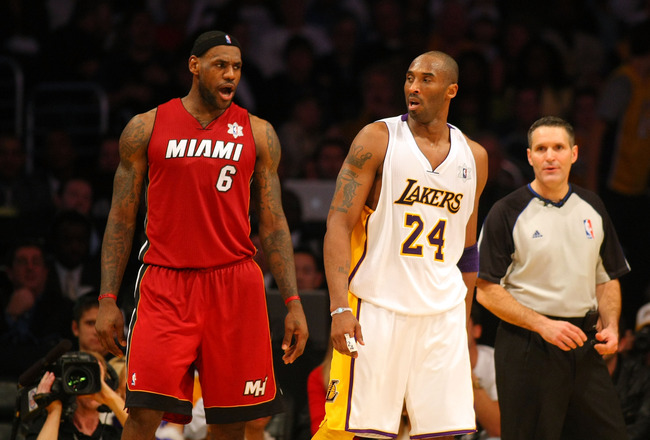 Victor Decolongon/Getty Images
In the high profile world of professional sports, perception of a superstar's persona may truly be their reality. For Kobe Bryant of the Los Angeles Lakers and LeBron James of the Miami Heat, what a difference a year can make.
Longtime rivals on the court, the veteran Bryant and the younger James have switched good guy/bad guy roles. The Lakers future Hall of Famer somehow emerged from an earlier NBA life of cockiness and assault accusations to become the game's marquee player, goodwill ambassador, commercial pitchman and all-around nice guy.
King James, on the other end, made a DECISION last July that stunned the basketball world for its sheer audacity—he left his cozy boyhood confines of Ohio, with its adoring Cleveland Cavaliers fans, for the chance to play alongside Dwayne Wade and Chris Bosh in South Florida.
If George Lucas were to add to the Star Wars legacy, one might picture LeBron reprising the role of Anakin Skywalker turning into Darth Vadar. Kobe meanwhile, with his legal battle six years in the rear view mirror and two more championships added to his collection, has grown into the role of, at 32, the competitive, clean living, focused superstar of the basketball world that we envisioned for him when he first joined the league in 1996 as a 17-year-old from Lower Merion High in suburban Philadelphia.
How did their good guy/bad guy roles get reversed? Do we care? Does it matter? Apparently we do—it's an insatiable appetite for NBA theatre with Kobe and LeBron starring in this long running melodrama.
Let's examine:
Kobe's Assault Charge, Lack of Team Success Damages Rep with the Fans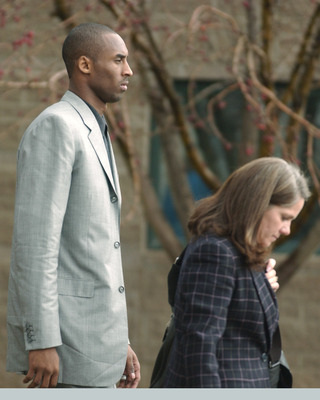 Thomas Cooper/Getty Images
It's ironic that Kobe Bryant's sexual assault charge and arrest came right at the time when 18 year old LeBron James was selected by the Cleveland Cavaliers as the first pick in the 2003 draft. As Bryant's reputation took a major hit—with both his career and future in jeopardy—James was plucked by the lucky lottery winning Cavaliers and it seemed as if a torch might be passing.
For the next couple of years, Bryant struggled while James flourished. Kobe focused on clearing his name in a Colorado courtroom; LeBron wooed fans, coaches, players and the business world as he signed a Nike shoe contract before taking his first shot and then glided through an incredible rookie campaign and was named Rookie of the Year.
Kobe's case dragged on in the courts and affected his play and public reputation throughout the 2003-04 season. His endorsement deals with McDonald's and Nutella were terminated. Sales of Kobe's replica jersey fell significantly from their previous highs.
Kobe's assault case was eventually dropped by prosecutors after his accuser refused to testify in the trial. Bryant apologized to the young woman and later settled out of court in a separate civil lawsuit.
The only company to stand behind Bryant during his trial and subsequent acquittal was Nike, which signed him to a five-year, $40-45 million endorsement deal just before the July 2003 incident in Colorado. Over the next two seasons, Bryant worked on his game and went about repairing his tarnished image.
James Refuses to Shake Hands After Series Defeat by Orlando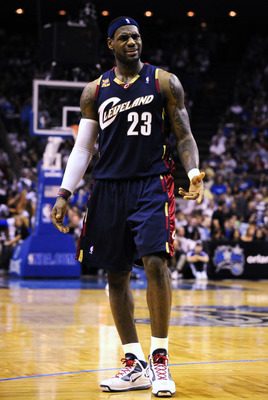 Sam Greenwood/Getty Images
LeBron, meanwhile, had become the center of the basketball universe. He was the world's best player, a great pitchman who was a natural in front of a camera and loved playing before sold-out arenas. He could pass, shoot, dunk and play defense better than anyone—a man-child doing things with a basketball that often defied logic.
All that LeBron lacked was a championship, and it seemed to bear down on him as each season passed, even though he deflected it with humor. In the classically funny Nike commercials that starred puppet versions of Kobe and LeBron as roommates, the Cavaliers' star forward is often teased by Bryant for his lack of titles. One spot features Kobe asking an annoyed LeBron if he has seen his 3 championship rings.
So, while Bryant was working to rectify an image that had suffered greatly, James held court as the game's heir apparent—with only a championship needed to complete his coronation. The 2009 playoffs may have been the beginning of LeBron's crossover to the dark side. Following the Cavs' series loss to the Orlando Magic in Game 6 of the Eastern Conference Finals, James left the court while refusing to shake hands with the victors.
At the time, ESPN analyst and former NBA star Jalen Rose called James' behavior "immature and ungracious." James later told reporters, "It's hard for me to congratulate somebody after you just lose to them, I'm a winner. It's not being a poor sport or anything like that. If somebody beats you up, you're not going to congratulate them...I'm a competitor. That's what I do. It doesn't make sense for me to go over and shake somebody's hand."
Final Year in Cleveland Good Until the End and the Decision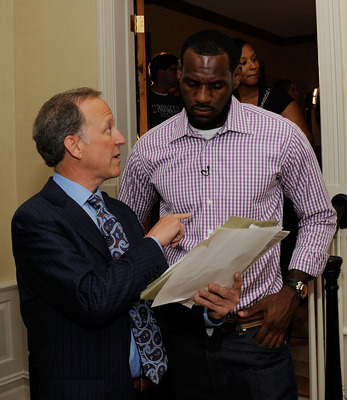 Larry Busacca/Getty Images
Orlando took on Kobe and the Lakers and lost to L.A. in the Finals. No. 24 was back on top with a fourth championship ring and LeBron was left to sulk over the summer and contemplate what his next move might be when his contract expired after the 2009-10 season.
That last season in Cleveland was not a happy one for LeBron, despite the fact that he led the Cavs to the league's best record for the second consecutive season and was named league MVP for a second time.
Inexplicably, the Cavs lost in the conference finals to the Boston Celtics, suffering their worst home court playoff loss (120-88) in team history as James went 3-14 and scored only 15 points before walking off the court to a round of boos from the hometown faithful.
In Game 6, the team and LeBron looked lost, like they had already thrown in the towel. They did lose and James had nine turnovers at Boston Garden in his final game.
Once again, the Lakers won the title, this time defeating Boston in a memorable seven-game series that had L.A. taking Game 7 against the Celtics for the first time in their storied history. Bryant was MVP of the Finals and on top of the basketball world. LeBron, meanwhile, was at the center of a media storm as fans everywhere waited anxiously for him to make his decision on where he would play in 2010.
The DECISION, a ridiculous special from ESPN, came on July 8th. Before uncomfortable sportscaster Jim Gray and a bleacher filled with the Boys and Girls Club of Greenwich, Connecticut, James shocked his Cleveland fans and its ownership, who weren't contacted until minutes before the telecast.
This was akin to Cleveland Browns owner Art Modell's efforts to relocate the beloved football team to Baltimore. Cavs owner Dan Gilbert published a letter to the fan base, calling LeBron's decision "selfish," "heartless," "callous" and a "cowardly betrayal." He also guaranteed that Cleveland would win an NBA title before the "self-declared former King."
Kobe vs. LeBron: Ongoing Drama Is Good for the NBA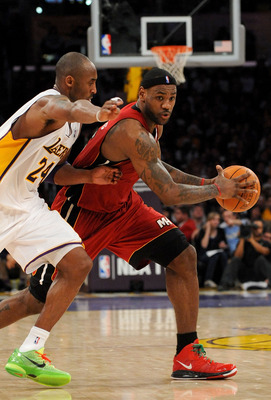 Lisa Blumenfeld/Getty Images
Regardless of how one views the whole process, this was still great theatre; often absurd and heartless, but theatrical and entertaining nonetheless. LeBron's decision to leave "home" to go play on a team with his buddies, Bosh and Wade, was calculated and indicative of a star athlete in today's world who has more power over his own destiny than at any time in our sports history.
Critics say that LeBron feels too much pressure to carry a title on his back and so now he can be more of a role player on a team of fellow superstars.
Kobe vs. LeBron is good for the NBA. One could feel the heat between the two when they met at Staples Center and Miami crushed the champs, 96-80. They had a brief, heated exchange at one point with Kobe allegedly asking LeBron if he got what he wanted for Christmas. I'm sure there was more to the conversation.
We're a forgiving legion of sports fans—we like second chances. Kobe Bryant fell far from the proverbial tree—but, through hard work, scoring titles, MVP awards and two consecutive championships, has climbed back to the top of the basketball world.
LeBron James is now perceived (outside of Miami) as the self centered, decision making, camera hogging, bad sport who left his adoring hometown team to rot on the vine while he flew the coop to South Beach and the fun in the sun of South Florida.
Kobe vs. LeBron. Good guy vs. Bad guy. Who will win? Will we give LeBron a second chance? Will Kobe continue to win championships and the adoration of the fans?
The questions and battles continue. This is today's NBA—the ultimate reality show.
Keep Reading