Chicago Bulls vs. New York Knicks Reaction: Analysis and Looking Ahead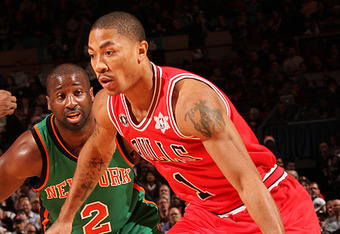 The Chicago Bulls took the floor of the Madison Square Garden against the New York Knicks in an early afternoon Christmas showdown.
It was not quite the same as the rivalry of old—not like seeing Michael Jordan and Scottie Pippen dive head first into the menacing Knicks' front line of Charles Oakley and Xavier McDaniel back in the early to mid 1990s.
On Christmas Day of 2010, we witnessed a barn-burner instead of the brutal knock-down-drag-it-out heavyweight boxing fight—until the fourth quarter, that is.
Kurt Thomas committed a hard foul on Ronnie Turiaf by shoulder blocking him down onto the canvas. Soon after, Derrick Rose took exception to an elbow delivered by Amar'e Stoudemire as he took off in transition for a layup attempt.
New York outscored the Bulls 18-12 in the final period (to match their current regular season record) to defeat them by the score of 103-95.
Rose had six steals, which helped to force the Knicks into 21 giveaways for the game, but in vain, as they failed to execute their offense down the stretch.
New York pulled away in the end by executing their own offense. Despite having 13 less field goal attempts and eight fewer free throw attempts, they still managed to beat the Bulls. The Knicks shot 53 percent from the floor and had a lot of easy fast break buckets coming off of Chicago's 24 turnovers.
Amar'e showed up on defense today and had six of the 10 Knicks blocks.
The Bulls got off to a shaky start in terms of handling the basketball and turned it over nine times in the first quarter alone. It carried over into the rest of the game.
Rose had a Stephon Marbury-esque 25 points and eight assists in the game. He started out by forcing up bad shot attempts into the thick of the Knicks' defense and played an uncharacteristically selfish game with the basketball. He did not look to get any teammates involved.
It looked more like he was trying to make plays for himself on offense. He did not seem to consider how Mike D'Antoni's Knicks thrive in a fast-paced style of play.
Defensively, Rose and the Bulls did a bad job of rotating out to defend the Knicks' three-point shooters, who banged down 12-of-22 from beyond the arc.
It was like deja vu all over again for Chicago from their nationally televised loss against New York on TNT on Nov. 4. The Knicks shot the lights out from downtown and went 16-of-24.
It was not a Merry Christmas for the Bulls, who are now 0-2 against the Knicks this season. But there is some light at the end of the tunnel for Chicago, who play four of their next five games at home in the United Center.
Their next seven games are all against sub .500 Eastern Conference teams.
Who would win in a best-of-seven-game series?
It is not as easy now that they lack Joakim Noah, but the 38-year-old Thomas has been a stellar fill-in.
The New York Knicks have shown that they are a respectable team in the Eastern Conference. They now boast an 18-12 record, but have a very unfavorable schedule ahead, including a tough Western road trip.
It would be very interesting to see the result if we were to again witness the Knicks and the Bulls in a playoff series. The Knicks have a great offense with a struggling defense. It seems like the Bulls are a mirror image of their New York counterparts, as they typically hold their own on defense, but the offense is not always present.
So has the Knicks-Bulls rivalry been renewed?
No.
But we may see a new kind of feud between these two teams if they were to meet this year in April. There is bad blood present between these two cities and a best-of-seven game series could bring out the best of that.
While the Knicks appear to be a lock for the post-season and have had some early success, the future of basketball in New York still does not seem as luminescent as that of the Windy City.
This article is
What is the duplicate article?
Why is this article offensive?
Where is this article plagiarized from?
Why is this article poorly edited?

Chicago Bulls: Like this team?