Lakers-Heat: Top 30 Dwyane Wade, LeBron James and Kobe Bryant Dunks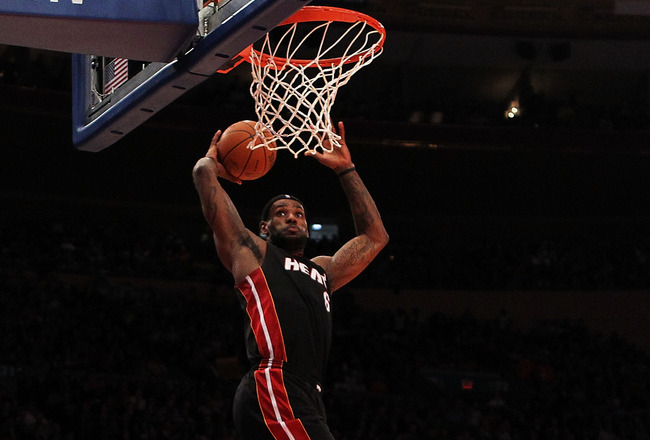 Al Bello/Getty Images
Saturday's Christmas day matchup of the Los Angeles Lakers and Miami Heat has plenty of story lines.
The major one being that many believe it will be a preview of the NBA Finals.
However, this Christmas day matchup is interesting to me for another reason.
It features three of the games best dunk artists in Dwyane Wade, LeBron James and Kobe Bryant. Each game is like a dunk competition for these guys.
Here are the best of their best that I could find on the web. Feel free to share other good ones I may have missed in the comments.
Oh, and please keep in mind, ranking these was nearly impossible. I moved some videos as many as 15 spots just to try and get a solid order.
30. What a Pass
Wade's pass, Kobe's dunk. It's a two-for-one!
29. Hustle Play
Win possession, then dunk time.
28. Remember When Shaq and Kobe Still Got Along?
Okay, so it wasn't in a game.
But, it's impressive and funny.
27. Clear for Take Off
So what if it didn't count?
26. I Don't Care If It's Practice
25. Clutch Time
Notice the score and the time left.
24. Get Out of the Way Tim Duncan!
The quality isn't the best.
But there is no shortage of clips of Kobe posterizing much taller players.
23. Air Kobe
I wish this were higher quality, but still insane.
21. Catch Ya Later, Mr. Pierce
Who doesn't love an alley oop?
20. Flying First Class
Tim Duncan is tall. Really tall.
19. Good Try Kevin Garnett
Garnett is supposed to be good at defense, right?
18. Playing Above the Rim
Is your forehead supposed to touch the rim?
17. Alley-Oop
I don't know if there is anyone who finishes an alley-oop better than 'Bron.
14. How to Win a Championship
In the 2006 NBA Finals, which the Heat won.
11. The Rim Is Still Shaking
Tomahawk—courtesy of LeBron.
10.Who Is More Popular in China, Kobe or Yao?
All 7'6" of Yao Ming isn't enough to keep Kobe from the bucket.
8. This One Would Be Good On an 11-Foot Rim
7. Robbery
LeBron has made a living out of break away steal and drunk.
5. Kobe Owns Steve Nash
Pretty self explanatory.
Kobe Bryant goes through Steve Nash for the jam.
4. That's Not Nice
Dwyane Wade dishing it out to his new teammate.
3. He Was in High School!
2. Dwight Howard Is the Ultimate Shot-Blocker...But Not This Time
Next time, try jumping, Dwight.
1. On Posters Everywhere
How can you not love D-Wade?
Keep Reading

Los Angeles Lakers: Like this team?