NBA Trade Rumors: 10 Players That Help Boston Celtics Get Past L.A.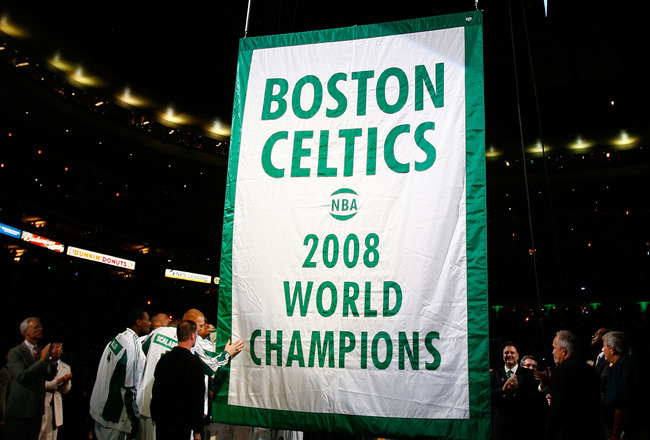 Jim Rogash/Getty Images
The Celtics are sitting on the Eastern Conference's best record at 23-4 and are currently in the midst of a 14 game win streak.
Even without last year's starting center Kendrick Perkins in the lineup, and off-season acquisitions Delonte West and Jermaine O'Neal out with injuries, the Celtics have proven to be the team to beat in the East.
Still, after losing game seven of the NBA finals to the Lakers, Boston is trying to catch up with L.A. At the trade deadline last season GM Danny Ainge acquired Nate Robinson from the Knicks for Eddie House, and the dynamic guard has delivered off the bench for the C's.
Will Ainge duplicate his magic again this season? Here we examine 10 players that can help the Celtics hoist their 18th banner.
The suspects are ranked in descending order from entirely far-fetched to completely realistic.
10. Andre Iguodala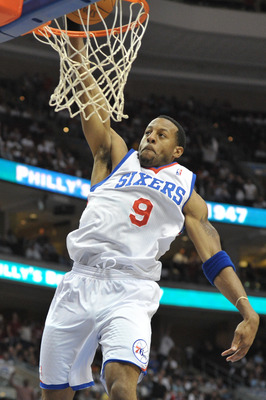 Drew Hallowell/Getty Images
Seemingly a pipe dream, one interesting trade idea could send Andre Iguodala to Boston in exchange for Kendrick Perkins, Nate Robinson, Avery Bradley and a first round draft pick.
Although this trade is highly unlikely—especially between divisional rivals—it actually makes sense on many levels. The 76ers shed over $2 million in payroll this season, and another $4.6 million when Perkins contract expires at season's end.
Robinson only has two years left on a contract that pays him $4.2 million, while Avery Bradley is a promising rookie who has struggled to crack this veteran Celtics rotation.
For the Celtics, they would absorb AI's massive contract (four years remaining at $56.5 million), but add a young and athletic wing with the versatility to play three positions. Moreover, it would give the Celtics a foundation along with Rajon Rondo after Pierce, Allen and Garnett either retire or lose value.
The Celtics would hate to give up Perkins, who is one of the league's top interior defenders, but the Celtics have no other big expiring contracts, and they are loaded with big men up front.
9. Aaron Brooks
Half Chris Rock, Half Martian
Streeter Lecka/Getty Images
Houston has been rumored to be shopping their young point guard with Kyle Lowry thriving as the starting point guard. If that's true, Brooks could be a terrific addition for Boston.
Brooks has only one season left on his contract at $2 million, plus a qualifying offer of just under $3 million for next season. He would fit in perfectly as a backup point guard, but could also play alongside Rondo against undersized line-ups (Nate Robinson is occasionally used in that capacity despite standing 5'9").
If Houston was willing to accept a package of Semih Erdin, Avery Bradley and a first round draft pick, perhaps this dream could become a reality.
8. Tyrus Thomas
The Celtics are a defensive oriented team, and a young shot blocker like Tyrus Thomas could be an ideal fit. Although taking on his contract would be a risky proposition (five years remaining at $40 million), in my estimation it's a risk worth taking.
The 24-year old Thomas was the fourth overall pick just four years ago, and has shown great potential in limited playing time. In fact, while his numbers this season don't jump off the page at you (11.3 points, 5.5 rebounds and 1.5 blocks) his per 36 figures are incredible. If you extrapolate Thomas' stats in 20.4 minutes per game into what he would average over 36 minutes (roughly the playing time a starter will log) Thomas numbers balloon to 19.9 points, 9.7 rebounds and 2.6 blocks with 1.4 steals.
After firing Larry Brown, Michael Jordan is looking to reshape the Bobcats and will likely overhaul their entire roster—meaning no player is off limits.
If the Celtics offer either the expiring contracts of Big Baby Davis and Marquis Daniels or even Nate Robinson, Von Wafer and Luke Harangody, Charlotte would likely jump at the opportunity to unload Thomas' salary and start from scratch. Plus, the image of Rondo throwing lobs to TT is an exciting proposition that I would love to see.
7. Marcus Thornton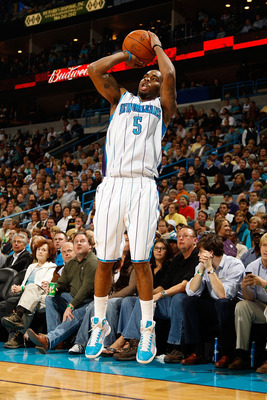 Chris Graythen/Getty Images
A second round draft pick in 2009, nobody expected much of Marcus Thornton. The rookie was drafted by the Miami Heat before being dealt to the New Orleans Hornets where he averaged 14.5 points per game, including a 20.3 average after the all-star break.
While most rookies with that type of improvement would be rewarded, Thornton has been punished seeing his minutes wane to just 15 per game. Part of this is due to the acquisition of Trevor Ariza, which makes Thornton expendable.
The 6'4" guard is deadly from downtown hitting at a career 38 percent clip. More importantly for the Celtics, he is affordable at under $800,000 this season. Thornton is not yet a capable defender, and would likely play even less in Boston than he does in New Orleans, but on an aging team like the Celtics, occasionally it's worth bringing in some youth.
A trade of Semih Erden, Luke Harangody and a second round pick for Thornton would bring New Orleans two big men that the Hornets bench desperately need.
6. Tracy McGrady and Will Bynum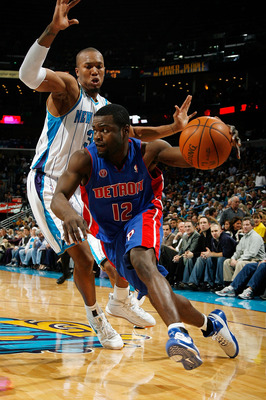 Chris Graythen/Getty Images
Another conceivable trade scenario could send Tracy McGrady and point guard Will Bynum to the Celtics for Marquis Daniels, Von Wafer and either a conditional first round draft pick or a second rounder. Boston would add a very promising young point guard in Will Bynum who has shown flashes of brilliance, yet remains entrenched behind Rodney Stuckey on the depth chart.
The trade would shave $800,000 in payroll this season for the Pistons this season and $7 million over the following two seasons. For a rebuilding team that cap room can be precious.
Bynum is averaging just 6 and 2.4 this season but averaged 10 and 4.5 a season ago. The 27-year old guard is incredibly quick and agile which help him greatly defensively.
As for T-Mac? He's nothing more than a salary cap throw-in for financial purposes.
5. O.J. Mayo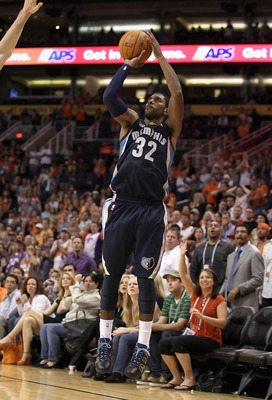 Christian Petersen/Getty Images
With Xavier Henry starting at shooting guard for the Grizzlies, third year player O.J. Mayo has been squeezed for playing time. After averaging 18.5 points per game as a rookie, Mayo saw his scoring drop to 17.0 in 2009-2010, and again to 12.2 this season.
Mayo is an extremely smooth and talented young player that reminds me in many ways of Ray Allen. If you can realistically acquire him for 70 cents on the dollar that is a change you need to take.
A trade of Mayo for Avery Bradley, Marquis Daniels and a first round pick work for many reasons. The Grizzlies would add a young point guard with tremendous potential in Bradley (he was ranked by ESPN as the number one recruit out of high school), an expiring contract, and another young player via the first round pick. That's essentially like getting two first round picks for a player you are no longer enamored with.
Memphis would have to take a long hard look at that offer if it were offered. For Boston, they would add a 23-year old guard who could run with Rondo years after the big three have retired. He could contribute as a dynamic scorer off the bench now, and help make sure that the Celtics stay relevant when the older players are gone.
4. Jamario Moon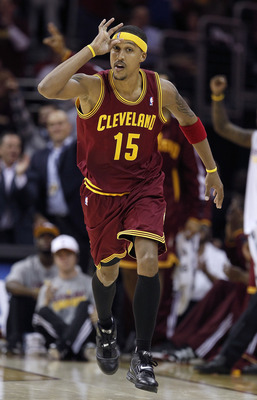 Gregory Shamus/Getty Images
The Celtics are always looking for role players who can defend and shoot the rock. Former Harlem Globetrotter Jamario Moon fits that description to the T.
Moon has an expiring contract, so a rebuilding Cleveland team would likely request an expiring contract in addition to either a young player or pick.
One trade that would work is Semih Erden and Marquis Daniels for Moon. Defensively, Moon would be a significant upgrade over Daniels who seems to mentally drift in and out of games at times.
Daniels is also just a 23.6 percent shooter from down town while Moon hits on nearly a third of his trifectas.
3. Quinton Ross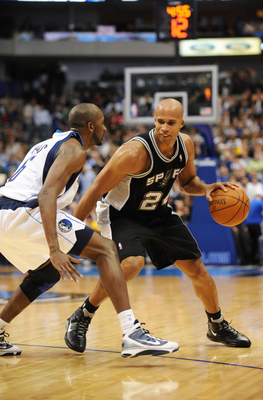 Ronald Martinez/Getty Images
Although not a household name, Quentin Ross is a tremendous defender and hard worker whose impact on a game is never felt merely through statistics. The 6'6" wing can defend either guards or forwards, and has an expiring $1.1 million contract.
A simple swap of Ross for Von Wafer would give the Celtics a significant defensive upgrade and squash any potential chemistry problems, as earlier this season Wafer was involved with an altercation with Delonte West.
2. Anthony Carter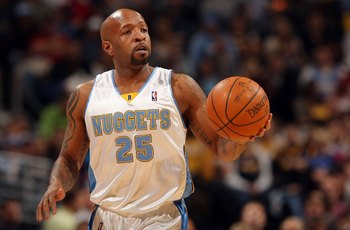 Doug Pensinger/Getty Images
Assuming Carmelo Anthony is dealt away before the end of the season, the Nuggets will be in all-out rebuilding mode. That means anybody and everybody on their roster would be available and the Celtics could come calling for Carter.
AC is 35-years old and holds little value to most teams, but he's an intelligent veteran that could log minutes as a backup to point guard Rajon Rondo.
A trade of Von Wafer and a future conditional second round pick for Anthony Carter works financially—and although it's not the sexiest move—would help fill a small role for the Celtics.
1. Rudy Fernandez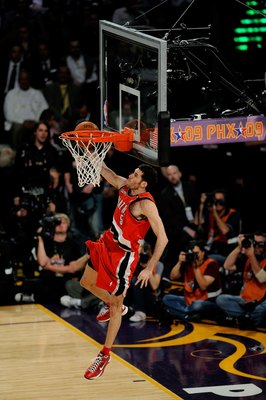 Kevork Djansezian/Getty Images
The Celtics most pressing needs include a back-up small forward (right now only Marquis Daniels and little-used Von Wafer fit that bill) and a veteran point guard to back up Rajon Rondo.
The Celtics are unlikely to give up any key players and would likely build any deal around either Von Wafer or Marquis Daniels' expiring contracts, rookies Avery Bradley, Semih Erden or Luke Harangody and/or future draft picks.
One possible trade would be Rudy Fernandez for Von Wafer, Semih Erden (say that name fast and try not to giggle) and a first round pick. The Blazers would gain cap flexibility in Wafer's $800,000 expiring contract and a promising young big man in Erden, but more importantly add another young player with their first round pick.
The Blazers have done well drafting late in the first with players like Nicolas Batum and the aforementioned Fernandez.
Rudy has expressed interest in being dealt and would fit perfectly for the Celtics. He's athletic, a knock down shooter with great range and is capable of creating for others.
He's the ideal fit because he actually fits two needs, a back-up point guard who can also spell Paul Pierce and Ray Allen.
Keep Reading

Boston Celtics: Like this team?