NBA Best of 2010: Top 10 LeBron James Moments This Year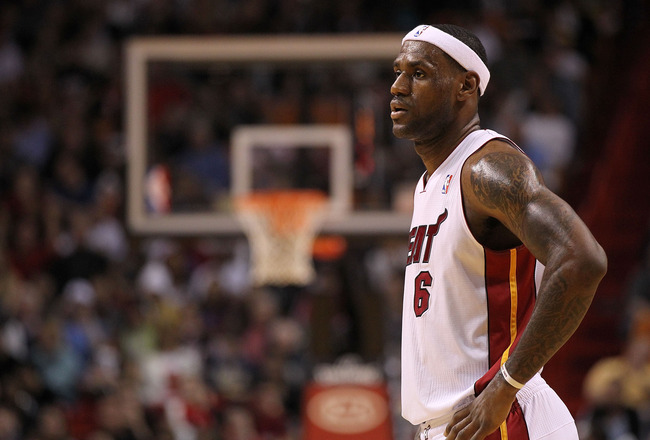 Mike Ehrmann/Getty Images
As 2010 comes to an end, I feel the need to reflect on a tale of two seasons.
The first, a season of high expectations for a superstar nicknamed "The Chosen One".
Seven years he spent in a city attempting to achieve greatness, to put his name in the same category as Michael Jordan and Kobe Bryant.
In that same span of seven years, he promised the city of Cleveland that he would not leave to go "ring chasing" as he called it.
Well, after a second round playoff loss to Boston, that "Chosen One" decided that the task in Cleveland was too daunting for him.
And as we all know, he took his talents to South Beach.
While LeBron was planning his exit strategy from Cleveland, Kobe Bryant was in Los Angeles setting the bar even higher for Mr. James.
Kobe's dominance, and help from a strong supporting cast must have been enough for LeBron to believe that he needed a team of his buddies to help him win a championship in the NBA.
Enter Miami, with Dwyane Wade and Chris Bosh.
But the second season of 2010 hasn't been all roses for LeBron James and his buddies in South Beach.
They have become public enemy No. 1 to the fans, and even have drawn the criticism of some of the greatest players to play the game.
And if that wasn't enough, their team cohesion on the court hasn't been the greatest at times.
Nonetheless, LeBron and the Heat have found something over the last month and seem to be on the track that they thought they would be when the super trio was formed.
2010 has featured a number of surprise moves from LeBron James, and that is why I am here to countdown the top 10 of them for you.
There will be good, there will be bad, and there will be ugly, but that is what the fans have come to expect from King James throughout his career.
Sometimes he takes the wrong advice, and other times he wows us with a move on the court that is freakishly unexplainable.
So without making you wait any longer...let's take a look at the list.
10. King James' Twitter Blunders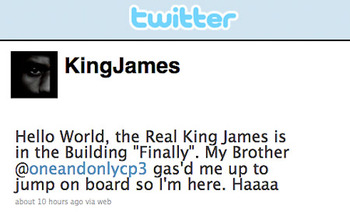 The twitter comment in the picture above was probably one of the few that LeBron didn't anger the world with.
Since joining the twitter word, King James has made some pretty interesting moves on the social website.
In one comment he vowed to keep track of all of the people who were doubting and hating on him. In shorter words...he's making a list.
No offense to LeBron, but when you are an athlete of his stature in society you are expected to have people who love you and those who hate you. To tell the world you were making a list was childish.
Another comment that LeBron made on twitter was that he was going to "re-tweet" all of the racist comments he was receiving on the website.
While I do not condone racist comments in any way, shape or form, this showed us James at his finest once again.
LeBron has millions of followers on the site.
When you are grabbing from such a large sample, obviously the ignorant are going to come out and make the rest of the masses look stupid.
These were just two of LeBron's twitter blunders this season, and while he has toned it down in recent weeks, I think it may be time for him to hire a new public relations firm to handle what comes out of his mouth.
9. LeBron's Not So Memorable Game Against Minnesota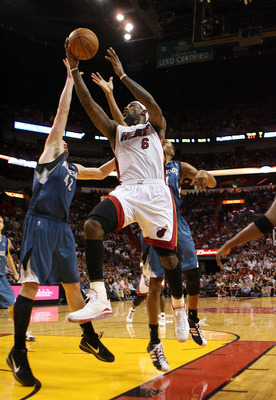 Marc Serota/Getty Images
On November 2, 2010, LeBron James made personal history.
The Miami Heat were hosting the Minnesota Timberwolves that night, and James put on his normal double-double performance that people have come to expect out of him.
He scored 20 points and had 12 assists in the game.
But it was the other portion of his stat line that grabbed people's attention.
LeBron James recorded 0 rebounds in the game.
This was a feat that James has done very rarely in his time in the NBA.
LeBron is known for his great scoring, passing, and rebounding abilities, which is what makes the fact that LeBron grabbed 0 rebounds against the lowly Timberwolves so amazing.
The Heat won the game, which is all that matters in the NBA, but it is still a game that LeBron would probably like to forget.
8. The Celebration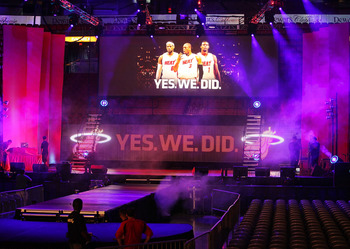 Marc Serota/Getty Images
In a celebration that is normally only thrown for championships, the Miami Heat organization welcomed their new super trio in a huge event at their home court.
LeBron James, Chris Bosh, and D-Wade were given the champions' treatment with a huge celebration featuring the slogan "Yes. We. Did.".
I'm not sure if you would consider this a bad moment or good moment for LeBron James in the year 2010, but it was something that the fans won't soon forget.
The Miami Heat were celebrating the biggest gamble in franchise history, essentially going "all in" and winning the grandest prize in all of NBA basketball.
Not only did the team gut itself to gain the cap flexibility to make these moves, but they put the future of the franchise in the hands of three athletes under the age of 27, all in their prime.
The players could have acted with more class during the introductions at the arena, but they were probably just excited that this actually happened.
Unfortunately for LeBron, this was probably the biggest home crowd that he was in front of in Miami all year, and they weren't even playing a game.
7. LeBron Compares Himself to Brett Favre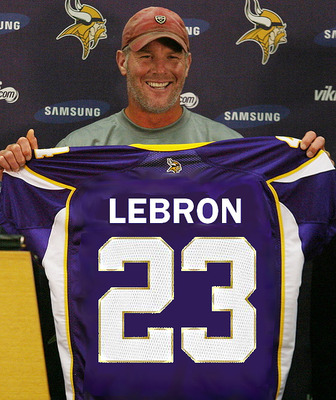 LeBron has made some pretty interesting comments in 2010.
One of the most puzzling was comparing his leaving Cleveland to that of Brett Favre leaving Green Bay.
LeBron said that the Cleveland Cavaliers will one day find their Aaron Rodgers like the Green Bay Packers did, and return to prominence.
I think what LeBron fails to grasp in the situation is that he is unlike Brett Favre in how he left.
LeBron James left the Cleveland Cavaliers in his prime. Favre left the Packers because the organization wanted him gone at the end of his career.
Favre had already won a Super Bowl in Green Bay, had given the organization the best years of his career, and was already talking about retiring.
The Packers also had their quarterback of the future wasting away on the bench, and they needed to find out if he could get the job done.
LeBron left a city after telling them he would bring them a championship; Brett Favre actually brought his city a championship.
The two do have one thing in common though; they crave being at the center of the media world at all times.
6. LeBron Wins His Second MVP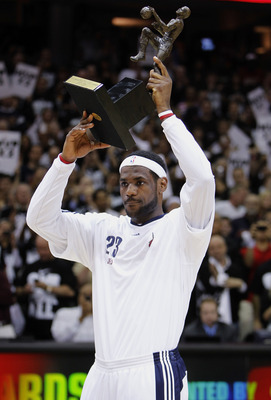 Gregory Shamus/Getty Images
2010 didn't feature all bad things for LeBron James.
The Cleveland Cavaliers won 60 games.
LeBron was one of the most dominant players in the game.
And he won his second consecutive NBA MVP award.
James' dominant play on the court led the Cavaliers to their second consecutive 60 win season.
If there was one thing the Cavaliers could be known for in the LeBron James era, it was their dominance during the regular season.
During LeBron's tenure in Cleveland, the fans watched him grow from a boy with the world on his shoulders, to a man who accomplished many great feats for his hometown fans.
The seven years of basketball that LeBron James played for the Cavaliers were some of the greatest in team history, and if LeBron could have won a championship, I think the leaving part would have been easier on everyone.
5. LeBron Dominates For The Cavaliers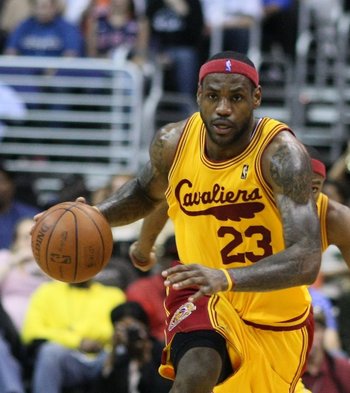 As if winning the MVP wasn't nostalgic enough for Cleveland Cavalier fans, a reminder of what LeBron did during his last season will probably add a little salt to the wound.
Taking a look back at LeBron's dominating performances in his final season for the Cleveland Cavaliers, he put up some gaudy stat lines during the 2010 half of the season.
James put up 41 points, 10 rebounds and eight assists against the Portland Trailblazers in a showdown with Brandon Roy.
He also dropped 47 points, eight rebounds, and eight assists in a home victory over the New York Knicks.
And who could forget his 43 points, 13 rebounds and 15 assists in a dual with fellow 2003 draft pick Carmelo Anthony.
LeBron put up numbers in those three games that the Cavaliers will probably not see again, at least in their uniform, for a long time.
James gave a city hope, excitement and an energy that they had not had in a long time.
And then he took it all away by leaving them.
4. What Should LeBron Do?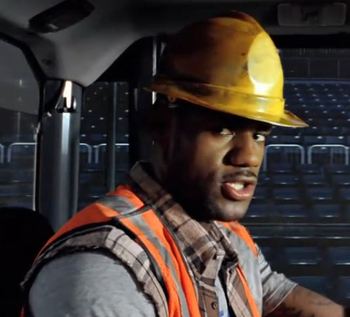 After LeBron James left Cleveland, the National media began their assault on him.
This led to Nike and LeBron's development of his latest commercial.
In this commercial, LeBron repeatedly asks people "What should I do?"
This commercial has been viewed by millions of people worldwide, and outside of Miami, you will be hard pressed to find anyone who thinks this was the right commercial to do.
He called out Michael Jordan, the fans, and even Charles Barkley during his rampage of asking what he should have done.
In one of the more epic responses to it, Cleveland fans inform LeBron he should have had dignity and kept his word in response to the commercial.
If you have time, shoot over to youtube and check out both videos, if you haven't already.
3. The Boston Collapse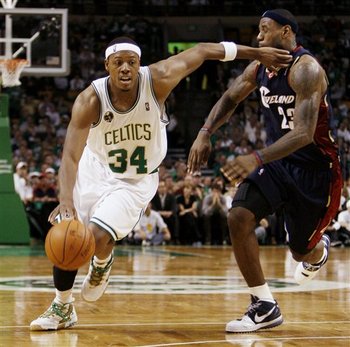 The 2010 Cleveland Cavaliers were supposed to win it all.
They had the supporting cast, the most dominant player in the game and the 60 win regular season to prove it.
They built a front court to get past Orlando, but they forgot about the Boston Celtics.
And forgetting about a veteran, championship caliber team is never a good thing in the NBA.
The Boston Celtics stymied the Cleveland Cavaliers in the final games of the series, but one game will define LeBron James' legacy in Cleveland Cavalier history.
Game Five, or the tank job as some like to call it, was possibly the worst performance in James' career.
He looked disinterested on the court, was settling for outside jumpers and didn't attempt to get his teammates involved at all.
Game Five featured 3-14 shooting with 15 points, six rebounds and seven assists from LeBron.
Some people just say it was a bad day, but if you saw what the fans saw, you would think it was a tank job as well.
The next game brought a Cavalier exit from the playoffs, and LeBron quickly discarding his Cavaliers jersey in the tunnel on the way to the locker room for the final time.
2. The Decision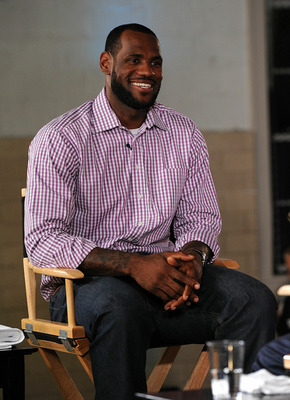 I remember thinking, there is no way that LeBron James goes on National television to announce that he is leaving the Cavaliers.
I figured he would personally thank every team for their courtship, but in the end, he couldn't leave his hometown and stab them in the back on television.
Oops, I was wrong.
I get that LeBron was raising money for the Boys and Girls Club.
It was a nice gesture on his part.
But if he was going to leave Cleveland, why not inform them before the decision?
Hold a press conference the day before thanking the city for their time, but tomorrow night on the decision he will be announcing where he is taking his talents to next season.
That would have been the classy thing to do.
But in true LeBron James stature, he let everyone down and showed why he hasn't achieved the mental maturity that his game has reached at this age.
The decision was one of the most epic fails in the history of sports.
LeBron incited the riots in Cleveland, the burning of his jersey and tarnished his legacy through one ESPN sponsored event.
Once again I ask, who is this guy's public relations specialist?
1. LeBron James Returns to Cleveland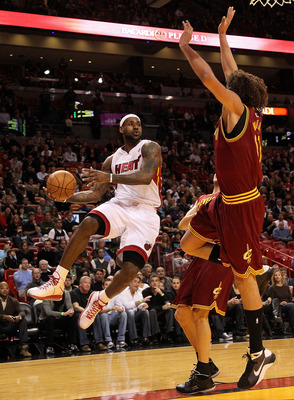 Mike Ehrmann/Getty Images
I know you thought the decision would be No. 1 on this list, but I have to give credit when it is due.
LeBron James showed a lot of guts returning to the city he spurned in the offseason.
And in true Quicken Loans Arena form, he didn't disappoint the fans who were there to let him know how they felt about him leaving.
LeBron put up 38 points, eight rebounds and five assists in three quarters of work against the Cavaliers.
He destroyed the team's morale all by himself.
The Cavaliers came out and competed for the first quarter and a half of basketball, mainly feeding off the chants and energy of the crown.
But LeBron being LeBron, he crippled their will.
He joked around with his old teammates, played the games that he is used to playing in Cleveland and gave the Cavalier faithful a taste of what they didn't want to see.
In the third quarter, he set an arena scoring record for a quarter.
And who says that LeBron can't still set Cavalier records after he left the team?
Against all odds LeBron and the Heat came to Cleveland and won.
From that game, they launched themselves on a winning streak, and basically destroyed any momentum the Cavaliers had for this season.
Not bad for one night's work, huh?
Keep Reading

Miami Heat: Like this team?